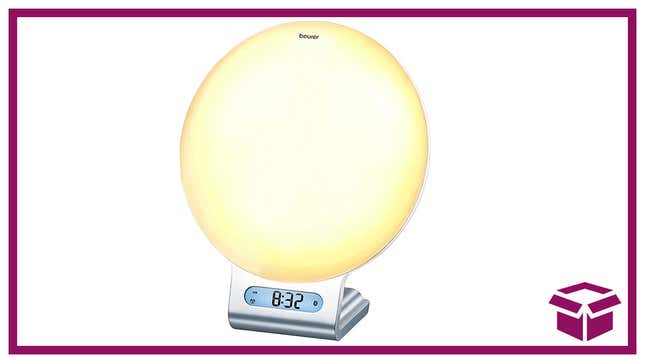 Getting a good night's sleep is a critical part of having a healthier lifestyle – and it contributes to enhanced mood, well-being, and ability to think clearer. Some can get up and out of their beds and be productive almost immediately – and others have a particularly challenging time, especially during the winter months. If you suffer from Seasonal Affective Disorder (SAD) or find yourself being sluggish during the winter months, Beurer's Wake Up Light WL75 may be the solution for you, and you don't have to break the bank for it: Best Buy is currently selling it for $63, a 30% savings from its normal price of $90.00.

Beurer Wake Up Light | $63 | Best Buy

This Wake Up Light features four fall-asleep and six wake-up melodies, which ensure that you'll fall asleep, get a restful night's sleep, and then wake up feeling refreshed. The device features customizable colors including colored sunrise and sunset simulations, as well as 256 other colors and 10 presets. And with the free Beurer Light Up app, you can control the light from a smartphone, and stream music through Bluetooth. Combining several different devices in one, the Beurer Wake Up Light is an all-in-one solution that will end the days of endlessly pressing the snooze button and hoping that you won't miss that key meeting or event. Snag one today and change your life for the better.

This article was originally written by William Helms on 7/26/23, and was updated by Mike Fazioli on 8/29/23.