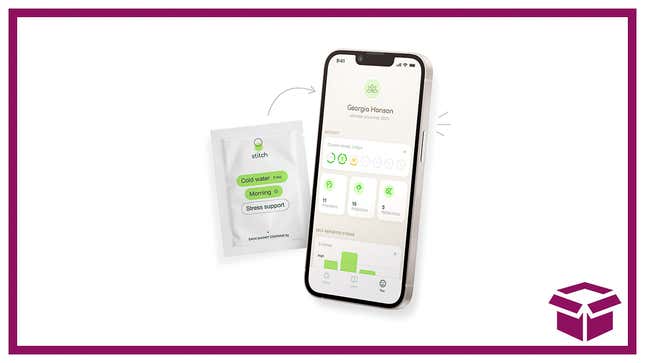 Modern life is stressful, and the physical and mental symptoms of stress plague millions of Americans. Reports of record-high stress levels among Americans are threatening mental and physical health, as well as productivity. And if stress is chronic, it can result in higher risks for heart disease and premature death. Stitch's approach to building stress resilience involves a combination of a daily probiotic and easy-to-integrate micro-habits. One solution is Stitch's probiotic and app. There's a hassle-free subscription model and right now until October 26 you can try Stitch for $10, which is $15 off, with the code TRYSTITCH23. Lessen your stress, improve your health and save a few bucks while at it!
Stitch | $10 with code TRYSTITCH23 | Stitch 
Stitch's probiotic is made of up Lactobacillus helveticus Rosell ® 52, Lactobacillus planatarum Rosell ® 1012, Bifidobacterium longum Rosell ® 175, as well as various antioxidants and minerals specifically to help build diverse flora in the gut. Taken once a day, the science-led probiotic can boost stress resilience over time, while supporting digestive and gastrointestinal health, and improving sleep quality. The probiotic is accompanied by the Stitch app.
Expertly designed by behavioral scientists, nutritionists and psychologists, the app delivers in-the-moment stress support, through helpful micro-habits, like guided intention-setting, reflective mindful practice and more. The app also ensures that screen time is kept to a minimum with no ads or pop-ups to interrupt your flow.

Now, you might not be aware of this but humans, like all other animals on the planet have two brains: The three-pound greyish bundle in your head. And the other one, which you're probably not aware of – in your gut. Emerging science has shown, the brain in your gut – also called the enteric nervous system – is made up of more than 100 million neurons and 100 trillion bacteria that help regulate everything from your metabolism to your mood. The gut constantly communicates with your brain through a network known as the gut-brain axis, which links the enteric and central nervous systems. Your gut and its overall health can determine your health and your emotional well-being. When we experience stress and stress-induced dysregulation, we often experience physical symptoms, like irritable bowels, loss of appetite or enormous mood swings. So how do we keep the second brain healthy – and in turn, improve our health and well-being? Stitch's approach to building stress resilience involves a combination of a daily probiotic and easy-to-integrate micro-habits.
Originally written by William Helms on 8/15/23 and updated with new information by Miranda Martin on 9/5/23 and 9/25/23.