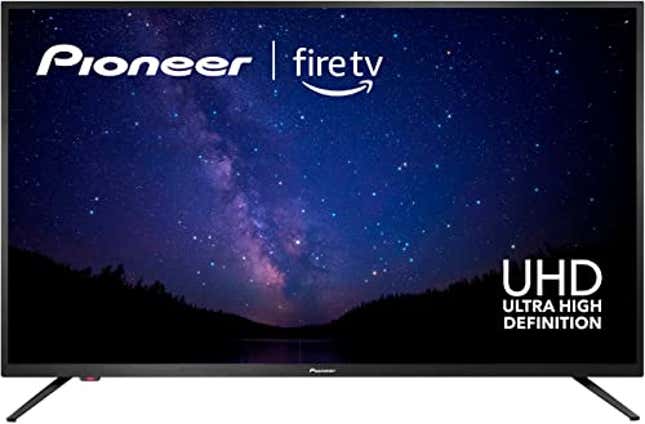 The PIONEER 43-inch Class LED 4K UHD Smart Fire TV comes with a host of features that sets it apart in the market of smart TVs. It offers a viewing experience that is both immersive and exciting, thanks to features like the 4K Ultra HD resolution, Dolby Vision, and a myriad of streaming options provided by the built-in Fire TV experience.
The foremost reason to purchase this model is its superior 4K Ultra HD resolution. With this feature, you can expect to watch your favorite movies and shows in an incredibly detailed and ultra-clear picture quality. This makes the PIONEER 43-inch Class LED 4K UHD Smart Fire TV a perfect option for movie nights or binge-watching your favorite series.
Next up is the remarkable Dolby Vision which is a game-changer in enhancing TV viewing experience. It provides an ultra-vivid picture quality, sharper contrast, and a more precise color palette that will redefine how you view content. Once you watch in Dolby Vision on this Pioneer TV, you will be spoilt for an ordinary viewing experience. Order one from Amazon today and let your eyes feast on superior image quality.
A noteworthy feature of this TV is its Voice remote with Alexa. This function allows you to control your TV by merely using your voice. You can seamlessly watch live TV, launch apps, search for titles, play music, switch inputs, and even control compatible smart home devices.
In addition to these features, navigating through the PIONEER 43-inch Class LED 4K UHD Smart Fire TV is a breeze, given the Fire TV experience pre-built into it. With the Fire TV experience, you have access to over a million streaming movies and TV episodes. Furthermore, you can explore tens of thousands of channels, apps, and Alexa skills.
Perfecting the overall TV experience is the DTS Virtual-X Sound, providing an immersive sound experience right from your TV's speakers. This sound format significantly improves the audio quality, ensuring that you don't just watch, but feel every scene.
If these reasons don't convince you to go for this model, the fact that it's available right now on Amazon surely will. Don't wait, get your PIONEER 43-inch Class LED 4K UHD Smart Fire TV today and elevate your viewing experience like never before.
This deal was originally published by Inventory Bot on 7/11/23 and updated with new information by Se Jeong Bae on 7/13/23.