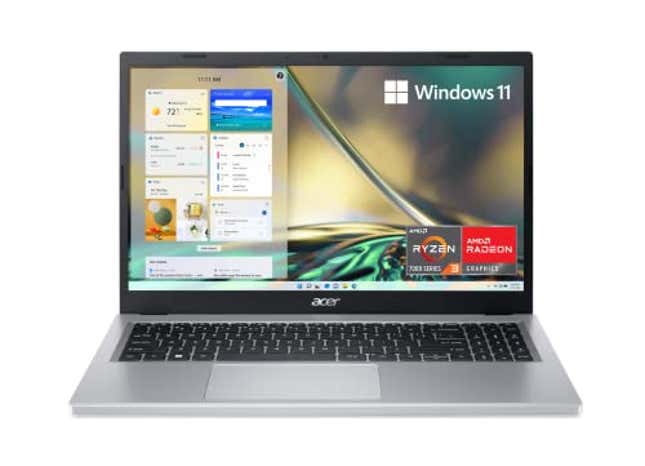 The Acer Aspire 3 A315-24P-R7VH Slim Laptop is the embodiment of functionality and style, making it a worthwhile purchase on Amazon today. This device flaunts a balanced blend of premium specs, high-quality construction, and advanced features that will impress any tech-savvy user.
One of the reasons to choose the Acer Aspire 3 Slim Laptop is its powerful AMD Ryzen 3 7320U Quad-Core Processor coupled with 8GB LPDDR5 onboard memory and 128GB NVMe SSD storage. With that kind of hardware under your command, multi-tasking and performance-intensive tasks become more streamlined than ever.
The visually stunning 15.6" Full HD IPS display will spoil you with crisp and vivid images for an immersive viewing experience. Whether you're into gaming, movie marathons, or working with graphics-intensive applications, this laptop delivers in every aspect. Its narrow bezels further maximize your view, offering a distraction-free screen landscape.
But that's not all, Amazon offers the Acer Aspire 3 A315-24P-R7VH Slim Laptop with additional high-tech features aimed to enhance your laptop usage. The device sports Acer's TNR technology front-facing camera, PurifiedVoice technology with AI Noise Reduction, convenience-enhancing Wi-Fi 6, and an abundance of ports to accommodate all of your accessories.
The laptop's improved thermal system, which boasts a 78% increase in fan surface area and a 17% additional thermal capacity, is another feature that makes this device a must-have. This design element allows longer, efficient work sessions even when not plugged in, keeping your machine cool and safe from overheating.
Designed to be travel-friendly, this slim laptop is light and easy to carry. Regardless of where you go, you have a powerful tool right in your bag, ready to serve your computing needs.
Given the power-packed specs and useful features, the Acer Aspire 3 A315-24P-R7VH Slim Laptop at Amazon is a significant game-changer when it comes to redefining laptop performance. This device truly raises the bar in delivering a user experience that inspires and satisfies. Don't miss out on experiencing this perfect blend of style, power, and convenience today.