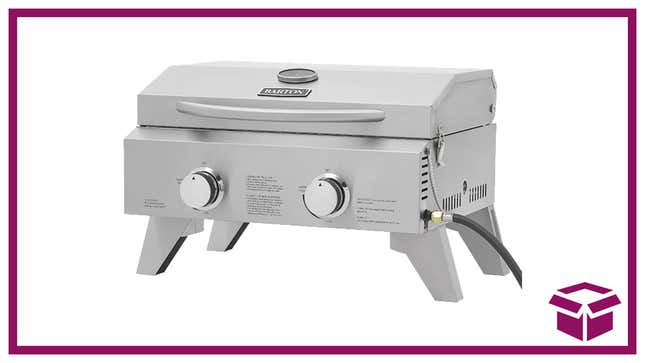 Before you know it, you'll be grilling up some Impossible Burgers and corn on the cob for your friends. If you haven't yet pondered that possibility, let me plant that dream in your head: this Barton two-burner tabletop grill is only $143 at Amazon—it's slightly more expensive at Wayfair. We've been keeping an eye on grills—this is the cheapest it's been and the lowest we've seen. 
Barton Two-Burner Propane Tabletop Gas Grill | $143 | 11% Off | Amazon

Though just a mere tabletop, this grill packs a punch—20,000 BTUS in fact, 10K per burner. Burner knobs and an integrated thermometer give you the most control over your food—so if someone likes "medium" and another likes "medium-well," you can deliver. And if you're bringing your barbecue on the go, the lockable lid and foldable legs let you grill on anyone's patio. Anyone's!