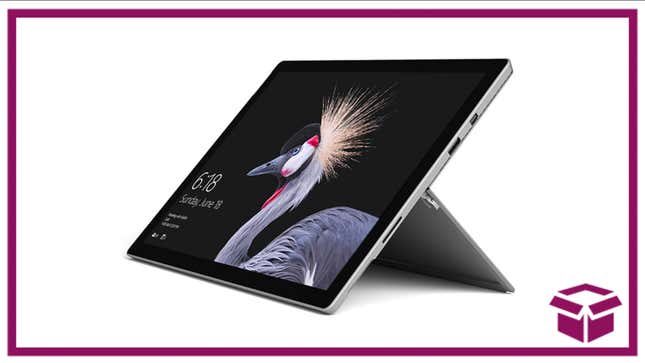 Looking to grab a new tablet, but don't want to spend an arm and a leg? Dreaming of something you can take with you that works great for streaming, getting work done, or just browsing online? We've got some great news for you. You can get a great, high-quality option right now for less than $300! And no, it's not some ridiculously old and outdated piece of tech. It's the Microsoft Surface Pro 5, and it's a fantastic alternative to the iPad that does just about anything you could ask of it. Plus, it's super affordable and less than half the price of its competition at the moment.
Microsoft Surface Pro 5 (Refurbished) | $281 | StackSocial
Thanks to a deal from StackSocial, you can get a refurbished Microsoft Surface Pro 5 for just $281. This 12.3-inch touchscreen tablet comes with an Intel Core i7 processor, a 128GB SSd, and 4GB RAM. It also has a flashy 2736 x 1824 resolution so you can enjoy your favorite shows and movies on the go with a crisp, high-quality viewing experience. This is a great deal, and one that you'd do well not to pass up. If you need a new tablet in your life, this is definitely not one to miss. Snap up a couple if you can, because they make great gifts!