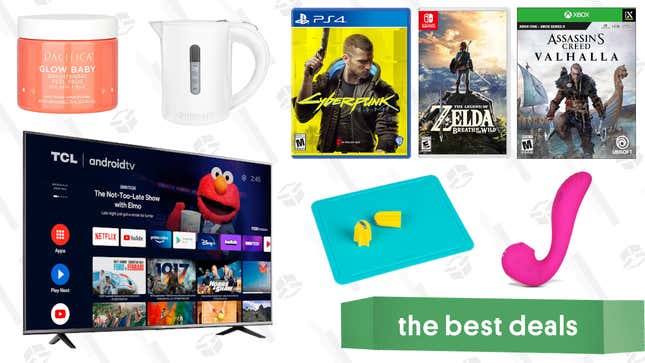 Jump to: Tech | Gaming | Home | Lifestyle | Media

Cyberpunk 2077 and a Pacifica Skincare sale lead Monday's best deals.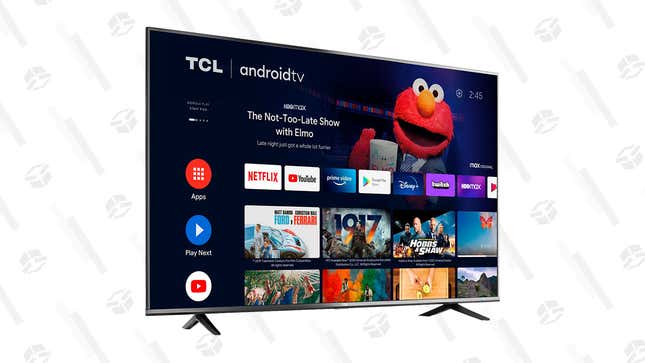 Look, we should all be staying home and staying put for the next several weeks. You know it, I know it— and Best Buy knows it too. This 55-inch TCL LED 4K smart Android TV is down to only $320 so you can snuggle up on the couch with all your favorite shows, movies, or your console of choice for less right now.
Since it's a smart TV, it has built-in access to Netflix and Hulu all the other popular streaming options. Grab it while it's $80 off!
---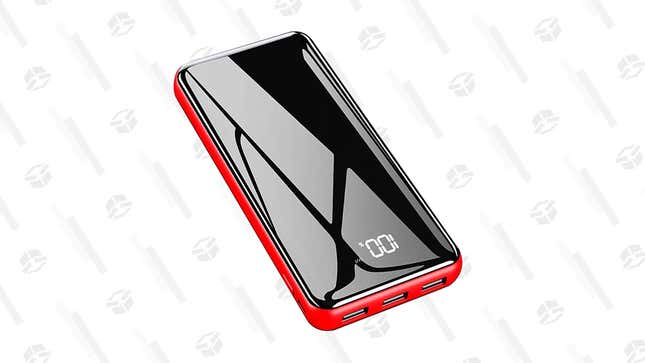 Don't be caught without a charge for your phone, tablet, or other devices with this Gnceei power bank 25000mAh. It can be yours for just $19 when you add promo code TBWNTHVZ at checkout.
Pair it with another of today's deals, this faux leather crossbody sling which has a port for your charging cables and headphones so you can use your phone while it's charging, and you'll be an unstoppable, fully-charged machine.
---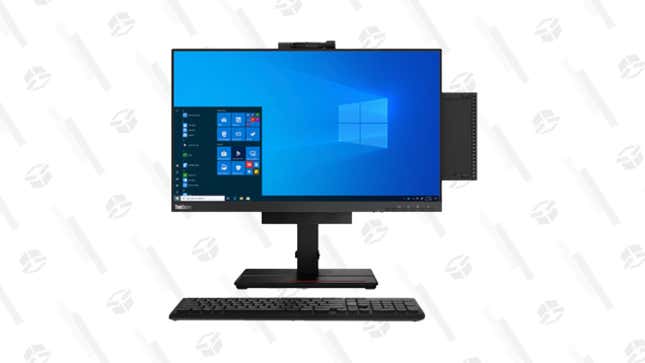 If you're not too keen on working from a laptop, a decent desktop PC can offer all the power you need to get through a solid day of work without hitting laptop prices. Right now, you can get Lenovo's ThinkCentre M75q Gen 2 for $481 off using the code THINKDESK45, bringing the price down to $588.

For your money, you'll get a six-core AMD Ryzen processor, 16GB of RAM, and a 512GB SSD in a tiny package that won't take up too much space on your desk, but you'll still need to snag a monitor if you haven't already.
---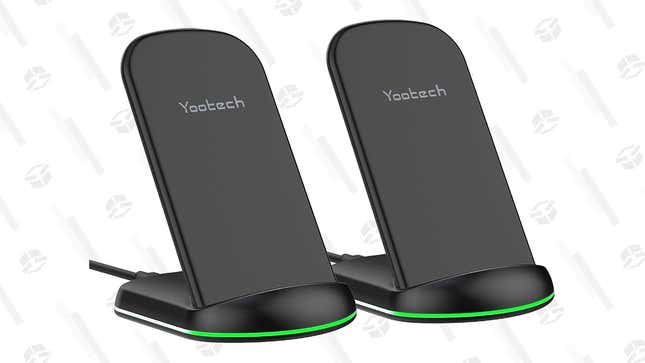 Bring home the convenience of wireless charging at a bargain price thanks to this discounted two-pack of Yootech wireless charging stands. They'll charge any Qi-compatible phones, including recent iPhones and top Androids from Samsung, Google, and more at a max speed of 10W. Better yet, they'll do it while keeping your phone screen upright and visible, which is ideal when charging while working at your desk.

Yootech's chargers are very well-reviewed on Amazon, with a 4.6-star rating from 15,500+ customer appraisals, and right now you can snag a two-pack of these wireless charging stands for just $22 when you clip the coupon on the page. They come with the USB A-to-C cables, but not the power bricks—but you may already have some of those kicking around.
---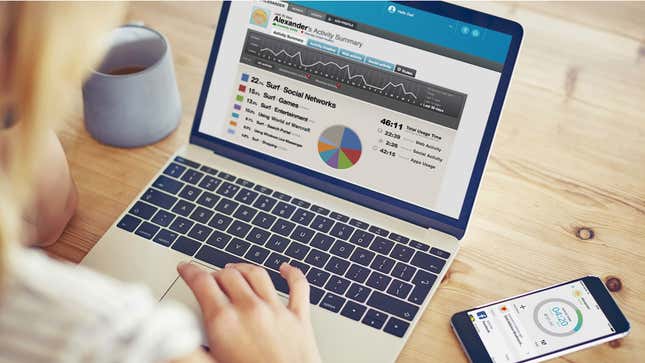 Do a Google search for the best parental control software, and rest assured, you'll find Qustodio at the top. Not only is it a breeze to use, but it's also platform agnostic, appearing on Windows, macOS, Android, iOS, and even Kindle. For a limited time, all of the company's premium plans are 20% off for Kinja Deals readers using the exclusive promo code KINJA20, until February 7. That includes plans small, medium, and LARGE, saving you up to $30 for the year. The main difference between the three plans is the number of devices you can deploy Qustodio on at a time. That number ranges between five and 15 so you might want to take a closer look at the options before signing up.

As we've all seen firsthand recently, some level of supervision of your little one's internet activity is a must, and you can't always be there in person to monitor what they're spending their time looking at. Because you don't want you probably don't want your kid to be radicalized by right-wing conspiracy theories or even looking at porn if they're under a certain age, it's important to know the sort of content they're engaging with online. That's why, with a premium plan, Qustodio sends out comprehensive 30-day reports on your child's internet activity straight to your email inbox, no extra steps needed. Perhaps the biggest, most timely feature, however, is YouTube monitoring, which lets you check search queries and viewed videos across Android, Windows, and Mac.
---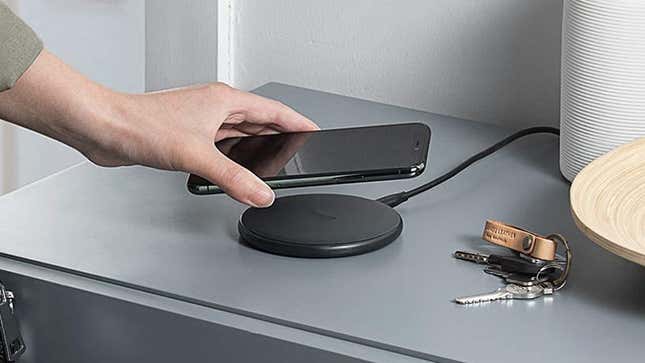 If you have a semi-recent iPhone or a higher-end Android phone, then it's probably equipped for wireless charging, letting you top it up simply by placing the device on a charging pad or stand. While typically not as fast as plugging in a cable, it's significantly more convenient, especially if you set your phone on the pad when sitting down to work, for example.

Whether you just got a new phone or haven't yet tried out wireless charging on your handset, you can grab an Anker PowerWave wireless charging pad for just over $9 at Amazon when you use promo code ANKER2503. It supports the Qi charging standard used by the last few generations of iPhones, as well as phones from many of the top Android makers. It also works with wirelessly-chargeable earbuds cases, such as the AirPods Pro.
---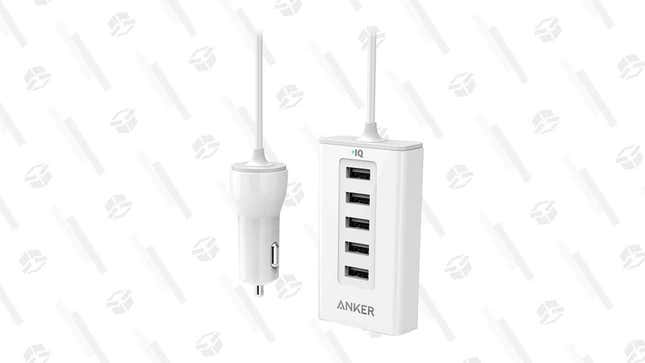 If you're planning a couple of road trips this year, you should invest in an Anker 5-Port Car Charger. Only $15 on SideDeal, you'll be able to power up to five devices. Each port charges about 2.4 amps per port, or 10 amps total, which means your phones, tablets, and whatever else will be up to 100 percent while you're safely riding on the highway. Grab em' before they're gone!
---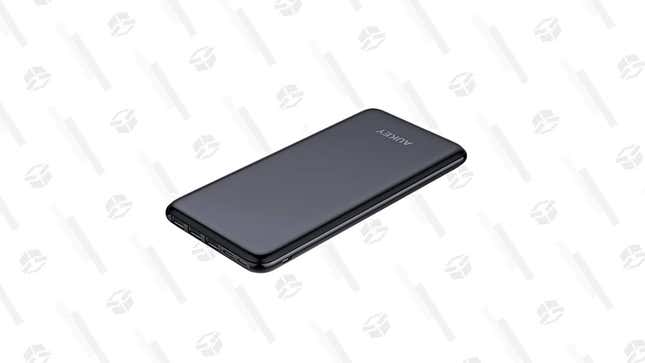 I've been reviewing Aukey products the last few weeks and I'm consistently blown away with their quality. They not only do what they say, they look good while doing it. All sleek and compact. The 20,000mAh Power Bank is one of them. Like many of us, I do so much on my phone and I'm not always near an outlet when I do so. This power bank has saved my butt a time or two and it's currently 40% off for Prime members at $36.
This is a universal charger with three USB-A slots and is powered up via USB-C or micro-USB port. This is the larger size of the two they offer and chargers faster than others I've had. Expect to get about seven full charges for your phones and just about ten for an iPad/tablet. It's slim so it'll easily fit in a pocket or purse. It's also easy to see how much juice you have left with the LED indicator. As with all Aukey items it's built with safeguards so no overheating or overcharging. And you'll get a user manual and a twenty-four-month warranty.
Free two-day shipping for Prime members.
---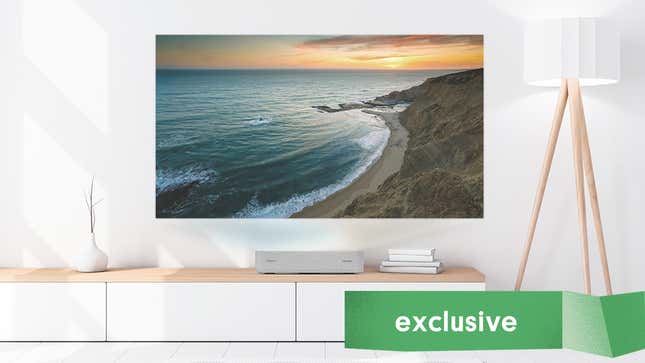 Since it could be months before things go back to "normal"—whatever that means—chances are you're in the mood for some much-needed escapism. And while movie theaters are largely closed or unsafe to attend due to the ongoing COVID-19 pandemic, an ultra-short-throw projector can play your movies on the big screen without occupying too much space on your console. Instead of emitting light outward, these handy entertainment devices fire upward onto the wall or, better yet, a screen, to transform your home into a cinematic experience of its own. This model from Vava in particular boasts HDR10, a built-in Harman Kardon soundbar, and Android TV smart software, and is currently on sale for $2,380—$420 off the list price—using the promo code 15KINJA1320.

Whether you're watching Borat Subsequent Moviefilm (very nice) with my wiiiiife (wait, what?), I'm Thinking of Ending Things, or one of the other two movies that came out this year I'm not remembering, your picture will be clear and your sound crisp out of the box. And as long as technology doesn't advance to the point of this projector's obsolescence before then, Vava says its 2,500-ANSI lumen light source can last up to 17 years, or 25,000 hours of use. Despite all that, if you're worried a discount this steep is reflective of its quality, worry not: I took the Vava 4K projector for a spin at CES earlier last year and was blown away that such stunning picture quality could come from a device this compact, without placing it halfway across the room.
This story was originally published by Gabe Carey on 11/03/2020 and updated with new information on 01/13/2021.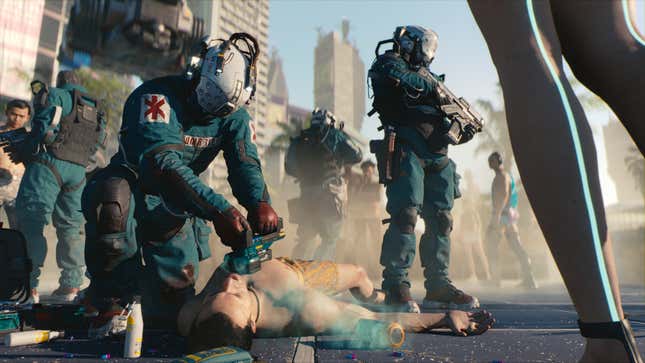 We all knew this day was coming. Ever since Cyberpunk 2077 launched just about a month ago, it's seemed pretty clear that a price drop was imminent. A wave of bad press really hurt the game's word of mouth, despite the fact that it reportedly sold over 13 million units.
Whether or not this is directly related to all of the fallout, you can now get Cyberpunk 2077 on PlayStation 4 or Xbox One for $30 via Best Buy's deal of the day. You'll get a free steelbook case of your choice with the game, as well. Amazon has also matched the price on PS4 and Xbox One, but without the bonus steelbook case included.
Be warned that the game has been widely criticized on consoles for poor performance, especially if you have the original base PS4 or Xbox One hardware (instead of the PS4 Pro or Xbox One X).
CD Projekt Red has announced a roadmap of patches and fixes that will roll out in the coming months, and you'll also get access to the respective next-generation upgrade on PS5 or Xbox Series X/S once that's released later this year. However, there is no guarantee of eventual performance quality, so jump in at your own risk.
---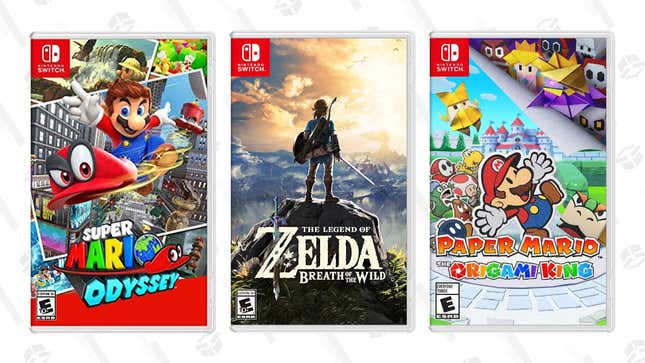 On the hunt for an awesome new game to play on your Switch? Some of Nintendo's best first-party games are marked down right now, with gems like The Legend of Zelda: Breath of the Wild, Super Mario Odyssey, and Super Mario Maker 2 just $40 each at Amazon.
You can also snag Luigi's Mansion 3 or The Legend of Zelda: Link's Awakening for $45 each at Amazon, or Paper Mario: The Origami King for $45 at Best Buy. You can't go wrong with any of these, so if it's high time to dig into a new game, jump on these bargains!
---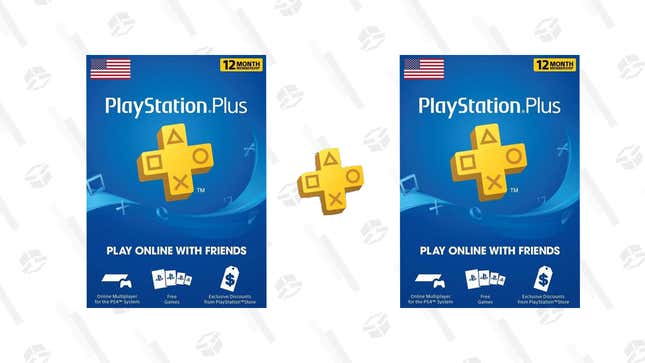 If your PlayStation Plus account is dry or if it's about to be, we've got a great deal for you. I mean, you can add an additional 24 months of PS Plus with this Eneba deal to your account regardless of your current balance if you just like to plan ahead, that's between you and your PlayStation Store wallet.
Get two years of PlayStation Plus for just $56 when you add two 12 month digital keys to your account along with promo code 56ISLESSTHAN120 at checkout.
In addition to online play features, PlayStation Plus members get free titles to play each month. For January, you get to play Shadow of the Tomb Raider and Greedfall for PS4, and Maneater for PS5. Don't miss out! Get started or renewed with this deal while it lasts.
---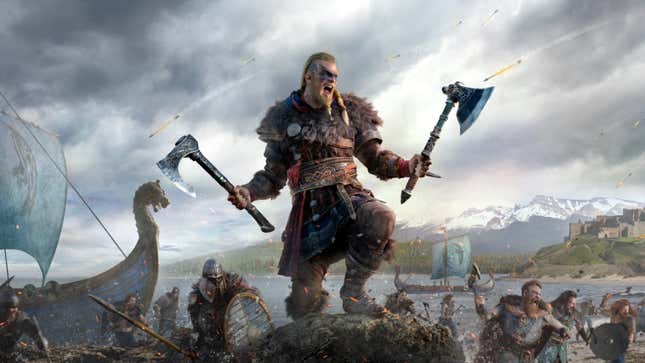 Been waiting for the right moment to grab Assassin's Creed Valhalla? Today might be the perfect time. Amazon currently has the game down to $35, which is the lowest price we've seen it yet since its launch in November. It's been a very busy couple of months considering all the hubbub with new consoles and Cyberpunk 2077, but Valhalla is definitely worth checking out. The latest installment of the Assassin's Creed series casts you in the role of a Eivor, a ruthless Viking who's all about chopping heads off. Seriously, you will chop like a thousand heads off in this game. It's a lot of heads. If that sounds exciting, then this is the game for you.
---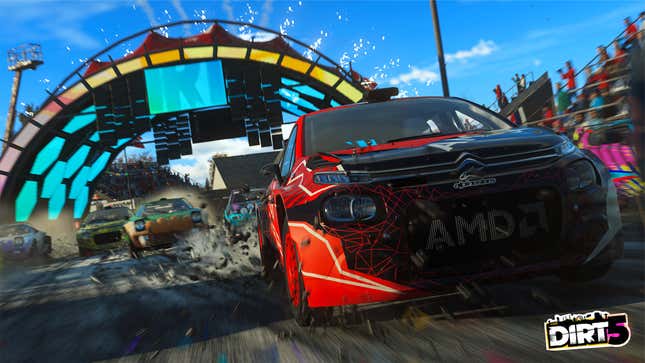 With over 70 tracks and a huge list of cars, Dirt 5 is designed as a dream game for rally racing fanatics. A star-studded campaign has you climbing the ladder to solidify your status as the off-roading champion of the world, while an all new Playgrounds mode fosters creativity with user-created tracks and racing arenas.

Even though it just came out in November, you can already save $25 on the game at Amazon, whether you want the PlayStation 4/5 or Xbox (Series X/S and One) version.
---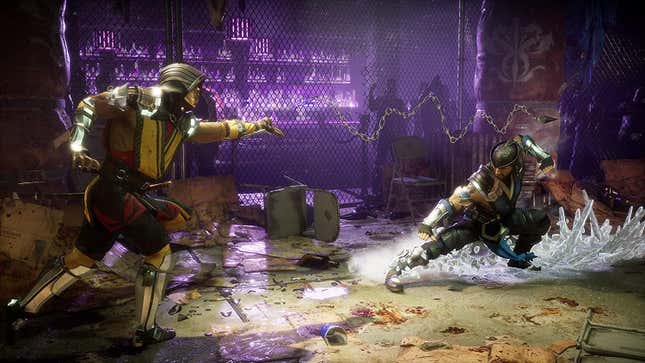 Mortal Kombat 11 released less than two years ago, and in true fighting game fashion, there's already a third separate retail release for the latest entry in the legendary series.
Recently launched alongside the new consoles, Mortal Kombat 11 Ultimate bundles the core game with all of the bonus add-on characters released to date, including a surprising array of guest pop culture characters (kharacters?) ranging from The Joker and Spawn to RoboCop and John Rambo.
Of course, you also get MK legends like Sub-Zero and Scorpion in the mix, along with an array of other fighters new and old, plus the game features visual enhancements to take advantage of the new hardware. Right now, Amazon has both the PlayStation 5 and Xbox (Series X/S and One) versions for $20 off the full list price.
---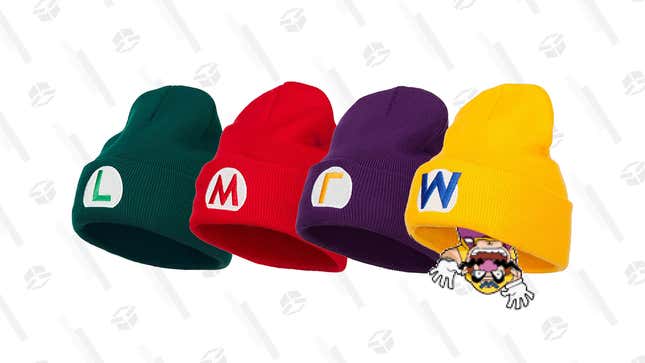 Need a new beanie for these super cold winter months? Snag a Mario, Luigi, Wario, or Waluigi beanie for just $19 when you clip the 5% off coupon and add promo code E4HATS10 at checkout.

The discount is good for each color! Grab one of each why don't you? Get one for each of your siblings, maybe? I don't know your life. You do you, but maybe do it in one of these hats if you feel like it.
---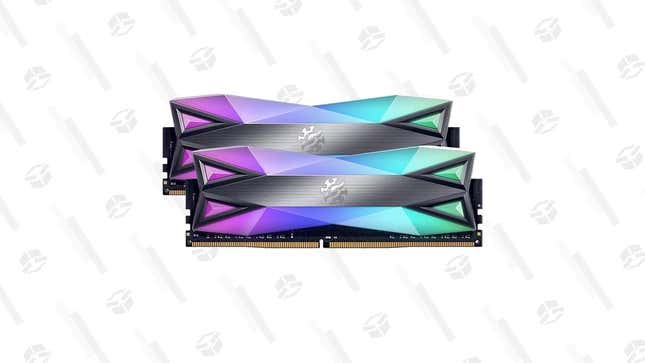 Need a bit more multi-tasking power? Or just more RGB for your PC setup? Snag two 8GB sticks of XPG Spectrix RAM for just $90 today over at Newegg, normally priced at $130.

Your PC's motherboard will need to be compatible with DDR4 for these fancy RAM sticks to work, but as long as that's good you should be set.
This $40 off deal is only good for today! So don't miss out. You'll even get a little $5 Newegg digital gift card as extra incentive for buying, so why not?
This deal was originally published by Elizabeth Lanier on 12/27/2020 and updated with new information on 1/16/2021.
---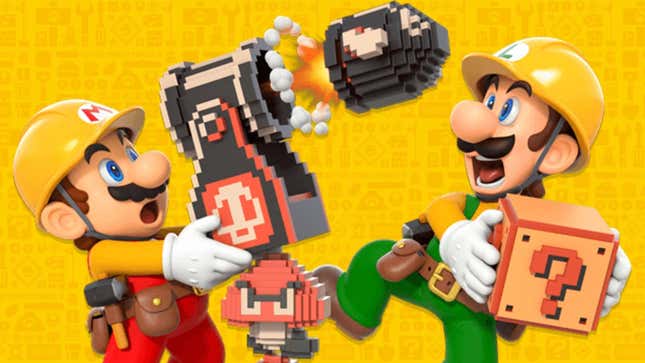 Thank the heavens, folks. It's a Nintendo Switch sale! Any Nintendo fans know that the company's games don't really get discounted often. While studios like Ubisoft tend to slice their games to half price months after release, Nintendo games remain full price through most of their lifespan. So anytime we see a Nintendo Switch sale, it's a cause for celebration. A bunch of retailers just threw up some sales on digital downloads for a bunch of Switch titles. That includes some first-party hits like Super Mario Maker 2, as well as third-party games like Fuser. We've curated some highlights below, but make sure to check the full landing pages to see what else is on sale today.
---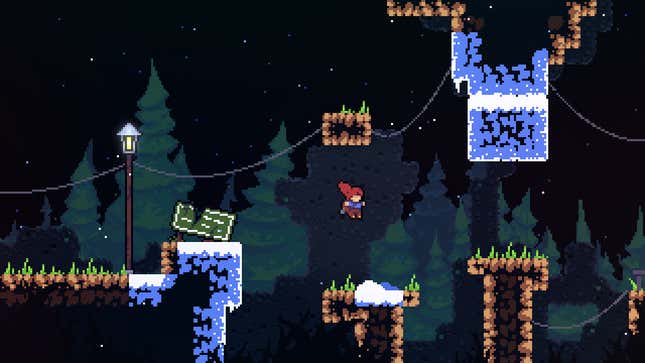 If you haven't played Celeste, it's a good time to remedy that. The 2018 platformer title is an excellent indie that's both tough as nails and mercifully kind. It's reminiscent of Super Meat Boy with its precise jumps that require a mastery of movement, but it's more forgiving thanks to frequent checkpoints and a robust assist menu. On top of that, it's a sincere game about depression that uses its mountain climbing premise as a metaphor for pressing on in the face of mental health struggles. It's a moving story that's perfect for those cold winter days. Amazon currently has the Switch digital version of the game half off at $10, so give it a whirl if that sounds like something you could use right now.
---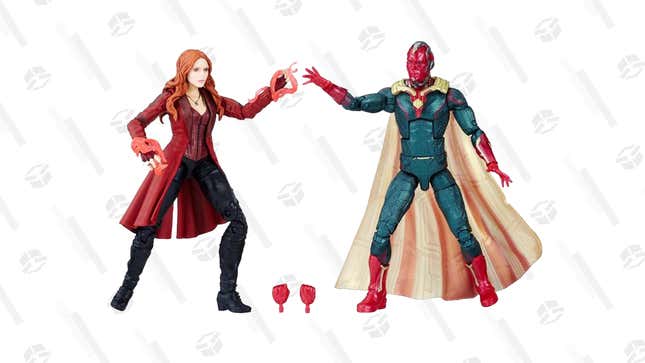 WandaVision is finally out today, bringing a new chapter of the MCU to Disney+. The visually creative show takes place after Avengers: Endgame and centers around Scarlet Witch and Vision, who are stuck in an alternate reality of TV tropes. It's a bizarre premise that allows the show to pay homage to different sitcoms. If you watch it today and it immediately becomes your next TV obsession, GameStop has a convenient deal happening right now. You can buy a two pack of Scarlet Witch and Vision figures for $40. These figures come from the Marvel Legends series and are based off the heroes' designs in Avengers: Infinity War. Pick this up if you want to keep Earth's mightiest couple together forever.
---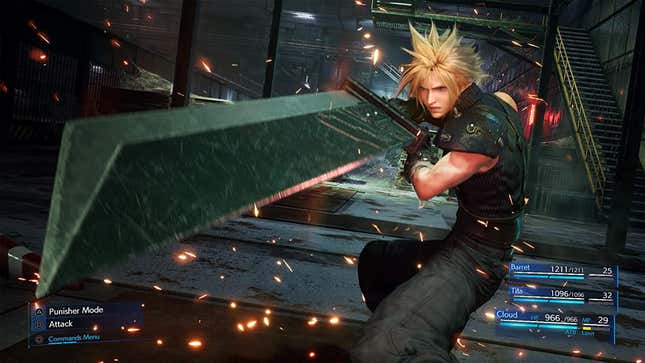 Many understandably jumped at the chance to play Final Fantasy VII Remake the day it came out, and I'd say they got their money's worth then. If you've been holding out and Ghost of Tsushima or Assassin's Creed Valhalla haven't completely eaten up your gaming hours, it's time to reunite with Cloud and the gang on PlayStation 4. Now you can do it for only $30 at your choice of retailer, including Amazon and Walmart.
This decades-in-the-making reemergence doesn't embody the full Final Fantasy VII experience you remember from childhood, but it reintroduces us to a classic story featuring unforgettable characters with modern visuals and gameplay. Part II of this episodic journey is in the works, too, so you'll want to get caught up in case it miraculously drops within the next couple of years. This deal was supposed to expire by now but has continued on at a couple of retailers, so snatch up this bargain while it lasts!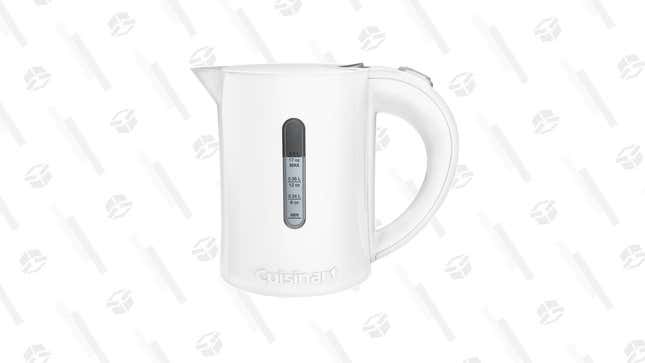 Teas the season! If you're like me you live on tea from now until the spring. The kettle is the only way to go for an authentic sipping experience be it an afternoon brew or morning breakfast. If you're looking for a new one or are ready to make the jump from zapping water in the microwave this Cuisinart Electric QuicKettle is for you.
Simplicity is key when it comes to your kettle and this one is easy to use with one-touch operation. It'll also stay warm for up to four hours which is really a thing of beauty in these chilly months. But don't worry it has an auto shut-off and is wireless for your convenience. This kettle has a seventeen-ounce capacity so it's not just your tea that'll benefit coffee, ramen, oatmeal, and whatever your thirsty/hungry heart craves. Cool Touch tech ensures no one gets burned no matter how hot it gets on the inside. It's 100% BPA-free and easy to clean. This kettle is durable and comes with a 3-year warranty.
If you've read a few of our pieces on MorningSave before and you like what you've seen they offer a $5 monthly fee to get free shipping on all of your orders no matter how many. Otherwise, it's a flat rate of $8.
---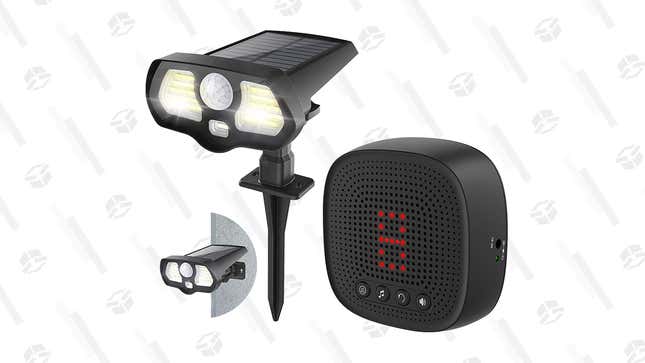 Add some extra security to your home with this solar-powered driveway alarm system. Normally $60, this set is now half-off and includes a bright LED light that is motion-activated from up to 20 feet away and powered via solar panels at the top. The receiver alerts you as well, so you can be aware when someone or some vehicle is approaching your home.
To get 50% off, add promo code 5044LXKF at checkout to bring it down to just $30. This code is only good through 1/25/21, so don't wait too long!
---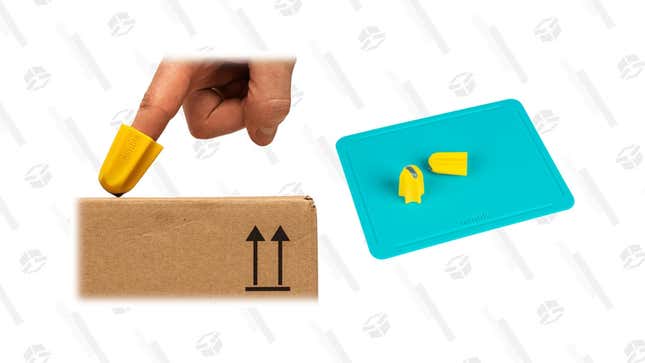 I'm sure this has happened a million times, you get a package and can't find scissors or your keys to open it. This is probably happening more so now with people buying everything online. This tiny but mighty tool is here to save the day. The Nimble Set of cutting tools is just $10 and sold out quickly the last time it went on sale at Side Deal.
The one-finger package opener fits snuggly on the index finger to open any box that comes your way. Slice through all packaging quickly and efficiently. This razor-sharp tool can tackle shrink-wrap and cellophane without a problem. This tool is a must and easier to operate than scissors or knives. You'll also get a silicone cutting mat so your counters remain scratch-free. Two cutting tools come in this pack.
---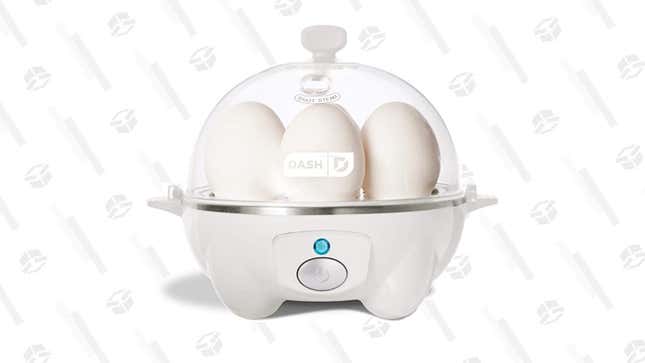 Rapid Egg Cooker | $17 | Amazon Gold BoxI love hard-boiled eggs but I'm also very lazy when it comes to cooking them. But mostly I never get it right. I usually end up overcooking them. This Rapid Egg Cooker from Dash vows to give you the perfect eggs every time you make them and it's 15% off.
This cooker holds up to six eggs at a time. In addition to hard-boiled eggs, it makes soft boiled, poached, scrambled, and even comes with trays omelets. This little cooker is pretty versatile since you can also steam veggies, dumplings, and can even warm tortillas. Easy to use and easy to clean. Just pour the water and set the timer. This deal only covers the white color option.
Free shipping for Amazon Prime members.
---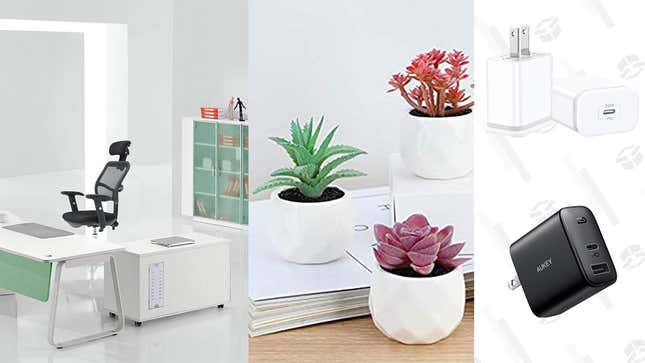 Your home office space could probably use an upgrade or two, right? Why not treat yourself to a deep discount item today? First up, a fast-charging USB C block can help you charge your devices more quickly. It's also just nice to have them on hand in different areas of the house, amirite?

Grab a 2-pack for $11 with promo code IVQHNQYR or a single USB C and standard USB fast charging block from Aukey for the same price with a clippable coupon.
While you're at it, why not go enter into our Aukey giveaway this weekend over on Twitter?
Grab a three-pack of different length Lightning charging cables to keep your Apple devices and accessories charged for $10. You can get a new USB C cable that works for the Nintendo Switch as well as various Samsung and Apple products for just $8 when you clip the $2 off coupon under the price on Amazon. You can also get a 2-pack of 6-feet cords for $12.
If you're in need of a new office chair, you can grab this one for 50% off with promo code CYHO8WVJ. The St. Yent rolling desk chair includes padded armrests that are adjustable along with the seat height. It's only $60 when you apply the promo at checkout.
Finally, any office space or desk can get a visual boost from this Faux succulent white ceramics set for 40% off with code 408LBWB3. You could also plant your own succulents in these adorable pots, which are at their lowest price in 30 days. Or, grab some real succulents if you feel ready to take care of some new plants. This 5-pack is $15 right now.
---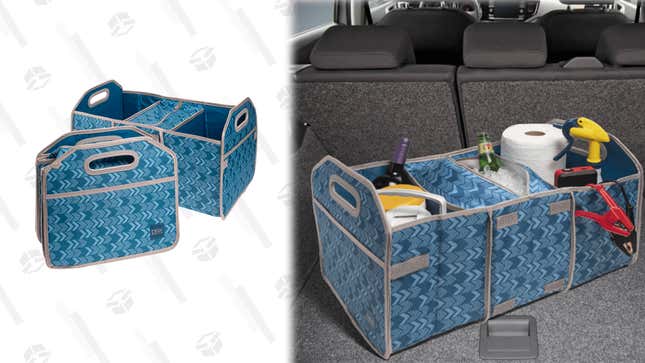 Get that messy trunk in order with this collapsible trunk organizer for 67% off today at MorningSave. You can get a 2-pack of them, so you can keep one for yourself and give one to a friend or family member— give one to your mom, doesn't she deserve a nice and clean, organized car?

What's more, these organizers have a cooler pouch in the center, so you can keep some drinks or your lunch nice and cool on your next trip.
MorningSave deals usually go fast, so grab this one while you can! If you have a monthly membership with MorningSave for $5, you will get free shipping on every order from the site as well as Meh, SideDeal, Casemates, and Mediocritee. Otherwise, shipping is $8 for a one-time order, and you get free shipping on additional orders you place within one hour of your initial purchase.
---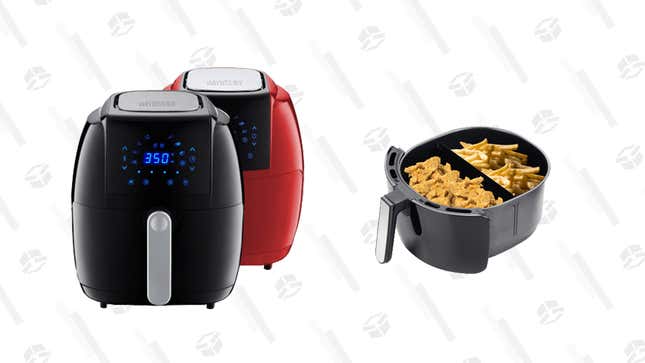 MorningSave has a fantastic deal on a digital air fryer right now. You can snag yourself a bright red or sleek black GoWise 8-in-1 5-quart air fryer for $55 and cook almost any dish you're craving— and you can not only fry these foods without the oil, but you can fry two foods simultaneously since it comes with a divider.

This air fryer also has eight preset settings for cooking popular foods: fries/chips, pork, chicken, steak, shrimp, cake, fish, and pizza. You can also set the temperature manually and a timer with its bright blue digital display.
MorningSave deals usually go fast, so grab this one while you can! If you have a monthly membership with MorningSave for $5, you will get free shipping on every order from the site as well as Meh, SideDeal, Casemates, and Mediocritee. Otherwise, shipping is $8 for a one-time order, and you get free shipping on additional orders you place within one hour of your initial purchase.
---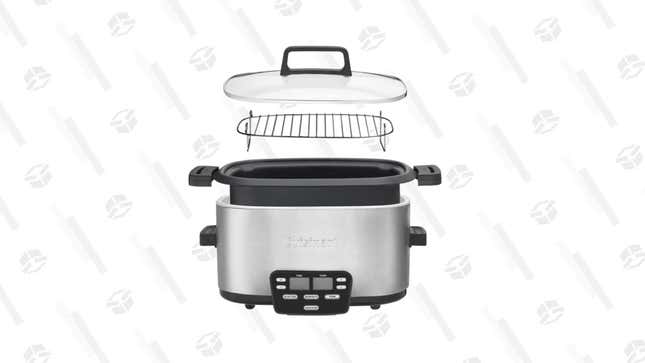 We are still well in the chilly months and nice warm homecooked meals can make a cold day better. This Cuisinart 3-in-1 Multicooker is the programmable simmer machine you were dreaming of and you can save $200 on it now.
With three settings you can slow cook at whatever level you need or keep a meal warm up to twenty-four hours. There is the option for combination cooking and you can set temps up to 400° with steam for over ninety minutes. Everything is made of nonstick aluminum so it's all easy to clean and the LCD displays make it easy to read too. This six-quart cooker fits snuggly on a counter and comes with a manual, reference guide, and even a recipe book.
If you've read a few of our pieces on SideDeal before and you like what you've seen they offer a $5 monthly fee to get free shipping on all of your orders no matter how many. Otherwise, it's a flat rate of $8.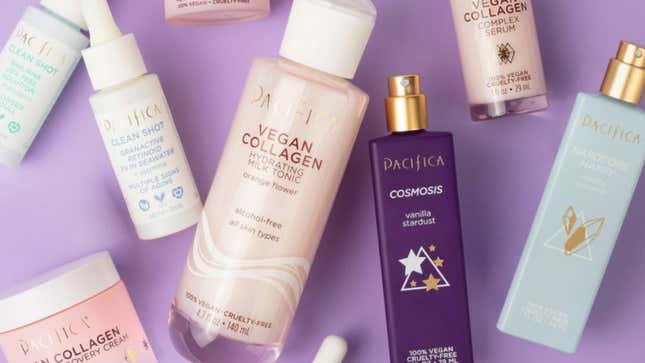 I received a discovery kit of items from Pacifica Skincare a few weeks ago and oh my, they quickly worked their way to the front of my favorite products. If you're unfamiliar or curious about the all-natural cosmetics company today is the day remedy that. Right now at Ulta is running a buy one get one 40% off sale.
Besides the gorgeous packing everything Pacifica makes is 100% vegan and cruelty-free. One of my top products currently is the Clean Shot Niacinamide, Zinc & Hemp Complex serum. If you suffer from an oily complexion or T-zone this is a wonder. This has been a dream when my forehead gets a little fussy and very shiny. There is also lemongrass in it so there is a very slight smell of that but it absolutely puts your skin back in balance. Just use a few drops in the morning or night before your usual routine. You'll see the difference pretty quickly.
I've actually been using the Sea Foam Face Wash as my main makeup remover. First off it smells amazing. It foams up and really deep cleans my skin without leaving it super dry. It works perfectly with all complexion types. Your face will be feeling fresh and ready for serums or creams instantly.
Free shipping on all orders over $35.
---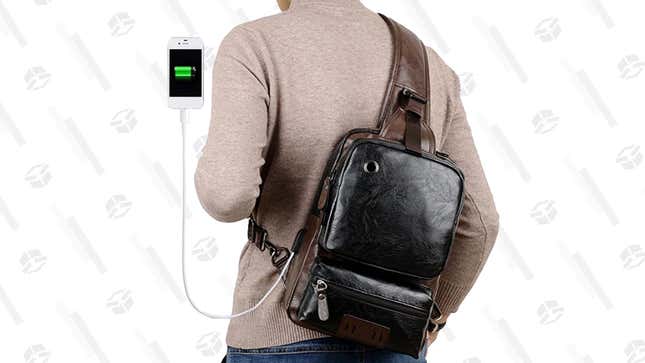 This faux leather crossbody sling is an additional 50% off when you add promo code VWQZDVAX at checkout. This backpack is specifically made to hold a power bank and devices, as it allows you to charge any device by feeding your charging cable through the side slots.
You can also feed headphones through the top feeder hole and listen to your music or podcasts while your phone is tucked away safely.
So what are you waiting for? You can charge on the go easily for $17 if you grab this sling while the promo still works!
---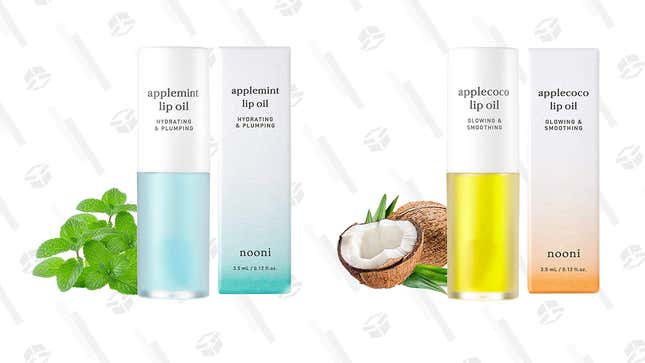 With the cold and dry weather conditions, your lips could use some nourishment. Korean beauty brand Nooni has a few varieties of lip oil on sale over at Amazon that are sure to turn that situation around.
The Applemint and the Applecoco variety have clippable coupons below the price. Clip them to get the Applemint hydrating and plumping lip oil for just $8 and the Applecoco glowing and smoothing lip oil for $9. The Appleberry is also available for $12.
These Nooni lip oils are vegan, cruelty-free, paraben-free, and mineral oil free so you can buy with confidence. Snag one while they're on discount!
---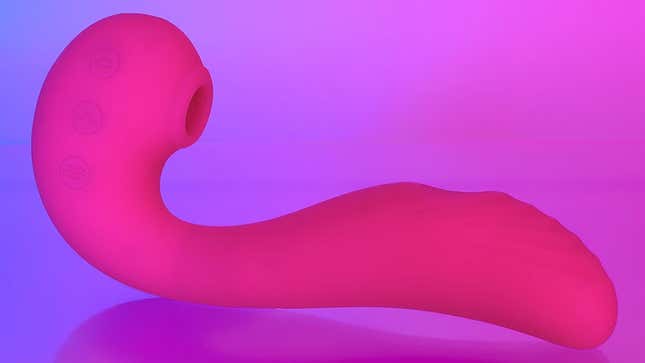 Our pals at Honey Play Box want to welcome the new year with a new toy. Their Angel Triple Tease is here and ready to vibe with you in 2021. To celebrate its arrival, grab 25% off of it right now with the code ANGEL25.
As mentioned in the name Angel is a triple threat toy. I think it's a really nice upgrade to the company's Jubilee. The Angel fits better and offers more power all around. The tongue massager got a revamp and hits your spot perfectly. The shaft shape is made for tapping right where you need it, fast or slow. The motors are all independent, so you can control them to the level and pattern you desire. As always, this is made of body-safe silicone, is waterproof, charges via USB.
Free shipping on all orders over $69.
---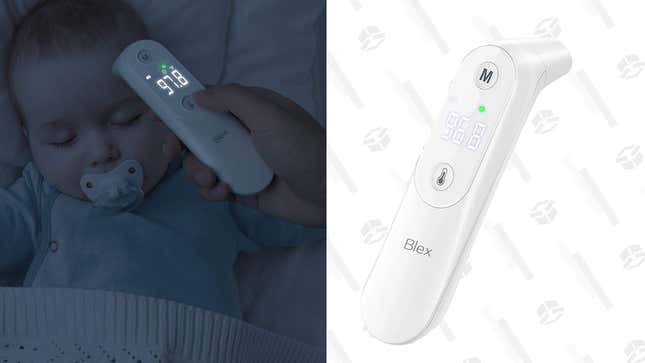 This digital no-touch infrared thermometer can be yours for just $15 today. The no-contact function is convenient in a variety of situations, as it takes a reading as easily for a sleeping baby as it would for taking your own temperature. It can even check the temperature of the chicken you've roasted for dinner from 1 to 5 centimeters away. Normally $25, take 40% off with code 40TFTXK7 at checkout.

This thermometer also has a luminous night display which seems really convenient as well.
I'm not sure how long this code will last, so jump on it while it's still working!
---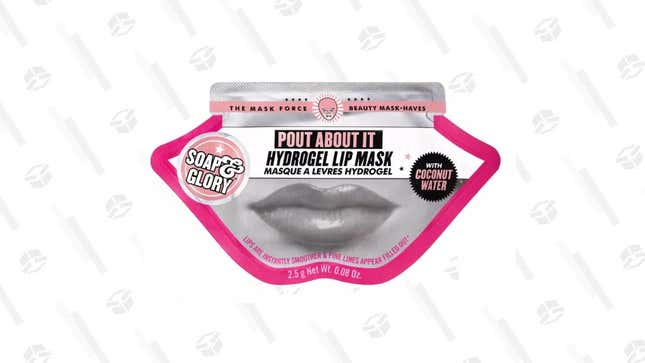 It's no secret I'm a big fan of Soap & Glory and I just started using their Hydrogel Lip Masks, mostly because I saw they were on sale. Well, I wasn't let down. I live in a basement apartment and the baseboard heat has been murder on my skin and lips. The warm yet drying air has been doing a number on me so I decided to give these a try. Grab two packs at Ulta from just $8 and seek the relief you need.
First off these smell amazing. If you love coconut these will be your jam. Two masks come in a pack and I like to put them on before bed. Get comfy and relaxed and slap one of these on for twenty minutes if you want the full benefits. After two uses I definitely saw a huge difference, my lips were much softer and just a smidge fuller. The hyaluronic acid mixes with the coconut water and just pumps your pout with moisture. Using these once a week during the chilliest months will absolutely help protect them.
Free shipping on all orders over $35.
---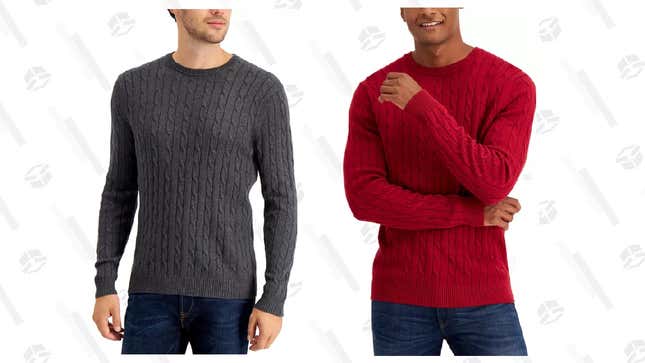 Chris Evans may think he cornered the market when he wore that cream-colored cable knit sweater in Knives Out but I say nay! Yes, he did look amazing but the sweater did a lot of the work. (I know that's not true but stay with me.) Cable-Knit Sweaters are a classic look that's sharp and cozy. These Club Room ones are 66% off and are perfect warm winter wear for the season. This sale will run until tomorrow. And FYI the one he wore in the movie is $178 so this is a much better deal.

These are soft, sleek, and all cotton. Stay chic and snug in a versatile sweater in a very recognizable style. This s a traditional crew neck and can be dressed up or down with simple layering. These were made just for Macy's and come in ten colors.
Free shipping on all orders over $25.
---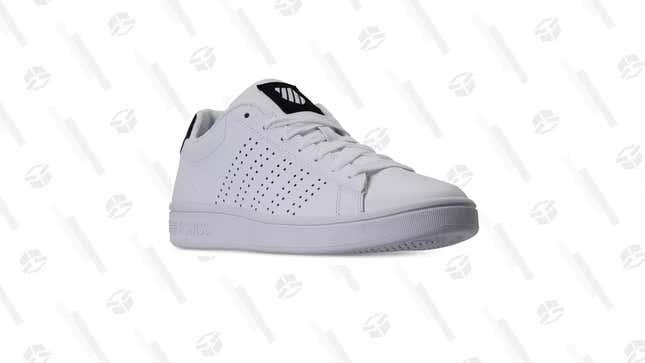 Nothing is classier or chicer than white sneakers. They just look so sharp and elevate any outfit. The only downside is that they are so hard to keep clean. But hey if you don't spend too much on a good pair you can't get too mad. Until the end of the month take 40% off these slick K-Swiss Court Casper Sneakers.
K-Swiss is definitely a brand that knows what they're doing with style and comfort. Sophisticated yet casual. The Court Capsers are made for every day and blend with any ensemble. Made from smooth leather and a breathable lining your feet will be just as cozy as fancy. Their padded on the inside for a relaxed fit for all-day wear. These sneakers are lightweight to ensure a pleasant experience no matter what you do in them. And if you just happen to get them dirty just wipe them down.
These will ship for free.
---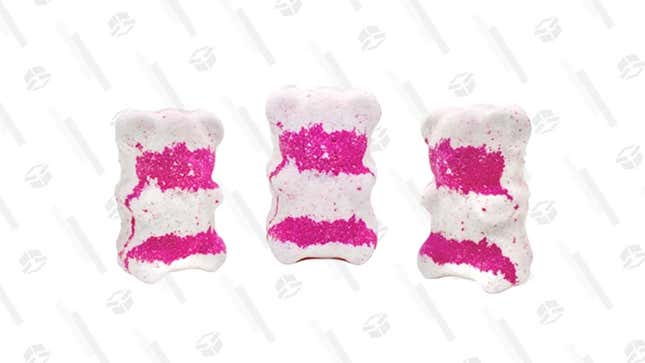 So. The first couple of weeks of 2021 have been chaotic none the less. Between the storming of the Capitol (which hasn't been seized since 1812!) and everything else, we all collectively need to take a chill pill. That's where Sunday Scaries CBD bath bombs come in. For only $11, or $9 if you sign up for a monthly subscription, you can get three bath bombs (orange, lavender, and lemon) with a couple of Mgs of isolated CBD to calm your body after a long day of doomscrolling and WFH. Nothing else to say. Let's not stress ourselves out too much in 2021, huh?
---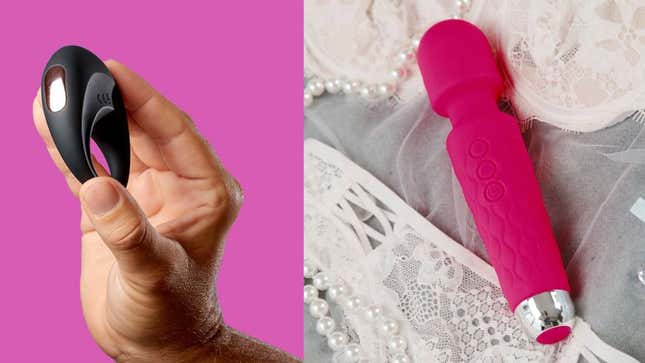 It's not even two weeks into the new year and it's been a wild ride so far. Things are stressful even more so in a lot of ways. Ella Paradis wants to help ease some of these tense feelings with the Make Better Love Kit. It's 70% off with the code 2021.
There are four items in this pack and it's got a bit of a variety to it. Better Love makes great toys for dudes and babes, this bundle is definitely a representation of that. The Poseidon is a powerful c-ring that vibes for seventy minutes at a time giving guys (and gals) some soothing silicone pleasure. Their Pixie wand is included for a little lady magic. It has ten settings, which is great for travel and is very user friendly. You'll also get a sweet satin bag to keep both of these safe and sound. And to add a little more sexy to 2021 they're tossed in a pair of thigh high fishnets. While both vibes are fun with a partner there are absolutely benefits to taking them out for solo runs too.
---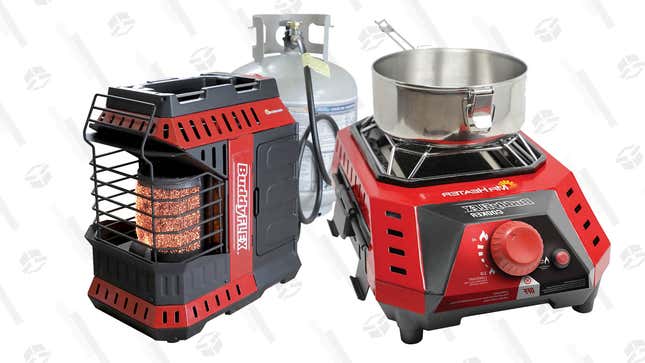 Unless you're in a state that sucks for other reasons, winter can be brutal, especially during a pandemic when the only things you can safely do in public are outdoors. It's no surprise, then, that outdoor heaters have taken the restaurant world by storm. And if you're lucky enough to have a yard or plan outdoor getaways in these difficult times, the global health crisis has breathed new life into non-commercial heaters as well, keeping you toasty through even the most frigid temperatures.
Among the best outdoor heater brands is Mr. Heater, creator of the BuddyFlex heater and BuddyFlex cooker, both of which are on sale for 30% off, bringing the heater down to $105 and the cooker to just $52. Though it's redundant in name, the Mr. Heater heater is far from useless. In fact, the device radiates warmth—in all directions—for up to 2 hours on high and up to 3.5 hours on the low setting. It's also wind-reistant and lets out between 6,000 and 1,000 British thermal units (BTUs) with up to 275 square-feet of coverage. The BuddyFlex cooker, on the other hand, has a 4,000- to 8,000-BTU range with a 28" quick-connect hose that can be paired with the aforementioned heater.
For a mere $7 more than you'd otherwise pay for the heater alone at full price, you might as well pick up both and treat you, or your clientele, to an unforgettable night spent outdoors. And with a seemingly neverending stream of chaos dragging us all down, nothing sounds more delightful right now.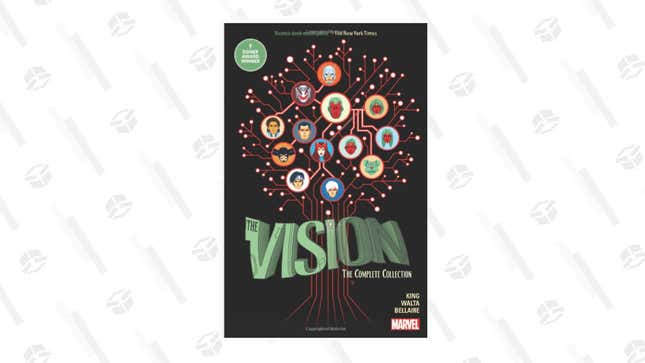 This Vison series is one of the best Marvel's come out with in years, and it remains a personal favorite of mine—not just because my pal Michael Walsh is an artist on it. Vision: The Complete Series is the perfect pairing with the new Disney Plus show WandaVision. While it doesn't exactly follow the same plot, it does provide some much-needed insight into Vision's backstory. Now 30% off, this paperback compilation includes twelve complete issues of the series. And if you want it all digital, you can save 78% through Kindle or ComiXology.
This graphic novel is written by the uber-talented Tom King, and it even won the Eisner for Best Limited Series in 2017. Through the twelve issues, you'll follow Vision as he pursues a normal life for himself despite being, you know, a robotic death machine designed by Ultron to slay the Avengers. To do this, he winds up building a family as extraordinary as himself, discovering along the way that normalcy is just out of reach. The dialogue is brilliant, as is the case with most of King's works, intimately putting Vision's family bond on full display. And, of course, it wouldn't be a superhero comic if it didn't all come to an epic and heartbreaking crossroad. All in all, it's a really fun read if you're looking to expand your knowledge of the multifaceted Victor Shade.
---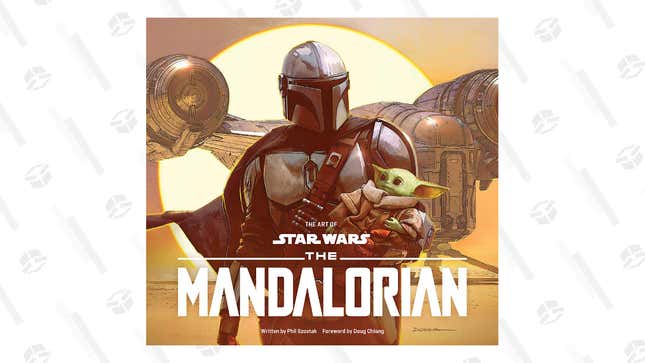 Star Wars art books are a real treat for fans, as the hefty hardcover tomes pack in hundreds of pieces of concept art complete with behind-the-scenes creative tidbits. And now we can do the same for The Mandalorian.

Released last month, The Art of Star Wars: The Mandalorian serves up 256 pages of gorgeous insight on the creation of the show's first season. While it probably won't give you canon story details about The Child, at least you can see how this whole wonderful thing came together. And right now, it's 20% off the list price at Amazon.
If you're looking for even more Mando reading material for the months ahead, you can pre-order February's The Mandalorian: The Art & Imagery Collector's Edition Vol. 2 and July's The Mandalorian: The Ultimate Visual Guide, each 10% off the list price.
---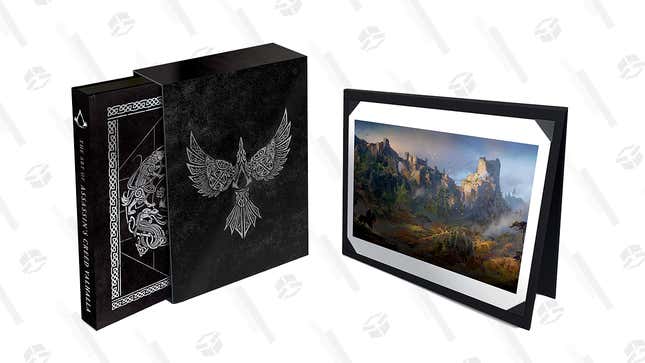 There's so much to do in Assassin's Creed Valhalla that I can't imagine many people have hit the bottom of the content barrel yet. The open world game is filled with side-quests, collectibles, and secrets that give it a very long-tail. So fans probably aren't sitting around wishing for more at this point. But for the extremely committed, the official Art of Assassin's Creed Valhalla book is currently on sale. The regular hardcover is $26, but the nifty Deluxe Edition is $50. It comes with a decorative slipcover and a landscape lithograph. This 192-page book is the perfect way to experience the English countryside at your leisure. I mean, sure, you could just get a photography book of real-world England, but where's the fun in that?
TECH
GAMING
HOME
LIFESTYLE

MEDIA
DEALS YOU MAY HAVE MISSED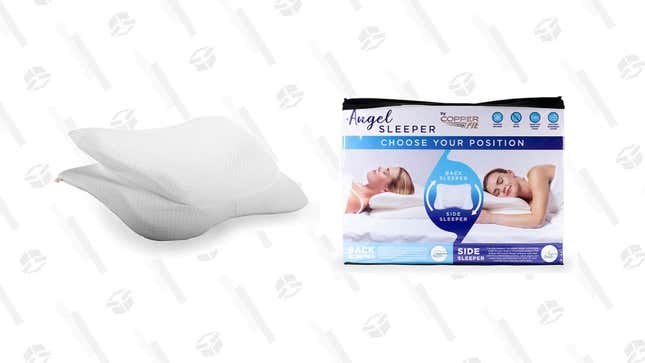 Sleep and naps are really fun when you're cozy and comfy. But for some getting in the perfect position to catch all the zzz's can be difficult. Copper Fit can help with their side/back sleeper pillow. It's currently half off and ready to remedy all your slumber issues.
Get the help you need to ease into the most restful night's sleep with this pillow. The plush memory foam gets your spine and neck in order while giving them proper pain-free support. This pillow is specifically designed to take the pressure off, literally. In doing this your body is less stressed, then your mind is less stressed. Place your arm in the cutout sides while sleeping on your side for the ultimate in peaceful snoozes. This pillow blocks odor and bacteria and the cover can be washed in a machine. It's made of a polyurethane/polyester blend and this price is for the full/queen size.
Free shipping on orders over $39.
---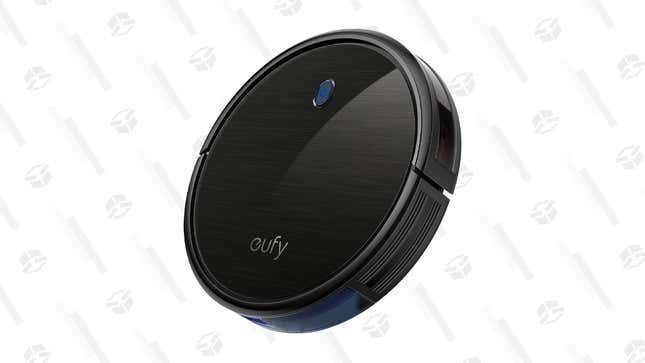 Being home all the time is no fun, and if you're anything like us, you may be filling the hours rage cleaning, just because. At this point, any further effors to clean can only be seen as a desperate, cryptic cry for some sort of help. After you've resolved your internal conflict and made some attempted return to normalcy (what's that?), let someone else do the job.
It could be your kids, but not all of us have them... and barring expensive nanny care, a eufy RoboVac just might be the next best thing. The BoostIQ RoboVac 11S packs a lot of suction power for just $170. It's $50 off the list price right now when you clip the coupon on the page.
---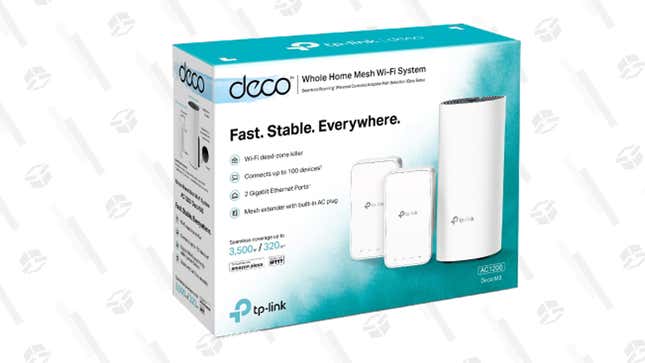 Is your Wi-Fi lagging behind? Well throw your current router in the garbage because a trio of TP-Link mesh Wi-Fi routers are here to save the day. From now until whenever Amazon decides to ramp 'em back up to full price, the TP-Link Deco M3, S4, and M5 are discounted by up to $20. While that's not the most exciting discount, the S4 in particular—marked down to $135—made the cut in our rundown of the best Wi-Fi routers curated by Andrew Hayward, who's tested a bunch! Here's what he had to say:
TP-Link's Deco S4 delivers the same kind of specs as the above Linksys router, with up to 867Mbps via 5GHz and 300Mbps through 2.4GHz, but does so with a multi-unit mesh design that spreads a signal across a much larger footprint. The two-pack can cover up to 3,800 square feet, while the three-pack is rated for up to 5,500 square feet.
As for the other two, the cheaper Deco M3 shouldn't be overlooked as a budget-friendly alternative. In fact, because it uses a pair of powerful TP-Link Wi-Fi extenders, thanks to a pair of TP-Link extenders included in the box, the M3 boasts coverage of up to 4,800 square feet, about 700 less than the theoretical range of the S4. And when your talking spaces that large, that difference is inconsequential for most people. Emphasis on most. If you're well off and/or not living in New York City, the size of your home might necessitate the extra reach. But if neither the M3 nor the S4 is fast enough, that's a separate issue altogether. Though none of these Deco mesh routers support the latest Wi-Fi 6 standard, the M5 bumps up the speeds from AC1200 (1.2Gbps) to AC1300 (1.3Gbps) because sometimes 1,300Mb makes all the difference.
---