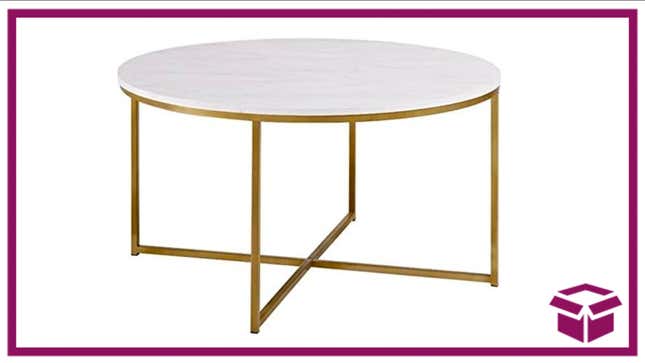 Looking for a new table? Not sure what kind of design you want? Why not go with a faux white marble number with gold trim? What's that? You want to save a little bit of money too? You can't go wrong with the Walker Edison Faux Marble Round Accent Table, which is a whopping 46% off right now at Amazon. That's down from its normal price of $209, so you're getting a great deal if you lock in a table. It'll be much cheaper than if you shop around locally for the same thing, that's for sure. 
Walker Edison Faux Marble Round Accent Table | $113 | Amazon
This 36-inch table can add a modern touch to any home, with a gold X-shaped base, a top surface that can support up to 100 pounds, and rubber-capped feet so you can avoid scratching up your floor. You'll have to assemble the table when it arrives, but don't worry. There are step-by-step instructions that come along with it to make things much easier. And voila! You'll have a great-looking new table to outfit your home with. But act fast, because it'll likely sell out at this price.