Sweaters are so great we've named an entire season for them. But sweaters also require a little bit of special care—they are, of course, more than worth it! With sweater weather beginning for many of us, here are five of the best products that will help keep them looking great well into winter.

The Keenstone defuzzer is a rechargeable electric fabric shaver, that comes with a sticky lint roller built into its design. We love a two-for-one deal! The beauty of having both functions in one product is that after you've used the shaver to remove pills—those little balls that form when the fibers fray or break, which give sweaters a worn out appearance—you can turn the sticky roller on the fabric to remove stray bits of fluff, lint or hair.

G/O Media may get a commission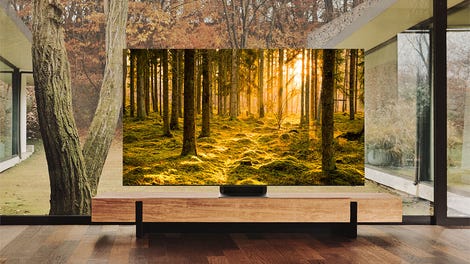 Up to 40% off
Samsung Smart TVs
No-rinse detergents are the best choice for hand-washing delicate items like sweaters or lingerie, because cutting out the rinsing step means the garments won't be exposed to as much handling. While there are other, more versatile no-rinse detergents available, Eucalan is the way to go if the only things you wash by hand are sweaters and other woolen items, because it's slightly less expensive than its competitors. It comes in three scent options: lavender, grapefruit or eucalyptus, as well as an unscented formula.

If you're absolutely never ever going to try your hand (heh) at hand-washing, no problem, we're still here to support your lifestyle. The thing about sweaters is that actually are, for the most part, better off not going to the dry cleaners because the chemicals used in dry cleaning will strip wools of their natural oils. So! If you're not going to hand-wash, at least consider not outsourcing the job of cleaning your sweaters, and instead put them in the washing machine. The trick to this is to first put the sweater in a mesh washing bag to protect it from everything else in the load. Then, use the gentle cycle, cold water, and avoid mixing in heavy items like jeans, hoodies or towels.

Regardless of whether you choose to hand- or machine-wash sweaters, they should always be air-dried. As with detergents, there are drying racks that are especially designed for sweaters and other items that should be laid flat to dry. While many garments can be hang-dried, sweaters will become stretched and misshapen if hung to dry.

I mentioned that sweaters don't like to be over-handled, which brings us to this last recommendation: If you get a small stain on a sweater, consider spot treating it rather than washing the entire garment. Spot treating is a term to describe using a small amount of detergent or stain remover and a small amount of water to eliminate stains. Foaming hand or dish soap is a good choice, but the best choice is a Shout wipe.

---