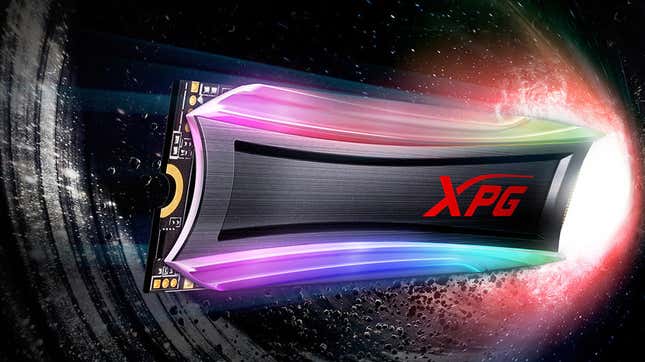 4TB XPG Spectrix RGB Gaming SSD | $400 | eBay
Now that you've stocked up on games from Black Friday sales on Steam, EGS, Origin, Uplay, and the like, you need to start thinking about expanding your storage. And while SSDs aren't sexy, it is necessary to own one—and one with ample capacity for all your favorites. With some terribly optimized games like Call of Duty: Black Ops Cold War taking up upwards of 100GB on your fastest drive, investing in an SSD with, say, four whole terabytes of space isn't as bold an ask as it was just a few years ago, nor is it as prohibitively expensive as it once was.
The RGB-ified Spectrix RGB gaming SSD from ADATA gaming brand XPG, for instance, is on sale for just $400 on eBay, down 55% from its $900 list price. Because it's an M.2 NVMe drive, it can drive "sustained" 3,500/3,000 MBps read/write speeds, according to ADATA, and fits snug in your motherboards M.2 slot, no additional cable management required. By comparison, an older SATA III SSD like the ADATA SU800, which costs half the amount for half the storage, claims read/write speeds of just 560/520MBps. Bang for buck, this price is unbeatable for anyone in the market for storage performance that keeps up with the latest PS5 and Xbox Series X consoles.
This story was originally published by Gabe Carey on 11/29/2020 and updated with new information on 01/22/2021.
---