When I moved into my first apartment in 2018, I had a lot of things on my wishlist for my new place. I wanted hardwood floors, since carpets + cats + allergies = nightmares. I needed a place that would let me live with four small animals (thank god for chill landlords). And I really, desperately wanted a lot of closet space. I did get my hardwood floors, and even scored a (small) Pinterest-worthy kitchen. But my closet space? Well, it isn't dismal, but but let's just say it's not ideal given the size of my clothes collection.
When I planned for my move, I did my best to find everything and anything that would make my life easier and more organized. I have a variety of cute bins and baskets from Target to store all of my makeup and hair needs. However, the real crown jewel of my closet organization is my shoe rack.
I've long since lost count of my shoes, but if I had to ballpark it, I'd guess that I have 60 or more pairs, which doesn't make me a shoe addict necessarily, but it is more shoes than one person could ever need. I have a shoe for every mood and occasion. I have UGG boots (from my teen years), Old Navy flip flops in every color, gladiator sandals, several slip-on Converse, ankle booties, regular boots, wedges, combat boots (for all the combat a cat mom can see), actual high heels, and then an assortment of gym sneakers, even though I only use one pair most days.
This meant I needed to find a shoe rack that could sort out the mess my closet had become thanks to my shoe-shopping habit. I'm an avid reader of reviews and anything I can buy on Amazon, I will. So, when I saw that the Seville Classics 3-Tier Shoe Rack had had 6,900 reviews and 4.5 stars, I knew I had to check it out.
I paid $58 for the two-pack of shoe organizers, figuring I could always return them if I didn't love them. Turns out, I would have happily paid even more. Whereas previous shoe organizers have taken me half an hour to screw together, the Seville snapped together in three minutes flat, no screwdriver required.
If you read the customer reviews on Amazon, you'll see that plenty of people buy more than just one shoe rack, and now I understand why. Some people buy enough to turn their entire wall into an area to arrange their entire shoe collection. If I had more room in my closet, I totally would have bought a third and fourth organizer.
G/O Media may get a commission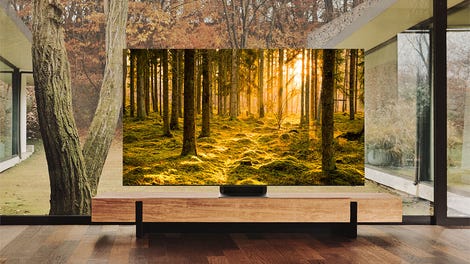 Up to 40% off
Samsung Smart TVs
To be fair, not all of my 60+ pairs of shoes ended up on these racks. I donated some that I hardly ever wore. I also have an organizer by my front door, so that my boyfriend and I don't track dirt through the apartment. I even keep shoes in my car, for the odd fear I might need an emergency pair of flip flops or sneakers. But overall, I was able to easily fit about 30 shoes between the two shoe racks. I also bought a runner to go underneath the organizers to make it look more visually appealing.

This isn't a complicated product, or one that I honestly did a ton of research on. It was just one of those situations where I needed a thing, I found that thing on Amazon, and it ended up being perfect. If your shoe collection is a mess, it might be just right for you too.
---