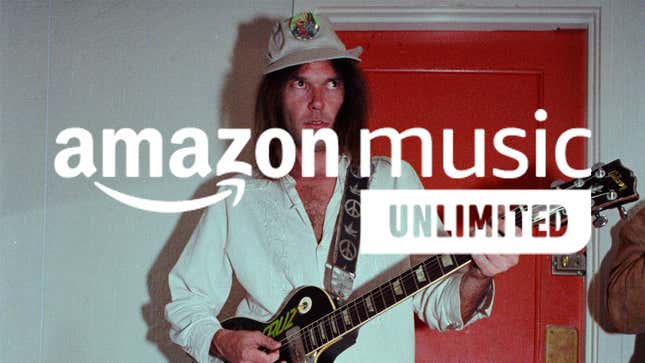 Amazon Music Unlimited | 4-Month Free Trial | Amazon
By now I'm sure you've heard about Neil Young's beef with Spotify that ultimately lead to his removal from that platform after the company decided that Joe Rogan was a more lucrative standby than an old Canadian folk singer. Well, don't anybody tell him about Amazon's miserable history of worker treatment, because after his exit from Spotify, he began promoting Amazon Music Unlimited as an alternative, following a deal whereby the company is now offering new subscribers a free 4-month trial. Amazon Music offers high bitrate music streaming, which Spotify has also promised, but which has been in limbo since its original planned launch in November of last year, so making the switch will actually mean higher-quality audio, if that's something important to you.
Mind you, this isn't an Amazon 'sclusie, so you can still listen to Neil Young on other music streaming platforms like Apple Music, Tidal, and Qobuz, but it's 4 months for free, and hey, it's also the only place you can listen to Garth Brooks. I'd take that free 4 months and listen to Ropin' the Wind every single night to go to sleep, just like I did as a kid, if I were you. The offer doesn't appear to work for current or former subscribers, however—sorry, former free trial users. I know this because I clicked the subscribe button at the link above to see whether there was some sort of confirmation page or dialog that would give me an option that included the trial, but instead I was instantly subscribed. I canceled it, and they immediately reminded me why I might want to keep the $8/month service.