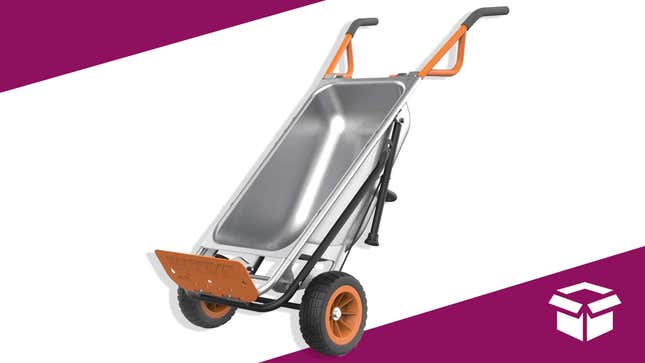 The Aerocart is the most versatile way to haul a bunch of crap around your yard or elsewhere. The cart can be configured in eight different modes to best transport whatever it is that needs moving. It can be used as either a dolly or a wheelbarrow. Just pull the release knob on the side to unfold the legs and switch it from dolly mode to wheelbarrow mode. In wheelbarrow mode, the cart can haul up to 300 lbs (200 lbs in dolly mode). The tires are rugged yet never need inflating and the whole thing can be assembled in less than five minutes out of the box — no tools required.
Worx WG050 Aerocart 8-in-1 Yard Cart | $186 | Amazon
The Worx Aerocart part-dolly, part-wheel barrow normally runs for $230. Right now, you can save 19% at Amazon, bringing the price down to $186.