An old boyfriend of mine was a case-free iPhone guy. I couldn't stand it. Knowing that phone could slip from his hand while scrolling Twitter on the subway platform, and we'd spend the next three months eating popcorn for dinner on date night because he was paying off a new model made me bonkers.

The "To case or not case your phone" debate has proponents on both sides of the argument. On the anti-phone case side, folks argue that a smartphone was designed to be seen and appreciated, though it's easy to suspect there's more of a status issue at play. If you can afford to go commando with your smartphone, you must be raking in the stamped Tubmans. However, as evidenced by the number of bros I've seen whip out phones with busted screens, that theory doesn't really hold up.
While I can appreciate that a clunky case hides a smartphone's thoughtful and elegant design (RIP, getting to see those sexy beveled edges all day, errryday!), I just don't think that problem outranks, y'know, a functioning phone with an intact screen.
Moreover, I can't get behind the "smartphone as status symbol" argument, since the cool factor of owning a smartphone has now diminished to the point that flip phones are literally the new status symbol.
Bottom line? Guys who don't use a phone case are like guys who don't want to use condoms because it "doesn't feel as good." Smart women know to avoid both.
Ask a Clean Person and Style Girlfriend are teaming up this month to bring you the latest on what to wear for spring and summer...but this week, they're talking about what your phone should wear.
G/O Media may get a commission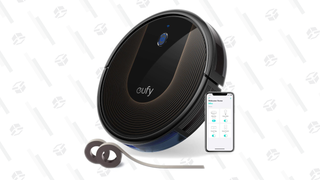 48% Off
Eufy BoostIQ RoboVac
Below, stylish cases to protect your smartphone investment:
Looking for something on-trend for summer? This Native Voice case fits an iPhone X and iPhone XS, and it features a canvas trim that will go with your favorite western-inspired chambray shirt.

This Samsung Galaxy phone case is way retro, but in a classy, "mid-century modern house outside of Seattle" kind of way. Like if a Marine Layer T-shirt and Seth Rogen's new cannabis company had a baby, and that baby grew up to be a phone case.

You don't really want a phone case. You also don't want to look like a doofus who doesn't know how to take care of nice things. This navy style made of polycarbonate is here to meet you in the middle. Subtle in appearance, yet durable enough to survive a floor bounce at a bar.

A marbled pattern lends an organically stylish look to this slim, durable case. Designed to protect an iPhone X, XS, XS Max, and XR, your semi-precious smartphone will be safe in this semi-precious (in appearance, anyway) case.

When it comes to functional fashion, you can almost never go wrong with matte black. This Samsung Galaxy case from OG tech accessory brand Speck comes in a polycarbonate outer shell that's soft and easy to grip without feeling sticky in your hand on a hot day.

There are more sophisticated (read: expensive) leather smartphone cases out there, but really, why spend more if you're just going to update your model when the iPhone Double-XL or whatever it will be called comes out?

Il Bussetto's case, compatible with iPhone X models, is made from leather that's colored by hand to create a distinct finish.
Featuring an abstract arrow print, this refined leather phone case from Coach feels like something you'd see in an Instagram from your favorite men's style blogger. I'm imagining it placed nonchalantly askew, next to their morning espresso at their favorite cafe, a pair of Clubmasters, and a dog-eared copy of Marcus Aurelius's Meditations.

---