The PlayStation 5 has been out in the wild for more than two years now. If you're lucky enough to have been able to grab yourself one, you'll be happy to see there are a ton of great deals on games right now. PlayStation 4 players, no need to worry. We have plenty of deals for the previous generation as well.

Here are the best PlayStation deals for January 2023.
Play as iconic members of the Batman family in Gotham nights. You'll get to step into the spandex suits of Batgirl, Robin, Nightwing, and Redhood in this action-packed original story set in the DC Universe.
G/O Media may get a commission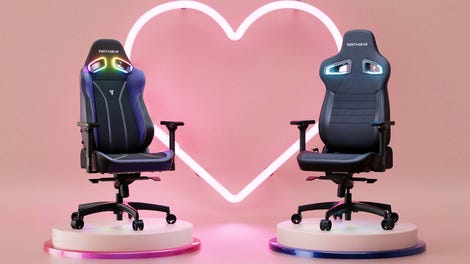 Up to $150 off
Vertagear Gaming Chairs
Elden Ring is the latest release by FromSoftware, known primarily for the Dark Souls series and Bloodborne. Their signature appeal has widely become around the difficulty (but fairness) of their combat, obtuse narratives, and wide range of customization when it comes to how your character plays. All of that is here in Elden Ring but now in a vast open world. And let me tell you, this game is massive. If you've been curious about the hype but hesitant to drop $60, well, you'll be happy to know the game is $15 off.
This complete reimagining of the classic PlayStation RPG topped many GOTY lists when it came out in 2020. See Cloud and Sephiroth as you've never seen them before.
Football season is upon us and with that comes a new yearly release of Madden. The new one is ... well, it's still Madden. Amazon has Madden NFL 23 for $29 on PS4 and $35 on PS5.
Sonic makes the leap into open-world (or technically open-zone) gameplay in his latest game. It's only been out for a couple of weeks but it's already down to $40.
The Horizon series suffered twice from poor release timing. The first game came out right when Breath of the Wild did and then the sequel came out alongside Elden Ring. It's unfortunate because both are excellent action RPGs with cool open worlds to explore. If you missed out, now is your chance to hop into Horizon Forbidden West for just $40.
While not officially a new LittleBigPlanet game, Sackboy: A Big Adventure takes the lovable hero from that series and transports much of its creative ethos in a different kind of platform-action game with 3D environments. This one's purely a game to play, not one with creation and sharing elements, but it's a fun one, especially for the family.
Square Enix's new adaption of Guardians of the Galaxy follows their middling take on Marvel's Avengers. While the latter brought on some mixed feelings about a decent single-player experience with a poor attempt at a live-service game, Guardians of the Galaxy drops any and all live-service elements in favor of a single-player story taking on the role of solely Star-Lord. And it's actually pretty dang good!
Hoop it up with NBA 2K23, now marked down dramatically by $30. 2K Sports' simulation series is a winner year in and year out, and this year's version brings an array of enhancements to the various play modes.
The Last of Us: Part I released last year which is a PS5 remake of the original PS3 game. It's been rebuilt from the ground up and looks beautiful. If you haven't experienced this story yet, now is the perfect time as it's $10 off, and the HBO series premieres this weekend.
Insomniac's Spider-Man spinoff is even better than the original game, starring young Miles Morales as an inexperienced web-slinger learning the ropes while his new superhero antics intersect with his personal life. It's marked down to just $40 right now on PlayStation 5 for the standard edition.
The PlayStation 5 comes with an 875GB SSD. At first glance, that may sound like a lot. But after factoring in the system software, you're looking at about 667.2GB of usable space. Thankfully, the internal storage can be expanded with SSDs available from third parties. WD_BLACK is having a sale at the moment on their SN850 solid-state drives. You can currently get a 1TB SSD for $129.