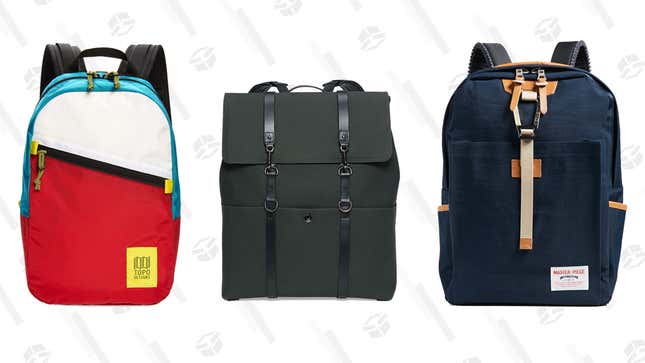 Dear readers, have you ever heard of an editorial calendar? It's what prompts us media types to start writing Fourth of July stories in May, and holiday gift guides in October. In August, these calendars scream at us to churn out 'back to school' stories and shopping roundups from our laptops until our fingertips have been rubbed away by the pounding of keys. Hell, I did one a week ago on this very site!

Snacktaku Drinks Pepsi's Time-Jumping 1893 Cola Flavors
So it's maybe no surprise that sitting at the top of my to-do list this week was a roundup of stylish backpacks for the discerning students reading right now.
But I'm no fool. I know backpacks don't get flung in the trash right after you stride across the auditorium to receive your diploma and awkwardly shake the hand of a dean you've never met. I see plenty of guys whose college years are (ahem) well behind them who are still toting their backpacks in a post-grad world.
And that's...fine! TBH, my stance on backpacks has evolved a lot through the years. I used to be virulently anti-grown man wearing a backpack, but times have changed. Work wardrobes have become much more casual, I get it. With style norms loosening, the ability to tote your belongings on your back without crushing the delicate shoulders on a well-crafted suit has been steadily on the rise.
So, this list of backpacks is for any guy, student or simply a lifelong learner (i.e., a grown ass man who y'know, reads books sometimes), who wants to look good while schlepping the world on his back. Who amongst us, amirite?!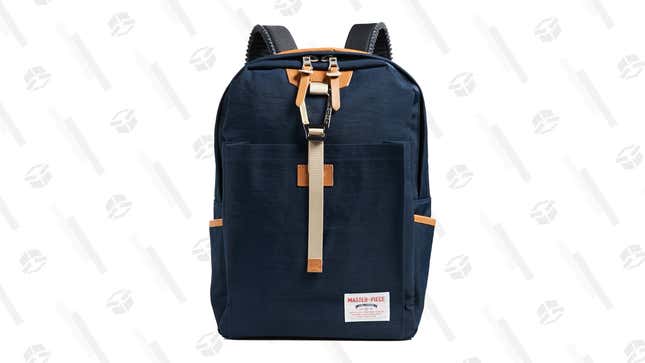 Ugh, I love this brand so much. Started in Japan in 1994 when the idea of bags designed specifically for men was barely in its infancy, Master-Piece has always focused on the fusion of men's fashion and function (say that three times fast). And unlike a lot of brands with faux-heritage roots, Master-Piece comes by its "made in Japan" DNA honestly, having opened its own factory in Osaka back in 2004. Prices are pretty on par with other higher-end totes and backpacks, while looking just different enough that you should expect folks to inquire, "Who makes that bag?" more often than not.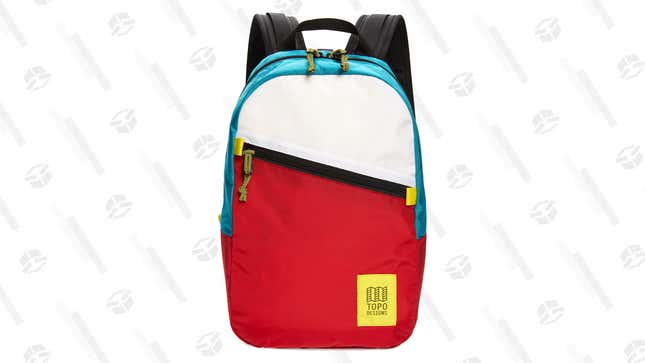 You may recall Team SG drooling over Topo Designs' stylish and sturdy duffel in this gym bag roundup. So it should come as no surprise that we stan their backpacks, too. This one rings up under a hundred bucks and gives off strong "Pokemon but make it fashion" vibes with its cool, throwback color-blocking. (Pssst, I also really like this one that's $140 and has a more, let's say, sophisticated palette).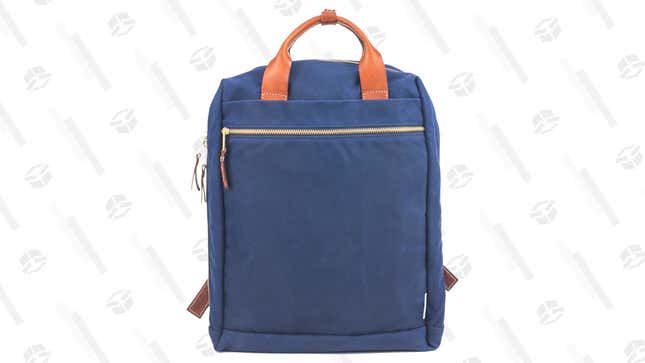 This backpack from NYC-based Boarding Pass in "midnight blue" reminds me of the briefcase my dad used to lug to work when I was little. The same rich colors and sturdy fabrics, it was well-worn in a way that made being a lawyer seem not as pretentious and stuffy as the occupation, in retrospect, seems to be. As if he couldn't be bothered to upgrade his bag after law school because he was just too busy saving the world (and, like, having three kids, but really who can say). Either way, the durable waxed canvas style with leather straps and brass hardware of this backpack, which comes in two other colors as well, remains a masterclass in casual sophistication.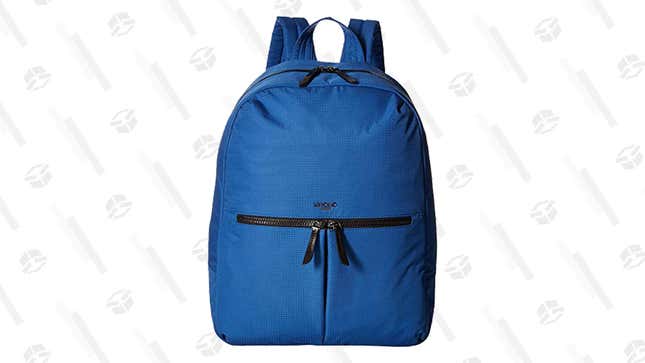 I implicitly trust every product on travel doodad company Flight 001's site, and this Knomo backpack is no exception. The simple, slim-lined backpack made out of super lightweight polyester easily fits a laptop, with plenty of compartments for cords, phones, and other school/work paraphernalia.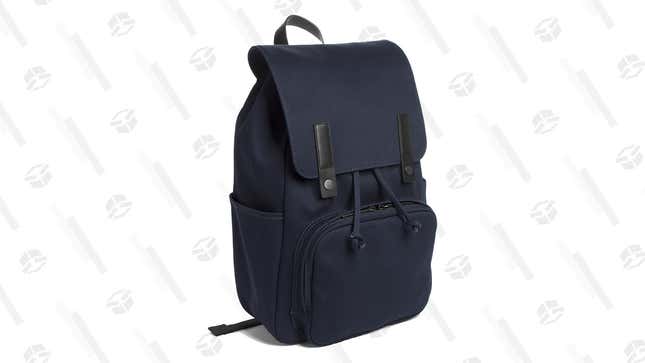 We take it for granted now, calling something the "Everlane of [X]," but let's be honest, if you had to call any backpack on this list the "Everlane of backpacks," this would totally be what you imagined, right? Unfussy with just the right amount of structure, this backpack would look perfectly at home on the back of an art history major at a small liberal arts college...and then just as good later on when he takes a junior copywriter position at an influencer agency that does Snapchat campaigns for CPG brands.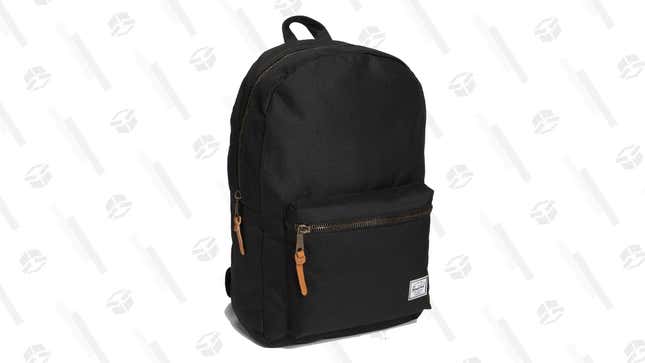 A classic! Will it fit your laptop? Probably (if it's 15" or less, certainly). But does it come with a special eco-friendly padded sleeve meant to cradle it just so? Or NASA-engineered pockets to keep all your tech gadgets and wires organized? No! And you shouldn't expect it to. It's a backpack. Meant to hold books, and notes you pass your friends in the hallway. Sometimes it's okay to expect less.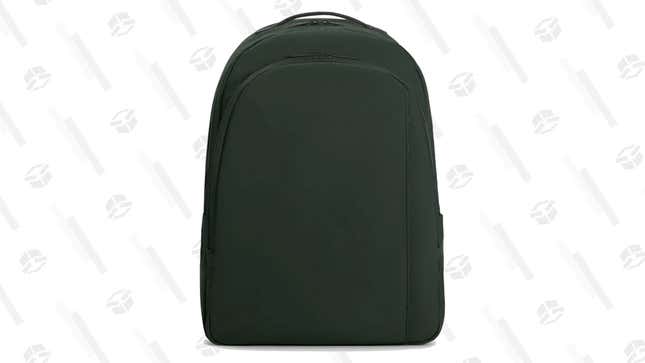 The Backpack (capitalization theirs, and meant to make it sound fancy, I take it) from Away is organized into three main storage compartments, making it an OCD organizer's dream. There's a cushioned pocket with a water-resistant zipper designed to fit a laptop, and a collapsible water bottle pocket on the side to help you stay hydrated on your school or work commute.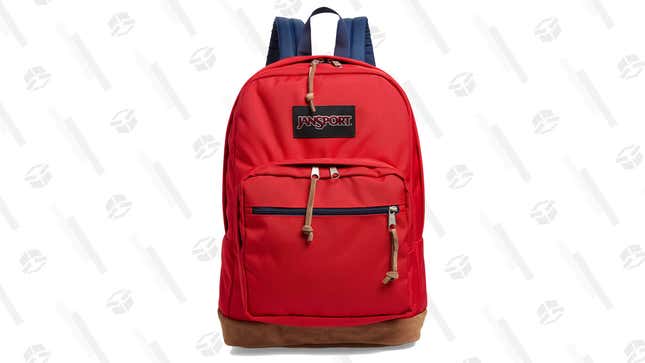 Pretty sure the design on this bad boy hasn't changed since the Grimace-purple version I toted in high school. And there's something strangely comforting about that.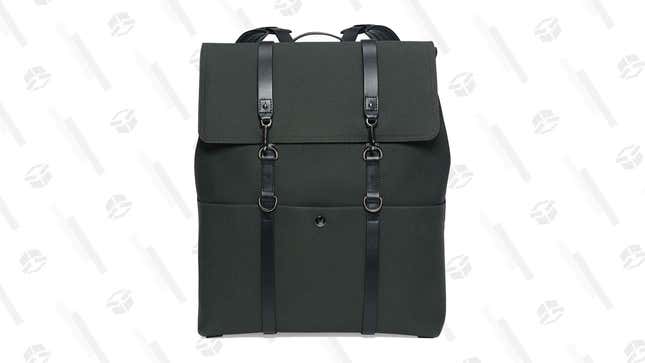 Yes, this backpack is stupidly expensive. And yet and yet…on Style Girlfriend, we wind up recommending it all the time to followers looking for a "grown man backpack" they can use for the long term. Look, I don't expect a college student (or god forbid, high school student) to tote this bag, but if you're a legit adult person who nevertheless is committed to carrying around his shit on his back, then you could do worse than investing in a real nice (like, reaaaalllll niiiiiice) backpack like this Mismo 'fit.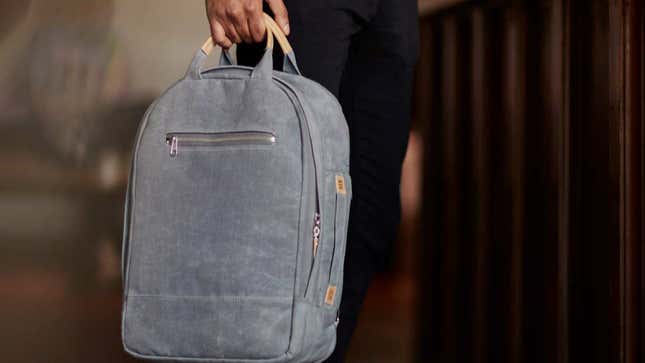 Our final rec is from Thread International, but you can't actually buy it right now. I realize this is not totally useful for a shopping site, but my friend was toting their backpack at drinks last week and now I'm obsessed with the company's mission (and their hubba hubba founder who was on a season of Survivor?!). After a successful Kickstarter campaign, the certified B corp company is re-launching later this year, and you might want to get yourself on the waitlist. Each backpack is made from fabric that starts its life as plastic bottles trashed on the streets in Haiti, and is crafted in a rebounding neighborhood in Pittsburgh, PA. Look good, do good?

---