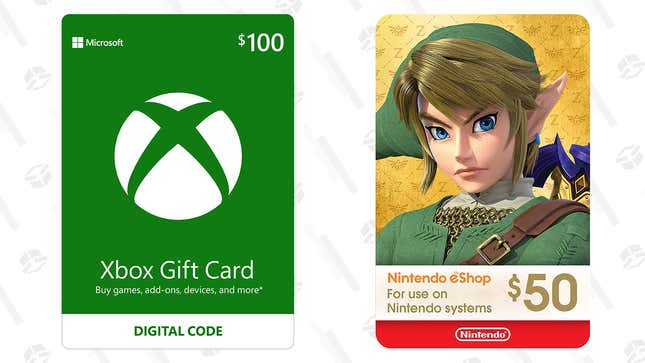 Xbox Gift Cards | 10% off | Amazon
Nintendo Gift Cards | 10% off | Amazon
There's something oddly satisfying about buying gift cards discounted. When you grab a $50 gift card for under $50, it feels like you've discovered some sort of secret life hack. You can get that feeling today, because Xbox and Switch gift cards are 10% off on Amazon. Xbox cards are on sale starting at the $5 level, though $60 and $70 are excluded for some reason (curiously, that's the cost of your average Xbox One and Xbox Series X game, respectively). Xbox cards work on the Microsoft Store as well, so you could technically buy five and save $50 on a Series X.
Nintendo eShop gift cards are 10% off across the board, with the weirder exception of $35 cards. You'll notice the savings more with bigger cards. Both have a $100 option, which cost $90 with the savings. There's also some smaller denotations available if you're just looking for some quick stocking stuffers.

---