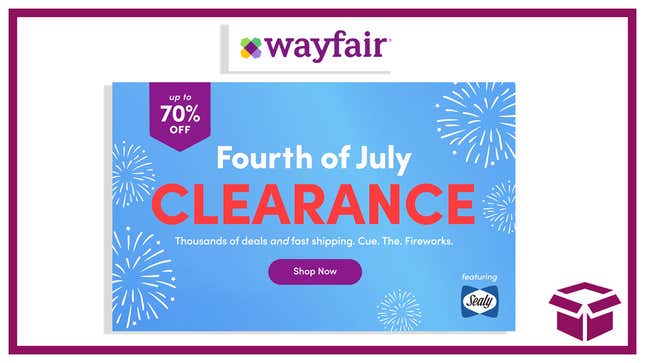 New furniture can feel like a big decision, particularly when you're shopping online and the choices are expensive. Now, for a limited time, this Wayfair sale is here to help you feel great about taking the plunge. With items starting at under $50, the site is slashing prices on its most popular "Best Sellers" by up to 70 percent — everything from bedroom furniture, to bunk beds, to rugs, to kitchen appliances. Plus, Wayfair's offering an additional deal that will help you act now — when spend $1,000, you'll get $200 off a future order, and when you spend $2,000, you'll get $500 off a future order.
Wayfair Best Sellers | Up to 70 percent off | Wayfair
We love the items in this sale, including an electric patio heater for just $75, an executive-style office chair for $107, and a chic metal bed for $198 (down from $768!). It's a great selection, and it's clearance, so the great prices won't last long. Check out Wayfair's Best Sellers Clearance sale for Fourth of July now, and get up to 70 percent off popular items for your home. And if you act soon, you can lock in discounts for future orders — $200 off when you spend $1,000 and $500 off when you spend $2,000.