There's a running joke among my friends about "those fancy sandals you always wear" the "you" being me and the "fancy sandals" being not really all that fancy but very distinctive in design. The joke is that, yes, I'm a as-soon-as-it's-not-snowing-until-the-snow-starts-up-again sandal wearer. I love sandals! My feet prefer to be unfettered!! My toes need to roam free!!!

As a result of my love of sandals, I have … an unreasonable number of pairs of sandals. And they must be stored somewhere! I think about these things a lot, you guys and so here are some good options.
---
Under pretty much every other shoe storage circumstance, you would not catch me advocating for the "toss 'em in a heap" strategy, but when it comes to flip flops, a bin is actually a great way to keep a collection of Reefs and Rainbows and Havaianas contained. Opt for something that doesn't have a lid, so you can easily reach in and grab the pair you want, and if you choose a fabric-covered bin, go with a dark color — your flops are filthy, remember?!?

G/O Media may get a commission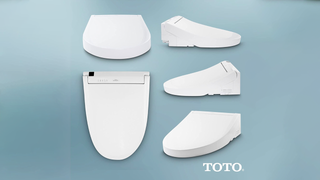 44% off
Toto Washlet Electronic Bidet Toilet Seat
---
Provided you have fewer than ten pairs of flip flops [looks around nervously] this over-the-door rack is an easy way to keep sandals up off the floor and organized. It allows easy access to your flops, which you'll clip onto the rack when not in use. The clips are adjustable, which allows you to store sandals of different sizes — this would be a great choice for a family, since it can accomodate tiny kiddie flops as well as giant grown-up sized ones.

---
If you do have more than ten pairs of sandals, or if you sandals don't fit in, or could be damaged by, a clip-style rack, the old standard pocket-style over the door shoe holder will be a better option for you. Unused pockets can store belts, scarves and other small accessories too, and most pocket-style organizers are designed to either hang on the back of a door or from the rod in a closet.

---
The world of specialty hangers is WILD, you guys. These flip flop hangers are mostly designed for retail use, but there's no reason why you can't get yourself a set and use them in your own life! This set comes with ten hangers, which I mention because most other sets of flip flop hangers — because retail use! — consist of, like, 500 flip flop hangers and I don't care how devoted you (okay fine, I) are to the flip flop lifestyle I can pretty much promise you that you don't need 500 flip flop hangers in your life.

---
Elsewhere in the specialty organization solutions world—there is honestly an organizer for everything, isn't there—this is actually amazing: A wall-mounted rack designed specifically to hold slippers and flip flops? Praise be. But actually, this is a super convenient little thing to know about, especially if you have a pair of outdoor shoes you throw on to do stuff like take out the trash or walk the dog, that you want to stash somewhere other than on the floor right by the door — hang this thing and voila! You've become a master of organization.

---