Sometimes, broken-in is a cool look. But other times, you just want your new white sneakers to stay looking new, and looking white. If that's your thing, these are the products you need to know about to keep your favorite kicks looking like they just came out of the box.
Snacktaku Drinks Pepsi's Time-Jumping 1893 Cola Flavors
Do you need product recs? Email Jolie or tweet at her with requests or questions!
---
Magic Erasers, despite their name, are not actually made of magic, but they are pretty magical when it comes to removing dirt and scuff marks from the rubber uppers of sneakers. To use these sponges, wet a section of the Eraser and squeeze out excess water, then rub the it over the soiled area just the way you would use a pencil eraser. As you use it, it will disintegrate the way a pencil eraser does as it removes any dings in the rubber or leather upper of the shoe.
G/O Media may get a commission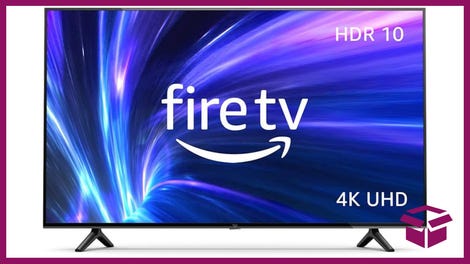 42% Off
Amazon Fire TV 50" 4K Smart TV
Sport Shoe Whitener is basically just white shoe polish, and it's the stuff you want when your white leather sneakers start to get whisker lines and other dings that you want to cover up. The bottle comes with a foam applicator tip, so you won't need any other tools or products to use it — just apply it directly to the shoe in a thin layer, allow it to dry and repeat the application if necessary.

If you're suuuuuuuuper dedicated to keeping your white sneakers looking brand new, these sneaker wipes are for you — they're easy to use, but you have to, um, actually use them regularly (that's where the dedication part comes in). Think of them as the Clorox Wipes of the sneaker care world; use them to remove trace amounts of the dirt, grit and grime that collects on shoes in the course of wearing them.

Here's another one that falls into the "I am a dedicated sneaker owner" category. A shoe cleaning brush, which has bristles that are stiff enough to brush caked-on mud away from leather shoes but gentle enough to use on knit sneakers, serves two functions — it allows you to brush away dirt and dust prior to cleaning and polishing, and can also double as tool for applying sneaker cleaner.

Do you need to buy a gift for the sneakerhead in your life? (It's okay if you're the sneakerhead in your life, self-gifting is allowed, life is short!) Let me introduce you to the Reshoevn8r Sneaker Laundry System. The kit comes with a shoe brush and a bottle of cleaning solution that can remove dirt and stains from leather, canvas and knit sneakers. The kit also includes a laundry bag for the times when you want to run your tennis shoes through the washing machine, and a pair of shoe trees to help shoes retain their form and eliminate the creasing that causes whiskering.

---