Congratulations, you're about to become a pet parent! You've done your research and you're ready to take on the responsibility of adopting a dog. If it is your first time adopting a pet, there are a few things you're going to need in your house before you bring home your furry bundle of joy.
There are some basic essentials that are needed for dogs of all ages and sizes, like collars, leashes, treats, toys, and dog beds. If you're getting a puppy, you'll want a failsafe in case your puppy has an accident when you're not home. And if you're getting a senior dog, it is important to have essentials to make your home accommodating for them.
If you are adopting a puppy, you'll obviously need to potty train them. A popular trick to help their progress is giving them a treat after they've gone to the bathroom. These tiny Milk-Bone Treats will do the trick!
G/O Media may get a commission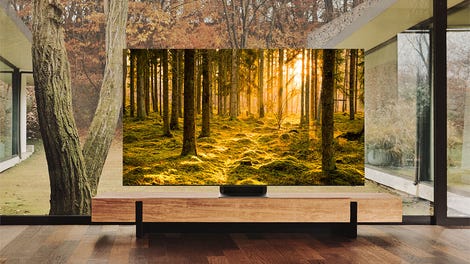 Up to 40% off
Samsung Smart TVs
Now, we're not saying this should be used in place of actually taking your dog outside. However, puppies tend to have accidents in the house because their bladders are tiny. Rather than your dog having an accident on your great grandma's antique carpet, you can train them to use this indoor turf. It is more environmentally friendly than potty pads, and also not as gross to look at.

Dogs tend to get excited when it's time to eat. Avoid a huge mess at feeding time when you get them a dog bowl that comes with a non-skid mat. This feeder has a water dish, food dish, and the mat is made of silicone, which makes for very easy cleaning.
You'll obviously need food for your dog, but you should talk to your vet about what brand is best for your pet. Ahead of time, you can get a storage container to keep their food fresher longer. Also, a storage container is safer than leaving it in the bag, as it's less likely to attract bugs (or hungry dogs).
As you'll soon learn, most young dogs love to chew. It's like they're just learning how to use their teeth, and they want to chew everything. Our readers had a lot of favorite toys for super chewers. The classic Kong is great for puppies that are just starting to chew their little hearts out. If your dog still loves to chew when they're fully grown, there are tougher Kong models for super chewers.

The popular Rabbitgoo Dog Harness features four adjustable straps, which makes it a perfect fit for a wide range of dogs of all sizes and can fit dogs up to 135 pounds. When training a new dog on walks, a harness can help keep them from straining their neck and cut down on pulling.

When first training a dog on walks, you want to keep them on a shorter leash, and this extra-strong five-foot leash is perfect for getting started. It comes with a comfortable padded handle and reflective threads for late-night walks.
While your dog will probably want to just hang out on the couch or bed with you, it is important to also give them their own space. Give them a very comfortable PetFusion Memory Foam Pet Bed to settle down when they want alone time, or when you're not home.
Like the potty pad, you need some stain and odor eliminator in event of accidents. While accidents are more common with puppies, they do happen with dogs of all ages, and you'll want this on hand whenever you have a dog in the house.
The #1 item you'll want for a senior dog is pet stairs. You can get your dog a set of stairs, so they still have their independence to get on and off the couch. These stairs come with just two steps with a lot of surface space, which will make it easy for your pet to get comfortable using them, and they're durable enough to hold dogs as heavy as 150 pounds.
---