Secret pizza party! SHHHHHHH! secret pizza party!
I like pizza how I like pizza. I've happily made my own for half a decade at a lower cost, with better ingredients, and usually with less frustration than any chain can provide. My precious pies have been forged in varied cooking scenarios ranging from campfires to an expensive ceramic egg grill. The propane-powered, 17,000 BTU Camp Chef Italia Artisan Pizza Oven is my new favorite.
Its reign started with a night of dinner indecision. With several discs of pre-made Publix pizza dough in the fridge standing by for a potluck on the next night, my family decided we should go ahead and consume pizza instead of trying harder to think of anything else to prepare. Usually I have no problem with this— it is pizza, after-all. This night just seemed premature. Camp Chef's Italia was still taped up in a freight box in my garage. I hadn't even read the manual yet. I was reluctant to rush it, but ultimately decided this first test was to be a literal trial by fire.
After running downstairs and hefting the pizza oven back up the stairs and onto my back deck, I tore open the box to find a sturdy, stainless-steel, propane oven, and only a few other loose bits. Apart from attaching a handle to the door and putting the ceramic stone into the the Italia, it was assembled. This was a good start. We may eat before 10PM.
Hooking up propane came with a choice of using a small 1lb. camp canister or using an included 5ft. hose to link up the 20lb. propane tank from my grill. I chose the latter, quickly checked for leaks, wiped down the stone, and hit the igniter to do a burn in while the dough finished coming to room temp. In ten minutes I had made the jump from a sealed box to a lit oven.
G/O Media may get a commission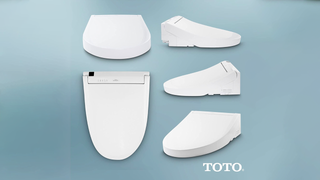 44% off
Toto Washlet Electronic Bidet Toilet Seat
My IR temp gun read north of 400F at just six minutes of heating, the dome temp was about 600F. Had the dough been ready, I could already start cooking. The Italia is pizza-ready in a fraction of the time my kitchen oven or ceramic grill is. I let it continue to incinerate any factory oils or dust for a few minutes, then dialed down the flame while I assembled a raw pizza.
Cooking on the Camp Chef Italia is straightforward. If I allow ten minutes and let the stone and air temps level out, one of my pizzas cooks evenly and exactly to my liking in about eight minutes. Rushing the oven on high heat makes the stone colder in the middle than on the edges, but giving the pie a quarter turn while cooking still produces solid results.
After you're delightfully bloated and happy from pizza and beverage consumption, the stone will have cooled enough to be cleaned. Take a few seconds to scrape off carbonized foodstuffs that can be loosed, and allow the stone to absorb the power of the remaining stains and remnants, bolstering and bettering it for future cooks.
For about $260, the Camp Chef Itialia pizza oven lets you quickly make better homemade pizza and calzones than any other pizza cooking method I've tried. It might be a uni-tasker, but when your one trick is pizza this well done, exceptions are easily made.