Awair uses five key metrics to measure your air quality over time and then delivers that data to your smartphone. More importantly, it offers tips to help improve your air situation that are actually useful and targeted.
For better or worse, Awair's wood and white design sets it apart from most other modern tech. One of the first things you'll notice about Awair is that it isn't meant to be wall-mounted. This makes sense given that air needs to flow through, but you'll be taken by surprise if you intended to put this thing next to your Nest.
My Nest already measured humidity (and obviously temperature), and my Withings does the same plus keeping track of CO2, and my air purifier has a color-changing LED for when things get bad, but Awair gives a much more intuitive, complete, and immediate breakdown of air quality that you'll actually want to act on.
G/O Media may get a commission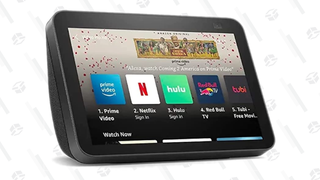 Awair's tips can range from things like leaving your bathroom door open after a shower to humidify a room, to warning you not to refinish a floor or add new carpet to a new baby's bedroom because of off-gassing.
A quirk of Awair's interface is that there's no option to devalue or completely ignore particular metrics. I like to keep my condo on the cold side for example, and there's no way to not get dinged for that on my Awair score, so prepare the gamification side of your brain accordingly.
Feedback from Awair is immediate. Shake curtains next to the unit and the dust reading will shoot up, do any significant cooking and your whole score will crash through the floor for awhile.
Awair can connect with Nest to run your fans when needed, along with Alexa, IFTTT, and more.
If you're looking for an air quality tracker that you'll actually pay attention to and won't hate looking at, Awair is an easy recommendation. We'll be covering their next product, Awair Glow once we get our hands on it.
---