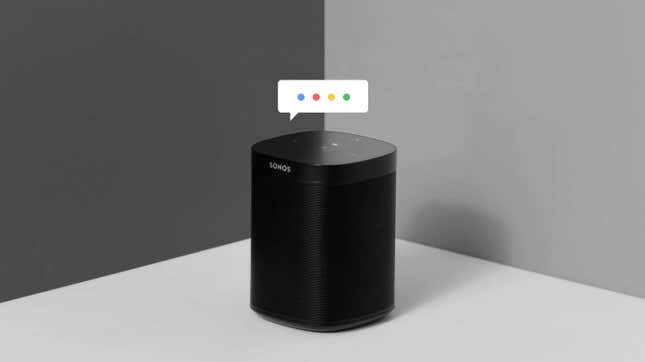 Featured Deal: Sonos One (Gen 2, Used) | $169
The best Sonos deals for August 2020 are here.
Sonos audio hardware is widely considered to be some of the best around, but it rarely comes cheap. Still, do a little digging and you'll find some stellar bargains, including savings on used and refurbished models too.
Snacktaku Drinks Pepsi's Time-Jumping 1893 Cola Flavors
Luckily, we've done the digging for you, and these are the best Sonos deals we've seen right now.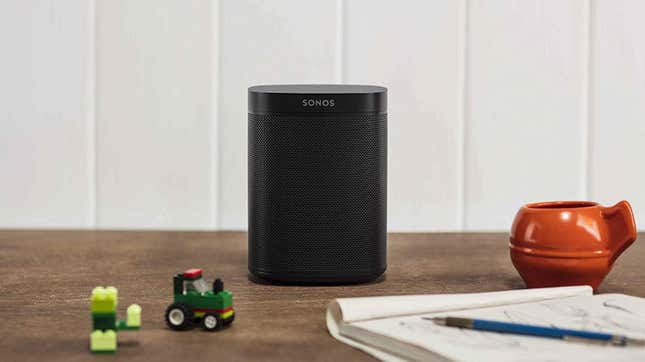 This compact speaker really does it all. You'll enjoy your tunes accurately projected throughout the room thanks to two digital amplifiers and a mid-woofer. And while the woofer is pumping out the bass, the tweeter covers the higher frequencies. It's even resistant to humidity, so feel free to belt out some Springsteen in the shower!

Of course, the One isn't complete without its built-in access to Google Assistant, Alexa, and Apple AirPlay 2. Control your music with your voice or Apple device. When you need some privacy, you can mute the mic with the press of a button. Amazon Warehouse has used versions starting at $169, a decent discount from the $199 new list price.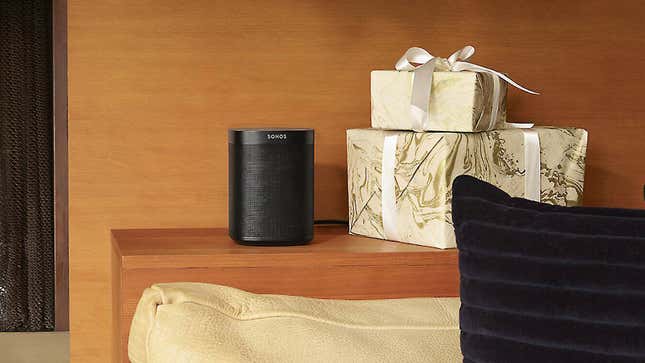 The Sonos One SL is the little brother in the Sonos speaker family. Like the One, it contains two amplifiers and a mid-woofer for clear and powerful playback. However, it lacks a microphone as well as built-in smart assistant access. But if you aren't into those helpful little AIs, the One SL is an affordable alternative to the One.

Fortunately, this speaker keeps its resistance to humidity. It also supports Apple Airplay 2 so you can use your iPhone, iPad, or Siri to play Apple Music to your heart's content. Amazon Warehouse sells used versions starting at $165 as of this writing, down from the $179 new price.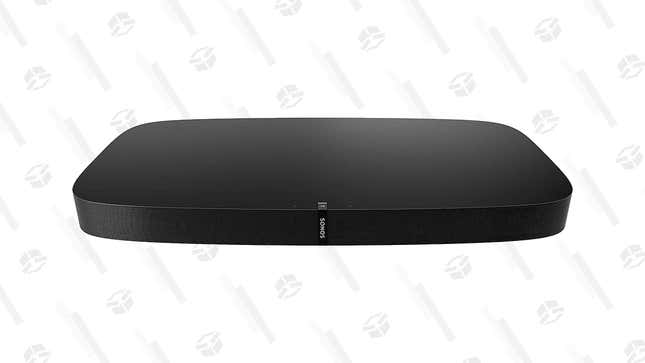 Save $151 off the list price on the Sonos Playbase, the company's heavyweight TV soundbar. It packs in 10 amplified speaker drivers, with a larger footprint than your average soundbar. If you really want to boost your listening experience, you can pair in a subwoofer and additional speakers for a surround effect.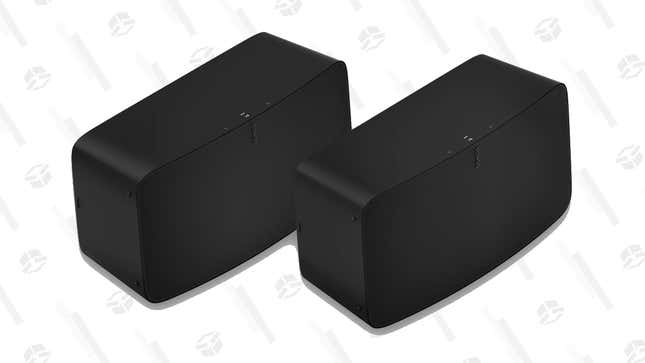 Give your home the joy of high-fidelity audio with the Sonos Two Room Pro Set, which features a pair of hi-fi Sonos 5 speakers. With two speakers used in concert and positioned vertically, each takes a mono channel to better deliver the sensation of stereo sound. Save $49 over the individual price of the two speakers.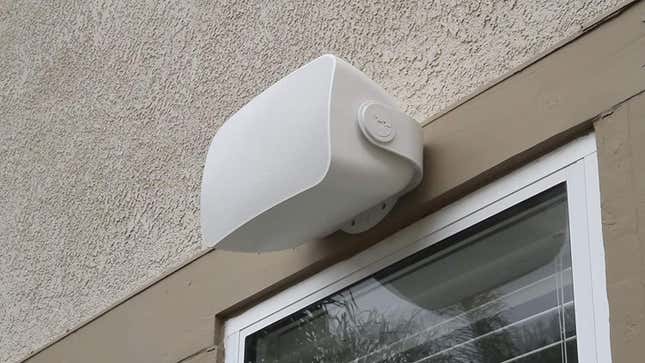 Get your backyard prepped for a sonically-enhanced summer by snagging a pair of Sonos outdoor speakers. They're built tough to resist rain, snow, humidity, and more, while still delivering stellar Sonos sound. Adorama has a used pair for $529, which is $270 off of the new price, but be sure to check the listing to make sure that everything you need is included.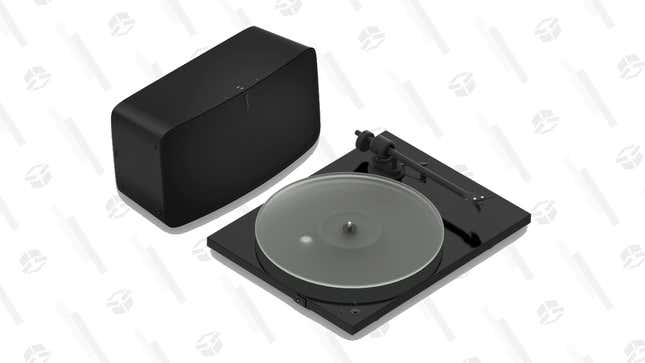 Get the ultimate vinyl setup at a slight discount from Sonos. This bundle includes the Sonos 5 hi-fi speaker along with a gorgeously-designed Pro-Ject T1 Photo SB Turntable. Sold together, you'll save $49 over buying them separately.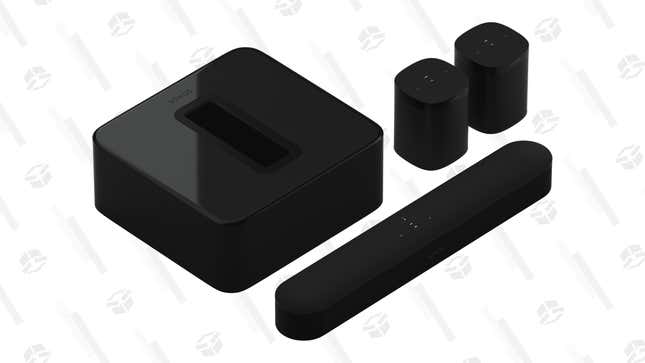 What's better than surround sound with a soundbar and two speakers? Throwing a subwoofer into the mix! The 5.1 Surround Set comes with the Sonos Beam, two Sonos SL speakers, and the Sonos Sub. The Beam brings intense and accurate audio, the One SL pair brings the surround, and the Sub rocks the bass.
And just as it does in the woofer-less, the Beam provides built-in access to Google Assistant, Alexa, and Apple AirPlay 2. Go ahead and bask in the quality sound of your smart home theatre. It's $97 off right now.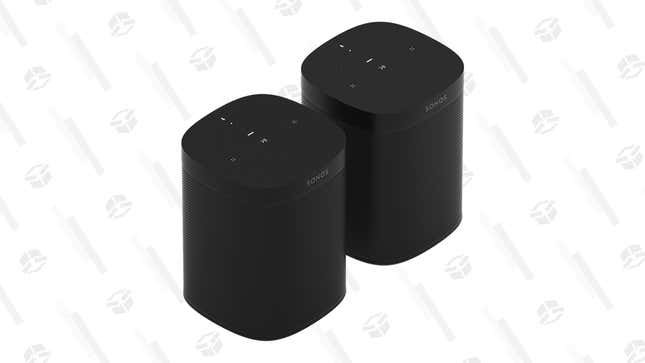 What's better than a single speaker? Two, of course! Hook up these two Sonos One speakers to rock some sweet stereo or try your tunes in two rooms. The Sonos One contains two amplifiers for great projection, a mid-woofer for those deeper tones, and a tweeter that covers the high notes.
And aside from being a terrific speaker, the Sonos One has built-in access to Google Assistant, Alexa, and Apple AirPlay 2. Whether you prefer to use your Apple device or your voice for music, the Sonos Ones have you covered. It's $19 off for the bundle.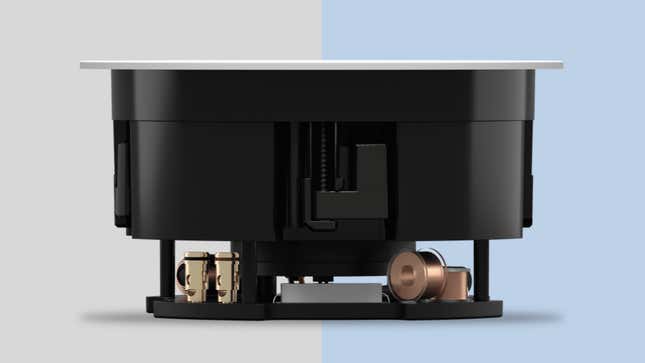 Want Sonos-quality sound without actually making space for the speakers in your house? That's what Sonos' in-ceiling speakers are for.

These architectural speakers by Sonance can craftily hide within your ceiling while blasting out the kind of aural bliss that Sonos is known for. They're only $9 off the list price right now, but hey, that's a month of whatever music service you prefer.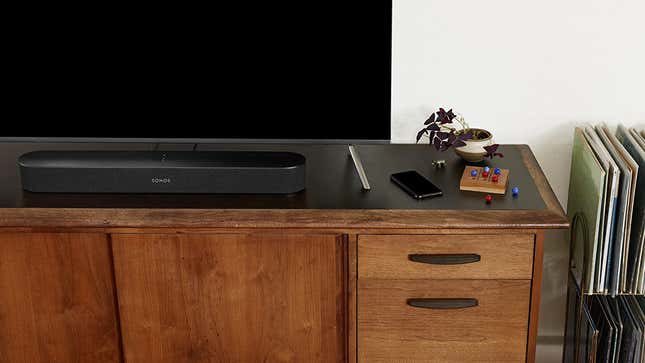 Want a killer soundbar without filling your room with speakers? The Sonos Beam should do the trick. It has four full-range woofers, a tweeter, and five digital amplifiers that will easily beat whatever output your TV can manage on it own.
It offers both Alexa and the Google Assistant, as well as Apple Airplay 2 compatibility to playing tunes off of your iPhone. This Back Market refurbished version is $50 off the new price.
---