Featured Deal: VAVA 4K Ultra Short-Throw Projector | $2,200 (10/13 11:15am-11:15pm PT)
Amazon Prime Day is here, and sister brands VAVA and Boltune are getting in on the fun with some serious savings on devices such as a 4K Ultra Short-Throw Projector, wireless earbuds, dash cameras, USB-C hubs, and more.
We've collected the best deals from both brands below, some of which are available across both days and others that are limited to particular time windows. Mark your calendars if you want to save $600 on a 4K projector or take advantage of one of these other bargains.

Deal valid: Tuesday, Oct. 13 - 11:15am-11:15pm PT
G/O Media may get a commission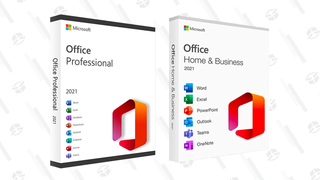 89% off
Microsoft Office Professional 2021 Lifetime License
VAVA's top-end projector is wild. Unless typical projectors, you can set this one only 7.2" away from your wall to get a crisp, 100" 4K picture. Ultimately, you can get up to a 150" image with the benefits of HDR, and a blinding 6000 nits of brightness to help ensure clarity.

Obviously, such quality doesn't come cheap, but this is a premium option for a dazzling picture without hanging a set on your wall. It's marked down $600 off the list price during the Prime Day promotional window above, and that's the lowest price we've seen to date.
Deal valid: Wednesday, Oct. 14 - 4:50pm-10:50pm PT
Get a view on your little one with the VAVA Baby Monitor, which comes with a 5" 720 portable display that shows a full color image in daylight and a greyscale infrared view at night. It has LED noise indicators and zoom features, plus an automatic panoramic view.

It's 20% off the list price during that Prime Day timeframe above, and it has incredible reviews at Amazon with a 4.7-star customer rating from more than 5,700 reviews.
Deal valid: Tuesday & Wednesday, October 13-14
Whether you're driving for Uber or Lyft or just want the peace of mind of recording your motoring interactions, VAVA's 1080p Dual Dash Camera lets you record both through the windshield and inside your ride.

They're compact cameras with Sony sensors, and you'll even get night vision recording in the mix. Clip the coupon for the full $25 savings across the full span of Prime Day.
Deal valid: Tuesday & Wednesday, October 13-14
This model of the VAVA Dual Dash Camera has very similar specs to the one listed above, but has the added benefit of a built-in 2" LCD screen so that you can see what it's recording without pulling out your smartphone. Save $30 during Prime Day and be sure to clip the coupon.

Deal valid: Tuesday, Oct. 13 - 4:45pm-10:45pm PT
Feeling short on ports on your laptop? Today's top laptops might only stick you with a couple of ports, but the VAVA USB-C 9-in-1 Hub should give you everything you need.

You'll have three full-sized USB ports (2x USB 2.0, 1x USB 3.0), a USB-C charging port, Ethernet port, HDMI port, 3.5mm audio port, and both SD and microSD ports. It's $20 off the list price during the Prime Day window listed above.
Deal valid: Wednesday, Oct. 14 - 3:45pm-9:45pm PT
Here's a slightly trimmed down and cheaper USB-C 8-in-1 hub that's available on Wednesday during Prime Day. This hub comes with a trio of USB ports (2x USB 3.0, 1x USB 2.0), a 4K HDMI port, an Ethernet port, SD and microSD card ports, and a 100W USB-C Power Delivery port. It'll be marked down to $32 during that six-hour window above.

Deal valid: Tuesday & Wednesday, October 13-14
This VAVA 12-in-1 docking station is a huge step up from your average USB-C port-heavy hub, providing your laptop with all sorts of perks. In addition to four USB ports, a USB-C PD port, Ethernet port, SD and microSD card slots, DC in, and 3.5mm audio ports, it also has two HDMI ports to support dual-display 4K resolution at 60Hz for compatible PCs. Save $30 right now when you clip the coupon and use promo code KJVA1009 at checkout.

Deal valid: Tuesday & Wednesday, October 13-14
Set up a wireless outdoors security camera system with the VAVA Cam Pro, which is on sale during Prime Day in single-camera and two-camera sets. Each camera delivers a 1080p feed with motion detection and sends a push notification to your phone, and comes with a local storage hub with 8GB of space to work with.

The single-camera option sells for $128 during Prime Day, marked down a total of $52 with a coupon clip, while the two-camera set sells for $222—a savings of $58 with coupon clip.
Deal valid: Tuesday & Wednesday, October 13-14
AirPods are great, but not everyone wants to shell out that much cash for wireless earbuds. Luckily, Boltune has a much more affordable option with its wireless Bluetooth 5.2 earbuds.

The earbuds provide six hours on a charge, but the charging case has another 34 hours to continue topping them up over and over again. They're IPX8 splash resistant and have touch controls, plus Amazon customers are pretty pleased with them given the current 4.6-star rating.
Deal valid: Tuesday & Wednesday, October 13-14
Why shell out for AirPods Pro? Boltune's wireless earbuds offer active canceling and are much-loved by Amazon customers, with a 4.6-star rating and positive reviews for its bass response and battery life. Save $22 during Prime Day.
---