Featured Product: Microsoft Sculpt Ergonomic Keyboard | $56 | Amazon
Please, for the love of all that is good and nice, look after your wrists. RSI, or repetitive strain injury, is a deeply unpleasant affliction that'll effectively wipe out any comfort you have while using your hands, arms, shoulders, and possibly even your neck and back. It hurts like hell, and it can cause long-term damage if you're not careful.
It's not something that's impossible to avoid though, and you can actually help alleviate it and dodge it entirely with the right bits of kit, and also a constant reminder to sit up straight. That's why it's so essential to look into the world of ergonomics. Ergonomics feels like a weird and pointless word when you're young, but trust us when we say that you're going to need to consider it if you want to enjoy a pain-free life. It's always good to consider good wrist support, the correct monitor height, and even things like armrests on your chair too.
Aside from poor posture, which we all probably have, one of the biggest risk factors tends to be keyboards, so it's always good to make sure you're picking one that's going to offer you support. So, we've gone ahead and made sure we've found some of the best ergonomic keyboards around, and then put them all here for you to choose from.
As with many options on this list, Microsoft's Sculpt ergonomic keyboard is a strange-looking device. The sloped shape, the hotel in the middle, and the separate number pad all feel a bit odd at first, but the shape is designed to help you use it more naturally, and that'll take some pressure off of your wrists. Plus, who doesn't like being a little bit quirky anyway?
Amazon reviewers praise the impact on their wrists. One customer called it "the greatest joy that the technological world has brought us," with perhaps some hyperbole, while another described it as such:
"This is the best one out of the bunch. The individual keys are slightly indented enhancing finger placement and key finding. The wrist area is padded. The ergonomic angle is just right and feels very natural. The board feels heavy and well-made. The keys are solid, quiet, and tight. The separate 10-key pad: genius. I struggle to have enough room on my keyboard tray for a full board and mouse with its pad, so this fits great. In addition, having a 10-key on your board always pushes your mouse hand too far to the right for proper ergonomics. Just think, hundreds of times per day, your right hand is traveling too far to find that mouse!"
G/O Media may get a commission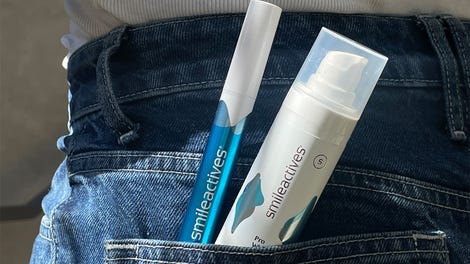 58% off
Whitening Powerhouse Pen & Gel Duo
It's not like looks are the most important thing when you're investigating the best ergonomic keyboards, but let's be honest, they help. Thankfully, the Microsoft Surface Ergonomic Keyboard is actually fairly sleek. The soft gray color helps it stand apart from the usual black affairs you'll find, and the curved and sloped design mean it really does look good.
Not only that, but the design of it means that you'll feel a noticeable difference when using it. There's a very clear feeling of relief when typing on this thing, and because it's wireless, you'll be able to take it with you and use it with nearly anything you'd like, whether that's a PC or a tablet. The Surface Ergonomic Keyboard has keys large enough to type on accurately, but they're never too far apart that it feels like a lot of effort to use for a long time. It's not a perfect keyboard, but it's a strong contender thanks to all of its pros.
Don't worry Mac users, we've not forgotten about you. If you've chosen to stick with Apple, then you'll be glad to know that doesn't mean you can't enjoy a nice ergonomic keyboard. While most on this list will pair with a Mac, it's not always easy. Thankfully though, you can always just grab yourself a Logitech Ergo K860 is an incredibly well-rounded ergonomic keyboard. There's a pun in there somewhere, and we're not ashamed of that.
The K860 is easy to pair with a Mac, and aside from looking an awful lot like the Microsoft Surface, also has the ability to tilt, which means you can find the best angle for your wrists. Plus, the wrist rest itself actually has dual-layer protection, which makes it even more comfortable. You're definitely not going to be missing out if you're on Mac.
When my wrists were really giving me trouble, I was afraid my mechanical keyboard was part of the problem (maybe it was!) So when I decided to switch to an ergonomic keyboard, I completely avoided looking at mechanical options. There's plenty to choose from, though, and I've found /r/mechanicalkeyboards to be a great resource over the years for recommendations.
Among their top endorsements for ergonomic options is the Kinesis Freestyle2, a split keyboard that's actually split, so you have a bit more wiggle room with how you position both sides of keys. Its keys are low-impact, and it has a zero degree slope, which will give your wrists some much-needed relief. Oh, and even though you may not be traveling or going outside much right now, its slim profile makes it easy to pack in a bag for a week away. At $115 right now from Newegg, it's cheaper than many other keyboards in its class, so as long as you're sure you'll dig a mechanical keyboard, it's a tough keyboard to beat if you're not a fan of the Surface and Logi's sloped designs.

Don't be fooled by its clunky looks—the Kinesis Advantage2 packs all the power of a mechanical keyboard in an ergonomic design that puts your wrist health first. Based on the IBM keyboard design of the 1960s, split keys and a scooped design keep your hands in a cozy position. It comes in a few configurations, with an option for either Cherry MX Brown switches if you prefer to torment your colleagues on every conference call, or silenced Cherry MX Red switches to keep things quiet. You won't have to worry about compatibility, either, since it works with Windows, macOS, and Linux out of the box.

At $339 for the silenced model, it's the most expensive model on the list. That said, reviewers on Amazon swear by it, with many calling it their favorite keyboard. Many also note the learning curve involved, saying that the first couple days of typing may bring some frustration, but you'll come out the other side grateful for the journey.
If you're looking for an ergonomic mechanical keyboard that doesn't have a big footprint to it, plus one that's great for Mac as well as Windows, then consider the Keychron K2. The updated version of this keyboard has an angled design that is easier on your wrists, and you can angle it further with the adjustable feet.
The Keychron K2 features a 75% layout without the number pad and extra cruft alongside, so it's pretty small and you can easily cart it around. It's also wireless and has a robust 4,000mAh battery that's rated for up to 72 hours of typing. A switch lets you swap between Windows and Mac layouts, plus you can swap some keycaps to better suit either of those operating systems. You can also choose between Red, Brown, and Blue key switches, each of which has its own distinctive feel and sound when typing.
Our friends at Gizmodo praised the Keychron for its price and Mac-specific keycap layout, saying this:
For the price and feature set, the Keychron K2 offers up great value, particularly if you're not too picky or new to the world of mechanical keyboards. Sure, it's way more expensive than a wireless membrane keyboard, but as far as Mac-specific mechanical keyboards go, it's pretty dang affordable. It's also much, much, much more enjoyable to type on than the Magic Keyboard—throw that flat piece of overpriced trash in the fiery pits of hell. And while some keyboard snobs might turn their nose up because the K2 isn't the fanciest keyboard around, I frankly do not give a damn. I'm not one of those mechanical keyboard enthusiasts who would willingly plop down over $300 for the perfect keyboard. I am unapologetically cheap and don't like keyboards that much. I'm just someone who wants a reasonably priced, non-mushy wireless keyboard for my Mac—and the Keychron K2 is perfect for that.
Bottom Line?
Millions of people struggle with standard keyboards, but ergonomic keyboards like these provide needed relief without slowing you down. Granted, it takes a while to get used to a new keyboard shape or layout, particularly with some of these that really go outside the box. Still, it could be well worth a little short-term frustration to secure some long-term relief. Why wait?
This story was originally published by Jordan McMahon on 10/06/2020 and updated by Jason Coles with new information on 01/19/2022.