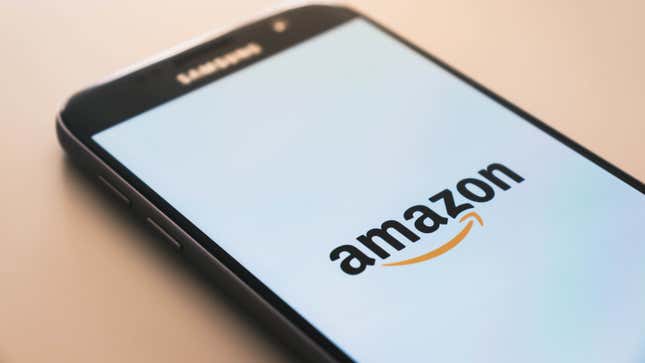 Featured Deal: Sony WF-1000XM3 Earbuds + $20 Gift Card | $148 (Prime)

Amazon Prime Day 2021 is here! The annual mid-summer sales event, which delivers two days of wide-ranging, oft-amazing deals, is now officially happening through the end of today!

That means two days of deals and likely some of the best prices you've seen on a whole host of goods this year. Most of the deals are exclusively for Amazon Prime members, however, so make sure you have an account (or that you're willing to pay for one) if you want to take part.
Here's a look at some of Amazon's top bargains for Prime Day 2021.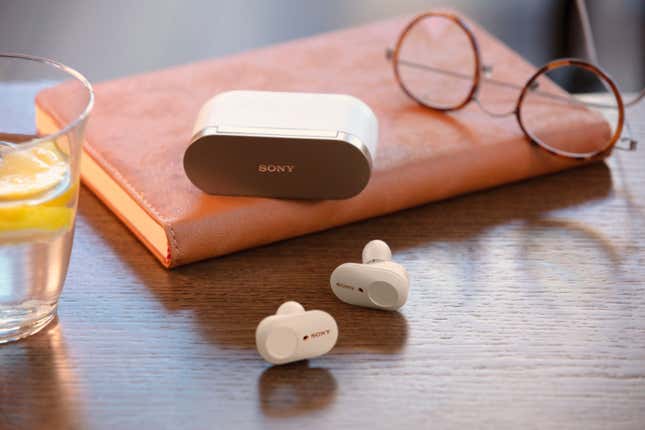 As I said in my wireless earbud roundup, Sony WF-1000XM3s have amazing sound quality and are just $148 for Amazon Prime members during Prime Day, which is $102 lower than the original list price. On top of that, you also get a free $20 Amazon gift card bundled in!
But if you're not convinced, here's a rundown:
"All in all, the half-hour I spent really was worth it. The sound was so crisp. The mids were truly mid and the bass was banging. I could hear all the richness in Whitney Houston's voice when I listened to "I Have Nothing" one time for the one time. The coolest thing about these is you can control the ambient sound by tapping the left earphone once and activate noise-canceling with two taps. You can also pause and skip songs by tapping on the right headphone."
What are you waiting for? Grab a pair before they're gone!
---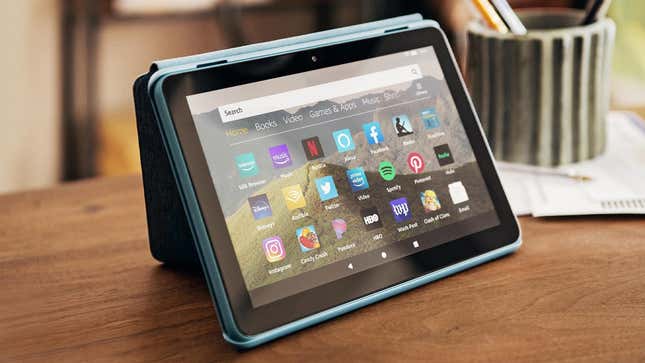 Look, it's no iPad—but if you want a solid, cost-effective tablet for basic entertainment needs, there's no better bargain than Amazon's Fire tablets. And right now, they're even cheaper.

Amazon's Fire HD 8 tablet is a good option. It has a modest 8-inch 1280x800 screen with just enough power to handle apps, games, and media, plus a hearty 12-hour battery. It's marked down to just $45 right now with special offers (ads) on the lock screen exclusively for Prime members, or $60 without ads—a savings of $45 with either version.
You can pay an extra $20 to get the Fire HD 8 Plus for $65 with special offers, which has smoother performance, wireless charging, and faster wired charging.
---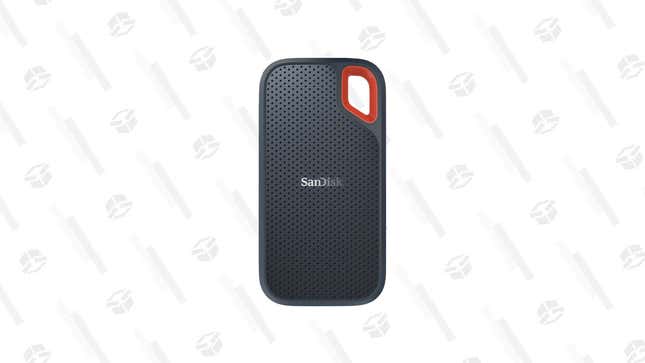 There's no worse time to lose all your movies and tunes than when there's not much else to do. There are lots of ways to remedy this, but having an external drive with plenty of space can give you some peace of mind by giving you a place to back everything up, and help you bring all your info with you everywhere without weighing down your bag. SanDisk's 2TB Portable USB-C drive is down to $228 today at Amazon exclusively for Prime members, a savings of more than half off the list price.
---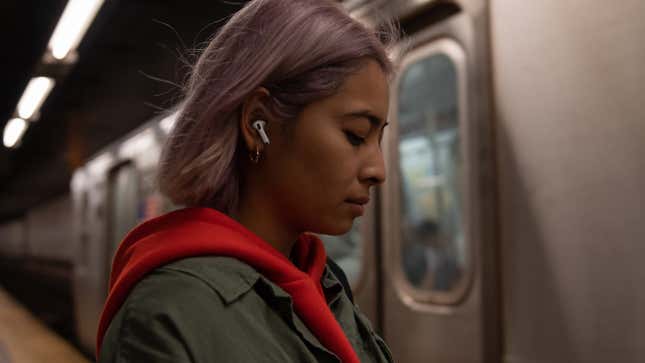 If you're an iPhone user with some cash to blow, skip the pretenders and even the lesser AirPods to go for something better. The AirPods Pro step the game up with rubber tips, active noise cancellation, better overall audio quality, and a wirelessly-chargeable case as standard. They're a bit expensive normally, but right now Amazon has 'em for $59 off the list price for Prime Day.
---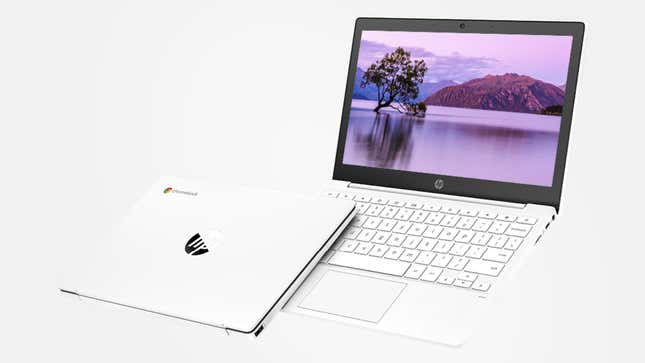 If you're looking for a super-portable, super-cheap laptop for basic communication and streaming needs, then this 11" HP Chromebook 11a might do the trick. It's just $190 at Amazon for Prime members, a savings of $70 off the list price.
It doesn't pack much power, obviously, but even entry-level Chromebooks are shockingly solid and it can run less-demanding Android apps and games. The Chromebook 11a has a 4.5-star rating from Amazon customers and will receive Chrome OS updates through June 2028, too.
Amazon is also offering up to 55% off on many other Chromebook models, with a few choice picks highlighted below at their Prime member prices.
---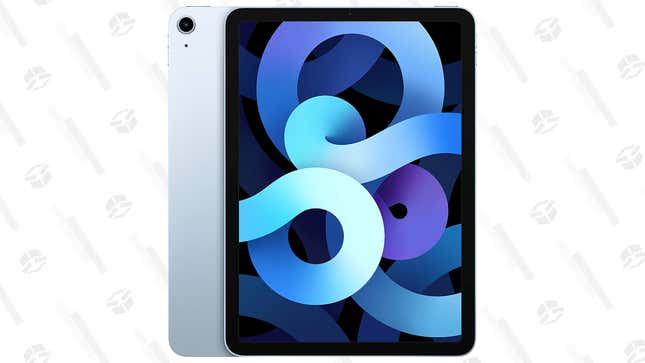 You can snag the newest iPad Air (4th Generation) at Amazon right now and save up to $79 off the 64GB edition, which now starts at $520 each. Looking for even more storage? You can get bigger savings on the 256GB edition, which is up to $100 off depending on color selection, starting at $649.
If you're looking for something more robust than the base iPad model, the iPad Air is arguably the best value of the premium bunch. It shares a lot in common with the bigger, perk-packed, and much more expensive iPad Pro. The Air doesn't have the 120Hz display, Face ID smarts, or LiDAR camera, but it has the powerful Apple A14 Bionic chipset and Apple Pencil support, making this a sweet option for casual artists and multimedia buffs. And it comes in those fun colors, too.
---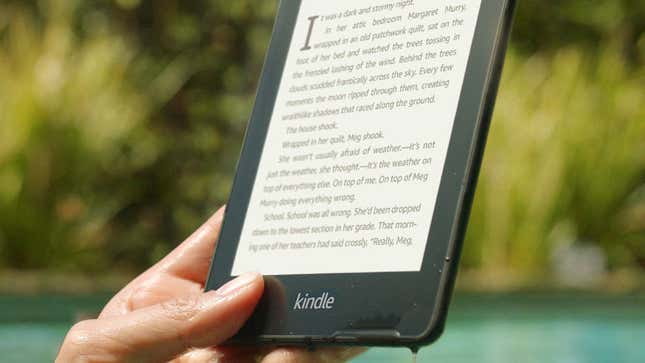 Tired of scrolling through the news every night? Maybe a Kindle may help you unwind after a long day without having to slog through Tweets and articles that might just bum you out. Enter Amazon's Kindle Paperwhite, which is waterproof and has a lit display for night-time reading.
Typically, the base model with 8GB storage costs $130, but right now it's down to $80 for Prime members during Prime Day! The 32GB edition is $55 off for Prime members at $105, meanwhile.
If you want something a bit simpler, the base Kindle model is just $55 right now for Prime Day. It has the same-sized screen (albeit less crisp) but it lacks the Paperwhite's waterproofing. Still, it'll get the job done and it's $35 off right now for Prime members.
---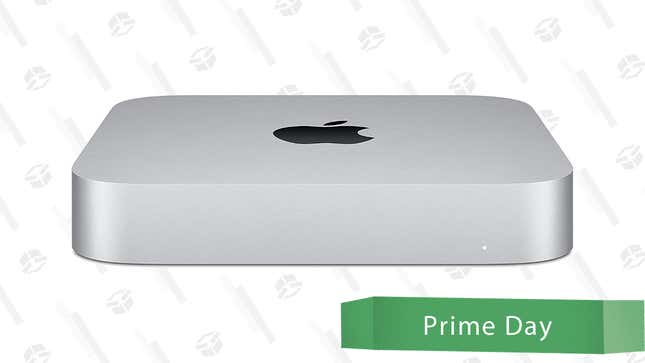 If you're in need of a new home workstation, now's a good time to buy. Apple's recently refreshed Mac Mini, powered by the company's M1 chip, offers speeds up to eight times faster than competing processors, and reviews have all noted how impressive the chip's performance gains are. The chip is in the company's new 13" MacBook Pro and MacBook Air, but the Mini is notably cheaper. As long as you won't need to lug your computer around, the Mini's a great computer for home use.
Right now, the base 256GB model is $99 off the list price, marked down to $600 with the full savings reflected at checkout. You'll save even more on the higher-capacity 512GB model, which is $119 off with full savings shown at checkout, landing at $780.
---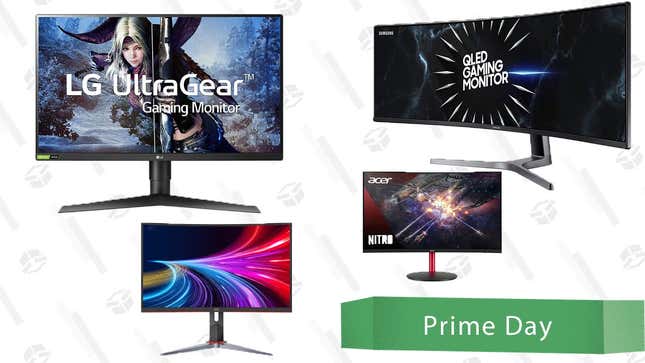 Amazon has an assortment of gaming monitors on sale for up to 20% for Prime Day. Maybe its time to finally get a curved monitor or upgrade to 27". Consider getting an ultrawide monitor, turning it vertically, and playing through Resident Evil Village to experience Lady Dimitrescu the way the devs intended. Up to you, but there are a lot of options here that are certainly worth browsing through. Most of these deals are exclusive to Prime members.
---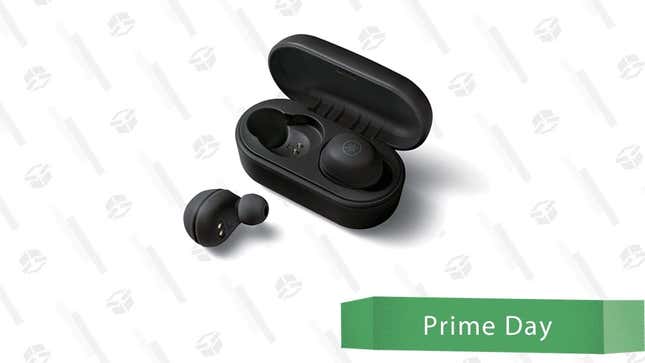 I told a friend I was testing these; they had no idea that Yamaha made audio items like this. They thought the company was only keyboards. So while yes, they have made/make great musical instruments, they've taken that commitment to quality to audio products. Specifically their new TW-E3A True Wireless Earbuds. This is the lowest price they have ever been since their release. This price holds for the white and black versions.
First off, they paired perfectly and quickly with my phone. The sound is really clear, specifically when I was listening to my favorite podcasts. They are also very comfortable and stayed firmly in my ears as I trudged eleven blocks on errands in the snow. Unlike other less expensive earbuds, I absolutely see the difference in not having to fuss with finding the right position to get the most dynamic sound. The microphone was a little murky on the calls I made, but that could very well be on the cellular provider. I had these in for quite a few hours while writing, and again they're extremely comfortable. I got a full steady five hours of playtime before I popped them back in their very pretty matte case. Yamaha boasts twenty-four hours of battery life off one charge, and I absolutely believe that, given my experience. As with all earbuds, the "simple controls" take some time to get used to, but I can say these are a lot more responsive initially with a single tap. These are sweat and water-resistant, so don't be afraid to take these to your next gym session.
This will ship for free for Prime members.
---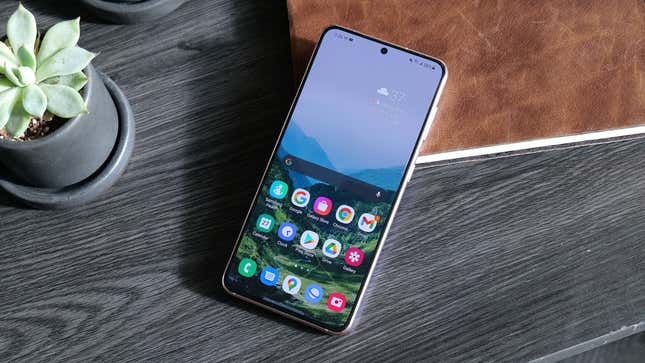 Whether you're looking to make the jump from another platform, or just upgrade your aging gadget, now's not a bad time to grab a new smartphone. Between Apple's relatively-new iPhone 12 lineup and Samsung's new Galaxy S21 lineup, there's plenty of options to choose from.
If you're eager to grab one of Samsung's new phones, they're all on sale over at Amazon right now for Prime members. The Galaxy S21, which typically retails for $800 for the 128GB base model, is $200 off at $600 right now. The 256GB version is the same price after a $250 discount, so you might as well snag the double storage!
On the higher end lies the Galaxy S21 Ultra, which is down from $1,200 to $900 for the 128GB model. For your money, you'll get a 6.8" 3,200 x 1,440 OLED display with a refresh rate of 120Hz, 12GB of RAM, and a 5,000mAh battery. The Ultra packs four lenses into its camera module, including a 108-megapixel lens, two 10-megapixel telephoto lenses (with 3x and 10x zooms), and a 12-megapixel ultrawide lens. Bump up to 256GB for $925 ($325 off)

---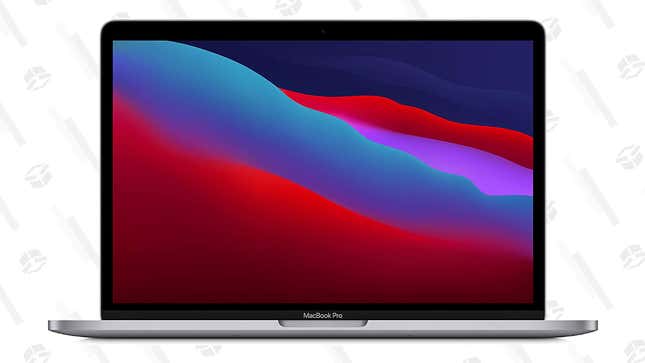 For a first-gen Apple product, the new MacBooks featuring the company's own custom chipset reviewed surprisingly well, even from our friends at Gizmodo. And now, the M1-equipped 13" MacBook Pro is discounted $199 off the list price of the base model with a 256GB SSD (now $1,100), while the larger-capacity 512GB model drops to $1,300 thanks to the same savings. That's the steepest savings we've seen to date.
Here's what Gizmodo's Joanna Nelius had to say in her review of the powerful new MacBook Pro:
I do all my work and play on PC, but Apple's M1 processor has me wondering if I really need a Windows PC for my next laptop. This is the first time in all my years of computing—ever since my dad sat me in front of a keyboard as a toddler—that I've ever considered getting a Mac.
---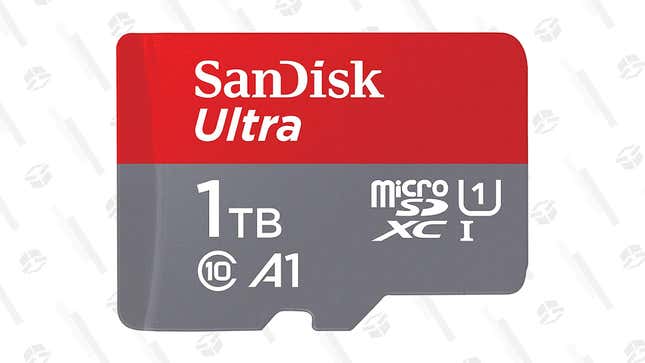 It's crazy to think about how much storage space gets packed into a microSD card, and it's pretty amazing when you want to carry around a heap of games on your Nintendo Switch or media on a smartphone or tablet.

If you're looking for a huge chunk of storage within the teeny-tiny footprint of a microSD card, here's a great deal: right now, Prime members can grab a SanDisk Ultra 1TB card for $133. This is the best price we've seen at Amazon.
---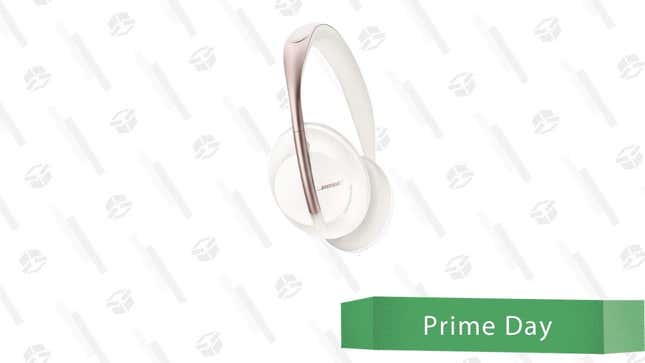 Bose's Noise Canceling Wireless Headphones 700 deliver pristine sound and epic active noise canceling, but they're pretty pricey at MSRP. Many of you threatened to cancel me when I disqualified them from last year's headphones co-op since the list price still sits around $379, noting that sales often bring this wireless audio sublimity within reach. This one takes the Arctic White model down to $229. Please don't cancel me. Kthxbai.
---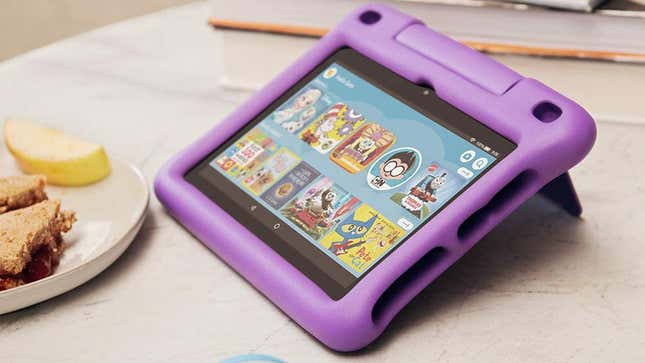 No, it's not an iPad—but Amazon does right by parents with its Fire Kids Edition tablets. And they're all on sale for Prime members for Prime Day.

As you'll see from the image, they're wrapped in a thick rubber shell/convertible stand that helps protect it from dings and drops. Still, kids will find a way to break almost anything, and Amazon is ready there too. Each Kids Edition tablet has a 2-year worry-free guarantee, so if your child still manages to bust the thing, you've got a free replacement coming.
Amazon's marketplace has a wide array of games, apps, books, and streaming services available, and the Kids Edition comes with the handy bonus of a year's subscription to Amazon Kids+ (FreeTime Unlimited). The gated-off service provides a wealth of kid-friendly content within a colorful launcher, and then you can choose whether or not to pay monthly once the year is done.
---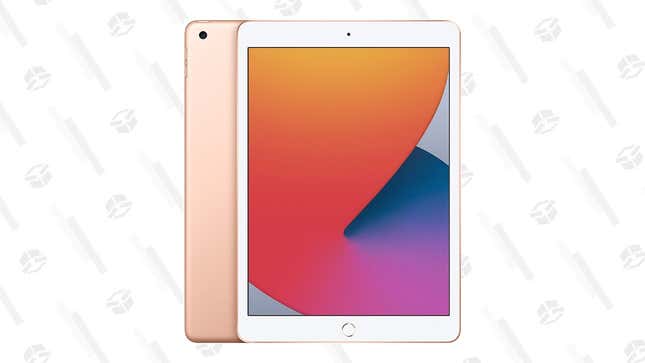 Every time I see an iPad deal, I'm reminded of this tweet from Washington Post reporter Gene Park. Also the NY Times article he's referencing, but mostly his tweet. The iPad has supplanted our TVs as the main TV- and movie-watching device of the house.
It's an all-in-one distraction, and you can pick up the latest base 32GB model for $299 at Amazon, a savings of $30. Need more storage? The 128GB model sees an even larger $50 savings at a price of $395. All three color options are available at this price for both storage levels. Between its 10.2-inch Retina display, the aging but still pretty fast A12 Bionic processor, Apple Pencil support, and up to 10 hours of battery life, there's a lot to love about the iPad.
---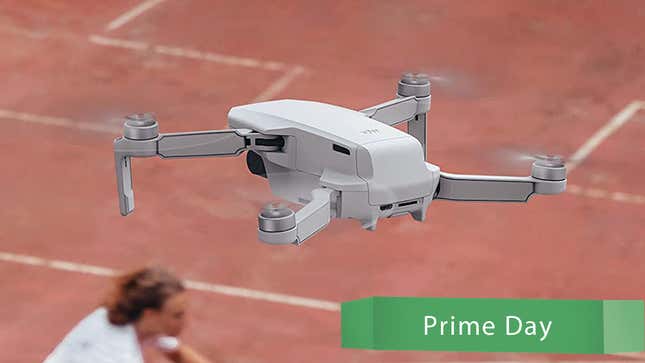 Looking for a great, late Prime Day bargain? Amazon is currently offering the DJI Mavic Mini drone quadcopter with a bundled 128GB microSD card for $397, which is 23% off the usual list price for Prime members. This tiny, lightweight drone is a fan-favorite carrying a 4.7-star rating from more than 10,000 customer reviews. Get ordering and then get flying!
---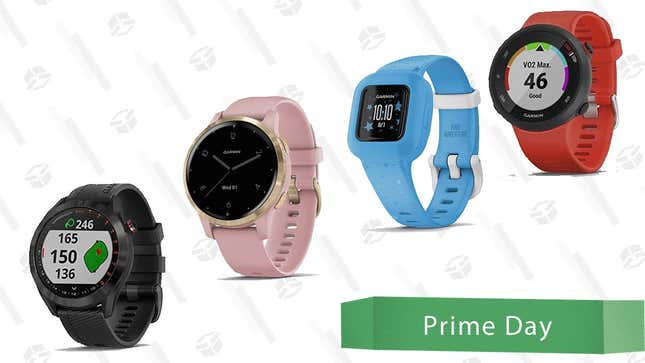 Right now, Garmin has a sale offering up to 30% off select GPS-enabled devices, including smartwatches, navigation tools, fitness trackers, and the like for Prime Day!

For any little ones, there are a variety of fitness and activity trackers now on sale in plenty of appealing shades and designs. This Garmin Vivofit Jr. activity tracker is only $50 with a 38% discount.
For the adults, you can grab the Garmin 010-02172-31 Vivoactive 4S, down to $190 for Prime Day, the Garmin Forerunner 45 for $140, and the Garmin 010-02173-11 Venu for $220.
---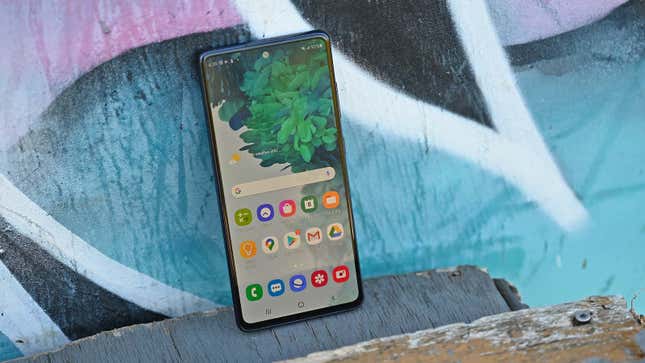 The Samsung Galaxy S20 FE (Fan Edition) launched last fall and was an immediate hit, delivering a flagship-level experience for $300 less than the standard Galaxy S20. It hit a sweet spot for performance, quality, and price, trimming out nice-to-have features like glass backing and QHD+ screen resolution to majorly cut down the price.

Here's what Gizmodo's Sam Rutherford had to say about the Galaxy S20 FE:
"If you long for the days when a good flagship phone cost around $700 instead of $1,000 or more, the S20 FE is a delight. It's got a bright, colorful screen, a simple build with lots of color choices, great performance, and a solid assortment of cameras without anything even approaching a major flaw. The S20 FE has pretty much everything you really want without punishing your wallet, and that's always a formula I can get behind."
Even now, I'd personally still pick the Galaxy S20 FE over the new, standard Galaxy S21, in part because the S21 loses the microSD slot for expandable storage, plus the S20 FE has a longer-lasting battery. Luckily, the price is sinking further: right now, Amazon is offering $221 off the unlocked version in multiple colors exclusively for Prime subscribers during Prime Day.
---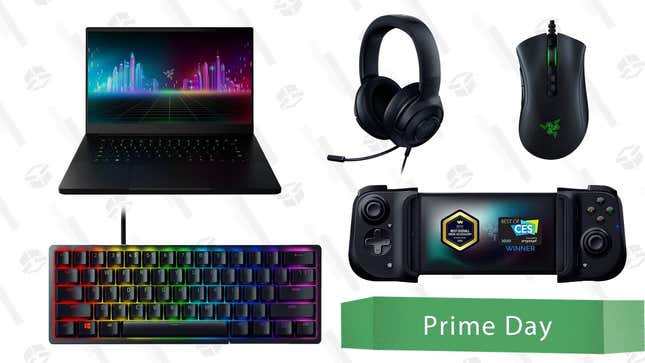 Razer has been growing in popularity in the past few years to the point they even had their own E3 conference this year. They have an assortment of great mice, headphones, keyboards, controllers, and laptops. Head on over to Amazon and grab yourself some new gaming gear before Prime Day ends. Unfortunately the Razer Hazel mask is not included in the sale.
---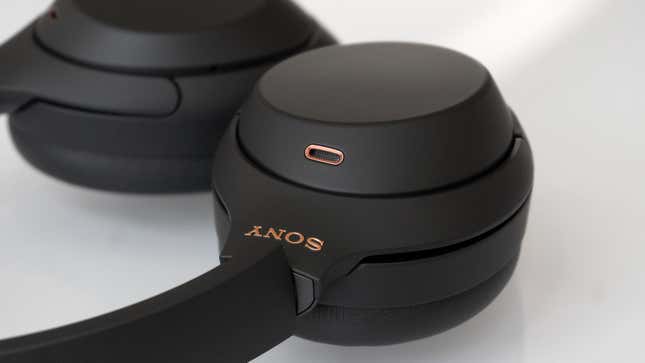 For many, working from home this past year-plus has been a tricky adjustment. Among the many frustrations and inconveniences are the many noises your housemates will make as you try to focus on your work. Asking to keep the noise down might work, but it can also cause some tension, and it's never any fun.
Spare yourself the trouble with the Sony WH-1000XM4 noise-canceling headphones. Typically they'd cost you $348, but they're down to $248 today for Prime members on Prime Day. I've been testing them recently, and the noise-cancellation is a joy when your neighbors have a symphony of dogs on standby.
In his review, Gizmodo's Andrew Liszewski says they provide the best noise-canceling experience, and you can easily switch between two paired devices, so you can toggle from a laptop to a phone before getting started on a home workout or heading out for a walk.
---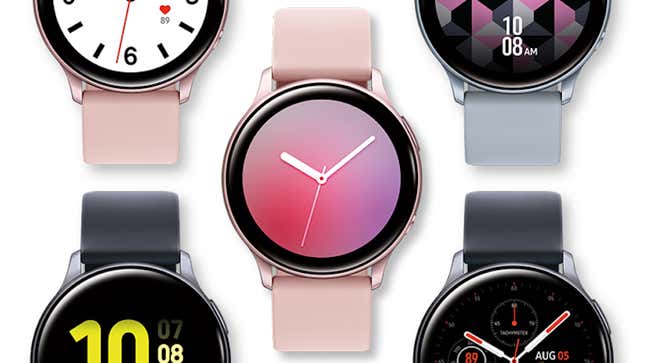 Amazon is currently offering big savings on the Samsung Galaxy Watch Active2 smartwatch, which is up to $103 off depending on style. The black version is down to $150 for the 40mm size and $167 for the 44mm edition, with the pink gold version landing at $160 for 40mm and $167 for 44mm.
I'm a big fan of Samsung's smartwatches and wore a Gear Sport for years. If you've been thinking about getting a smartwatch but don't want to go crazy these are a really nice option. If you have a Samsung phone, these watches easily pair with them. However, I used my iPhone with my Gear Sport and it was pretty seamless as well. It was also quick to pair with my headphones. If you're using this for fitness these watches can detect and track over forty movements. And they're durable enough for hiking and swimming.

They can track sleep and heart rate which are two things that are important to keep an eye on. The touch-screen display is clear and bright so it's effortless to view messages and updates. And as with an Apple watch you can sync these up for Samsung Pay to make purchasing quicker. The battery life is pretty decent and if I remember correctly I went at least three or four days between charges. These watches are great middle of the road value, not too expensive but not too cheap. Each style is gorgeously made and you won't be disappointed.
---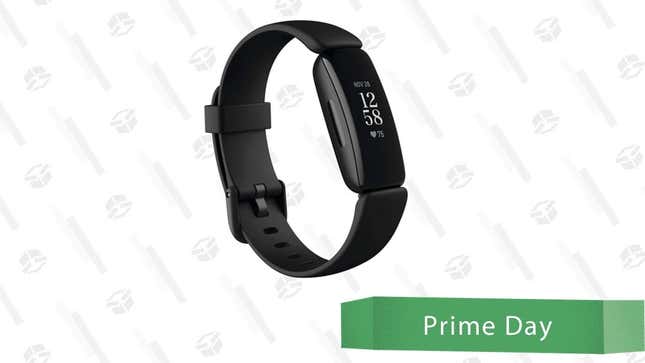 Get your fitness-obsessed friend a Fitbit Inspire 2 from Amazon. It's down to $57, which is about 43% off the original list price of $100. You'll be able to track your steps and heart rate, while also receiving all notifications from your smartphone. You'll also be able to automatically track your sleeping patterns, record all your workouts, and see your progress right on your wrist. What are you waiting for? This will also include a free 1-year of Fitbit Premium.
This deal is for Prime members.
---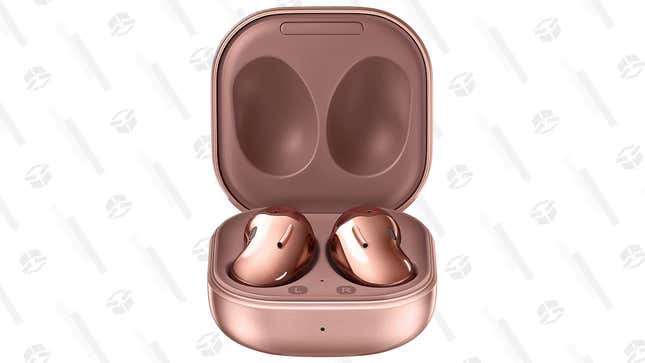 There are a lot of very obvious AirPods-inspired wireless earbuds out there right now, but Samsung's recent Galaxy Buds Live are different: they look like lil' beans that you pop into your ears. These aural legumes are plenty powerful, however, packing active noise cancellation and strong audio quality. And the shape actually works well, as Gizmodo reviewer Sam Rutherford described:

"The Galaxy Buds Live are quite comfortable, and when combined with their relatively petite dimensions and low profile, they are some of the most unobtrusive wireless headphones on the market. In fact, I've even fallen asleep while wearing them and they are right up there with the Pixel Buds as being one of the most comfortable earbuds in my ears. And when it comes to staying in place during exercise, even after a sweaty one-mile run, the Galaxy Beans never budged."
Prime members can save $40 off the list price in all four colors at Amazon right now for Prime Day.
---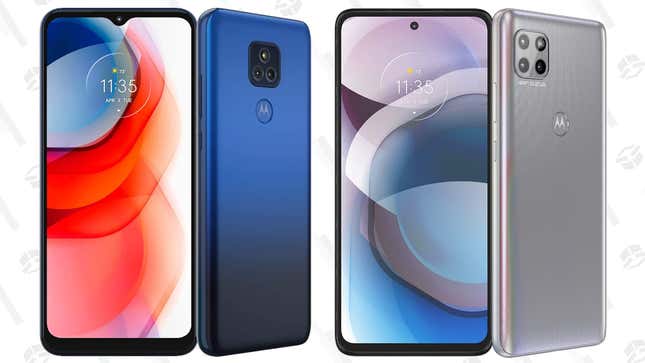 Motorola's budget phones are some of the best around, and right now the company is offering a few of its brand new 2021 releases at a discount at Amazon—all unlocked models that you can use with any US carrier. These deals are for Prime Day and are exclusive to Prime members.

The Moto G Play is the cheapest of the bunch, offering a 3-day battery and 720p 6.5" screen for just $150, a $20 savings off the list price. The Moto G Power offers faster performance and a slightly larger screen for $200, or $50 off. And if you want a stylus for productivity needs, the Moto G Stylus gives you both a pop-out stylus and a larger, crisper 1080p screen, but the battery isn't quite as robust. That model sells for $270, or $30 off the list price.
---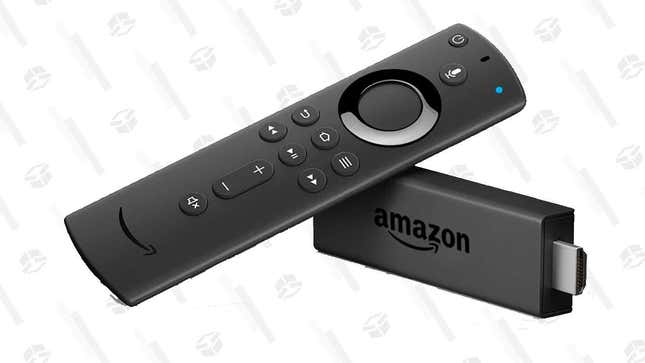 Amazon's Fire Stick 4K is a great little streaming dongle with all of the power of Alexa at its disposal, and it's down to $25 on Amazon. This device has loads of apps to watch all your favorite movies and shows. Not to mention, you get a year's subscription to Food Network at no additional cost, which means you can learn new recipes and improve your cooking skills. Grab one of these before they're gone!
---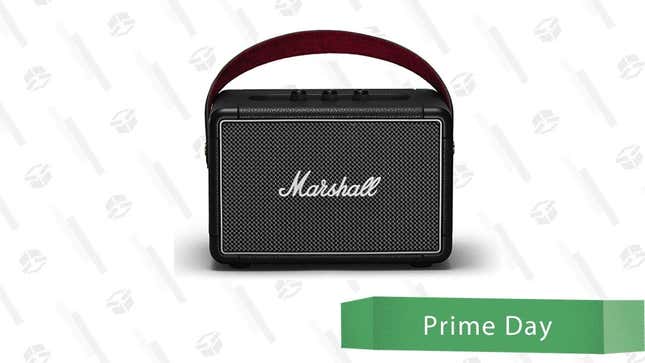 It's no secret I love Marshall. Every product I've had from them I've fallen in love with, and I've had many. The Kilburn II is no different and is currently the speaker in my bedroom. It's 42% off the rest of the day.
I've enjoyed playing with this one during the lockdown, and it's now my go-to smart speaker. What I really like is through the Marshall app, I can control how everything sounds with the fine-tuning feature. You can also do this with the rocker buttons on the top panel, which are absolutely sleek and aesthetically gorgeous. But Marshall is known for really chic and cool looking speakers, the design is important to them, and it shows. This was in the living room for a bit, and both my roommate and I used it for the Amazon Alexa features, especially for asking about the weather. Alexa can even hear us in the kitchen, so the far-field microphone really does the job. It did take me a little bit of time to get it to connect properly, but I'm not sure if it was my WiFi or just me having 'user error,' but once I was locked in, it's been perfect.
Ship free for Prime members.
---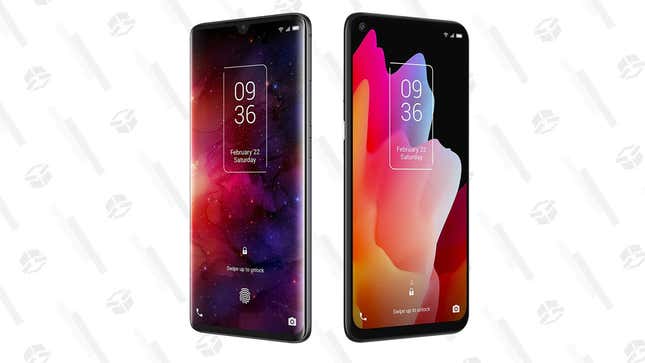 Looking for a new smartphone that won't break the bank? TCL may not be a name you're familiar with in this realm, but much like its rise to fame in the TV world, the company's value-packed smartphones have been turning heads these past few years. The TCL 10 series phones pack mid-range Snapdragon octa-core chipsets, 6GB of RAM, quad cameras, and big beautiful 6-inch-plus displays, and two of them get a pretty nice discount today.
The TCL 10 Pro, which has a beefy processor, an AMOLED display, and ample base storage (128GB) is $280 for Amazon Prime members following a $105 Prime price savings, plus an added discount when you use promo code TCLPRIME at checkout. This is the lowest price we've seen to date. It's unlocked and certified for use on Verizon's LTE network, plus it has all the usual GSM radios for use on T-Mobile, AT&T, and more networks worldwide.
Budget buyers will appreciate saving $93 on the TCL 10L, another unlocked Android device featuring a larger 6.53" LCD screen, a 48MP quad rear camera system, 64GB of storage, and 6GB of RAM. Along with a physical Smart Key button you can program to quick-launch any app you want, both have microSD card slots and headphone jacks. Bless. This 10L deal does not require a Prime membership; just clip the coupon on the page.
In his "Battlemodo" versus post for Gizmodo, senior reporter Sam Rutherford compared the TCL 10L favorably to the Moto G Power, citing its unique design, impressive performance for the price, and superior camera quality:
Look, if you were hoping that one phone would dunk on the other, that just wasn't going to happen. With both phones priced at $250 and running on the same general platform, the competition was bound to be neck-and-neck. Picking the right budget phone for you depends on your priorities. If you value having a sleeker device or if you like to shoot a lot of photos, the TCL 10L is probably the better option—I think it looks better, too. But if you're looking for a new daily driver, the Moto G Power is the one you want, thanks to its fantastic battery life and much better speakers.
Note that TCL recently announced its 20 series phones, so these are officially last year's models. That said, given the largest-ever savings and marginal year-over-year improvements we usually see for budget and mid-range phones, you might do well sticking with the TCL 10L or 10 Pro.
---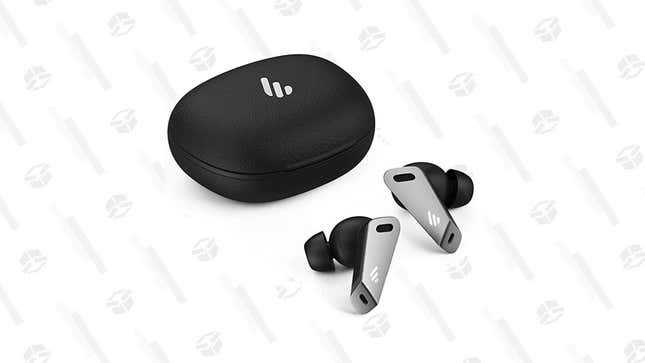 Edifier has some of the most beautiful packaging I've ever seen, which carries over into the products. The new NB2 Pro True Wireless Earbuds are $26 off for their debut for Amazon Prime members and future a few things I wish others on the market had.
First off, they connect as soon as you open the case and disconnect once they go back in. Perfection. My biggest gripe with so many of these is they don't always disconnect when you're finished using them. These are built with an infrared sensor that knows when they are in your ear or out and will pause your audio. This was incredibly helpful when I ordered my coffee, and I could pop them out and not worry about losing my spot in my audiobook. That being said, there is a panoramic 3D listening feature that makes podcasts and audiobooks wild to listen to. I turned it on by accident and honestly now kind of love it. It's an immersive experience for sure, and I'm excited to try it with my favorite ASMR YouTuber's videos. The noise cancellation is pretty good but not so alarming I couldn't hear traffic or my surroundings while walking around. The ANC works even without songs playing, FYI. Calls came in easy and were clear in both directions. There is a bit of a learning curve switching between the sound modes, but it really makes a world of difference when you find the right one. They are dustproof, waterproof, and run up to thirty-two hours with a full charge and the case. The NB2 Pros are stunning in ivory but look equally chic in black.
Free shipping for Prime members.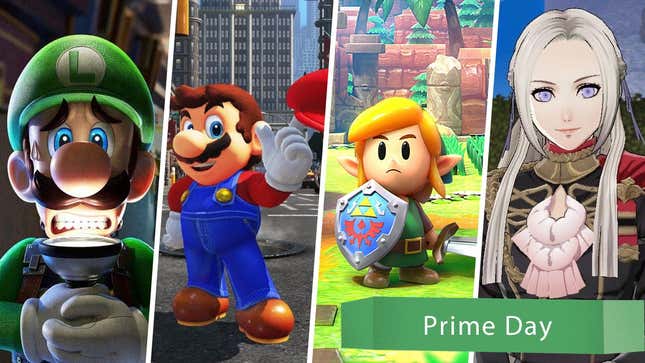 I don't believe my eyes. Nintendo is notorious for never discounting any of their first party titles. But would you look at that... a handful are on sale right now on Amazon. That's the power of Prime Day! Pick up Luigi's Mansion 3, Super Mario Odyssey, The Legend of Zelda: Link's Awakening, or Fire Emblem: Three Houses for a mere $40.
---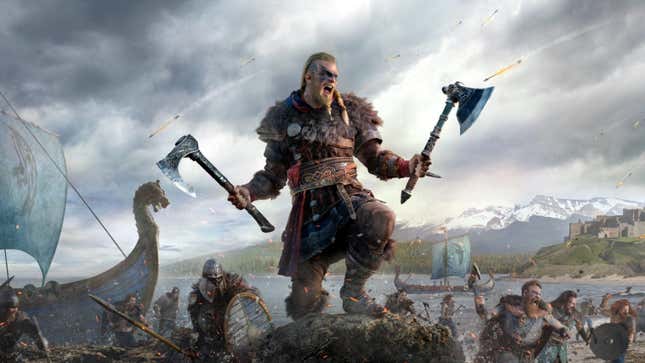 Been waiting for the right moment to grab Assassin's Creed Valhalla? Today might be the perfect time. Amazon currently has the game down to $23 on Xbox and PS4, which is about as low as we've seen it go since launch. It's been a very busy couple of months considering all the hubbub with new consoles and Cyberpunk 2077, but Valhalla is definitely worth checking out. The latest installment of the Assassin's Creed series casts you in the role of a Eivor, a ruthless Viking who's all about chopping heads off. Seriously, you will chop like a thousand heads off in this game. It's a lot of heads. If that sounds exciting, then this is the game for you.
---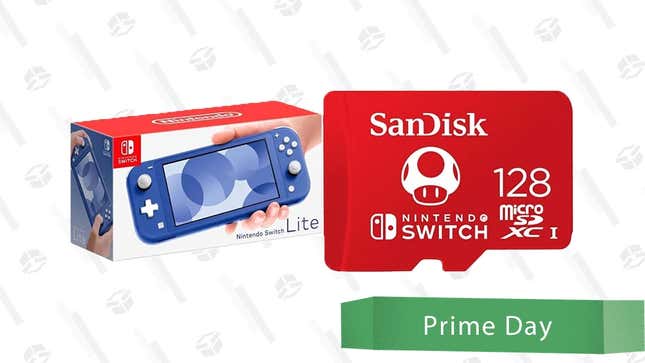 The Switch Lite only comes with a base of 32GB storage. Now, Nintendo games don't climb up to absurd sizes like 100GB Call of Duty game, but you still may find yourself reaching that built-in upper limit pretty quickly. For only $200, you can get a Switch Lite bundled with a 128GB MicroSD card. Since $200 is the typical retail price of the Switch Lite, this deal is basically giving you a free SD card which will help you get start as you download some of the best Nintendo titles to your new handheld.
---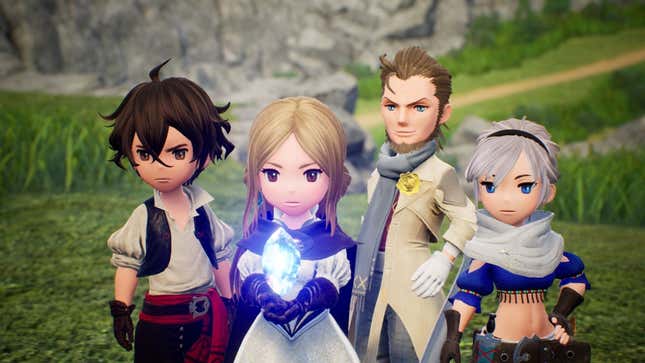 Do you need another long, turn-based JRPG in your life? Of course you do! What else is going on right now!? Well, Switch owners can grab Bravely Default II, which is sure to keep you occupied for quite some time. The latest RPG from Square Enix features the game's signature "Brave/Default" combat system, which lets players store up attacks and unleash multiple at once. There are new characters, new job classes, a new look, and so much more. If that's up your alley, you can grab it from Amazon for $40 today. Preoccupy your brain with some grinding.
---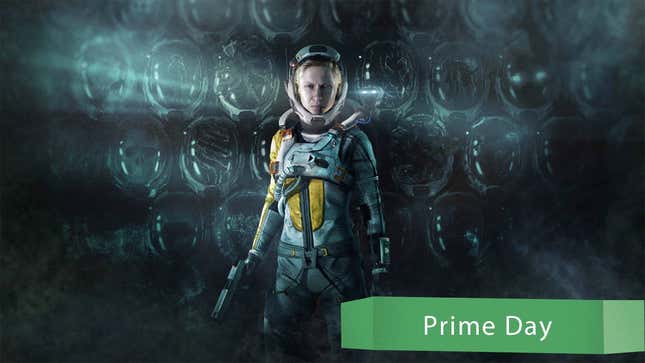 I, like many folks, do not have a PS5 yet. I just haven't cared too much to upgrade yet as nothing so far seemed like a must-have that I can't just play on a PS4 perfectly fine. That is until I saw Returnal. This is the first game to make me want to start really start hunting for that PS5. I'm a big roguelike fan so this is very much my shit. Typically, we're used to roguelikes being smaller, indie titles in pixel art (which I love!) but wow is it cool to see this genre expand into AAA levels. Returnal is now on sale for $50, down from the high PS5 standard of $70. I'm tempted to pick this up myself and hold onto it for when I finally do get my hands on the new console.
---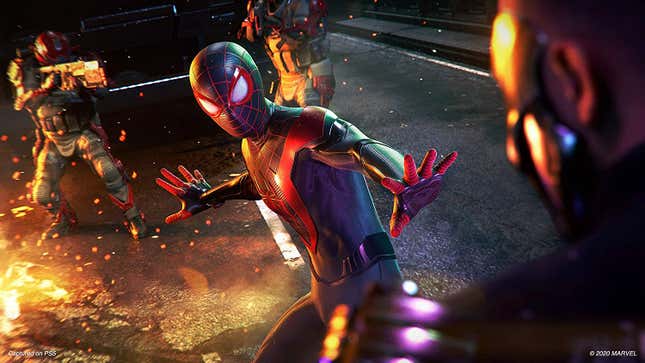 Miles Morales had a growing, but modest, following up until 2018's Spider-Man: Into the Spider-Verse. Since then, he has blown in popularity so it was only a matter of time before Sony cashed in with his very own Spider-Man video game. Take to the streets and skies of New York once more as perhaps your new favorite web slinging hero for only $50 in Marvel's Spider-Man: Miles Morales Ultimate Launch Edition. But what's this? This pack also comes with the remastered original featuring Peter Parker as the playable hero. Get the chance to play as both Spider-Men (Spider-Mans?) today.
---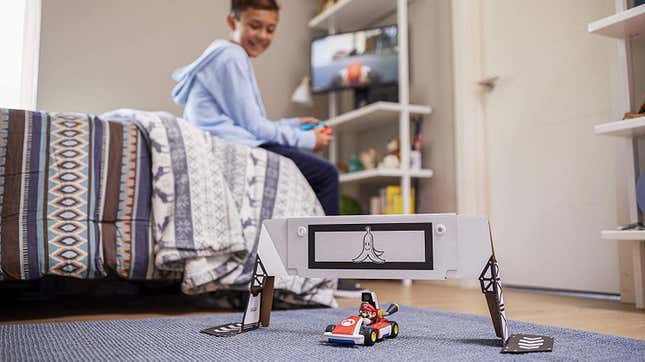 Ready? Set? Go! Mario Kart Live: Home Circuit is back on sale at Amazon. The AR racing game has been hard to come by since it launched, so anyone who's been curious might want to hit the gas on this deal. The creative Switch game comes with a physical kart, which you can use to drive around courses in your actual house. The camera on the kart peripheral transmits to your Switch, turning your living room into a full-on track. It's the perfect gift for kids this holiday season or adults who just want an excuse to play with RC cars again (read, me). Amazon made more copies available back in December, but the catch was that it wouldn't be shipping orders until January. Now, the game is actually in stock and you can get either the Mario or Luigi version for $75, its lowest price ever. We've seen the each set separately go down in price before, but one brother usually stays higher. Both are now on sale at their lowest prices. All is right.
---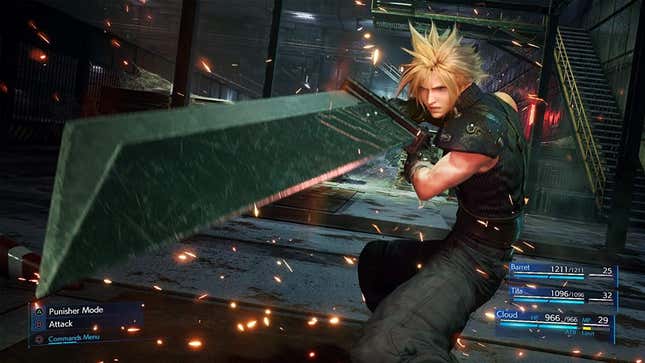 Many understandably jumped at the chance to play Final Fantasy VII Remake the day it came out, and I'd say they got their money's worth then. If you've been holding out and Ghost of Tsushima or Assassin's Creed Valhalla haven't completely eaten up your gaming hours, it's time to reunite with Cloud and the gang on PlayStation 4 (free upgrade for PS5). Now you can do it for only $30 at Amazon.
This decades-in-the-making reemergence doesn't embody the full Final Fantasy VII experience you remember from childhood, but it reintroduces us to a classic story featuring unforgettable characters with modern visuals and gameplay. Part II of this episodic journey is in the works, too, so you'll want to get caught up in case it miraculously drops within the next couple of years.
---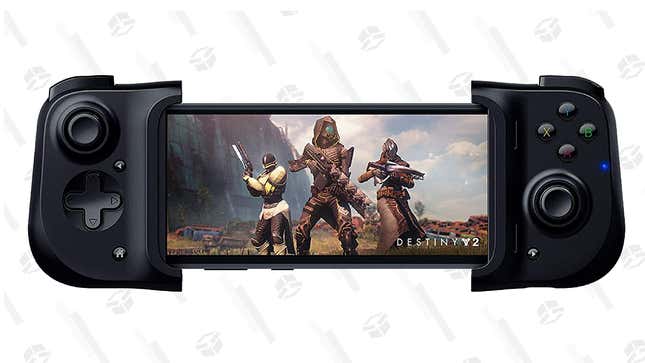 Cloud gaming doesn't look like it's going away any time soon. Google Stadia celebrated its one-year anniversary by making Destiny 2 free to play a few months back (though it also just dismantled its original game development team), Amazon threw its hat in the ring with Luna, and Microsoft's xCloud service is available to play on phones. Whether or not cloud gaming is the future of gaming, it's certainly becoming more widely available in 2021.
If you're looking to dip your toe in, you're going to want a proper controller setup. Razer currently has the best solution out there with the Kishi, a gamepad attachment that essentially turns your phone into a handheld system. Prime members can currently grab a Kishi for $52 at Amazon so you can try for yourself. This version is compatible with Android devices, and is designed with Microsoft's cloud gaming service in mind. and features a Type-C port and button layout that mirrors the Xbox controller's. Meanwhile, the iPhone version is down to $66 right now, also for Prime members.
---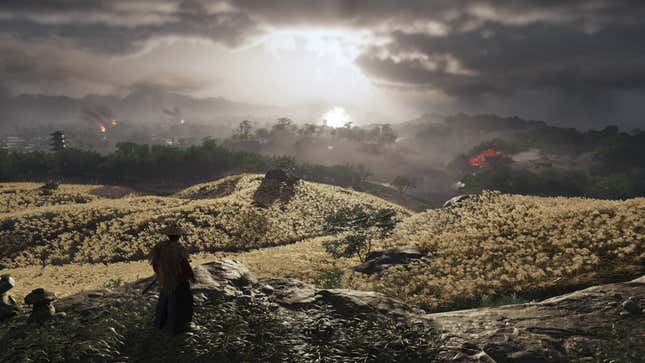 Prime Day is happening right now and PS4 owners can snag some killer deals. Case in point, you can now grab Ghost of Tsushima for $30. Sucker Punch's open-world samurai game came out last year and it's one you don't want to miss. It features a gorgeous world and varied combat for both stealthy and aggressive players. More importantly, it features the best button prompt in history. At one point, you sit in some hot springs and the game prompts you to reflect on your uncle. It's an incredible moment and you need to see it to believe it, so grab a copy.
---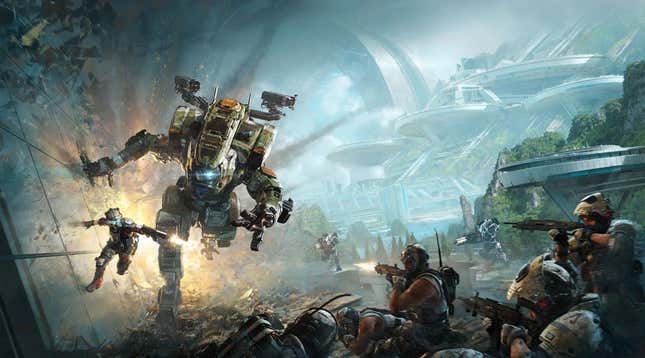 Here's the literal best deal you will ever see on the internet, period. You can currently buy the Xbox version of Titanfall 2: Ultimate Edition for $3. That's no typo. $3. I can't express enough how stellar this deal is. Titanfall 2 is a fantastic first-person shooter from Respawn that features fast-paced gunplay and heavy-hitting mech battles. If multiplayer shooters aren't your thing, it features a fantastic single-player campaign that you need to play. It's short and sweet, so you can knock it out in a day or two. You're getting a standout AAA title for the cost of a phone app here. For the love of God, if you have yet to play this game, don't miss out on this.
---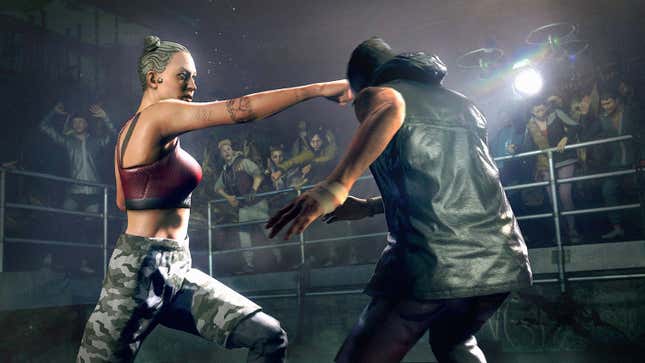 When we originally started covering Watch Dogs: Legion deals, the game's price was plummeting after two weeks. If you bought it at full price at launch, you were quickly punished for doing so as you saw your friends grab it $20 or even $30 cheaper. To this day, the price continues to sink and now you can grab Ubisoft's open world game for just $17 on Xbox and PS4. I'm not really sure what's going on here (the game's buggy launch likely did a number on its install base), but the game's price has just been all over the place. If you were waiting for a time to jump on, Amazon is probably the way to go right now, as you can get the game more than half off right now. Will it drop lower? Probably at some point. For now, $17 seems like the lowest this will go for the next few months. After that? Who knows.
---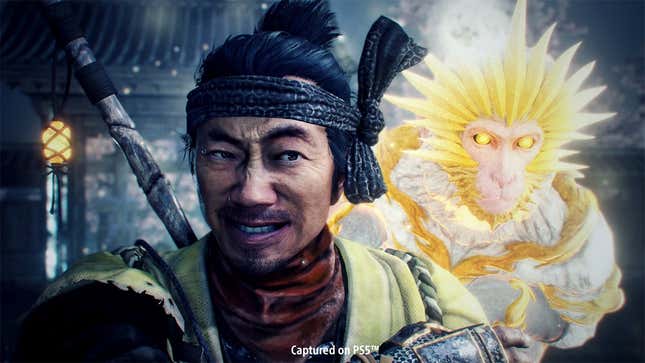 Listen, we get it. The PS5 has been out for over half a year with still no easy way to get your hands on it. You gave in. You paid $300 over MSRP to some dude you found through Facebook. You just couldn't wait any longer. We're happy you finally got your hands on one even though you've just given positive reinforcement to this person to keep on scalping and do it again. The very least you can do is atone by punishing yourself in the Nioh Collection for $50 you monster. You will die many times in these upgraded versions of Nioh and Nioh 2 and during that time, you can think about what you've done. Plus, that $20 savings will offset a small portion of how much you overspent on the console.
---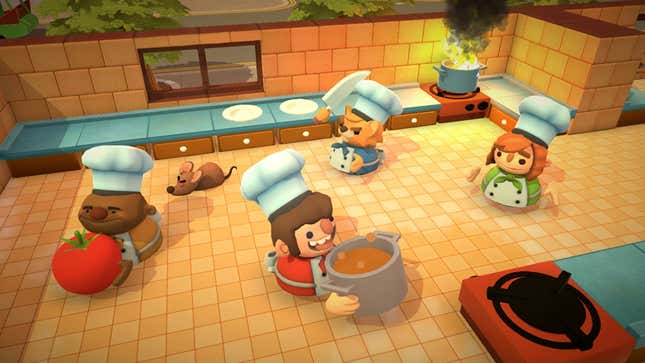 Do you currently enjoy many close and cherished relationships with friends and family? Would you like to absolutely ruin all of those in the blink of an eye? Well do I have a deal for you! Amazon is currently selling Overcooked! All You Can Eat for PlayStation 5, Xbox (Series X/S or One), or Nintendo Switch for $30. That's a savings of $20 off the list price for this complete compilation, which brings together both games with all additional content.
These are fantastic multiplayer games where players need to work together to run a kitchen. Sounds simple enough, right? You have no idea how wrong you are, naïve fool. Overcooked! is a game about chaos in cooperation. Simple tasks like making a hamburger become a nightmare as four people all try to coordinate to make it together. It's essentially the old "too many cooks" adage adapted into a video game.
---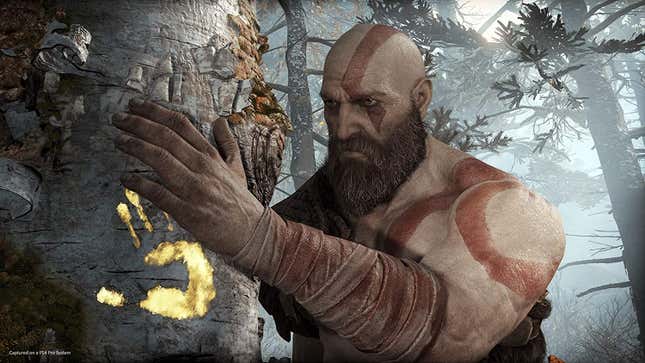 The last console generation is winding down (although we still can't find the new ones anywhere), so now is the time to pick up some of the most popular PS4 titles for cheap and catch up on what you missed. Sony Santa Monica's God of War is only $10 right now, and if you haven't given the soft reboot of the series a try, now's the perfect chance. Still as vicious as ever but having a more meaningful story about fatherhood, God of War was well-received critically, so now you can experience it yourself for a really good price.
---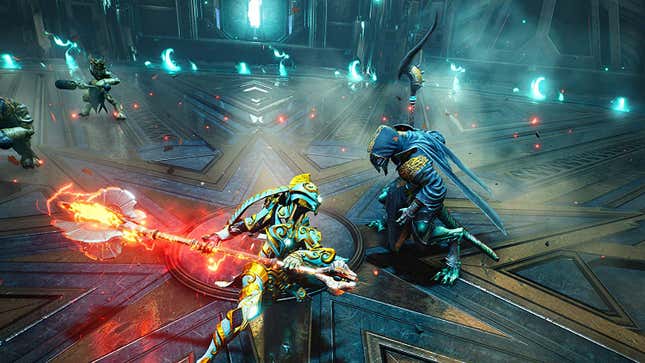 Hey, remember Godfall? That's the "looter-slasher" that launched alongside the PlayStation 5 in November, though it already feels like its been five years. Now it's one of the first next-gen games to get a discount, because Amazon has it down to $30 already. Now hold on, $30 doesn't sound like a big deal, right? That's not too far off from the normal price of a game! Not anymore! We've now entered the era of $70 games on next-gen consoles, a reality that has yet to sink in for many players. Big releases like Demon's Souls are a serious financial consideration and that makes even the slightest discount more attractive. If nothing else, Godfall's price cut is a nostalgic trip to one month ago when games were just inexpensive enough that impulse buying wasn't out of the question.
---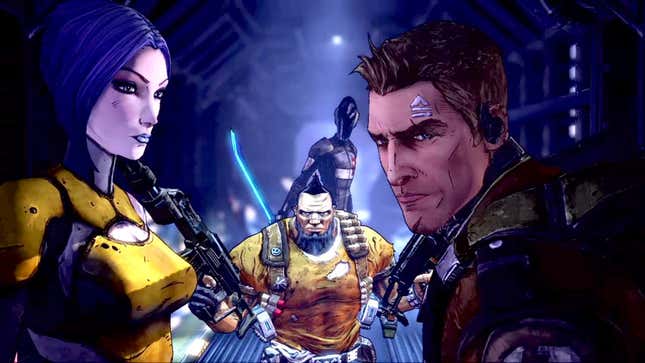 I remember playing the first Borderlands when it came out. I went to a friend's house and we blazed through hours and hours of the campaign together. Those sessions are kind of a blur, but I fondly remember one thing from them: Skagzilla. I have no idea why, but at the time, this was an absolute barn burner of a joke to me. I couldn't stop saying "skagzilla" as if it was some brilliant play on words. In retrospect, what? Why would that be funny? Thus is the Borderlands experience. The first two games are especially very much built out of the early meme era, putting their humor in a time capsule. Thus, Borderlands Legendary Collection is both a preservation of two classic looter shooters and internet humor itself. If you want to crack that capsule open, the Nintendo Switch version is now down to $15 on Amazon. Unce, unce, unce!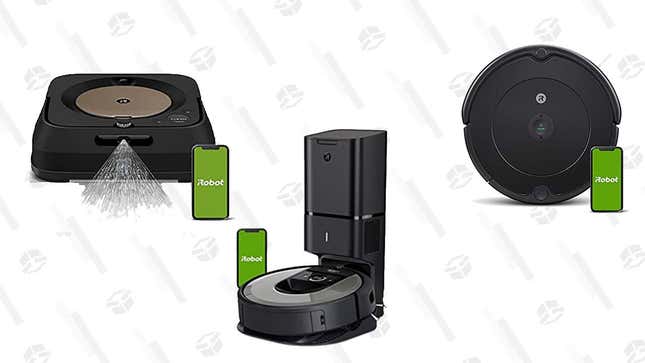 The folks who are lucky enough to WFH probably have a bit of clutter going on since our homes are now even more of a safe haven. Luckily the iRobot Roomba i4+ Robot Vaccum is here to help. Down 40% right now because of Prime Day, you'll be able to clean your carpet and hardwood floors without actually picking up a broom.

I personally use mine in-between a good traditional sweep and mop to keep my living and dining room a bit tidy. This Roomba can be controlled with an app, navigates your home in complete rows, and will automatically dock to charge and undock when it is all powered up. It also comes with automatic dirt disposal so you won't actually have to bend down and dump your robot when it's full. What are you waiting for? Grab it before it's gone.
---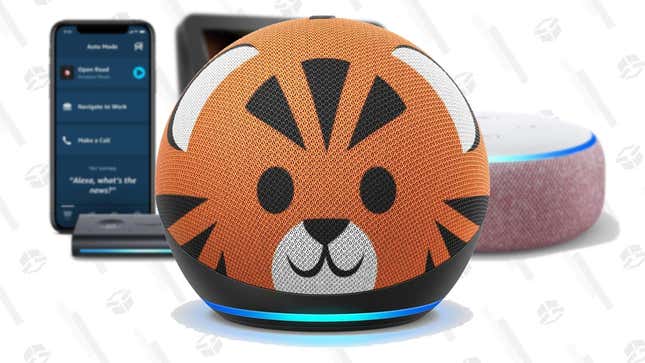 For a limited time, you can talk to Alexa on your choice of the latest Echo Dot Kids Edition (or the regular Echo Dot if you hate fun), the 4th Gen standard Echo, the 3rd Gen Echo Dot, the Echo Auto, the last-gen Echo Show 5, and the last-gen Echo Show 8 if you're so inclined, for up to 50% off the sticker prices. These prices are only for Prime members during Prime Day, however!
That's right, whether you're looking to add smart features to your car or adorn your nightstand with a friggin' sweet tiger, uhh, for the kids, you can't go wrong with an Amazon Echo smart speaker. In her review of the 2020 upgrade, Gizmodo's Victoria Song had this to say:
"If you're on an OG Amazon Echo or a second-generation Echo, you could probably do with the boost in audio quality. Other than the improved audio quality and the new round design, many of the upgrades just aren't that noticeable. At the end of the day, I'm left feeling, like, 'Well, this is the round Echo with surprisingly decent audio that does pretty much what my other Echo speakers do.'

Like I said, it's round. That's the story."
Load your home (and car?) with smart speakers while the deals last, if that's the kind of thing you're into.
---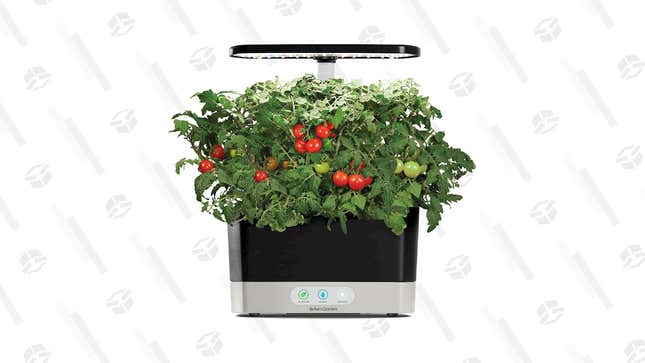 Amazon has an awesome Prime Day sale on an AeroGarden Harvest right now. For a low $85, Prime members can get a counter-sized greenhouse ready to grow your favorite herbs for cooking. It has a LED light to keep the sunshine and a system to remind you to water your plants. Apparently, the plants can grow five times faster and can reach up to 12" in height.
You'll also get a six-pod seed kit and some liquid plant food because they WILL get hungry and deserve the world if they are to live their best life and thrive. This is a great option for people who love cooking and use herbs all year, especially when it's cold out. It's $65 off the list price right now.
---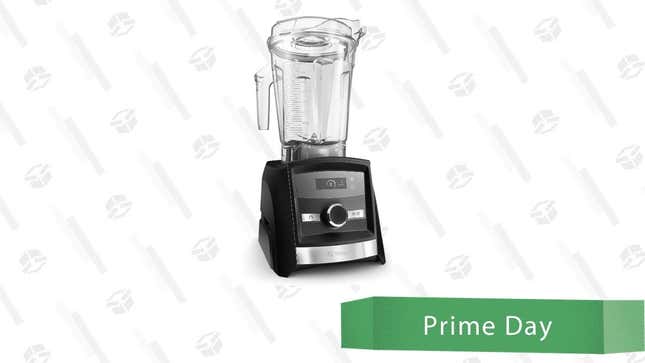 Look, we get it—you want that smoothie in the mornings, but the cleanup and maintenance required sends you to the donut shop instead. Don't compromise your diet. Just get yourself a Vitamix blender, which cleans itself in under a minute and is $180 off at Amazon. That brings your total down to $320, which is still mighty expensive for a blender, but Vitamix says its aircraft-grade stainless steel blades can spin so fast that it can turn cold ingredients into hot soup with six minutes of liquidizing. Need I say more?
This is an excellent Prime Day deal for members only.
---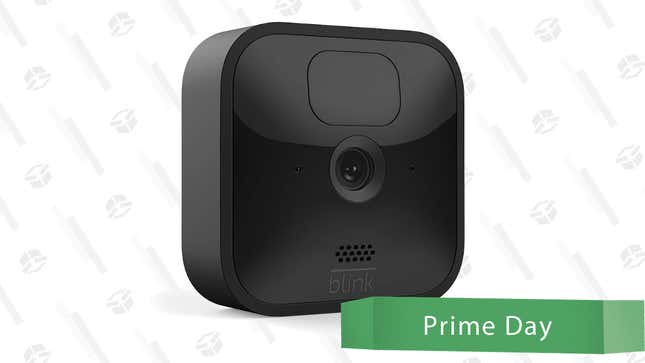 If you're keen on building up your own smart home security apparatus, here's a Prime Day bargain on Amazon's own Blink Outdoor cameras. These compact, weather-resistant HD security cameras have motion sensing capabilities and a two-year battery, and right now Prime members can save $40 off the list price of each. Save even more on larger bundle packs.
---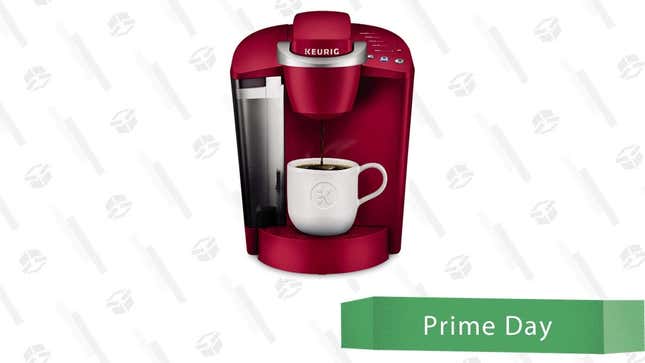 Do you start your day off with a hot cup of joe but live alone? Do you love having coffee ready at will but hate wasting good java? Well the this Keurig K-Classic K50 Single Serve is here to solve those dilemmas.
This sleek and almost retro-looking coffee maker allows you to prepare your favorite toasty beverage quickly. If you get stuck on coffee brands, we've got a few recommendations. It's compatible with different K-Cup pods, so you get to pick the size and even the strength you need with this machine. And I'm sure you've seen that it's not just coffee that the pods can handle; there are some awesome options for tea and hot chocolate if that's more your speed. You'll be able to get up to six servings with any of those before you need to refill the water. There's auto shut-off to aid those who are a bit forgetful, and it's easy to use. It even comes in this fetching Rhubarb color, which just makes me think of Scarlet Witch. And if it vibes with Wanda, it's got to be good. It also comes in a sleek black color.
This item will ship for free for Prime members.
---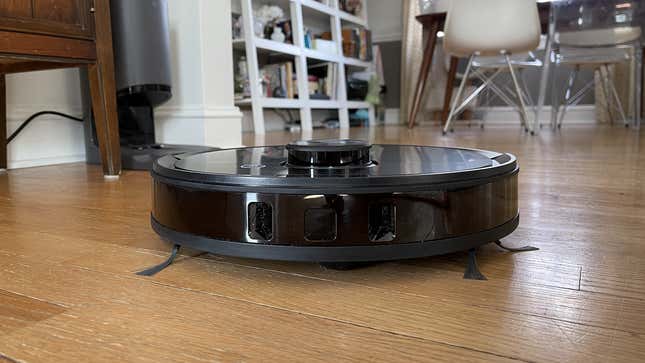 Looking for a robot vacuum that does it all? Ecovacs' recently-released Deebot N8 Pro+ is a powerful vacuum with 2,600Pa suction power, but it also mops and automatically disposes its dirt into the included bin after each run. On top of that, laser-based LiDAR navigation helps it map out your home and avoid obstacles. I personally tested the Deebot N8 Pro+ earlier this spring and was impressed by its comprehensive cleaning capabilities.
It's a premium option at $700, no doubt, but right now you can save $175 from Amazon when you clip the coupon on the page. It's not a Prime-exclusive deal, so anyone can take advantage of it.
Don't need the automatic dirt disposal bin? You can grab the standard Ecovacs Deebot N8 Pro (no +) for $385 when you clip the coupon at Amazon. That's a $165 savings from the list price.
---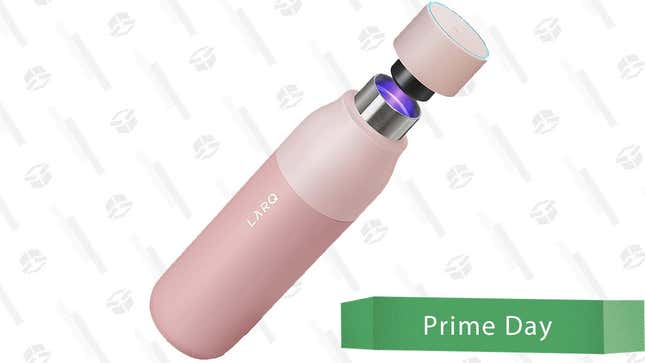 Keeping your water bottle clean is so important, especially during the summer months when it's probably getting a workout. LARQ's Self-Cleaning Bottle is here to take that stress away. And for Prime Day, it's the lowest price it's ever been. Take 25% off all five of the color offerings.
Using UV-C LED tech not only cleans the inside of the bottle but sanitizes the water. This means it's rid the bottle of the mildewy smell the inside can gain over usage. But it's not just cool beverages it keeps frosty and clean; it can handle a hot batch of coffee or tea too. Since it's designed to be double-wall and vacuum-insulated, those cool beverages stay that temp for almost twenty-four hours and warmer ones will stay that way for twelve. It's BPA-free, and the filter is easy to replace. Speaking of easy, the purification of the water is done with the push of one button. The bottle will clean every two hours once activated. That bottle cap is made to deactivate when it's off so the UV-C light won't hurt you. It charges by MicroUSB and can last for a full month off of a full charge.
---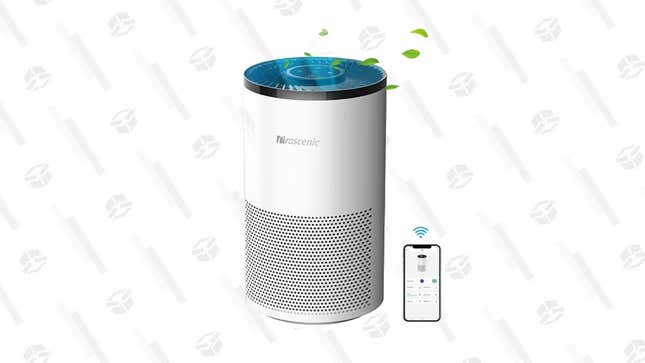 With bars and restaurants snatching up air purifiers to meet the respective state regulations to open, these machines are having a moment. But it's not just dining establishments that deserve to have crisp cool, and clean air; you can bring all these benefits to your own home. Proscenic's A8 Smart Air Purifier is one of the best on Prime Day and is currently 60% off total. Just clip the coupon. This will only work for the milky color, and this version is slightly smaller than its original version.
Compatible with your Alexa or Google Assistant, you can monitor and control this purifier anywhere with ease through the ProscenicHome app. Schedule when it should run, set speeds, adjust the sleep mode, and more simply from your phone. This is a wonderful invention to help with dander and general canine aromas like I have in my house if you have pets. Combating dust and pollen helps keep any room more hospitable. I grew up with asthma, so I popped this in my bedroom for a few nights and immediately noticed the difference. It was like an invisible cloud had been lifted, and everything seemed lighter and airier. This purifier is CARB Certified, so it can pump through larger rooms or spaces with no problems and circulate that air over three times in one hour. This is state-of-the-art with the latest technology and has four stages of filtration. Multiple tests have been shown to capture up to 99.97% of airborne particles due to the HDOF purifying tech. It was painless to set up and effortless to understand. Let this mighty machine run in "automatic mode" and monitor your living space in real-time. It will figure out when it needs to be running. All you have to do is check in with the app. That takes a lot of guesswork out and makes it not only more efficient but helps you save on energy. You will see the difference and would absolutely recommend every home have an air purifier.
This will ship free for Prime members.
---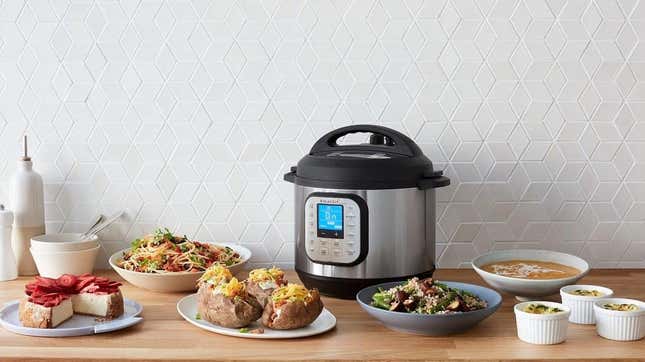 There isn't much to say about the Instant Pot Duo Nova that hasn't been said before, but the 7-in-1 pressure cooker is down to $50, which matches the lowest price we've seen to date. You'll save and be able to cook whatever the hell you want with the touch of a button. Plus, it comes in three cute colors to match the rest of the decor in your kitchen. Grab it before it's gone.
---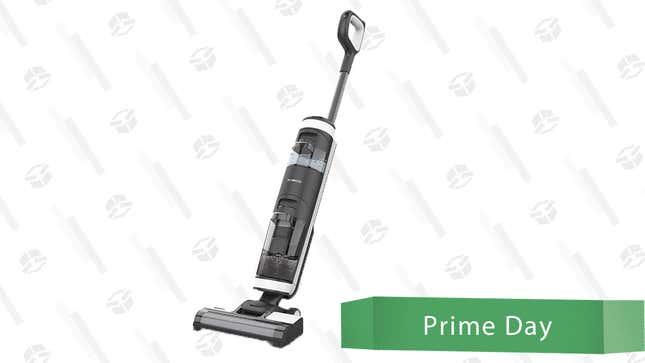 Not all vacuums are meant for hardwood floors AND carpets, let alone adjusting for a wet or dry mess. This is why it's important to have the right equipment.
Featuring the iLoop(TM) smart sensor technology, The Tineco Floor One S3 Cordless Wet Dry Vacuum Cleaner instantly and intelligently water flow and suction power depending on if there are wet or dry messes on hardwood floors. A time-saving tool, this product vacuums and washes your sealed hardwood floors in one easy step. Plus, the Tineco Floor One S3 is cordless, lightweight, and effortless to use. It even lasts up to 35 minutes running on battery power.
Fun fact, this vacuum can be connected to an app and has a helpful voice assistant that monitors the status of your machine to ensure that you are getting the best cleaning experience possible.
Note that it's recommended to use Tineco solution for the best long-term use. Non-Tineco solution will cause corrosion and damage to the product.
This deal is for Prime members only.
---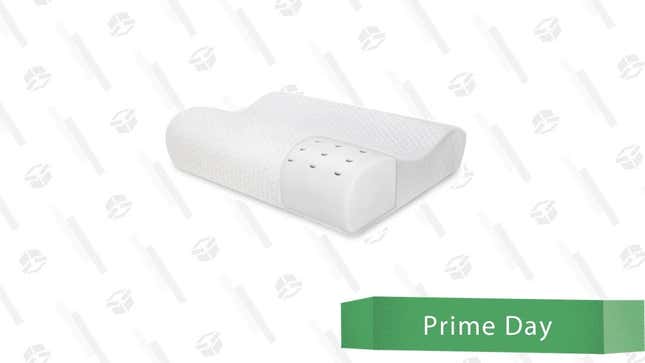 A good night's sleep can make all the difference in how your day goes. Good pillows can be one of the easiest fixes for this. SensorPEDIC has its oversized gel-infused memory foam pillow for just $24. Normally these pillows run up to $60, so this is a great deal for a troubled sleeper.
These pillows are made with iCool technology if you tend to run a little hot in slumber. The memory foam provides comfort all night long and is contoured for side and back sleepers. Memory foam pillows also provide excellent support for not just your head but your neck and shoulders too. The foam is antimicrobial and hypoallergenic, and the knit covers zip off, so they're easy to toss in the wash. These pillows are exclusively priced for Prime Day, so if you were thinking about grabbing one, now is the time.
---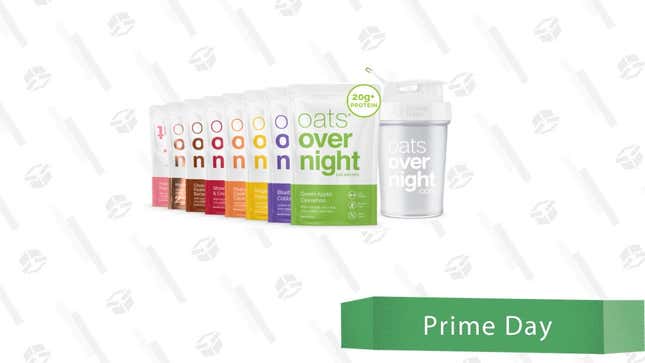 I've been working through one of Oats Overnight's variety packs and can say the convenience has saved me on many a busy morning. It's simply tasty and easy to "make." And I have yet to find a flavor I truly didn't like. Each pack has around 20 grams of protein, 6 grams of fiber, and less than 9 grams of sugar. One shaker has absolutely kept me full until my late lunchtime. They are also gluten-free, which I've been trying to cut down on. All you need to do is pour a packet into the BlenderBottle (which you'll get), then add milk or whatever milk alternative you prefer. Shake it slightly and let it sit overnight, and it's ready to roll in the AM. This is also a great alternative to a post-workout shake as it has sustainably less sugar than many recovery drinks.
This pack contains Chocolate Peanut Butter Banana, Strawberries & Cream, Green Apple Cinnamon, Mocha Dream, Peach Upside Down Cake, Blueberry Cobbler, Maple Pancakes, and Peanut Butter Cookie Dough Cacao Crunch.
This is a Prime Day deal and will ship free for members.
---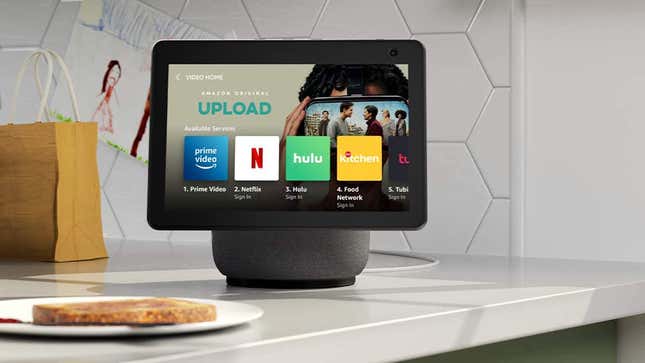 Amazon's recently-released Echo Show 10 smart speaker with a screen is a bit different than past models: it has a rotating screen that uses a motion-detecting camera to follow you as you move around the room, ensuring that video calls, recipe videos, or whatever else you're watching is always in full view.

Sound kinda creepy? Yeah, that checks out. Gizmodo's Catie Keck said much the same thing in her review, yet ultimately found the thing to be pretty handy:
"One of my favorite things about the Echo Show 10 was also one of its most unnerving. I loved the ability to move around my kitchen and have the screen rotate to face me no matter where I was situated—when I was streaming television. When I wasn't, I found Alexa's watchful eye a little too creepy to be left on all the time."
If you're keen on a swiveling screen, Amazon is already slashing $60 off the list price of the Echo Show 10 for Prime Day, now sitting at $190. It also works as a smart home hub for connected devices, so it can be a handy centerpiece for your smart home. This deal is only for Amazon Prime members!

---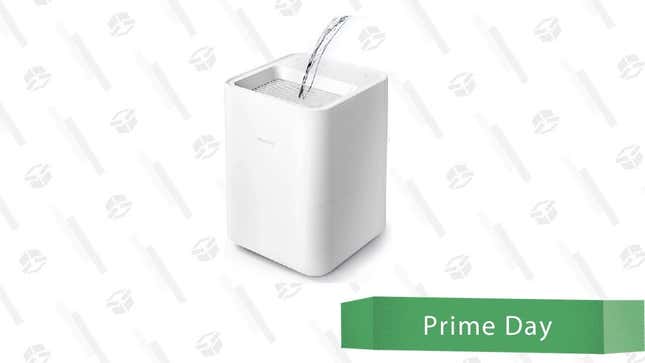 Now that summer is officially here time to think about staying cool without drying your family out. Running fans and the AC all day can create less than desirable living environments. smartmi Cool No Mist Humidifier aims to keep everyone from babies to Grandparents to pets happy and thriving in the hottest months. Take 22% of this just for Prime Day.
This is a large capapcity humidifier, so you won't need to fill it as often. This is a massive four-liter water tank. This is designed with thirty-six rotating evaporation blades that are easy to snap out and clean. It's also got a water level sensor that lets you know when it's starting to drop. The water level light panel is simple to understand, so there's no guessing if you need to feed it more H2O. But it can run up to twenty-four hours uninterrupted on a low level. It's also made to be whisper-quiet so easy to sleep through, and it won't disturb a fussy baby. That being said, it's made with all its electrical bits in the top to keep curious kids and pets safe. If you have thought your home needs a little extra moisture without the hassle, this is the humidifier for you.
This will ship free for Prime members.
---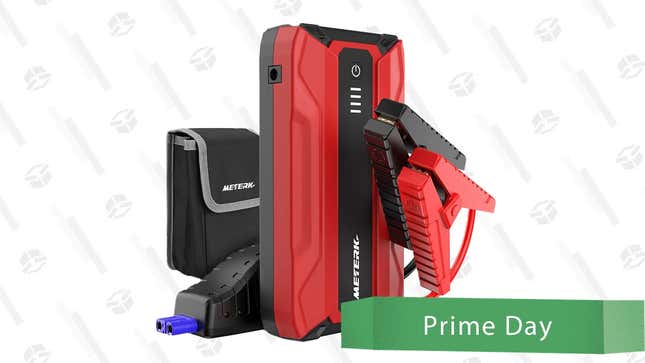 Need a jump? Capable of restoring both your car and your phone to full health, this Meterk 1500A portable jump starter boasts 18,000mAh of power, enough to bring gas cars up to 8 liters and diesels up to 6 liters back to life. On a full charge, Metertek claims it can jump-start your car around 30-40 times, although I have my doubts about that, especially since one verified reviewer said they were only able to manage eight. The company also says the starter can juice up your phone to 100% up to 10 times before you have to plug it into a socket for another 3 hours.
Still, a jump starter with this kind of performance would ordinarily set you back at least $70, this particular model included. Thanks to its dual-USB design, you can even connect two devices at once, one of which can take advantage of the quick-charge 3.0 port assuming it's compatible. It's unclear how long exactly it would take to fully charge, say, an iPhone 12 or Samsung Galaxy S21, but you can rest assured a car jump-start only takes about 1-3 seconds. As for its total lifespan, Metertek asserts this'll keep cranking for a whole 3-5 years if you take proper care of it. Fortunately, that won't be too difficult considering its rugged enclosure is rated for IP65 water resistance.
Meterk may not be a household name, but its 1500A portable jump starter is backed by a 4.7-star average review score out of over 1,800 ratings. It's down to just $50 for Prime members for Prime Day.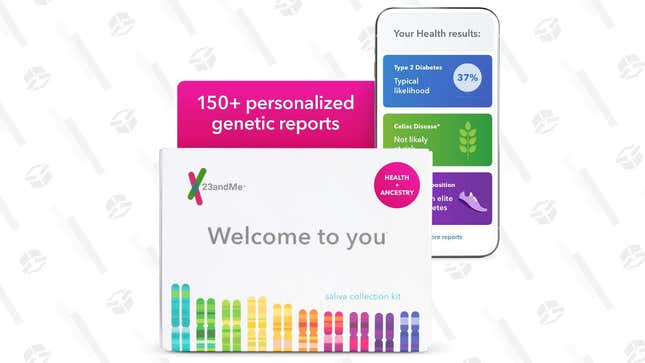 Looking for more clarity on your ancestry or keen on getting some fresh health insights? Get both with the 23andMe Health + Ancestry DNA test, which is currently $100 off at Amazon for Prime members for Prime Day.

You'll send off a vial of your saliva to their lab, and they'll analyze it and send you reports that are continuously updated with new details over time as the data pool expands. There's plenty of debate over the effectiveness of such tests and privacy concerns about sharing your DNA data, but customers seem very pleased with the results: it has a 4.7-star rating at Amazon.
---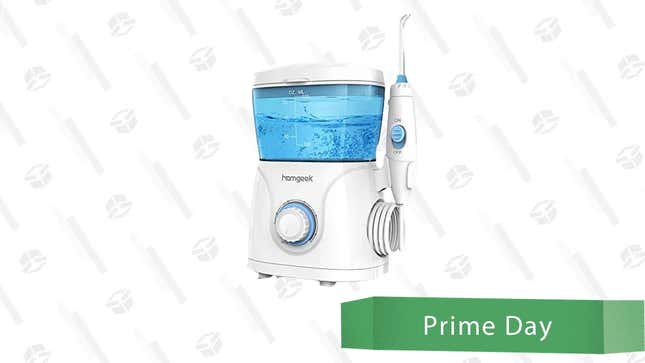 Thanks to the pandemic, some of you might be missing the dentist, while others might be relishing in the excuse not to go. Regardless of how much you've been taking advantage of the COVID excuse to avoid certain things, we've got all a deal all of you should take advantage of for your teeth and gum health!
This Homgeek water flosser is down to $28 right now. It has a stellar 4.4-star rating from 6,700+ customers. Grab it while you can get this great discount!
---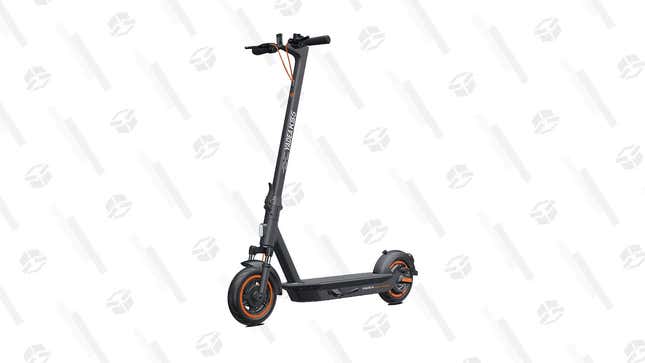 My mom never let me have an electric scooter growing up. One of the neighbors had one, but my mother always thought it was too dangerous for a kid. But guess what mom! I'm not a kid anymore and I don't have to listen to you! I live on my own and make my own rules! I can eat ice cream for dinner and there is nothing you can do about it. So if I want an electric scooter, I'm getting an electric scooter dammit! But not only that... I'm going to save $100 by clipping a coupon before adding to my cart. That brings the price down to $539. Let's go, baby. This thing can go over 18mph. Watch me ride off into the sunset provided the sunset is a maximum of 25 miles away.
---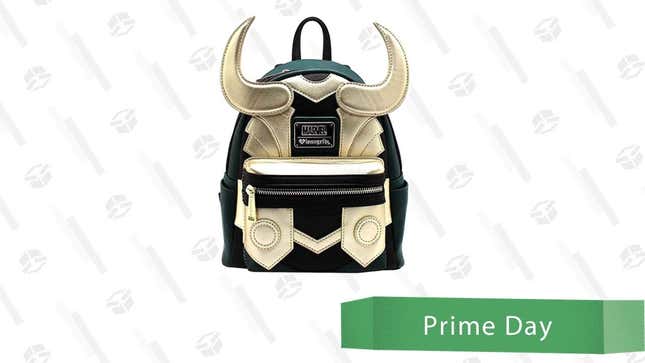 This is a Prime Day steal as Loungefly products rarely go on sale. Their backpacks are coveted as collector's items because they are beautifully made and often limited edition. As the world is aflutter with the God of Mischief again (thanks to Disney Plus), grabbing this adorable Asgardian bag is a must. Take 20% off right now.
Each Loungefly bag is made with exquisite detail. This one features Loki's iconic golden horns. As someone who owns several of these bags, they are durable and comfortable to wear. The mini backpacks seem small, but I can assure you they are quite sizable for what you need to take on a day out. This will fit a tesseract and anything else you carry for trickster deeds. Accept no Variants; this is the real deal and a great sale.
Prime members will have free shipping on this.
---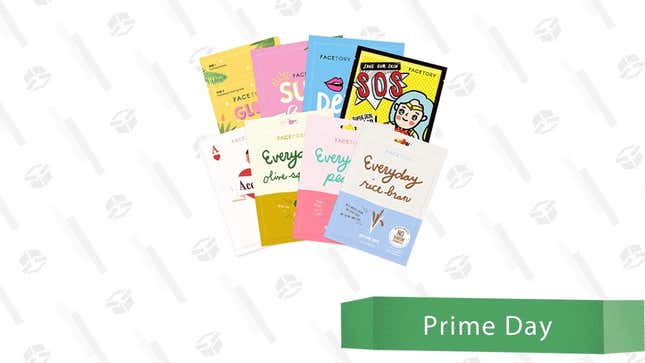 If you're a fan of K-Beauty and face masks, this is the Prime Deal for you. Take almost 40% off this FaceTory Sheet Mask Collection and return your skin to its sparkling glory.
FaceTory is one of the leading companies when it comes to sheet masks, and this collection is a nice way to sample a little of each. This pack addresses issues for all skin types. Brightening, hydrating, calming, detoxing, and rejuvenating. Get your face in tip-top shape and glowing all summer long. Use all 8 yourself or share with a few pals on a relaxing night in. This pack includes quality natural ingredients in each mask-like rice, olive, pearl, charcoal, mushroom, and royal jelly. Save money now and give your mug the treat it deserves.
Free shipping for Prime members.
---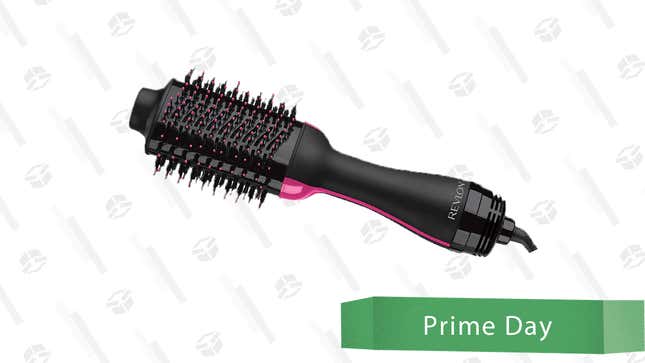 Are you tired of buying multiple hair styling tools to get the perfect hairstyle? Well, clean out the clutter in your bathroom, and replace it with the Revlon One-Step Hot Air Brush. Clip the coupon and save an additional $10.
This hot airbrush is available in four colors: black, teal, and pink; this hot airbrush features a unique non-detachable oval brush design to smooth our hair and minimize frizz. It also comes with three heat and speed settings with a cooling option for ultimate styling flexibility.
Note that this product fits U.S. safety requirements and is designed for 120 volt USA outlets only. If you use an adapter or voltage converter, the product will become damaged.
To keep your hot air brush working perfectly, clean the air inlet regularly and remove hair from the brush after each use.
This will ship free for Prime members.
---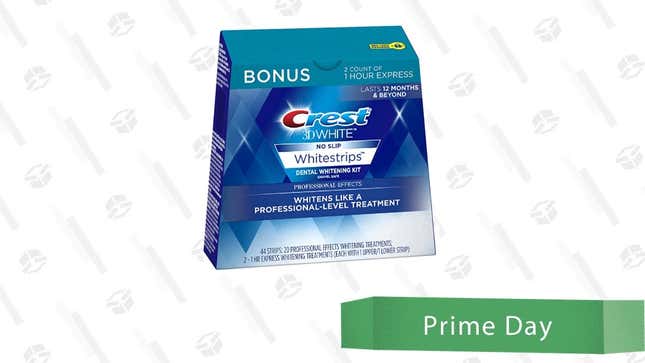 What's the better value: a $300 dentist bill or a $28 box of whitening strips? Before you make that expensive trip, try out these Crest no-slip teeth whiteners. They supposedly remove up to 14 years of staining for up to 12 months, and there are two other "Express" strips for a quick same-day result, perfect for an unexpected hot date. The standard treatments require a 30-minute application once a day, which is totally reasonable to improve that already rock star smile of yours.

This deal is only for Prime members.
---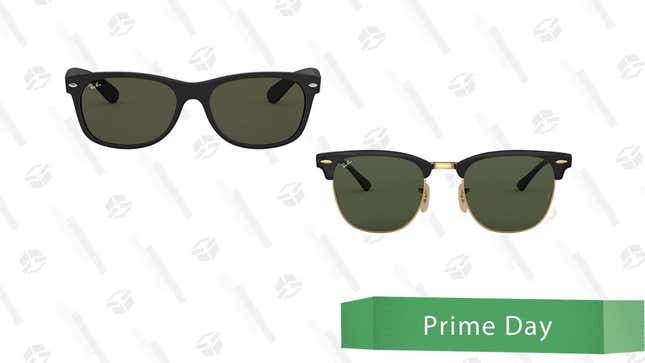 Nothing is more classic American style than a pair of Ray-Bans, be they Aviators or Wayfarer. Nothing adds an effortless touch of cool to an outfit like a great pair of sunglasses