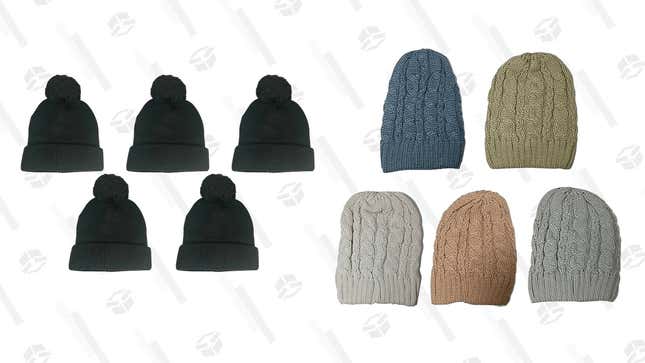 Knit Caps (5-Pack) | $15 | SideDeal

Saving money is a premium factor for many, and since we are still firmly in winter mi, we might advantage of a fashionable deal. In this 5 pack knit cap bundle (for just $15) you'll get the perfect winter unisex accessory. The beauty is at this price you can keep them for yourself or buy a bundle for the whole family.
There are a few groupings to pick from so different tastes can be met. There's a light multicolor, a dark multicolor, an all black, or an all charcoal pack to pick from. You also get the option of a pom-pom or just a sleek slouchy knit. Made from faux fur, yarn, and acrylic, each is sure to keep you warm while snuggly fitting your head. They also look adorable and are masters of hiding hair on bad days. These give you some nice options for different looks on the remainder of these chilly days. Wash by hand if needed.
If you've read a few of our pieces on SideDeal before and you like what you've seen they offer a $5 monthly fee to get free shipping on all of your orders no matter how many. Otherwise, it's a flat rate of $8.
This deal was originally posted by Sheilah Villari in November 2020 and updated new information on 2/26/2020.
---