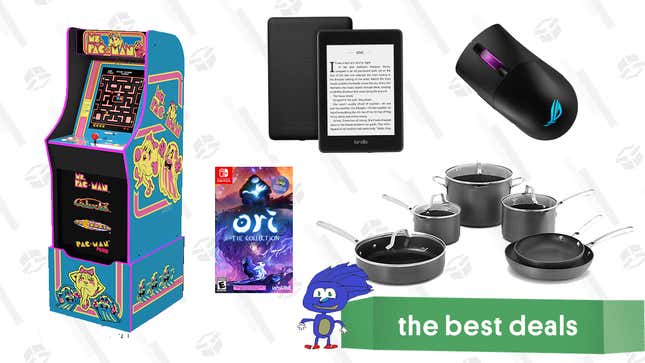 Jump to: Tech | Gaming | Home | Lifestyle | Media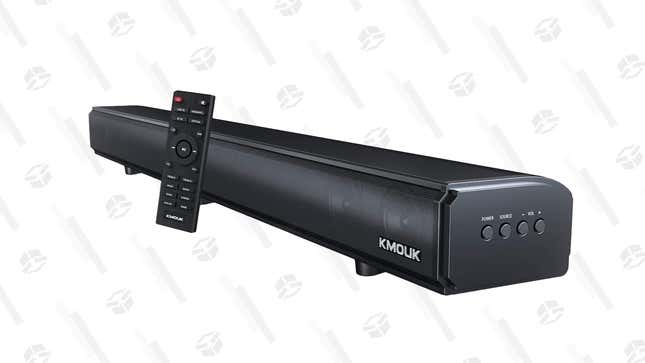 One of the best things you can do for your living room, basement, or wherever it is you playing games and watching TV is to install a sound bar. It is seriously night and day. This KMOUK sound bar is 2.1 channels with 6 speakers and four different modes to achieve the best audio for the way you're using it with game mode, news mode, cinema mode, and song mode. If you clip the coupon, you can save a $20 at checkout. Prime users can save an additional $15 bring it down to $75.
---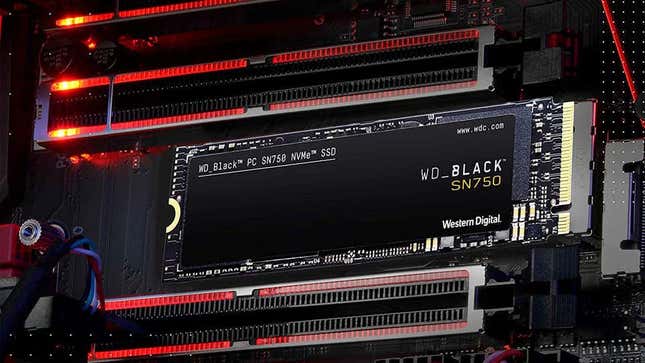 If your PC could do with a speed boost, an SSD is a great way to get one if you haven't upgraded already. Newer motherboards have an M.2 slot with support for NVME drives like Western Digital's 500GB Black, which is up for a great price of $55 right now. Read speeds can reach up to 3,3430 megabytes per second, while write caps out at 2,600, which means your apps and games will load ultra fast, and you won't need to babysit large file transfers for very long at all. Not this is not compatible with PS5.
---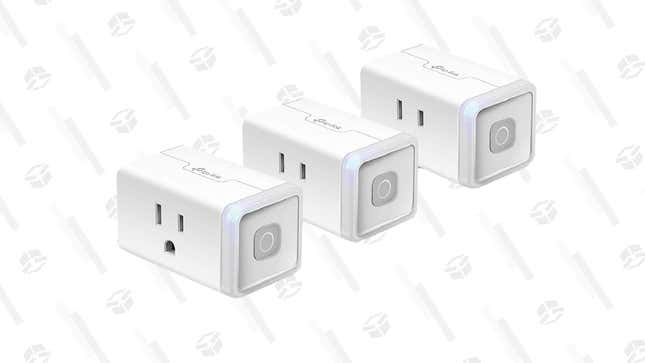 You're busy, you don't have time to manually go around and power things on and off in your home— I get it. Besides, whatever it is you need to access, it's just kind of far, right?

Thankfully, we've got a Kasa Smart Plug 2-pack deal for you today to control everything using your voice or phone instead. Grab them for 25% off— just $15 to make your home a smidge smarter!
At 16% off, you can snag this 3-pack for just $21. These plugs are compatible with Alexa, Google Home, and Echo. What's more, you can even use them to set up auto schedules for your devices, so you can start brewing coffee while still in bed, for example, or turn off those Christmas lights next holiday season while you stay warm and toasty inside.

Really, the more I think about it, the more impractical it seems to not have one of these smart plugs on every outlet. Too much? Maybe. Anyway, start smartifying your home right away while this deal is still good!
---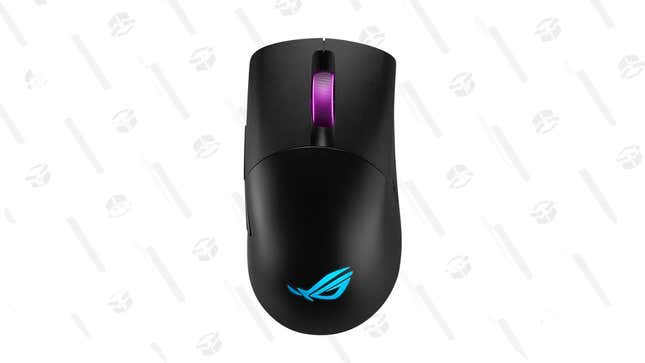 There's something exciting about buying a new gaming mouse. It's almost like going shopping for school supplies. And if you need a new piece of equipment to help power you through your next Apex Legends or League of Legends sesh, the ASUS ROG Keris Wireless Lightweight Gaming Mouse is a great place to start. Now $69 (nice) down from $99, it features a 70-million click lifespan with a specially-tuned sensor to help up your accuracy. It can connect via Bluetooth, wired USB, or 2.4 GHz. Charge it via USB-C, and adjust your DPI settings via scroll wheel. It's an excellent option if you're in the market for a new gaming mouse, or just use it as your everyday scrolling companion. And check out those pretty lights.

---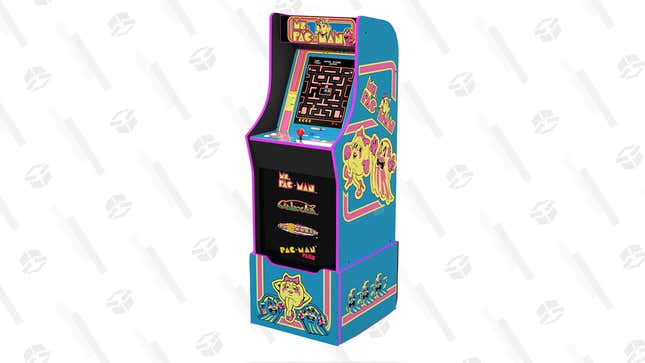 Let me throw the gauntlet down: Ms. Pac-Man is one of the best video games of all time. More specifically, it is the best arcade game ever. I will not be taking debates on the matter; it's just a fact. It's always been my dream to own a Ms. Pac-Man cabinet and now that dream can be a reality. Arcade1Up's faithfully reproduced Ms. Pac-Man cabinet is on sale for $267 at Walmart. It comes with a riser so you really get the full arcade experience. If you don't care for Ms. Pac-Man: 1.) What's wrong with you and 2.) It also has Pac-Mania, Pac-Man Plus, and Galaxian included. Now can someone find me a deal on a bigger apartment, please?

---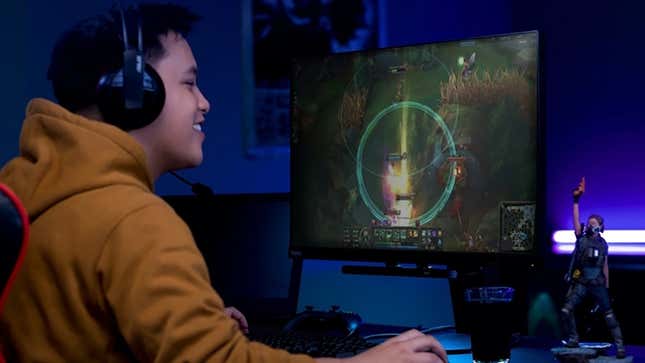 What if you could command an army using just your eyes? Or look out the window of a car as you dust the competition at 200mph? Or set your sights on an enemy outpost with the perfect aim only your retinas can provide? The Tobii Eye Tracker 5 is a robust head and eye tracker accessory for your PC capable of not only letting you game through facial recognition technology, but it can also enhance your streams and beef up your esports skills by analyzing your visual attention and presenting relevant metrics that'll help you improve.

All in all, Tobii has come a long way since its inception 20 years ago, now supporting over 100 games including League of Legends, Assassin's Creed Valhalla, Project Cars 2, and more. It can even be used to sign into your computer by scanning your eyes using Windows Hello. The Tobii Eye Tracker 5 is compatible with most PCs, as long as yours has at least a 6th Gen Intel Core i3, i5, or i7 processor or AMD equivalent. It connects to your PC over USB 2.0 and comes with an attachment that allows you to snap it on directly to your monitor.

Best of all, the Tobii Eye Tracker 5 is 5% off using the promo code BOGNOGUS, bringing your total checkout price down to $218.
---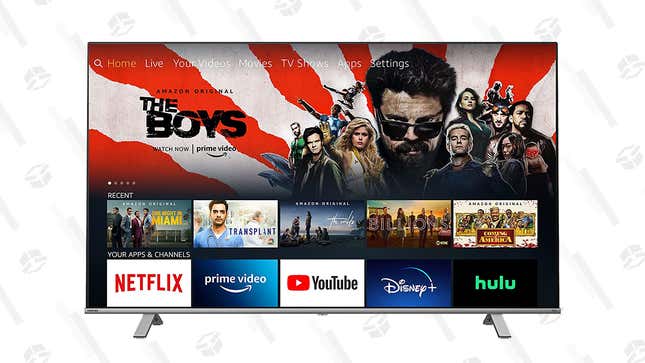 You've got shows to catch up on and you don't want to miss a thing. I get it. Grab a Toshiba Fire TV today for up to 27% off at Amazon and you can start binge-watching your faves straight from the box. Just enter in your wi-fi info, login to your streaming service of choice from the preloaded apps, and enjoy!

You can get a 50-inch Toshiba Fire TV for $370 right now, a 21% discount. This is a 4K tv, so you can enjoy a crystal clear picture quality no matter what you're playing or watching. This TV will ship for free!
---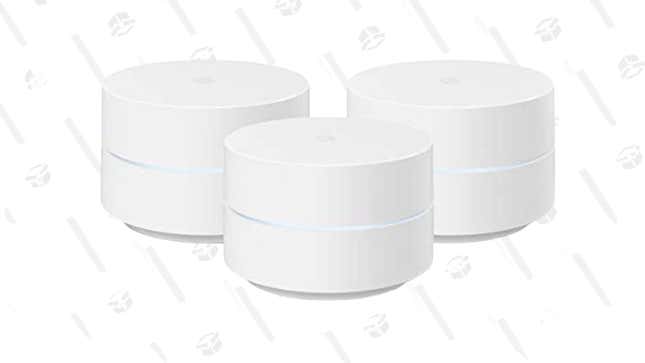 There's never a bad time to improve on your home's Wi-Fi network. You can do just that with this three-pack of Google Mesh Wi-Fi System points, perfect for placing around your house. This set is now $150, which is $50 off its original $200 asking price. This three-pack covers up to 4500 square feet around your dwelling to create a mesh network for better coverage. It only takes a few moments to set up, includes easy to set up controls, and helps to ensure your system runs as fast as it can behind the scenes. Plus, this set will work with all Google Wi-Fi points and can be added to your Nest system. You can always expand later if needed, too.

---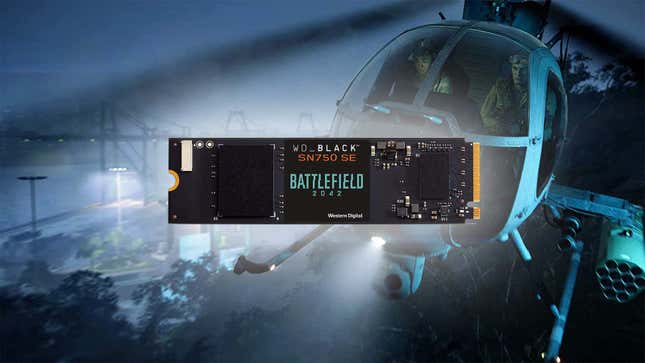 If you're currently building a PC or just looking to expand storage, Western Digital is now offering a game code for the upcoming Battlefield 2042 with an SSD. Considering the game goes for $60, what you're looking at is a $40 SSD if you were planning to get the game anyway. And that's just the 500GB drive. If you go for the 1TB for $150, which when considering the free game code means technically you're getting a 1TB SSD for under $100 which is unheard of. I'm just sitting here wishing my motherboard had another slot so I could jump on this deal like a pilot jumping out of their jet to shoot an RPG at another jet only to land safely back in their original jet.

---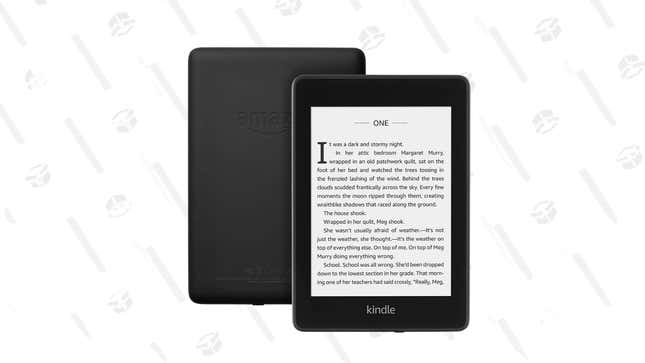 If you're the type of person who loves reading, but hates to amass a collection of physical books, you should absolutely pick up a Kindle Paperwhite from Amazon. You can pick up an ad-supported 8 GB version with 3 free months of Kindle Unlimited now for $50 off, making it just $80. The Paperwhite is Amazon's thinnest, lightest version of the Kindle yet, and it features a 300 psi glare-free display. It's also waterproof for beach or bath time reading. Take all your favorite books with you on this fun little device and stop worrying about whether you have room for one more book on your shelf. You don't. Just throw it on this bad boy instead. Choose from Black, Twilight Blue, Plum, or Sage.

---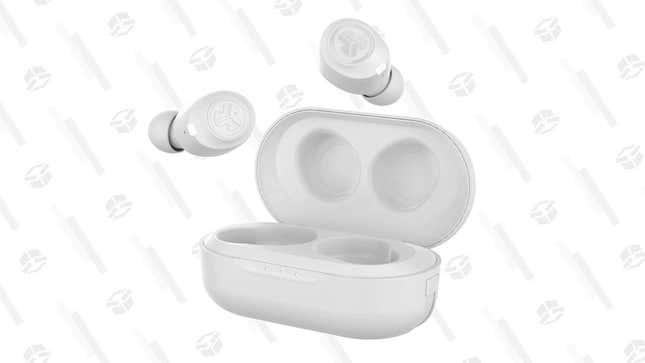 I've had the pleasure of testing a few items from JLab over the last few weeks and was pleasantly surprised by the quality for not only the price but the size. If you're unsure where to start with wireless and are worried about going too cheap, the JBuds Air True Wireless Earbuds are a great option. They're 24% off and in that nice space of moderate price but reliable performance. Of the three colors that are offered the white is currently the best deal.
The sound is crisp, clear, and they block out a fair amount of background noise. They turn on automatically and connect immediately, which is something I'm still getting used to with this brand. And being able to control everything by tapping one of the earbuds takes some time to figure out. It's a bit of a learning curve, but once you remember how many taps to what, the transitions are seamless. The charging case is true to the twenty-four-hour claims of playtime. Expect around six hours of tune time for the earbuds off of one charge. These are sweatproof and waterproof, so workout approved whether indoors or outside. They are comfy for hours of wear, and the case is compact enough to toss in your bag or pocket. The JBuds will be a great addition to your audio collection.
This will ship for free, no need to be a Prime member.
---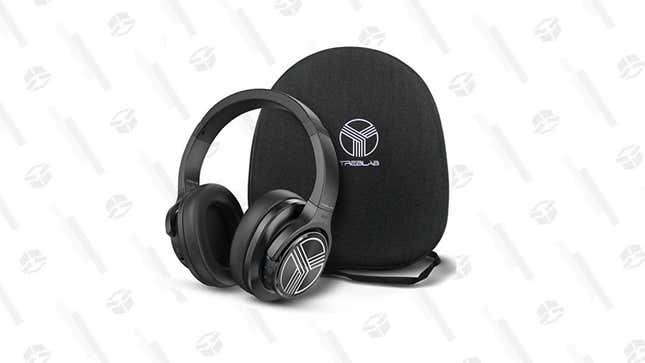 The Z2s are quality, and I was extremely impressed with the ANC. These are perfect for working out or for someone who likes to tune out the world, literally. I've been using the Z2s on and off and can tell you they are extremely comfy. They paired quickly and seamlessly. For their size, they are pretty lightweight and fit perfectly into a rather fetching hardshell case when not in use. The built-in mic for calls was clear and crackle-free. I take a lot of calls, so this was a significant feature for me. You'll get well over thirty hours of playtime off of one charge, and the three-hour quick charge has you taking these on the road a lot sooner than others on the market. There are easy button controls, and you can even link up with your chosen voice assistant, such as Siri, Google Assistant, or Alexa. If you need a more affordable pair of wireless noise-canceling headphones, these are a great option.

---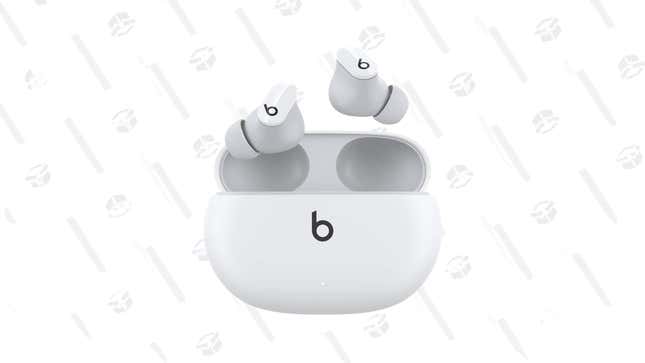 The search for a great pair of true wireless earbuds can be a difficult one, what with so many pairs out there. If you're interested in trying out Beats' version, you're in luck. The Beats Studio Buds are now just $130 at Amazon, which is $20 off their usual price. They're available in Black, White, and Red, just in case you want to match them to the rest of your stuff, but more importantly, they're a great option for on-the-go listening. They include active noise cancellation with transparency mode as well as support for Siri for delegating tasks while you're zipping around town. Of course, they also include a USB-C powered battery case that offers up to 24 hours of charge and IPX4 water resistance just in case you drop them in a rain puddle or something. Other than that, I've used a pair of these, and they're a favorite of mine. They're definitely worth it for $20 off, so if you want another pair of true wireless buds, can't go wrong here.

---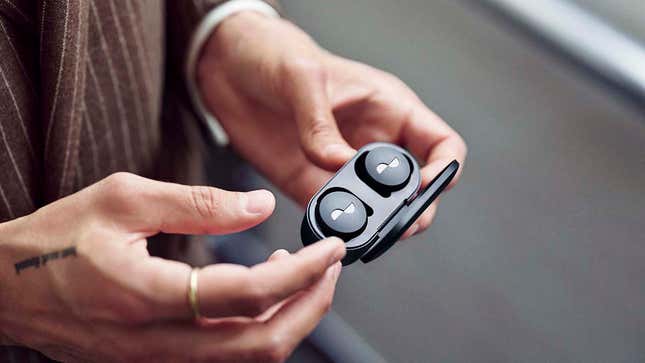 In 2018, Nura was a relatively unknown brand. Having just released its first product, the company was riding a wave of success prompted by the Red Dot Award in product design it achieved at CES — an award that had also been given to the Apple AirPods and Google Home in previous years. As the first company to ever introduce active noise canceling to a pair of headphones over a software update, Nura is a name worthy of your attention, and now it's brought the same technology that yielded its over-ear headphones widespread acclaim to a pair of true wireless earbuds it calls NuraTrue.

Equipped with IPX4 water and sweat resistance, a 6-hour battery life, touch controls, and active noise-canceling, NuraTrue is a compelling product on its own. But when paired with the accompanying Nura app is when the earbuds' value really starts to come to light. In addition to letting you customize features in-app, it can also set a profile tailored to your personal listening range. For a limited time, it also comes with 3 free months of Endel — a soundscapes app scientifically proven to help you focus and relax.

While NuraTrue true wireless earbuds are priced at $200, the brand offers a $5/month payment plan called NuraNow that nets you a new device every 2 years with additional perks including discounts and giveaways. Although NuraTrue is unfortunately excluded from that subscription, you can get a taste for the tech at a heavily discounted rate. And who knows, it could always be appended later on.
---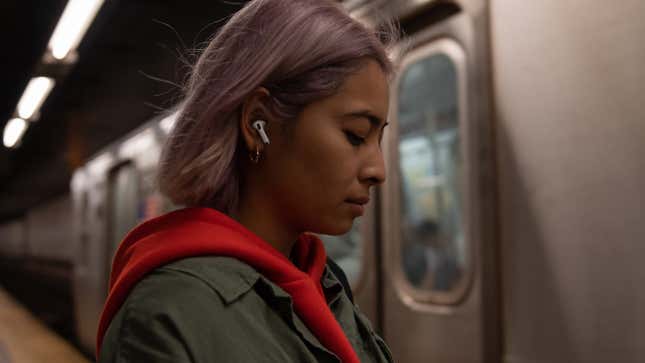 If you're an iPhone user with some cash to blow, skip the pretenders and even the lesser AirPods to go for something better. The AirPods Pro step the game up with rubber tips, active noise cancellation, better overall audio quality, and a wirelessly-chargeable case as standard. They're a bit expensive normally, but right now Amazon has 'em for $69 off the list price.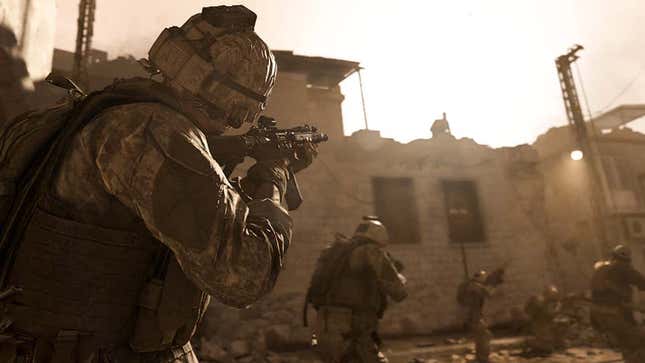 One of the best deals you'll find is a digital copy of Call of Duty: Modern Warfare for $25. It's the only game in the series this generation I haven't been able to put down after a couple of months, mostly thanks to the highly addictive Warzone battle royale mode and its variants, plus a gross amount of gun game, both 2v2 and 3v3.
There's more, of course, including a meaty multiplayer with globs of rotating modes and playlists, and there's a short, but sweet story campaign for those who protested its removal from Black Ops IIII.
---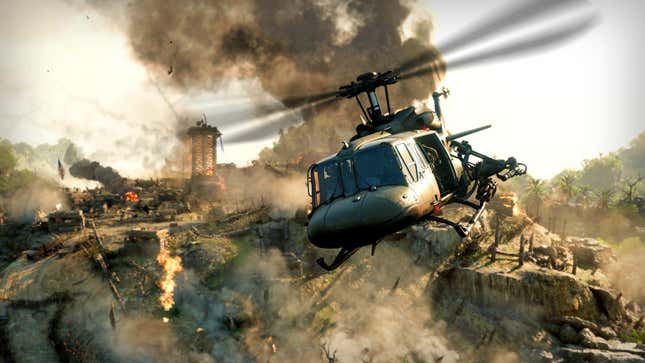 Another year, another Call of Duty game. War truly does never change. Last year's installment, Call of Duty: Black Ops Cold War, is currently on sale for $25 at Eneba with the code COLDWARAUG. Here's a quick PSA: you won't be able to upgrade the Xbox One version if you're thinking of getting a Series X later. This version is digital and will be playable on your Series X, it just won't get those next-gen upgrades. As long as that's not a big deal, have at it.
---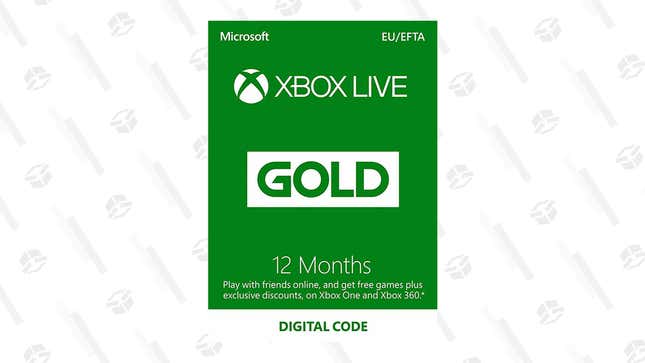 Okay, so you've bought a new Xbox. Now what? For starters, you're going to want to get that sucker online. Xbox Live Gold (or whatever it's called now) lets you play multiplayer games like Destiny 2 online, gives you access to big deals, and throws an occasional free game your way. It's a necessity for anyone looking to play Series X|S games online, so it's the kind of service you'll likely need sooner or later. Fortunately, you can get a full year of Xbox Live Gold at Eneba right now for $50 by using the code XBLG12MO at checkout.
---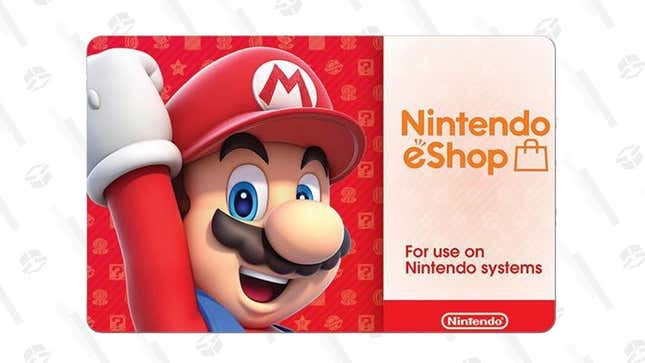 You can grab a $50 Nintendo Gift Card for $44 today at Eneba when using the promo code NINTENDOFIDDY. And you know what? Sure, why not? Here's the thing: we all know that Nintendo is pretty reluctant when it comes to discounts on its big games. Though, even though in the last month or so, many of their Switch staples have gone for between $40 and $50, it's not much compared to companies like Ubisoft who slash games by $30 within six months after release. We can get even more off from Nintendo though. See where I'm going with this? If you save money on a gift card and use it to buy first-party Nintendo games, it's like using a $6 coupon. Don't tell Nintendo about this. They will surely come after me for revealing this.
---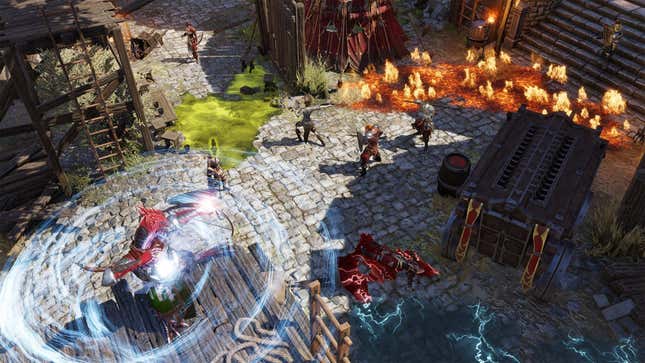 If you're a fan of RPG and haven't touched Divinity Original Sin 2 yet, you're missing out. Its turn-based combat and environmental interactions are so fleshed out, it's about the closest thing we've gotten to actually replicating Dungeons & Dragons in a video game. That is, in a fully released game at least. This game was so good, the developer Larian Studios approached Wizards of the Coast and was able to secure the license for D&D with their upcoming Baldur's Gate 3. That one is in beta right now, but if you're someone who likes wait for full releases or are just a console-only player, then Divinity Original Sin 2 is still your best bet. I'll tell you this though. Make sure you have at least one character in your party with the ability Pet Pal. It let's you speak with animals which opens up a ton of content and conversations like the one you'll have with a certain rambunctious crab. Not to mention it supports 1 to 4 players. Get it for $20 or $26 at Amazon.
---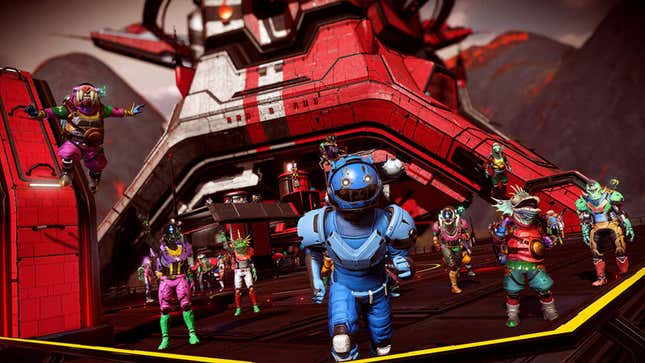 There once was a time where recommending No Man's Sky would have produced a laugh. The space exploration game had a famously rocky launch due to some overly ambitious marketing from Sony. But in the past few years, it's had one of the greatest glow-ups in gaming history, completely turning things around with its Next update. That game had such a successful overhaul that it even won a Game Award for Best Ongoing Game, beating out live service titans like Fortnite. So, yes, laugh all you want, but No Man's Sky is good now. If you're curious about seeing the change for yourself, you can currently get the Xbox One version of the game for $20 at Walmart. As a nice bonus here, you'll get the game's next-gen upgrades if you load it up on an Xbox Series X, so you can really get the most out of it.

---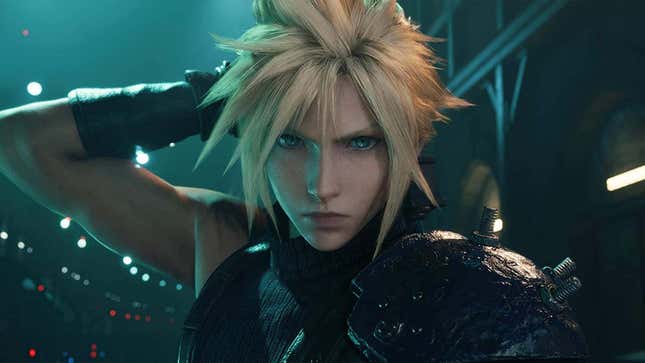 If you're like me and had missed out on the PS4 generation entirely (meaning you haven't played Final Fantasy VII Remake), then you and I are both really missing out (from what I hear). This complete reimagining of the classic PlayStation RPG topped many game of the year lists last year. Now with the updated version for PS5 out, you can now experience this masterpiece enhanced even further with DualSense controller haptic feedback support, a new photo mode, the ability to switch between Graphics Mode or Performance Mode prioritizing either 4K resolutions or smooth action at 60 fps, as well as a brand-new episode starring Yuffie. You can get this expanded version now for $20 off at Amazon.

---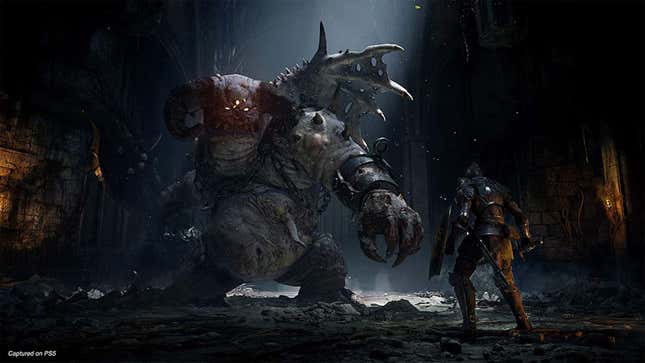 The Souls games have been a powerhouse of the past decade of gaming kicking off with the first game in the franchise, Dark Souls. What's that? There was a game before Dark Souls? Interesting. For whatever reason, the 2009 release Demon's Souls sole an estimated 1.7 million while is follow-up, Dark Souls, sold over 25 million copies worldwide. By my calculation, that still at least 23.3 million of you fans who still haven't played this game. Now is the perfect time to play the game the that started it all in is upgraded glory.

---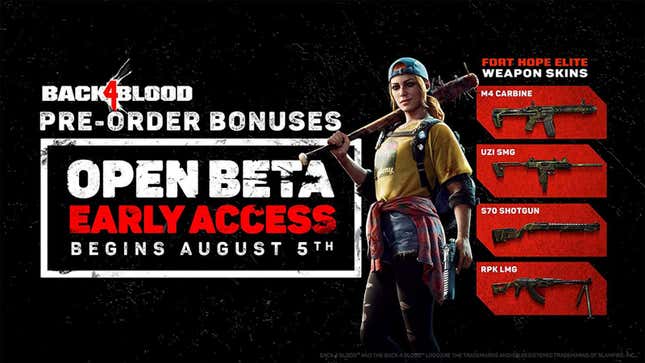 Left 4 Dead came out over a decade ago yet still retains a dedicated following. A large reason for its replayability is its AI director which responds to how well your team is doing at any given moment. By either sending more waves of zombies at you or maybe sticking an extra health pack in a nearby cabinet, the director keeps the action tense so you always feel like you just barely make it through. Back 4 Blood is the spiritual successor which launches later this year. If you pre-order the game, you'll gain access to the Open Beta which starts August 5th. (And if you really want, you can just cancel the pre-order after the beta ends and get your money back. Don't worry, I won't tell.)

---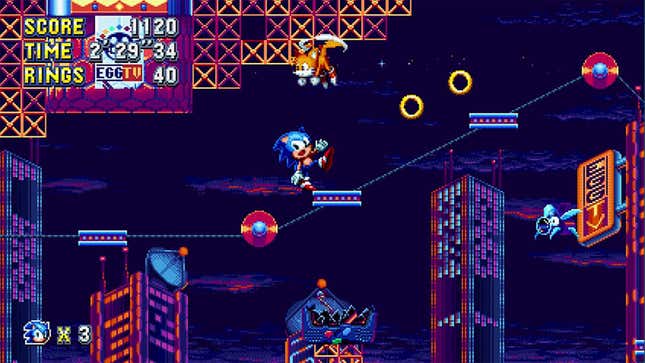 We are just under a year out from Sonic the Hedgehog 2. I have not been to a movie theater since and am pumped to return to the theater to see our blue boy alongside his buddies, Tails and Knuckles. News about the movie and photos from the set of the production have been dropping this past month. We now know Idris Elba will be voicing our beloved Knuckles. Carry that excitement right back into Sonic Mania—the hedgehog's return to 2D pixel sidescrolling gameplay. If you grew up on the original Sonic games for the SEGA Genesis and haven't picked this up yet, you are only hurting yourself.

With Sonic being the Interim CEO of The Inventory after swallowing Wario whole, I beg you to do what he says by playing his games and watching his movies. We don't know who he plans to devour next.
---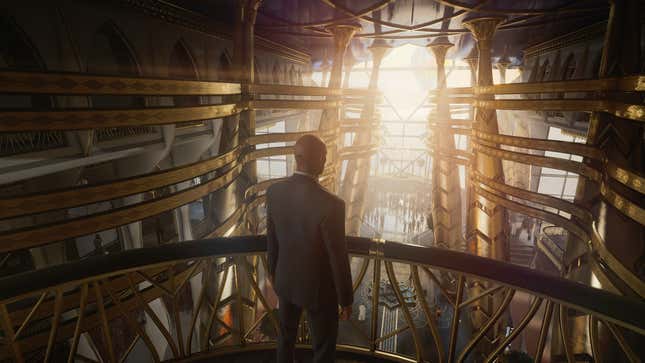 If you haven't jumped on the Hitman 3 bandwagon yet, you might want to. Critics and fans alike praised the stealth action game, calling it a perfect capper to the World of Assassination trilogy that features some of the series' best murder playgrounds yet. If that's enough to convince you to pick up a copy, the console versions of the game are down to $35. The game supports cross-progression with previous games so long as you stay within the same "family" of platform (PC to PC, PS4 to PS5, Xbox One to Xbox Series X).

---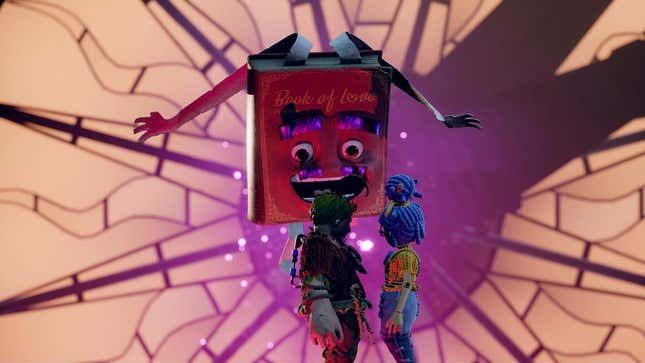 Grab a friend! It Takes Two is out and it's an excellent co-op experience. The latest from Josef Fares and the team at Hazelight is a platforming rom-com that's wickedly clever. Every level introduces inventive new mechanics that keep the game fresh. It's a rare co-op game where both players always have something to do and player two isn't just a sidekick. Considering how many delays are happening this year, it could end up being one of the year's top games. If that all sounds appealing, you can grab the Xbox One or PS4 version for $26 or $25. The game does not come with a friend, so you will need to find that yourself. Though, your friend will get to play for free as the game only requires one of the two players to own it—even when playing online.

---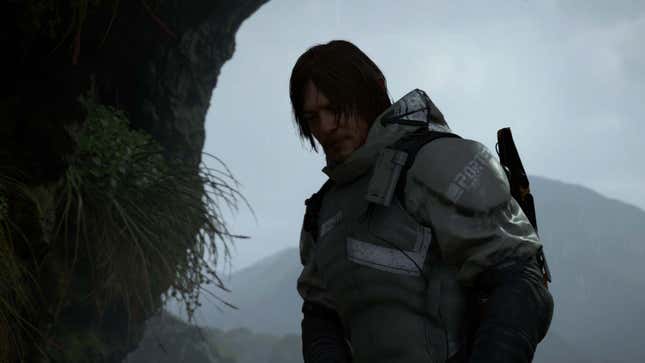 Death Stranding was already a timely game when it came out in 2019, but like a fine wine, it only gets more existentially troubling with age. Hideo Kojima's box moving epic paints a picture of a divided United States in the wake of a cataclysmic event that's wiped out the population. Does that sounds like a nice piece of escapism in these trying times? If it does, the PS4 version of Death Stranding is currently $20. The game has been retailing for around $40 recently, so it's an especially low price for a key title. If you don't feel like waiting for the director's cut (or spending the $60+ it will end up costing), now is the time to pick this up. Plus you'll be able to upgrade to it for only $10 when it releases on September 24th.

---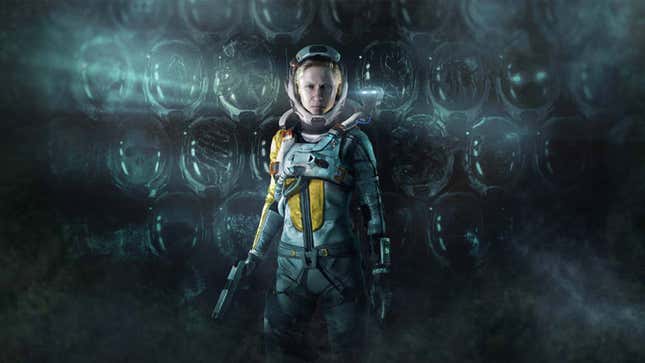 I, like many folks, do not have a PS5 yet. I just haven't cared too much to spend time hunting on down as nothing so far seemed like a must-have that I can't just play on a PS4 perfectly fine. That is until I saw Returnal. This is the first game to make me want to start really start scouring the internet for that PS5. I'm a big roguelike fan so this is very much my shit. Typically, we're used to roguelikes being smaller, indie titles in pixel art (which I love!) but wow is it cool to see this genre expand into AAA levels. Returnal is now on sale for $50, down from the high PS5 standard of $70. I'm tempted to pick this up myself and hold onto it for when I finally do get my hands on the new console.

---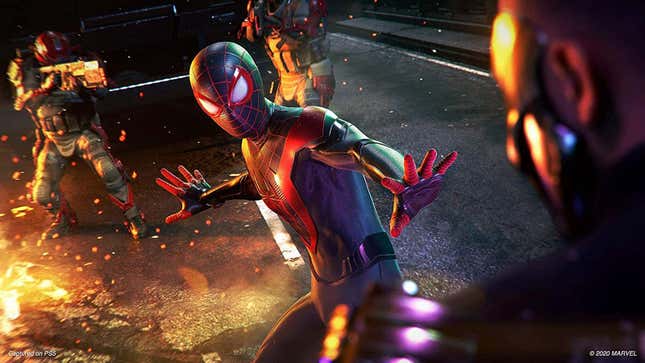 Miles Morales had a growing, but modest, following up until 2018's Spider-Man: Into the Spider-Verse. Since then, he has blown in popularity so it was only a matter of time before Sony cashed in with his very own Spider-Man video game. Take to the streets and skies of New York once more as perhaps your new favorite web slinging hero for only $50 in Marvel's Spider-Man: Miles Morales Ultimate Launch Edition. But what's this? This pack also comes with the remastered original featuring Peter Parker as the playable hero. Get the chance to play as both Spider-Men (Spider-Mans?) today.

---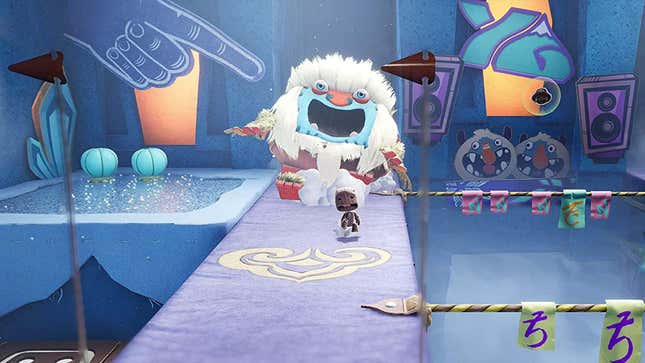 Sackboy returns in a brand new, reimagining of the Little Big Planet series—Sackboy: A Big Adventure. Sackboy and up to 3 other friends can now explore a full 3D world. Look at his cute stupid face with that tongue sticking out. What a joy it would be to be Sackboy. The game even has dedicated co-op only levels so be sure to play online or invite some friends over for some on-the-couch platforming mayhem. The PS4 and PS5 versions are available for only $37 and $39, respectively, at Amazon.

---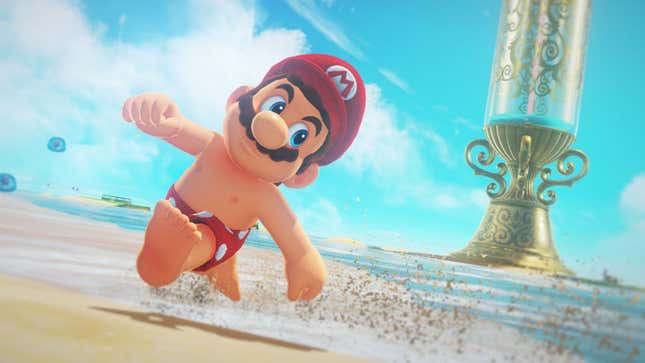 If you own a Nintendo Switch, buying a copy of Super Mario Odyssey is basically a requirement. If you don't have yours yet, Amazon's offering a rare discount down to $39 today, one of the best prices we've ever seen.
---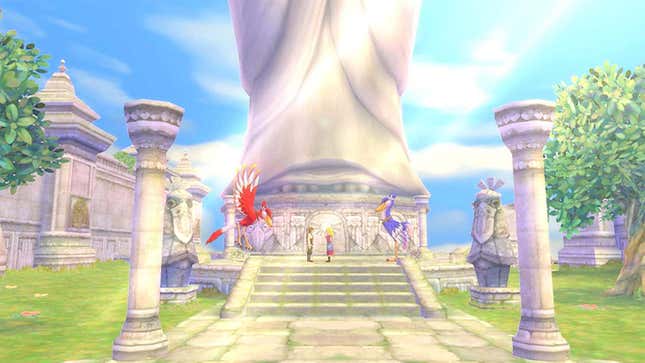 In the long list of Switch ports we've been receiving since 2017, the latest release is The Legend of Zelda: Skyward Sword. Originally launched for the Wii and built around the use of motion controls, the new version has added the option for just using buttons like a typical Zelda game. Many already playing are saying this along with some other quality of life improvements have elevated this game to one you should not pass on, so why not save $10 when you pick it up?

---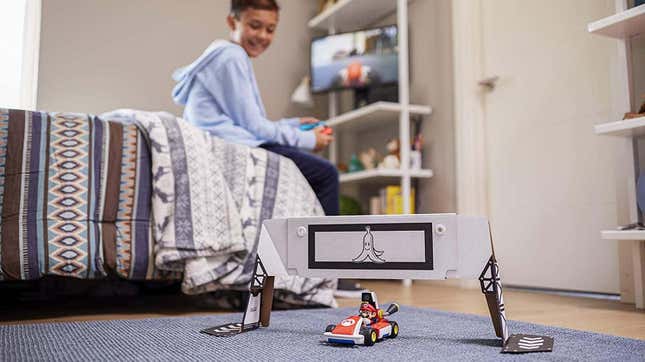 Ready? Set? Go! Mario Kart Live: Home Circuit is back on sale at GameStop and Amazon. The creative augmented reality Switch game comes with a physical kart, which you can use to drive around courses in your actual house. The camera on the kart peripheral transmits to your Switch, turning your living room into a full-on track. It's the perfect gift for kids or even adults who just want an excuse to play with RC cars again (read, me).
It was hard to find for a bit, but now, the game is actually in stock and you can get either the Mario or Luigi version for $75, its lowest price ever. We've seen the each set separately go down in price before, but one brother usually stays higher. Both are now on sale at their lowest prices. All is right.
---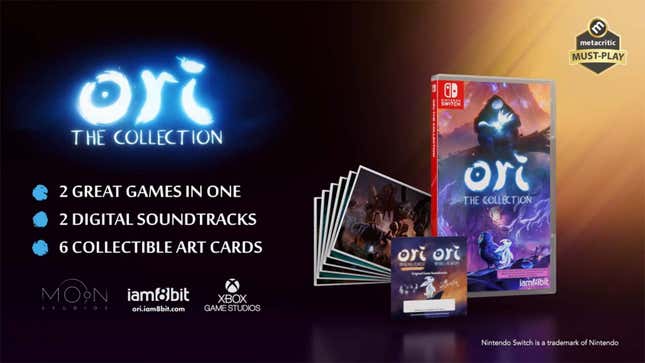 Both Ori games are beautiful, heartfelt challenging Metroidvania platformers that will leave you crying more than once. Seriously, these games are stunning to look at and will leave an impression on you so you are thinking about them for weeks to come. If you haven't had a chance to play either yet, you won't regret dipping into it on your Nintendo Switch so you can play handheld in a small closet where no one can see you cry. The physical collection comes with 6 collectible art cards and the soundtracks for both games. Ori: The Collection releases October 12th, 2021 for the Nintendo Switch.

---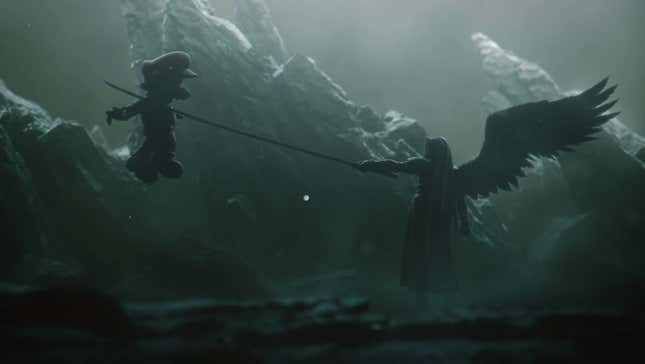 Well, this franchise has come pretty far, huh? We saw plenty of great character DLC reveals including, but not limited to, Mario's death. Sephiroth murdered him. It was a perfectly normal Super Smash Bros. Ultimate character reveal until Mario straight up perished. He's now canonically dead and Luigi is Mario now. That's what the press release I got says.


Okay fine, Mario is alive. Sephiroth just only nicked his little overalls with his man-sized sword. If you want to finish the job he started, Super Smash Bros. Ultimate is currently $46 at Best Buy. Sephiroth is a playable character and now Kazuya is trying to take the mantle from him for most Nintendo IP murders, so it's a good excuse to jump into one of the best local multiplayer fighting games out there.
---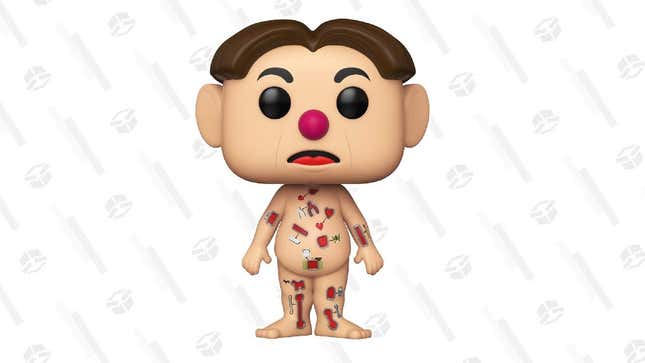 First off, how did I just never know the Operation character's name is Cavity Sam? That just adds a layer to how disturbing this is. Who's the audience for this? Are there Operation enthusiasts clamoring for a Funko of a cadaver? This is quite possibly the most unnerving toy they've released to date. I mean Funko's have their own weirdness. Each recreation is a full dead-eyed version of the source material and I've only ever really found it works for animals. But hey, to each their own. If you are a board game junkie and need a frightening figure to grace your space Cavity Sam is for you. I just hope he doesn't haunt your dreams.

---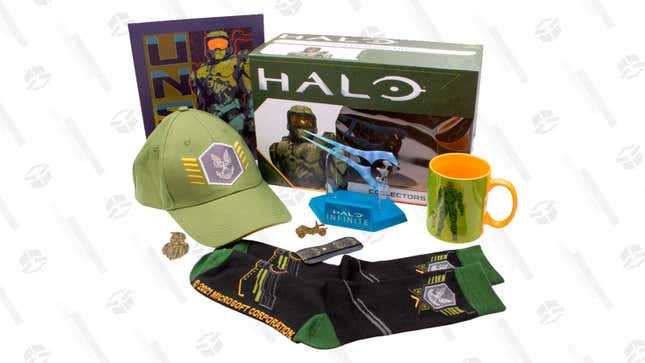 We're all looking forward to playing the new Halo. It's going to be like Splitgate but without the portal gun from Portal. To capitalize on this excitement, Culture Fly is trying to sell me this fun Halo swag. And you know what? I might just do it. Included is in the Halo: Infinite Collector Box is a Master Chief Art Print, a Halo hat, a Halo/Master Chief mug, an Energy Sword vinyl, a phone holder, pins, and socks. The game is not included, but honestly you should just be playing it through GamePass anyway so that's a good thing. Best Buy has the Halo: Infinite Collector Box for $10 off.

---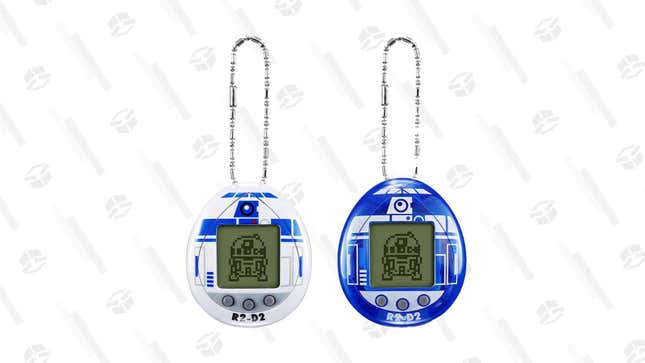 Yeah, that's right. R2-D2 is now a Tamagotchi and he needs you to be his mom or dad. He needs to be charged and cleaned every day and entertained by putting out fires or playing holochess. If you neglect your android child for too long, the Jawas will take him away. The R2-D2 Tamagotchi is available in either the white classic color or blue hologram color. and is available for pre-order at $20. Your new baby droid will arrive November 11th of this year.

---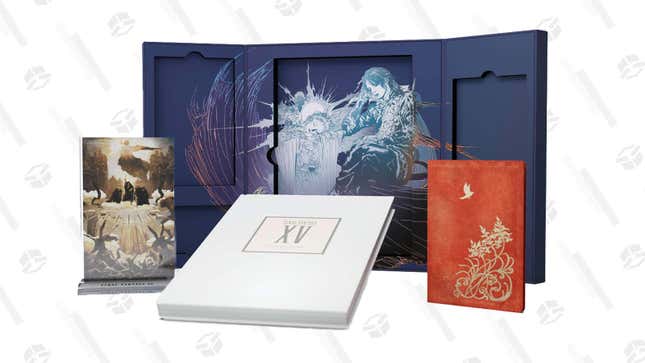 Hey do you like concept art? Of course you do. It's practically the best thing to unlock in any game. But now you can check out all of Final Fantasy XV's art in book form! Get it for only $109 on Amazon. That's nearly 50% off its original price.

---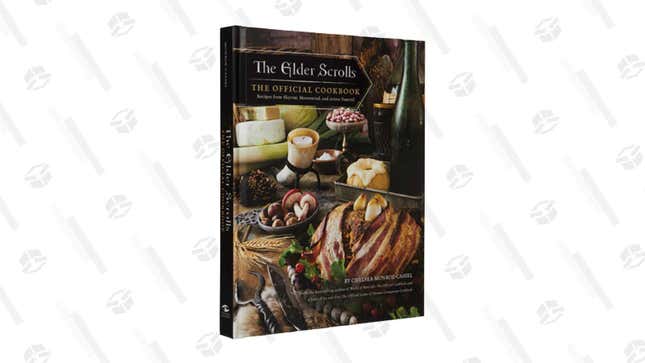 In the world of Elder Scrolls, sweet rolls are serious business, and now you don't have to use your imagination to pretend you know why. Grab The Elder Scrolls: The Official Cookbook for just $19 and get access to that and dozens of other recipes inspired by the homeland cuisine of the Bosmer, Khajit, Nords, and more.

Feast on all of the delicious dishes found in Skyrim, Morrowind, and all of Tamriel in this beautifully crafted cookbook based on the award-winning Elder Scrolls game series. Immerse yourself in the diverse cuisines of the Nords, Bosmer, Khajit, and beyond with these recipes inspired by food found in the Old Kingdom, across Tamriel, and more. With over sixty delicious recipes for fan-favorite recipes including Apple Cabbage Stew, Sunlight Souffle, Sweetrolls, and more, The Elder Scrolls: The Official Cookbook will delight every hungry Dragonborn.
And if anyone tries to steal a sweet roll from the, er, sweet roll pan, just shoot them with an arrow (preferably in the knee).
---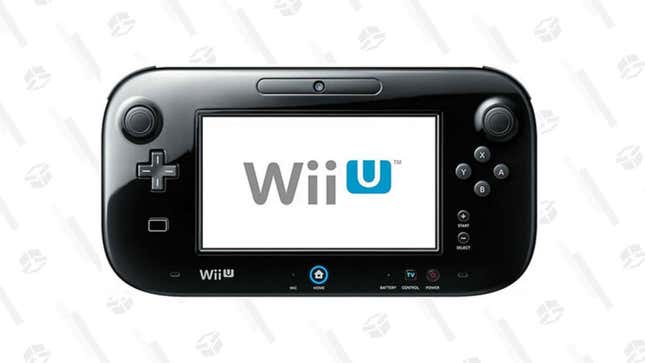 Made as the successor to the Wii in 2012, the Wii U was actually Nintendo's first console to support HD graphics. It lived a short existence of five years and died its electronic death to make way for the fully portable Switch. If you long for some mediocre nostalgic gaming, this refurbished version is 32% off and graded an A in a near-mint condition.

At the time, the Wii U was an impressive step forward, but the battery life left you wanting more. Equipped with an LCD touchscreen, motion control, camera, and microphone, it felt like a great entry for Nintendo at the time. This is an ideal replacement if you've broken your old one or just want to play Super Mario Bros. U the way it was intended. Most of the games from the original Wii console should still work. Just connect this to your TV with an AV cable or HDMI; you will have to purchase one as no cords will be provided.
This will ship for $3.
---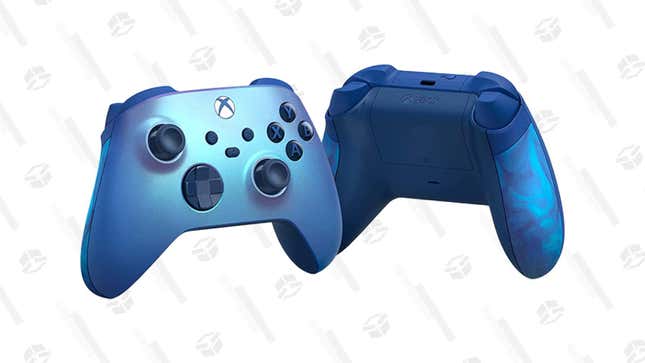 While the form factor hasn't changed much from the Xbox One, Microsoft has made changes to their appearance by releasing an array of sleek new colors for their Series X controllers and boy do they pop. Featuring a a bright gradient originating at the Xbox home button and watery blue swirl over the textured grips, this Aqua Shift option may just be my favorite one yet. I just hope one day Xbox will have the epiphany that they need to introduce these color choices to their Elite controller as well. Anyway, you can pre-order this one at Amazon for $69. The controller is set to release August 31st.

---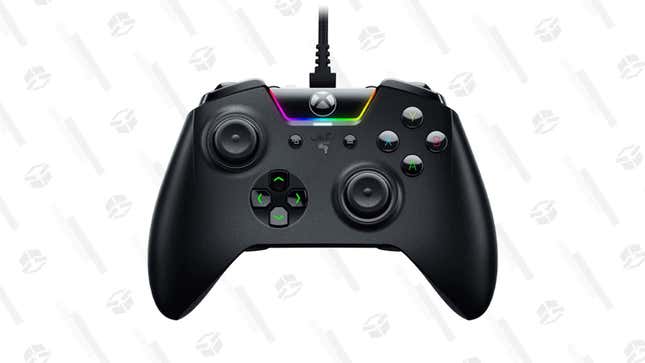 If you've ever looked at the standard Xbox controller and thought, "This needs more glowing lights," hold on to your hat cowboy. Razer's Wolverine Tournament Edition is currently marked down to its lowest price at the Microsoft Store.
So, what do you get for twice the cost of a regular Xbox One controller? A number of customization options including extra programmable buttons and it glows. Obviously.
Be warned, though, this $80 controller exclusively a wired controller, which is a total bummer for couch gaming. However for serious console/PC gamers, this shouldn't be an issue, since a wired connection is still considered necessary for optimal performance.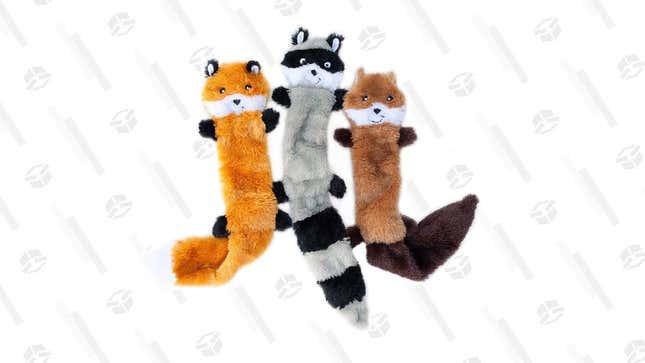 Our pups have been so good to us while we worked at home, and maybe you made the adoption leap during the pandemic. This means you find yourself taking your new pet to more places than you normally would. It's ok we love a connected pupper parent. My friends bring their dogs to each outdoor meal, and I will never be mad at that. Because they are such well-behaved good floofs, they deserve a gift. This three-pack of plush noisemakers from ZippyPaws is the ideal surprise, and it's $3 off today.

So yes, they are the crinkle paper type noisemakers, so maybe we don't give them these when zoom calls are happening. But the fox, raccoon, and squirrel are pretty durable, even for a pooch with a tough set of chompers. There's no stuffing in them, which is great for a more destructive doggo. This deal is only for the small dog pack. Each toy is eleven inches long and just fine for an adventurous tiny fluffball. These critters are cute, safe, and will provide hours of fun for fido.
Free shipping for Prime members.
---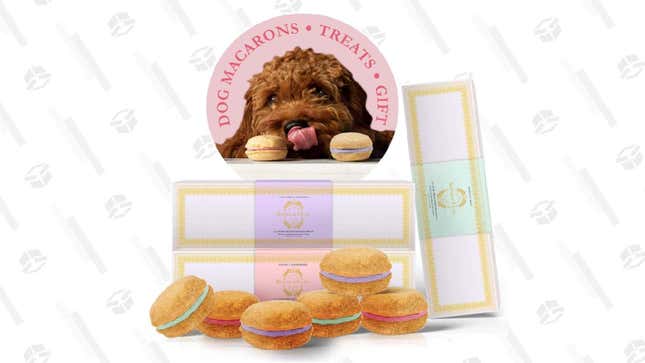 National Dog Day is August 26 so it's time to treat our best boys and girls. They deserve a fancy treat for being such gems and putting up with us during the pandemic. And what's the fanciest treat of all? Macarons! Bonne et Filou specialize in pupper versions of the french patisseries, and right now, you can save 20% when you clip the coupon.

You'll get six doggy macarons handmade from a 100% natural recipe crafted right here in the USA. This box specifically is made with oat flour, honey, coconut oil, and yogurt filling. The flavors include lavender, mint strawberry, vanilla, and rose. The mint is a nice option to help your furry best friend with bad breath. They've also been designed to give your pup a long-lasting chew so they won't just be chowing these down. They can actually enjoy it. All dog sizes can partake, but if you have an itty bitty furball, maybe cut it into smaller portions. Each batch comes in a beautifully decorated box as if delivered right from a French cafe. They have a one-year shelf life and don't need to be refrigerated. This is the perfect luxury gift for the best pooch. They earned something nice.
---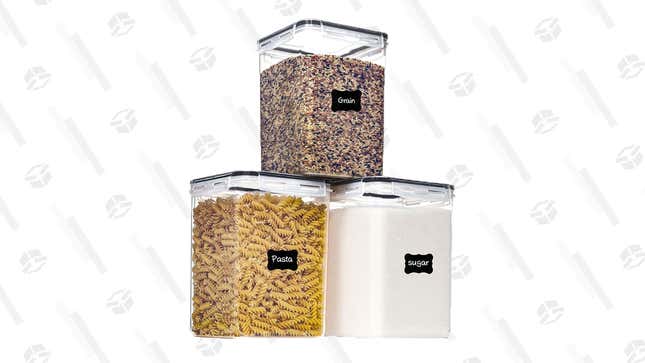 Ditch the boxes and bags your cereal and sugar come in. These see-through containers are 5.2L (or 4.7 quarts for us Americans). Put whatever your need in them. Coffee beans, tea, oatmeal, fingernails—whatever fits. They come with a sheet of cute chalkboard labels so your kitchen pantry can looks like everything posted to Pinterest. That sounds like a dig, but it isn't. Honestly, I find that shit cute as hell.
---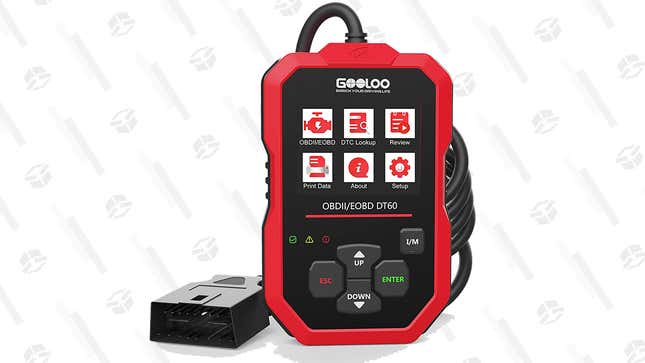 Next time you see that little 'Check Engine' light flashing on your dash, be prepared with this Gooloo OBD2 car engine diagnostic scanner tool, just $22 over at Amazon right now. To get that price, just add code FV937QE6 at checkout. Some auto shops and auto parts stores will charge you more than that just to check it once!

With this scanner tool, you can see what's making your light go off and hopefully fix it yourself— and if that's not possible, at least you'll be better informed. The Gooloo scanner also give you information about your car and you can use it to turn off the check engine light.
Grab this Gooloo OBD2 scanner while the code FV937QE6 still works— the deal is on through August 21.
---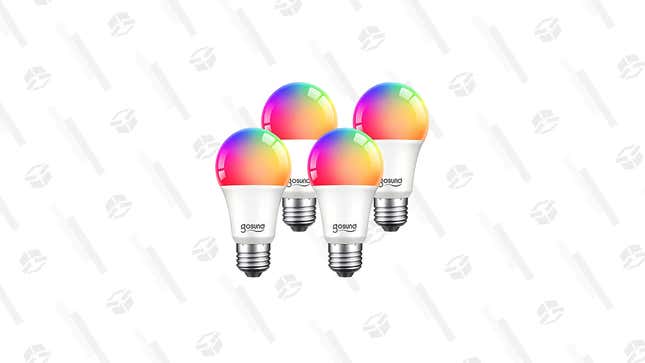 If you haven't set up a few lamps with smart bulbs yet, you're seriously missing out. Setting specific timers so you know the lights will be on just before you get home, setting up routines and commands to dim the lights to the perfect movie viewing level, turning them on or off without getting up from the couch... And that's doesn't even make use of the RGB. When you pair this with other apps like IFTTT, you can have it do things like flash orange and blue every time the Mets score. Granted, all standard bulbs might also be capable of this since the Mets have never actually scored for us to find out. We'll never know.
---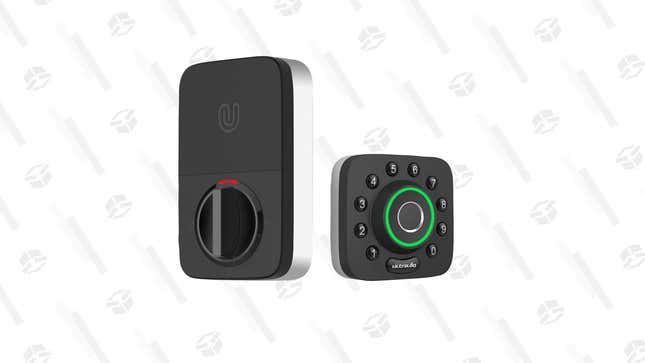 Safety is sexy. Wait no, smart. Wait no. Sexy and smart. If you're looking for an upgrade in the home security realm but aren't interested in a total overhaul this smart lock is what you want. Ultraloq has this U-bolt smart lock with a keypad and WiFi adapter for just $179. It's still going for almost $20 more on competing sites.

This lock does in fact have smartie pants on. This deadbolt offers six ways to get into your house. You can use the app, a fingerprint, a code, the auto-lock, a magic shake, or the old-fashioned mechanical key. This fancy lock will also monitor your home for you while you're away. You can also access your door remotely so say you forgot your pal was walking your dogs while you were on vacay, well you can still get them from afar without keys. It's designed for any standard door and no drilling or wiring is needed. Easy to install and easy to use. Just think of a clever code only you will know.
---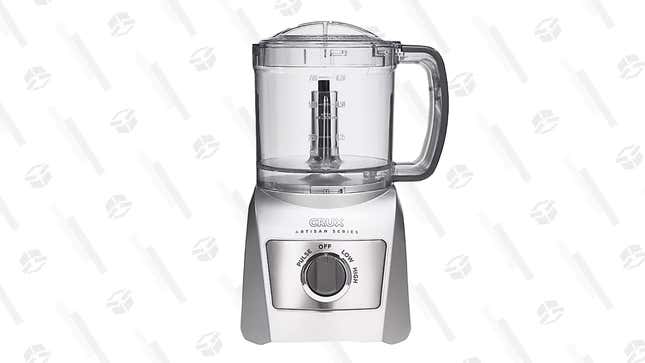 Make dinner prep go even smoother with 20% off this CRUX Artisan Series chopper today— that brings it down to just $28. This food chopper can handle 3 cups of food and it dices, minces, and purees in addition to chopping.

Whether you want to make your own guacamole or just chop veggies and the like for recipes without all the fuss, the CRUX chopper has you covered.
Get it while the deal is still on over at Bed Bath & Beyond.
---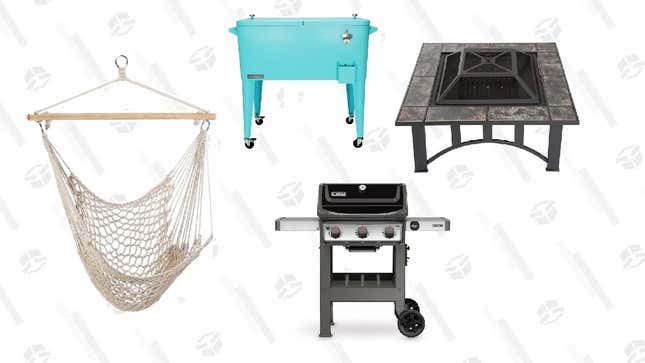 Wayfair is known for its killer prices on anything and everything you could need. They are currently running an incredible sale on all their outdoor items with up to 65% in savings. So enjoy deeply discounted backyard pieces like furniture, decor, cookware, and whatever you need to make your space a perfect summer paradise. There's still time for sunny fun.

Cool summer nights aren't complete without a lounge around a firepit, all snuggled up in a cozy blanket. Good comfy furniture to relax in can really make or break the dog days too. So quality rattan and soft cushions are what you need. How about catching some sun while reading your favorite books in Wayfair's best-selling hammock? I'm telling you they've got you covered.
But it's no all about where do lay; it's about what you do out there too. Cookout kings, we've got you covered with top-rated gas grills. And keep your beverage chill in a retro cooler as the temperatures rise.
And don't forget Fido, not all dogs can be left to their own devices. So put your mind at ease and grab them a pet pen no matter how big or small the pup.
Wayfair offers two-day free shipping on all orders over $35. There's plenty of time to explore all the fine products in this sale but move fast if you see something you like. It could be gone soon!
PS. Remember to buy sunscreen.
---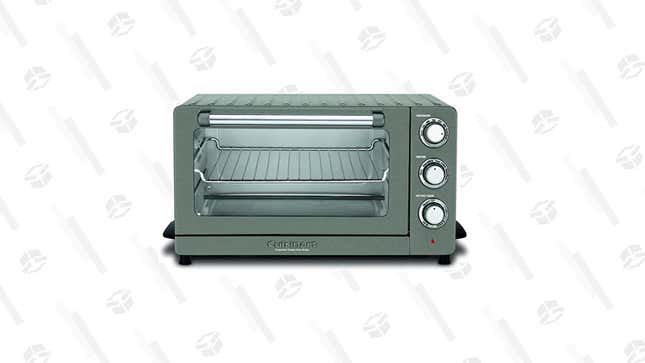 Leftovers make the world go round, but heating yesterday's pizza or pasta in the microwave is unfulfilling. But you don't want to fire up your stove for just these, either. The convection oven is your answer to this tasty dilemma. This reliable and sturdy Cuisinart Convection Oven is $10 off right now.

Cuisinart makes quality kitchen items, and this convection over is absolutely tops. This compact cooker fits snuggly on the countertop and will keep your kitchen cooler during the impending hot summer months. This lil guy can bake, broil, toast, and warm. This is especially handy if you live alone and are always worried about using the giant oven for a single serving. It's equipped with a nonstick interior and slide-out crumb tray to make clean up easy. Cooks food quickly, evenly; it's simple to operate and comes with a recipe book if you get stuck. This price is only for the black stainless steel and copper option, but it is, in my opinion, the sleekest looking of all of them.
---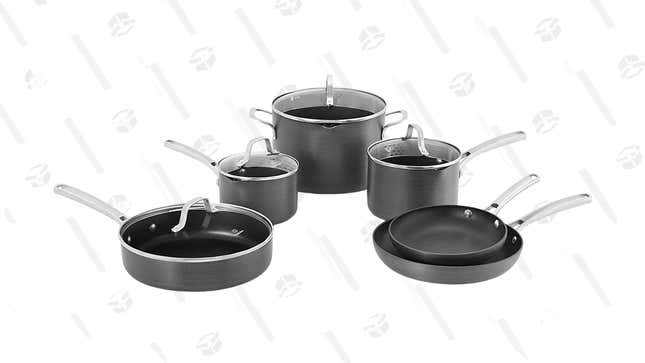 Finding good cookware can be a feat in and of itself. Sometimes you're stuck with whatever you can find at the store in a pinch, and sometimes you amass a collection of reliable pots and pans by getting everything piecemeal. Grab your own set of reliable kitchen essentials by snagging the Calphalon Classic Nonstick 10-Piece Cookware Set, now $185 at Amazon. You get an 8" fry pan, 10" fry pan, 1.5-qt. sauce pan with cover, 2.5-qt. sauce pan with cover, 3-qt. saute pan with cover, 6-qt. stock pot with cover, and more to get you started. All are stainless steel with long handles and tempered glass lids. You also get a lifetime warranty, just in case something happens while you're whipping up your own specialty. It's a great price, so get one of these sets while you can.

---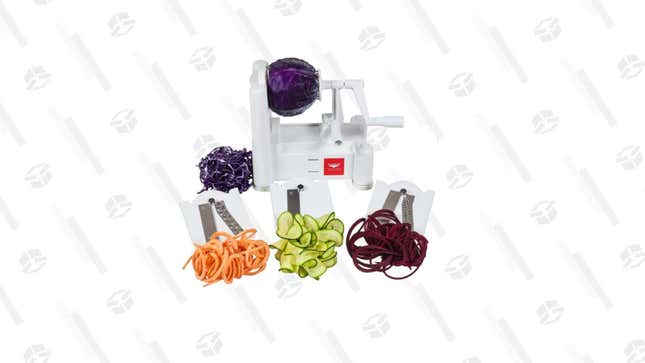 Making your own food is fun and pretty satisfying. And you're probably eating at home more for several reasons. One of the biggest pains in food prep is chopping, cutting, and slicing. It can be time-consuming if you have a big recipe. It can also be nerve-racking if you and sharp objects don't mesh well. Pandero's 6-Blade Vegetable Spiralizer & Slicer is $17 off and here to save the day and your fingers.

Spiralizing fruits and vegetables are not only safer but fun too. Turn delicious ingredients into curly, ribbon-like slices. Each tasty piece will be transformed into a different shape to make dishes more visually appealing. Make ribbons, strands, and shreds easily and quickly. There are five blades, each designed to closely replicate the size and shape of many traditional kinds of pasta. The blades included in this kit are a chipper, two straight blades (thick and thin), a shredder blade, a wavy blade, and an angel hair blade. Each is made from strong and sturdy stainless steel. You'll also receive a dual-sided brush, so cleaning is safe too. This is also dishwasher safe in the top rack for extra convenience. It makes your next meal prettier, and have a little fun while preparing it too.
This will ship free for Prime members.
---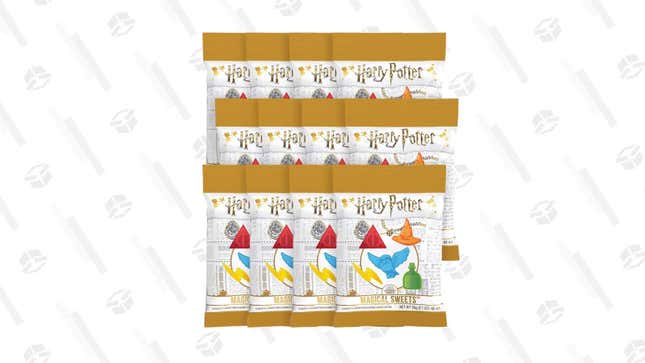 Right now, grab this 12 pack of Harry Potter Magical Sweets from Jelly Belly and add a little enchantment to your snack time. Each bag has five well-known shapes from the world of the boy who lived. The iconic lightning bolt, sorting hat, Hedwig, the Deathly Hallows symbol, and a potions bottle. These also have their own distinct flavors: blueberry, sour cherry, banana, tangerine, and watermelon. Freshness is guaranteed, and they should be good until November.

If you've read a few of our pieces on MorningSave before and you like what you've seen, they offer a $5 monthly fee to get free shipping on all of your orders, no matter how many.
---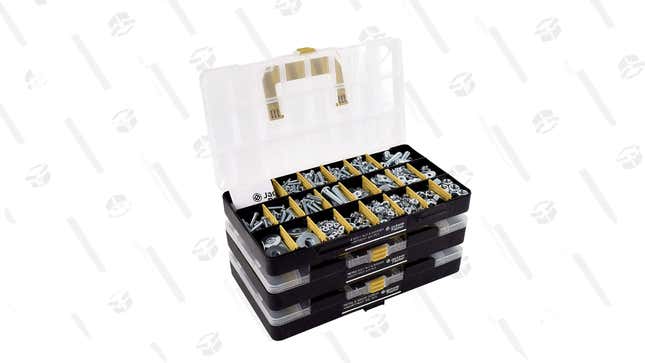 How many times have you wished you had more hardware around the house to complete a certain job? Maybe you needed a type of screw you didn't have but didn't want to run to the hardware store. Or perhaps you're looking for an excellent gift for the handyman in your life. Pick up this Jackson Palmer 1,700 Piece Hardware Assortment Kit for just $39 at Amazon today. It comes in a sturdy case with nested dividers to keep parts separated, and comes with over 60 different hardware sizes to make sure you've got what you need. Stop digging around in that overflowing junk drawer for a screw or a nib and get organized with this set instead.

---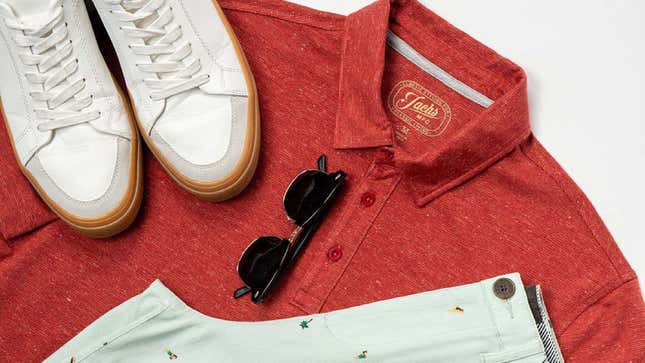 Between climate change and the fact that it is currently July, it's safe to say that summer is here to stay. And to get you into the right outfit for the occasion, JACHS NY is offering a triple-threat deal that's too good to pass up. For a limited time, you can pick out any three items from this page—including shorts, polos, button-ups, henleys, crewnecks, and more—for $69 using the promo code SPK.

Considering each of these items would ordinarily set you back $79 a piece, this is an unbeatable deal you'll definitely want to take advantage of while it lasts. Personally, I'd cop a navy floral print since that's the exact one I got for myself recently. As an avid floral shirt enthusiast (and frequent Dan Flashes shopper), the pattern on this pink number is the perfect level of complicated. And while these shorts might seem simple, they're accented with tiny hula girls and palm trees designed to bring out the islander inside us all.
If you're in need of a wardrobe refresh, look no further than JACHS NY's Summer Pack Sale. But act fast—there's no telling how long these clothes will be marked down.
---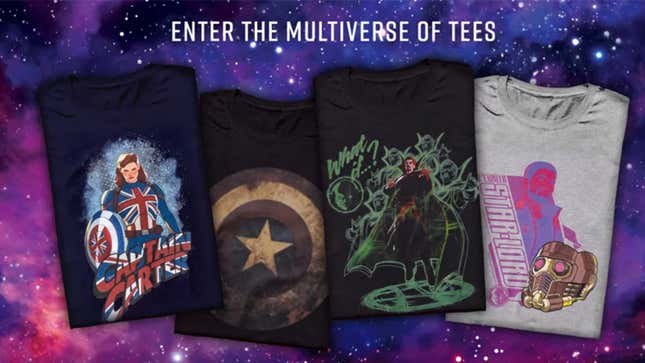 What If...? is here on Disney +, and it kicks off with Captain Carter. For those in the know, this show will reimagine our favorite Marvel characters in different roles. Throughout the show, they will touch on a few ideas that have happened on the printed page, like Peggy Carter as Captain America from Exiles #3. This is one of my favorite looks for Agent Carter, and this tee is a must for any Howling Commando fan.

This series will also have us come face to face with a zombie Captain America where my beloved Bucky will have to battle him. Zombies in Marvel are nothing new, especially if you've read anything from the Zombie Collection. This tee imagines that spooky undead Steve Rogers and his shield from beyond the grave.
In this series, we'll also see T'Challa as Starlord, and we have to think he'll be much less of an a-hole. If anyone is cool enough to traverse the universe being awesome, it's the King of Wakanda. All hail our space king, don't tell Thor.
Free shipping on all orders over $60.
---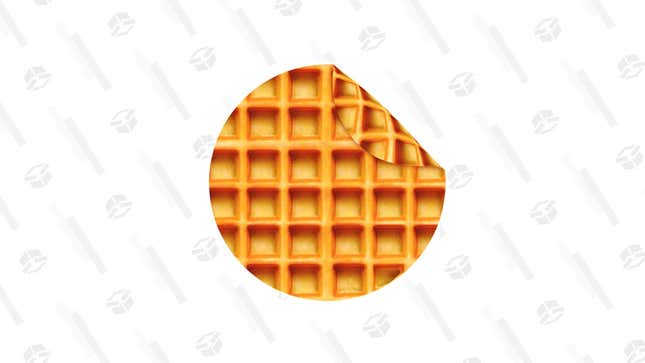 "Waffles. Friends. Work." Leslie Knope knew what was up as long as work always came last in those words. Treat yo self today to this huge plush waffle blanket, order in from JJ's Diner, and pop on Mouse Rat. This giant blanket is 5% off and ready to keep you as toasty as a breakfast dish.

This soft flannel blanket is sixty inches in diameter and made from eco-friendly materials. It's easy to wash on a gentle cycle in your machine. But waffles aren't the only option on the menu, all the food blankets appear to be in this deal. If you're pals with a taco belle, grab her the burrito blanket. There is also an option for a pizza prince in pepperoni. Get cozy and have a night in with your favorite snacks. This gives new meaning to comfort food.
Prime members get free shipping.
---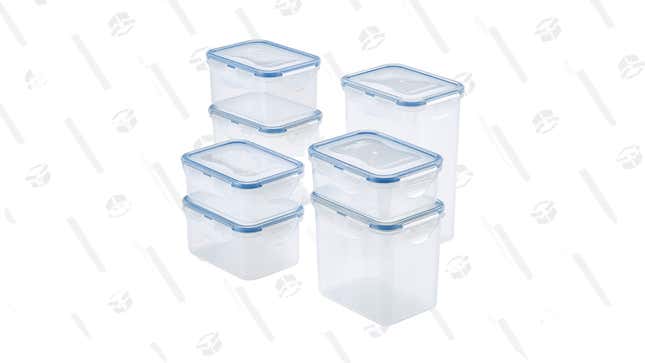 Let's face it. You don't know where any of the lids are to the storage containers you have. You're going to buy a new set anyway, because you just made a delicious meal, and it's going to go to waste and you're going to feel absolutely terrible about it. Stop wasting food. Stop wondering where your lids are. Snag these LOCK & LOCK Easy Essentials Food Storage Containers from Amazon, now $13 from $20. You get $7 off a 14-piece set that I just know you're going to take care of this time. Right? Right.

---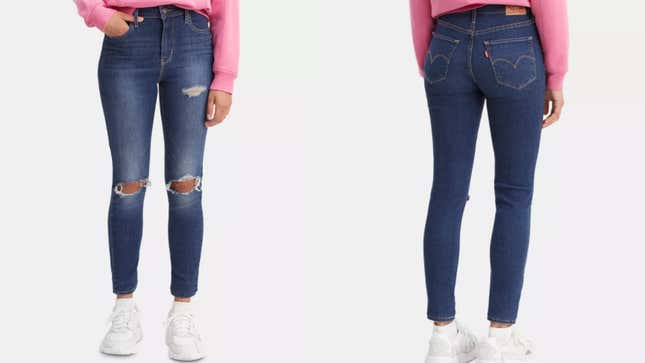 As a petite short woman, I appreciate a cropped skinny jeans. My height doesn't allow for much else, and honestly, I just feel comfy in a great pair of fitted skinny-leg jeans. I won't have a baby on TikTok tell me otherwise. If you're still in this camp, grab a few pairs of Levi's 720 High-Rise Super-Skinny Jeans for $49. There is a slight price change based on what wash you are looking for and if you prefer a distressed look or a clean one. Both are sleek though.

Levi's knows jeans, and they made these pretty dang perfect. I have two pairs and basically live in them. They use HyperSculpt denim, which makes them super soft and sculpts where you want them to. Each pair is a cotton blend with three stretch lycra, so they are unbelievably comfortable for working at home or running errands. They absolutely hold the shape after multiple washes too. Grab a few in different colors because this is a steal of a deal.
---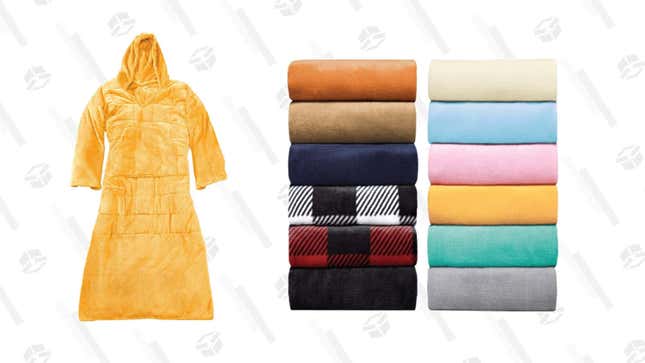 The benefits of weighted blankets have been written about all over the internet and definitely here too. There's nothing quite like the calming effects of a warm blanket tucked around you. This one takes it just a step further. The anti-anxiety snuggie blanket is 68% off today and here to offer all that.

Sit back, relax. Get wrapped up in the oversized contentment. Not only will it keep you toasty, but the weights go from the shoulders to the knee area to offer a bit of relief and peace. The built-in pocket lets you store snacks, a phone, game controller, remotes, really whatever you need close as you drift into ultimate contentment. Its size and shape will work for basically everyone. The outside is soft and plush fleece material, while the inside is full of evenly distributed glass beads and polyester fiber. The weight clocks in at ten pounds, and no worries if you have an accident. Just hand wash and tumble dry low. We can all use a little relief now and then, especially during this pandemic. No shame in alleviating some of that stress with cozy weighted hugs. There are twelve colors and patterns to pick from.
If you've read a few of our posts on SideDeal before and you like what you've seen, they offer a $5 monthly fee to get free shipping on all of your orders, no matter how many. Otherwise, it's a flat rate of $8.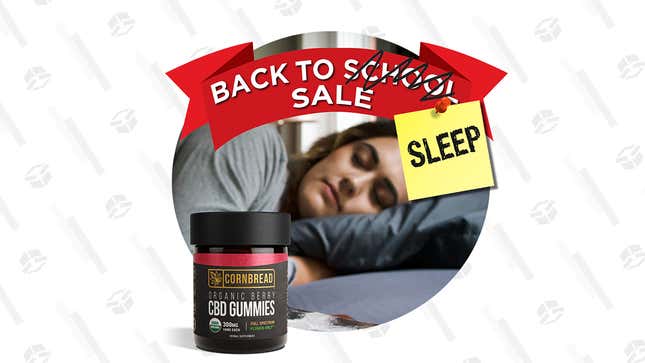 It's almost back to school time, which means it's about time to get back into a solid routine. Sure, late summer nights can be fun— but if you've been skimping on those snoozing hours, Cornbread Hemp has a deal for you to reset your nighttime routine.

CBD is the part of marijuana that doesn't get you high (that would be THC), but does help you relax and de-stress. It's also great as a sleep aid. That's why Cornbread Hemp, one of Kinja's favorite CBD providers, is offering up a Back to Sleep special right now.
You can get a free bottle of gummies when you add code SLEEP to your cart of at least $100 worth of items. Just put in the code, and the gummies will be added to your cart automatically.
If you're new to CBD, you should know there's something for everyone. You can get CBD drops, gummies, capsules, and even smokeable flower. I recommend trying different methods, doses, and times of day to see what works best for you.
A good starting point might be this Cornbread Hemp Whole Flower USDA Organic CBD Oil, yours for $35. You can try the drops alone or add them to your coffee or other drink.
If you're not into the taste of CBD in gummy or oil form, try these Full Spectrum CBD Capsules to get the effect instead.
You can check out all of Cornbread Hemp's items right here— they even have CBD for your pets to find their chill! Just don't forget to add code SLEEP once you hit $100 to get your free gummies!
---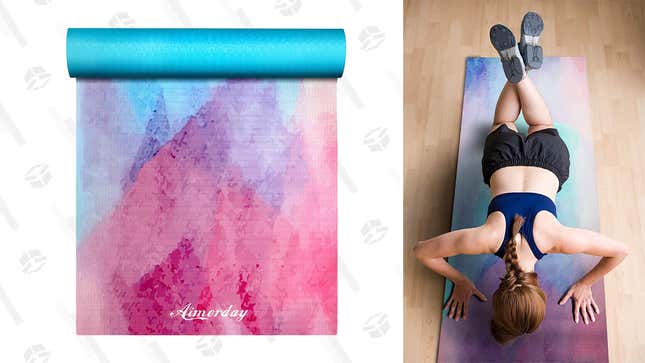 There's no need to go to that crowded gym. You can stay at home and make your own yoga studio with the help of some YouTube tutorials and this Aimerday yoga mat, just $14 today over at Amazon when you clip the 10% off coupon below the price and add coupon code 2HR6CKS5.

I checked and it looks like this coupon code works on multiple colors— although the final price may vary slightly depending on which print you pick. But you can grab it in purple, blue, or green for just $14 when you apply the discounts!
---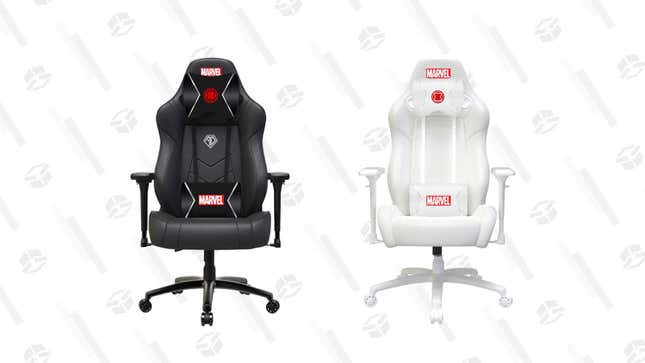 Scarlett Johansson finally got her long overdue solo Black Widow movie this year and, due to a breach of contract, is now taking on the Mouse himself. You can cheer on Johansson in her lawsuit if you please from the comfort of a Black Widow themed gaming chair. Available in either black or white, the chair is equipped with a neck and lumbar pillow for maximum comfort while you game, watch Marvel movies, or browse Twitter to see what's the latest news in this lawsuit against Disney. Pre-orders for the chair are $50 cheaper than what they will list for once released which should be in late October of this year.

---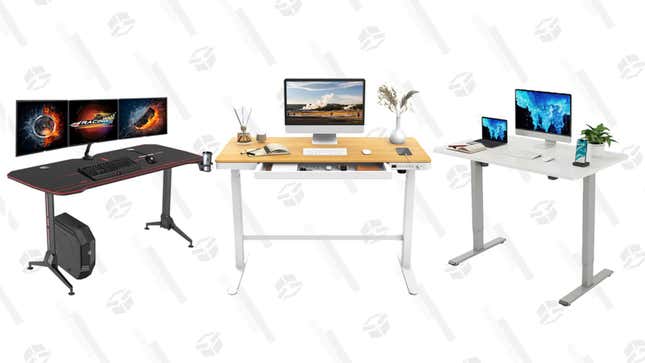 Since March of 2020, many of us have shifted to working from home. Some of us don't plan on even returning to the office, switching to a 100% work-from-home setup. So with that in mind, why are you still working hunched over your laptop on the dining room table? Its time to create a dedicated workspace for yourself and standing desks are complete gamechanger. We're not designed to be sitting for 8 hours straight a day so are desks shouldn't be designed to encourage that. FLEXISPOT is having a sale on adjustable standing desks so you can easily swap between sitting and standing. You can now get one of their desks for up to 32% off.

https://www.amazon.com/deal/51feb18c?ots=1&slotNum=0&imprToken=eabdacb6-6f1b-2f48-d23&ascsubtag=82457fb0627fcee85d390b5ef8771c4645631719&ref=deals_deals_deals-grid_slot-15_69e1_dt_dcell_img_2_51feb18c&showVariations=true&tag=kinjadeals-20
---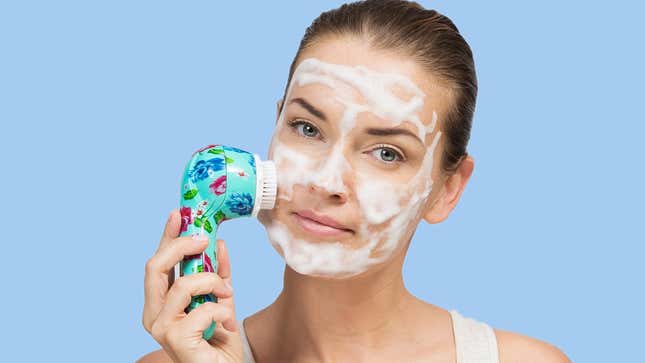 Anyone looking to eliminate maskne before heading back to the office should probably start investigating facial cleansing solutions if you haven't already. Among your options, Allure readers agree, Michael Todd Beauty's Soniclear Petite is one of the best beauty products you can splurge on—even when compared to its biggest competitor, the Foreo Luna.

That's because, unlike the Luna, the Soniclear employs an antimicrobial brush as opposed to silicone, making it not only more hygienic, but faster as well, plus the improvements are more significant as well. The rechargeable device comes dermatologist-recommended for its extermination of pore-blocking imperfections and dead skin. And despite its disposable brush, you only have to replace it every 6 months, and after using it daily for that entire duration, your skin will have long been restored to a purer, smoother, and gentler state.

For a limited time, you can get free shipping on the $99 Soniclear Petite or save up to 31% on a bundle. These include the You Dew You package, which comprises the Soniclear along with a wet/dry sonic microdermabrasion system for $149; the $129 Flawless Skin Starters containing the Petite Deluxe and a Sonicblend Pro makeup brush; and a $110 Acne Away kit that adds on a charcoal detox gel cleanser also from Michael Todd.
---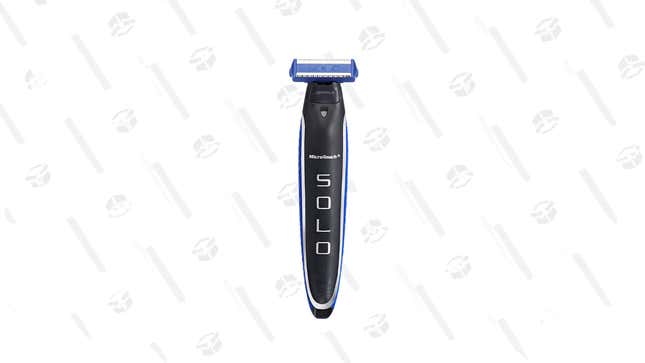 Know someone who could use a reliable, precision tool for grooming their neck, back, chest, or even brows? Want to help someone out with grooming their beard so they can help shape it into something regal and amazing? Or maybe you're even looking for a great grooming solution. Pick up a Micro Touch SOLO Men's Rechargeable Shaver, now $17 at Amazon. It's a handy little tool with a built-in LED and pivoting head to help you (or a guy you think is rad) with trimming things up, whether that's their beard, chest, or whatever needs a touch-up. Its comes with 1mm, 3mm, and 5mm trimming combs, replaceable stainless steel blades, and a rechargeable lithium-ion battery that'll last for 45 minutes per charge. Who said you had to go to the barber to get nice and trimmed up?

---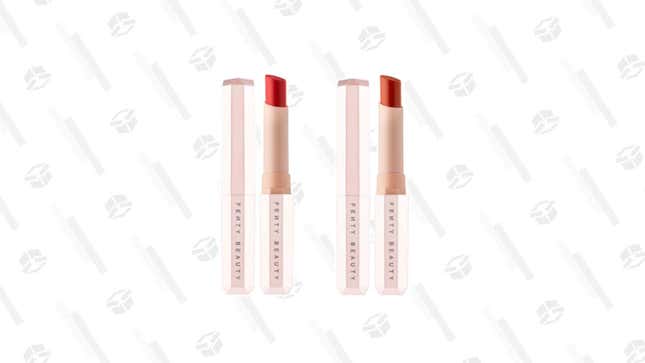 Summer calls for breezy showstopping outfits, and with that comes trying to find the perfect lipstick to match. It needs to be vibrant and long-lasting for the heat and humidity. A perfect smooth all-day lipstick is in your future, thanks to bad girl RiRi. Fenty's Mattemoiselle Plush Matte Lipstick is just $7 right now and still available in twelve killer colors.

The ultra-slim tube will fit in the smallest of purses or even a pocket. This glides on as a matte but is soft and doesn't dry out your lips. As mentioned, there are twelve colors available to match with any skin tone or ensemble you have dreamed up. These are highly pigmented, so that color is really going to pop on your pout. I roll with Dragon Mami, a tropical papaya shade, for special nights out. And Tiger Tini, an electric orange hue, is for days I just want a fun pop of color. You'll absolutely find a shade that's perfect for you or even give a unique one a try. Maybe deep teal or a vivid violet? You won't need to reapply much, so these petite tubes last, and at 61% off, you might as well grab a few.
Free shipping on all orders today too.
---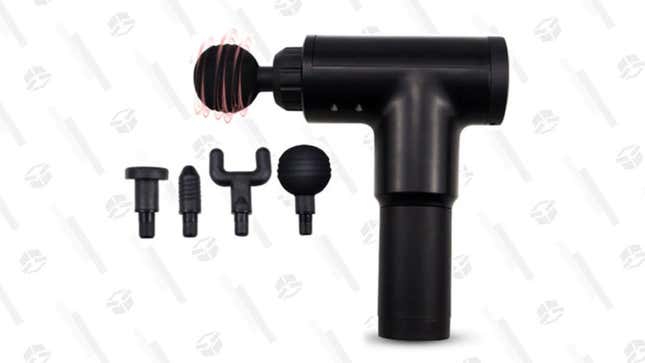 Working out a little too hard? Is there a nagging pain you want to soothe? Ease muscle soreness with power and accuracy thanks to the Actigun: Percussion Massager. It's 72% off and a lot less than multiple trips to the spa or for a masseuse.
The Actigun has six different speeds with four interchangeable heads, each with a different purpose for different relief. The u-shaped attachment is best to work on the neck and even the Achilles. The ball one vibes with arms, thighs, calves, and the butt where all the tightness and tension sits after an intense exercise session. The flat attachment is great anywhere and is perfect for achieving ultimate relaxation. The bullet is perfect to target particular areas as well as joint injuries. Expect this to run around two hours off of one charge, and it's pretty silent at that. The handle is shock-resistant, meaning you'll be able to maintain control and grip no matter how fast you prefer this to go. It's also pretty lightweight making it easy to operate and user-friendly. This also comes with a one-year manufacturer's warranty.
This will ship for $3.
---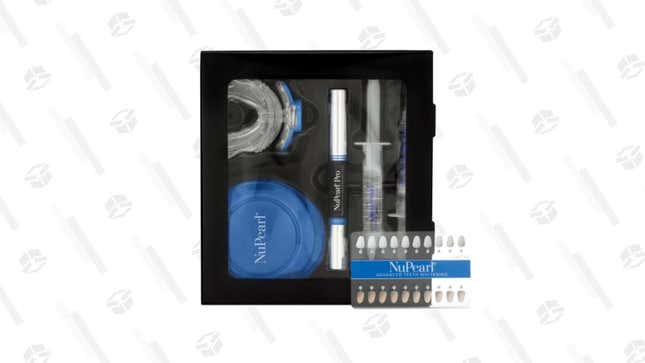 A sparkling smile is a coveted thing. There have been plenty of tubes of toothpaste, mouthwashes, and strips to get your chompers back to pearly white. But what if you suffer from sensitive teeth? You might need to be more discerning about your methods. NuPearl Teeth Whitening Kit was made for delicate mouths and is only $25.

Each syringe is filled with a 100% peroxide-free gentle whitening formula. The teeth whitening pen helps with touch-ups in-between sessions, no matter where you are. You'll see results within a week and have a smile that's not eight shades lighter. Just fill the tray and click on it to start the fading process with NuBright's own LED brightening technology. Again the formula is specially made for sensitive teeth and gums. For just ten minutes, start your journey to lightening stains from coffee, smoking, and life every few days. It's enamel-safe, dentist recommended, and cleared by the FDA.
---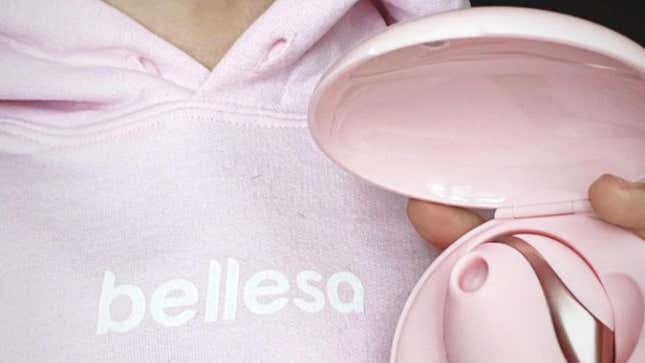 We hope you're celebrating summer spectacularly. Fun in the sun and fun in the sheets. A summer of self care is important and our pals at Bellesa want to make it as blissful as possible with a special sale to celebrate you. This is one of their classic tiered deals. Here's how it works: get 15% off everything, 20% off orders $79 plus, and 25% off orders $149 plus.

Nirvana is absolutely a favorite of the Bellesa line, plus it's gorgeous. Soft, powerful, perfect. I'm not just describing womenkind; that's this beautiful wand too. This is a great starter vibe if you aren't sure yet. It can go as slow as you need, or take it to eleven and get yourself to a higher plane. Nirvana has been one of my reliables throughout the past year. So if you want an awesome sensual ride, grab this vibe.
---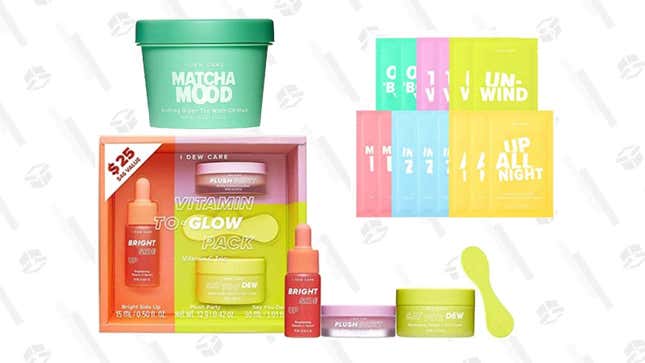 I Dew Care is one of my favorite companies, and twenty-five of their products are on sale right now. I have three of their products on my nightstand as I write this. Everything I've tried has left me really happy. You won't be disappointed with anything you pick. In this sale, get one item 40% off when you purchase anything from the company.

The Vitamin To-Glow Pack has saved my dry skin more than once. I actually don't think I can live without their Plush Party lip mask and use it every night. It turns even the dryest of pouts into a soft smile by morning. Made with cocoa butter, hibiscus flower extract, and vitamin C, it's formulated to hydrate the heck out of sad kissers. The Bright Side Up serum soothes dry patches and absolutely does as it says, brightens dull, tired snow assaulted faces. Much the same, Say You Dew does the same as a moisturizing gel, and I use this after a shower and before makeup if I'm having a particularly dry, spotty day.
The Matcha Mood wash-off face treatment is wonderful if your skin is irritated or a little broken out. The aloe calms it down and evens out the redness. It also works well if you've got a bit of a sunburn. Both green tea and matcha have antioxidants that can infuse life back into your skin, giving it the glow it deserves. All you do is leave it on for about ten minutes, then gently wash it off. I like to use it on Monday and Friday as a treat to bookend my week. You will get your money's worth because this tub will last you a while.
For the face mask aficionados, grab the Let's Get Sheet Faced pack. We know K-Beauty does these better than anyone, and I Dew Care is no exception. This pack has fourteen of them made from eucalyptus fibers, so you'll feel like a cuddly baby koala. Each mask has a specialty: tightening, moisturizing, nourishing, calming, and brightening. This is a great deal for such a variety.
Free shipping on orders over $35.
---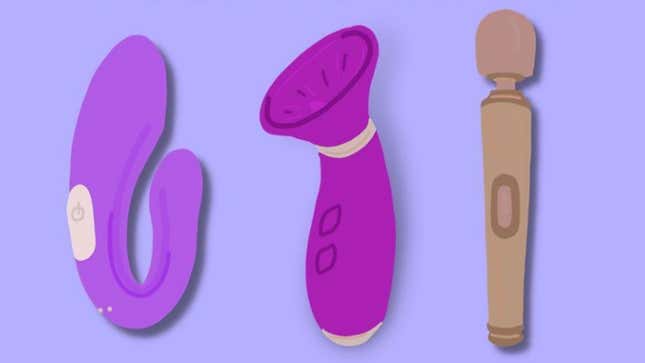 As we journey through a better summer than last year, it's important to take time for yourself too. With National Orgasm Day on the way (July 31), be prepared a new toy from Honey Play Box. Buy one vibe and grab the next one for 50% off until August 15th with the code SUMMER. There are a few things discounted without the code too.

The name Angel says it all about this triple threat toy. I think it's a really nice upgrade to the company's Jubilee. The Angel fits better and offers more power all around. The tongue massager got a revamp and hits your spot perfectly. The shaft shape is made for tapping right where you need it, fast or slow. The motors are all independent, so you can control them to the level and pattern you desire. As always, this is made of body-safe silicone, is waterproof, charges via USB.
I'm a sucker for novelty vibes. I'm actually starting a collection, and I can say Piggie Puff will be added soon. The only thing this piggie is banking is a big ol' punch of power if you choose to use this as it's intended. There are ten air pulse vibration frequencies you can easily adjust to your needs. These tend to be a little quieter than a traditional vibe, but by no means are they just a whisper. Made of smooth, soft silicone, it charges by USB and is waterproof.
This Kingsley is an upgraded version of their old model. The dual motors are now more intense, and the material is more durable. And it's got a bit more flexibility to hit just the right spot. Speaking of... it's not often I get to cover a toy designed perfectly for gentlemanly bum play and handle a romp in the lady cave too. This toy's wave motions and structure means it's actually engined for both prostate pleasure and, indeed, a WAP. It's waterproof, easy to charge, and 100% satisfaction guaranteed.
99% of orders ship the same day, and it's free if you spend over $69.
---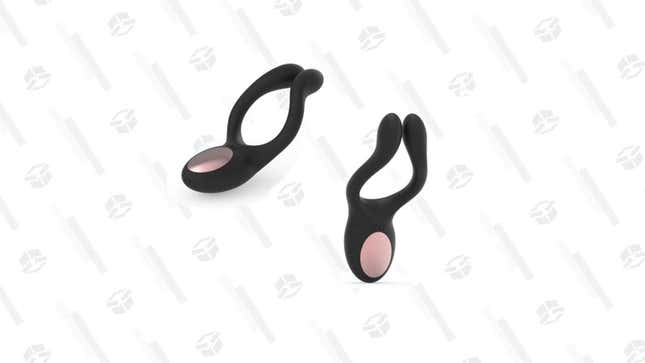 Ella Paradis is just really too good to us. In their tradition of honoring wellness, they've been hitting us with some awesome deals, and today we have one for couples. If you've been lucky enough to shelter in place with your honey bunny, maybe you've gotten creative with snuggle time. Today the MaiTai couples vibrator will take that to a new level, and it's 71% off. Just use the code FUN.

This vibrator has three motors, ten vibration modes and is definitely a way to change up whatever you've been doing. The round shape stimulates, is comfortable, and the vibes are distributed evenly, so like you and your significant other, it's equal. Now Ella Paradis is boasting that you can create over one hundred combinations of good feels, and well, what better way to spend a rainy summer afternoon than trying to figure them all out. It's USB rechargeable and completely waterproof, so you can take this off dry land. We say challenge accepted on discovering new things.
The MaiTai deal is only for today and free shipping for orders over $30.
---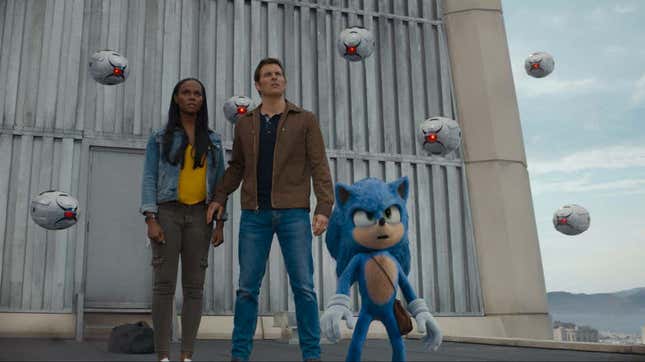 Sonic the Hedgehog might be the last film you saw in a movie theater. Think about it. The movie came out in February, weeks before lockdowns started going into effect around the world. The last memory that you might have of sitting in a theater is watching Sonic talk about Olive Garden or watching James Marsden look at apartments on Zillow. Want to relive those precious moments forever? You can grab a DVD + Blu-ray copy (which includes a digital download) of the film on sale for $11 at Amazon today. Here's hoping that movie theaters can reopen just in time for the sequel, which starts filming this year.

---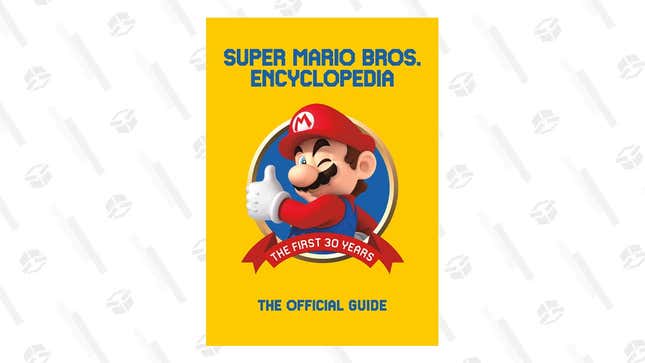 Mario has a long history from first appearing in the arcade game Donkey Kong to marrying then divorcing Donkey Kong. It's almost impossible to follow this guy's whole life story, but thankfully Nintendo has now published these classified documents on the first 30 years of his secret life in this Super Mario Bros. Encyclopedia. Why does he wear red? Well according to the encyclopedia, he isn't wearing red. He is constantly bleeding under his clothes. How is Mario able to respawn when he dies? Well technically he doesn't respawn. When he dies, he stays dead, but his death creates a new branch reality where he didn't die. Quantum physicists have been able to prove the existence of a multiverse because you miss timed that jump and hit the side of a Goomba. There are many more secrets to be uncovered when you pick up the Super Mario Bros. Encyclopedia from Amazon for $24.