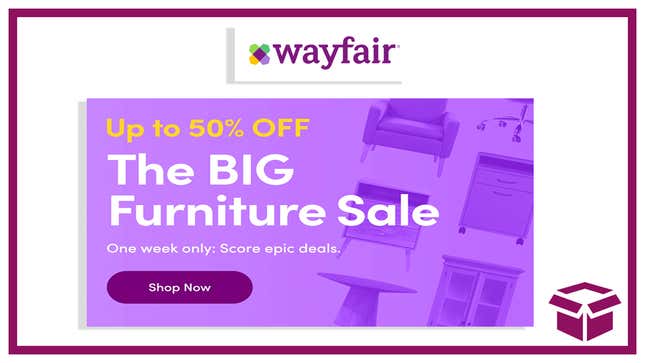 Wayfair is an unbelievable resource for anyone who wants a comfortable and stylish home. With literally thousands of items, great prices, and awesome designs, it's a one-stop shop for your furniture and decor needs. That's why we're so excited about this sale. For one week only, Wayfair is offering up to 50 percent off across its biggest home categories — furniture for every space, as well as decor and storage solutions. And once you start browsing, you'll notice other built-in deals, like 50 percent off a patio umbrella when you buy an outdoor dining table, or 20 percent off a mattress when you buy a bed.
Furniture and Home Goods | Up to 50 percent off | Wayfair
They've thought of everything you need to get your summer started right, including a wide selection of discounted outdoor furniture that would look great in your yard. You could reorganize your garage, remodel your bathroom, set up a nursery, or redecorate your living room — Wayfair has solutions for every project. As home decor nuts, this is one of our favorite sales of the year. Don't miss it — up to 50 percent off furniture and home goods from Wayfair for the next week only.