Men's suiting, Tommy Hilfiger accessories, and the new MacBook Pros lead off Friday's best deals.
Bookmark Kinja Deals and follow us on Twitter to never miss a deal. Commerce Content is independent of Editorial and Advertising, and if you buy something through our posts, we may get a small share of the sale. Click here to learn more, and don't forget to sign up for our email newsletter.

Top Deals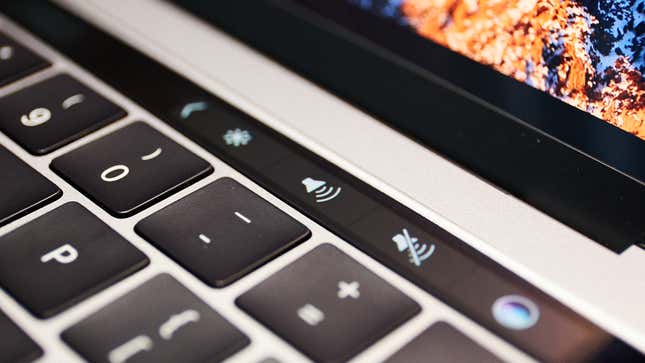 Update: Amazon's pulled all of the new Macs off its site. Hope you got one while it was available!
Here's the bad news: Those awesome-looking new MacBook Pros are more expensive than they were before.

The good news: Apple's listed prices don't really have any basis in reality.
Currently, you can preorder the low-end MacBook Pro (without the Touch Bar) from Amazon for $1,139 in space grey, or $1,299 in silver. That's between $200 and $360 off, and the thing was just announced yesterday! Amazon doesn't seem to have received any yet, so they won't ship immediately, but it's tough to complain at those prices.
If you want the Touch Bar, the high end 13", 512GB model is also on sale $1,799, or $200 off. Again, there's no listed shipping date, but you can count on it being at least 2-3 weeks.
---
If you have even a passing familiarity with sous-vide, you've probably seen Anova's circulators, which can turn any pot of water into a precisely-heated sous-vide bath. That said, we never see them for less than about $130, so if the price tag has scared you off, today's deal is for you.

Functionally, Gourmia's immersion circulator is the same as Anova's, but without the wireless connectivity. If you can live without that feature (you can), $100 is the best price we've ever seen, and a bargain for something that can completely transform the way you cook.
---
Every year, Uniqlo likes to thank everyone with their Arigato Sale. This year, for their 10th anniversary, there are huge discounts across multiple departments for both men and women. And that makes for a pretty good gesture of thanks. The only downside is you'll have Mr. Roboto stuck in your head for the rest of the day.
---
With multiple holidays on the horizon, there's no better time to be thinking about suits. And with Amazon's 4-page Gold Box full of suits, sport coats, outerwear, and more (in straight and Big & Tall sizes), I'm sure your mom will compliment you on how put-together you look for Thanksgiving.

Brands like Tommy Hilfiger, Calvin Klein, Perry Ellis, Ben Sherman, and more are included in the sale, with everything coming in under $200. Most of the sport coats and blazers are even under $100.
---
The big one-day suiting sale will get you halfway there, but Amazon's also offering huge markdowns on a variety of wallets, ties, and belts from Tommy Hilfiger to help you pull your outfit together.

Absolutely everything in the sale costs less than $20, so don't be afraid to stock up and accessorize. Just remember that like all Gold Box deals, these prices are only available today, or until sold out.
---
Update: Sold out
By now, you've hopefully upgraded most of your standard light bulbs to LED, but if you need to replace any smaller candelabra-style bulbs, here's a 3-pack from Amazon for just $6.
---
Anker's new home goods brand, Eufy, puts its new set of copper string lights back on sale today, complete with adjustable brightness and multiple effects. $14's not the best deal we've ever seen on a 33' strand of these things, but it's a great price for the feature set included.
---
If you procrastinated on buying Halloween candy this year, and don't want to make an extra trip to the store this weekend, you can get a 100-pack of assorted Hershey's chocolates for $7 today. If you order soon, you should get guaranteed delivery on the 30th or 31st. Just be sure to clip the 35% coupon on the product page to get the deal.
---
Remember the Lytro Illum? The professional-grade light field camera that could refocus and shift perspective on photos after you took them? It was undoubtedly cool, but its original $1,600 price tag was bananas. $269 though? Yeah, I could see that.
---
If you're a crazy person that enjoys drinking coconut water, it's my somber duty to inform you that a 6-pack of 34 oz. ZICO cartons is just $10 on Amazon today with Subscribe & Save. That's an all-time low, and about $6 less than usual; just remember to cancel the subscription after your first delivery.
---
This isn't the cheapest electric string trimmer we've ever seen, but with an 80V battery, it's one of the most powerful.

The GreenWorks Pro cordless string trimmer is as powerful as a 32cc gas equivalent, and can run for an incredible 45 minutes on a charge. At $134, it's still not cheap, but that is an all-time low price.
---
The Kryptonite Kryptolok Series 2 bike lock comes bearing a 4.2 star review average from over 1,900 Amazon customers, and a Sweethome recommendation for good measure, and you can grab one today from BuyDig for $29, a match for the best price we've ever seen. Just use promo code BIKEMORE at checkout to get the deal.
---
If you're trying to keep an eye on your blood pressure, Amazon will sell you this Omron 7 Series electronic monitor today for $43, within a few bucks of an all-time low. This monitor has a 4.2 star review average on nearly 10,000 reviews, making it one of the most thoroughly vetted Amazon products I've ever come across.

Not to stress you out, but this is a Gold Box deal, meaning the price is only available today, or until sold out.
---
You all know about Anker's kevlar-reinforced, nylon-braided PowerLine+ charging cables, but Nonda's similarly constructed ZUS cables (Lightning, microUSB, and USB-C) are 30% off today with promo code KINJAD30.

Remember, ZUS is a smart car charger that can monitor you car battery and tell you where you parked, but its fatal design flaw was its USB port placement. These cables address that issue with a 90 degree USB connector, so if that's all that was keeping you from trying out the charger, this is a great chance to save.
---
Jackery's new Thunder battery packs include Quick Charge 3.0, and Amazon's offering best-ever discounts on both the 10,050mAh and 20,100mAh varieties today in the Gold Box. Just pick your favorite size, and be sure to grab one before this deal sells out.
---
The Logitech Harmony Ultimate has just about every feature you could ever ask for in a universal remote, and then some, and Amazon's offering it up for an all-time low $170 today.

The Harmony Ultimate can control 15 of your favorite devices (from a database of 270,000), including ones hiding behind cabinet doors. Its touchscreen gives you quick access to your favorite settings, and its smartphone companion app brings the same options to your iOS or Android device. Plus, it can even control smart home devices like your Philips Hue lights, meaning you can create a "Movie" mode that turns on your TV and Blu-ray player, switches your TV to the right input, and dims the lights, all with one push of a button.
---
If your car's wiper blades have seen better days, Amazon's running a new promotion on Rain-X Latitude replacements, for a limited time.

This deal works a little differently than previous Amazon wiper blade promotions, which let you buy two for a flat price. This time around, you'll save a flat 15% on each blade you buy (shipped and sold by Amazon). Just use the site's built-in "Filter By Vehicle" tool to find the proper models for your car, and remember that you won't see the discount until checkout.
Update: If you buy two, you can also submit your receipt for an $8 mail-in rebate! Thanks for the heads up, Nirav Patel.
---
The VAVA Voom 20 has everything you could want from a mid-sized Bluetooth speaker: Passive subwoofers, dual 8W drivers, USB power output, IPX5 splash resistance, NFC...shall I go on?
For a limited time, you can save $30 on the speaker with promo code IYTS9YTK when you purchase from Amazon, the best deal we've ever seen. Just don't wake your neighbors.
---
If you've tried an unamplified HDTV antenna (like the standard Mohu Leaf), but can't quite pull in every channel you want, this leaf-style model includes a USB-powered amp that should add a few miles of range. Promo code PA78HB8G brings it down to just $18, which is one of the best prices we've ever seen on an amplified antenna.
---
If you're sick of renting carpet washers every time you spot a new stain, you can buy your own for just $96. The Hoover Power Scrub Deluxe has a squeaky-clean 4.4 star review average from over 6,000 customers, and this all-time low price matches a Gold Box deal from a few weeks ago.
---
Waterpik is an easier (and they would argue more effective) way to "floss" between your teeth, and Amazon is currently taking $5 off the Waterpik Cordless Freedom flosser, bringing it down to an all-time low $35. That includes three tips and a set of batteries to get you started, but we recommend pairing this with rechargeable Eneloops.
---
---
You've probably heard a lot of fuss about mechanical keyboards lately, and if not, you've at least heard the clicking coming from a nearby desk. If you're curious to try one yourself without dropping a bunch of money, we've got deals on two different models for under $50 today.
You can opt for a barebones tenkeyless model from Mpow for $28, or a full 104-key Aukey with RGB backlighting for $49. Neither keyboard uses name brand Cherry switches, but the switches it does include should closely mimic Cherry MX blues, which are tactile, loud, and great for typists.
---
This $3 CREE XML-T6 is an upgrade from the CREE UltraFire Mini more than 20,000 of you have purchased. Zoomable and waterproof, this torch can run on a rechargeable 18650 3.7v battery, or three AAAs for even more light. We've seen it for $5 on a few occasions, but $3 is unprecedented.
---
The arrival of the Xbox One S brought with it a revamped controller, and Rakuten's running the best discount we've seen.
The Xbox One S gamepad improves on the original with a textured grip, double the range, and most importantly, Bluetooth, meaning you can connect it to your PC without an adapter.
---
Chances are, your favorite movie theater lets you buy tickets through Fandango, so why wouldn't you get a $25 Fandango gift card for $19? That will leave more money in your pocket for popcorn...you'll need it.
---
Pack your stuff in a new Timbuk2 bag and get a little closer with their Friends with Benefits sale. Use the code BFF30 (which is not really the abbreviation for friends with benefits, but that's fine), and you'll get 30% off select bags. There's everything from one of your favorite carry-ons to your favorite laptop bags.
---
You're probably familiar with the color-changing Hue lights that screw into your existing lamps and light fixtures, but for truly dramatic lighting effects, you'll want to pick up a few Hue Bloom accent lights as well.

These fully-integrated light fixtures sit on the floor or on an end table and point towards the wall, allowing them to "paint" an entire side of a room in the color of your choice. $35 is a match for the best price we've ever seen on these (as long as you don't mind buying a refurb), so if you're already invested in the Hue ecosystem, you should absolutely pick up at least one.
---
If your car doesn't have Bluetooth or AUX (or if your new iPhone doesn't have a headphone jack), you aren't damned to an eternity of listening Serial through your phone's speaker. This FM transmitter connects to your phone over Bluetooth, meaning you can get audio from any phone onto any car's stereo system without any wires at all. We've seen deals on a lot of these in the past, but never for $10.
---
Whether you use a magnet or a cradle, an air vent mount is the most unobtrusive way to prop up your phone in the car, and you can choose from two Aukey options for just $5 today. I'm partial to the magnet, but if you use your phone without a case, the cradle should work fine as well.
---
Heading out of town and want to deter thieves, or just want to wake up to a well-lit house? This programmable light switch turns any built-in light into a smart light for $22, an all-time low.

Could you do the same thing with smart bulbs? Sure. But this a lot cheaper, and it also won't be part in a botnet that destroys the internet.
---
The sky's the limit when it comes to denim pricing, but quality seldom follows suit. Mott and Bow is set on delivering the best denim at reasonable prices, which get even more reasonable with our exclusive 30% discount. Use code KINJA.

Mott and Bow has become the favorite denim supplier of multiple members of our team. Their jeans are handcrafted in a family-owned facility and environmentally conscious- you can dig into their process here. Their Wooster line in slim fit is the best pair of jeans I've ever worn, with just the right amount of stretch, and I'm wearing and loving their new black Morton line as I write this.
Tell us about your experience with Mott and Bow or your own favorite pair of jeans in the comments!
Tech
Power

Audio
Home Theater
Computers & Accessories
Mobile Devices
Photography
Home
Kitchen
Tools & Auto
Lifestyle
Apparel
Beauty & Grooming
Fitness
Media
Movies & TV
Books
Gaming
Peripherals
PC
PlayStation 4
Xbox One
Toys
---
Commerce Content is independent of Editorial and Advertising, and if you buy something through our posts, we may get a small share of the sale. Click here to learn more, and don't forget to sign up for our email newsletter. We want your feedback.