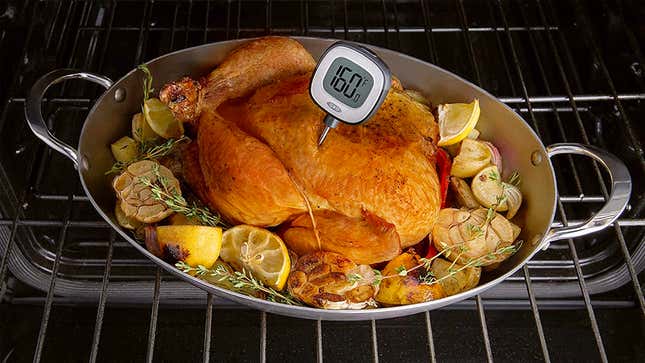 As a society, we tend to overcook meat just to be sure it's done. A well-done steak is rarely done well, and chicken dries out if you even look at it the wrong way. For this reason, I am always stomping my feet and yelling about food thermometers—another kitchen utensil rarely done well.'Cause the old school thermometers don't work fast enough, and can you trust a random Amazon brand? Maybe with loungewear. Maybe not with your food.
OXO Good Grips Chef's Precision Digital Instant Read Thermometer | $23 | Amazon
OXO is known for good, high-quality kitchen stuff so obviously their food thermometer delivers. It's instant-read, so you'll learn your food temp via the clear display screen in seconds. And the storing case has a handy temperature guide for cooking meats. See? You don't have to dry stuff out.