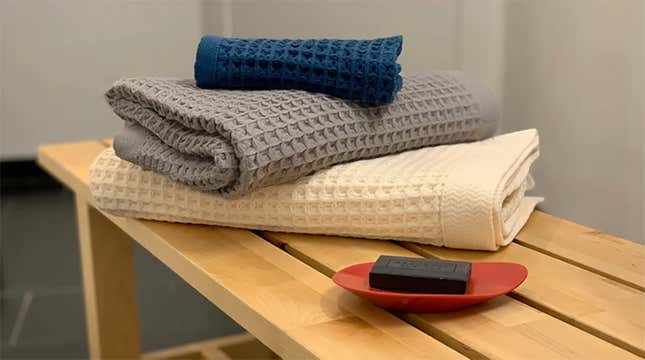 Waffles make for not only an exceptional breakfast food, but also a positively cozy texture in apparel and linens. And these K-25 Smart Bath Towels 3.0 by SOLO-RM are no exception; not only do they look and feel great, but they also are insanely absorbent.
All K-25 towels are made from 100% long staple cotton, and are OEKO-Tex Standard certified textiles, meaning they're free from harmful levels of chemical substances. In terms of sizing, the K-25 is available as a face towel, hand towel, bath towel, and bath sheet. Colors include navy, gray, and off-white.
When I tried K-25, I was legitimately shocked by how quickly the towel was able to dry me off post-shower, and absolutely baffled by how dry the towel still was even after I used it. What little dampness was evident dried in just a few short minutes.
As with many Kickstarter campaigns, the more you pledge, the more towels you'll get. One bath towel starts at just $35, or true waffle-weave aficionados can pay up to $850 for a complete set featuring 10 of each towel. Either way, you'll be bundling up with a quality textured towel.
---