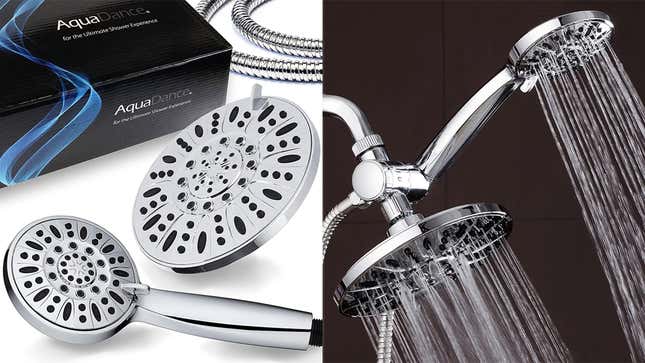 How's the shower head in your bathroom? Do you have one of those hose ones or one of the large-faced ones? The problem with the hand held shower heads is that the pressure isn't always as good as the locked-in-place counterparts, But then the locked-in-place ones are, well, locked-in-place. What if you didn't have to choose? The AquaDance rain shower heads has both. Each of the two shower heads has six settings to get the right pressure you're looking for—power rain, pulsating massage, power mist, rain massage, rain mists, and water-saving pause mode. A simple switch is used to redirect water flow between the two heads. Use the main 7" head for the bulk of showering to get more coverage and then use the shower head with the hose for harder-to-reach spots. That one's also great for cleaning the shower.
AquaDance Rainfall Combo Shower Heads | $ 28 | Amazon
The AquaDance rain shower heads are a number one Amazon best-seller and right now they're on sale. Get them for 39% off, bringing the price down to just $28.