The Inventory's 2018 Holiday Gift Guides) : title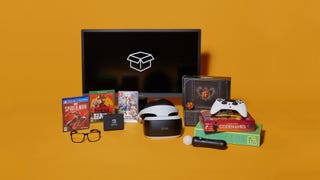 The Inventory's 2018 Holiday Gift Guides
We've rounded up all the best gifts for everyone in your life, from outdoor adventurers, to discerning gamers, to your annoyingly fashionable and attractive friends.
We love putting together holiday gift guides because it's basically an excuse to gush about every single thing we're obsessed with right now. And we feel pretty damn confident that the women in your life—the women who drink, women who dress well, women who travel and have dogs and smoke weed and love self care—are going to love them too.
From incredibly (almost stupidly) luxurious silk pajamas to genius travel bags and pretty houseplants, these are gifts that are guaranteed to delight the gal who gets 'em. And hey—if you find a little something for yourself, we promise not to tell.
---
When they're combined into one thing, cashmere, waffle and turtleneck are three of the most beautiful words you'll ever hear. This sweater is cozy and cool and in case you didn't know, literally everyone loves getting cashmere as a gift. Everyone.
If you're stumped on what to get for a super-stylish gal on your list, just get her something really, really soft that she can wear. This oversized teddy coat from Mango is like wearing your favorite childhood teddy bear… But in a chic way.
More stylish than a baseball cap and better in rough weather than a beanie—the retro fisherman's cap is a hat that makes any outfit look better. Seriously, she could put it on with her Cindy-Lou Who holiday onesie and be ready to hit the town.
One of our favorite, albeit weirdly-named gifting categories has to be "things from fancy designers that are actually affordable." This Acne beanie is cute, comes in several colors, and has all the street cred of the brand's higher priced pieces.
We're suckers for pretty hair accessories, especially around the holidays. This satin bow scrunchie would make for the prettiest stocking stuffer, but if you buy it for yourself, we won't tell anyone.
These Italian-made loafers are the perfect blend of statement-making and subtle—thanks to their soft caramel-colored leather embedded with suede star cutouts. They're easy and comfortable enough to wear as house shoes, but throw them on with Levi's and a sweater and you're dressed for brunch.
We could gush about every style of shoes that M. Gemi makes, because they're stylish, modern and incredibly well-made. So if you want to give a woman in your life something truly special, we reverently offer up the Corsa (one of their most popular styles) ankle boot in gorgeous leopard print calf hair.
Cuyana makes the best stuff. Their bags are beautiful and unfussy, and this mini one feels especially fun for holiday gifting thanks to the festive velvet and bow detail. (Also available in leather, as pictured)


We'd like to go on the record saying that we found it first, but you should know that Oprah has also included this genius travel bag in her annual round-up of Favorite Things. The on-the-go essential folds up to about the size of an iPad, making it ideal for bringing home extra souvenirs from your holiday travels.

Listen, we know that shower caps as a concept are not particularly glamorous. But Shhhowercap has replaced that cartoon mom poof with a sleek turban-shaped cap made from premium nanotech fabric that will keep her hair dry and vastly improve her bathroom mirror selfie game.
Anti-aging, anti-inflammatory and anti-acne… CBD is the newest wonder ingredient in skincare. No, it won't get you high (there's no THC), but it can calm and relax the skin while also promoting cell regeneration and replenishing moisture. Pretty groovy, right?
Is it just us or has oral care become, well, pretty sexy lately? There are so many hip brands making this twice-daily ritual a little more pleasant, way more stylish and most importantly—more effective. Quip takes the cake for us because of their "set it and forget it" brush head renewals that arrive in the mail every three months.


Do you even remember life before you had your first Aperol spritz? Neither do we. This cute little recipe book is full of classic and modern versions of Italian aperitivo cocktails—plus ideas for the perfect snacks to pair with them!
Fans of Havrilesky's "Ask Polly" advice column that appears on The Cut will love "Polly's" new collection of essays. In it she asks the reader, in a number of insightful and humorous ways, to consider navigating through the world in a different way and literally ask, What if this—the life and the possessions you already have—were enough?
There are good parties, and then there are great parties. If you want to encourage the kinds of conversations and revelations that can take a dinner, a cocktail hour or a big celebration to the next level—treat your host to this collection of questions meant to spark amazing moments of connection, no matter how well guests know each other.
For the girl on your list who loves Everlane and Glossier and wishes her dog did, too—meet Wild One. These flex-poly leashes are easy to clean, practical, and strong. Choose from six matte shades that will put a little pep in any pooch's step.
Light up your holiday party with these festive metallic gold rolling papers, because honestly, what's more festive than passing a shiny, Instagram-worthy joint among family and friends?
Would you like to change someone's life this holiday season? Get them a 10-foot-long Lightning cable. The ability to roll around in your bed from side to side, still plugged in and charging? Or while rotating from one end of the couch to the other? It sounds small, but believe us, it's a game-changer.
Houseplants are the new cut flowers! Thank every holiday host this year with an easy-to-take-care-of plant in a stylish container—like this Haworthia Zebra succulent from The Sill—a trendy little plant store in New York's Lower East Side that delivers greenery all over the country.
Propping up your iPad in bed while you're watching Netflix. Giving your head a soft place to land during your in-flight snooze. Supporting your lower back at your desk. This tiny pillow does a lot, and we love it.
Coasters are one of those highly underrated gift ideas that we'd like to revive. They're practical (no rings!) they're home decor (artful coffee table vibes!) and when they're Jonathan Adler, they're also cheeky AF.
Is it a sign that you're really grown up when you get super excited about a toiletry bag? The Hunter bag from Dagne Dover comes with two detachable pouches that fit your toothbrush, contact case or comb—keeping all your travel essentials perfectly organized.
---
Head over to our 2018 gift guide hub for more gift ideas.