The Inventory's 2018 Holiday Gift Guides) : title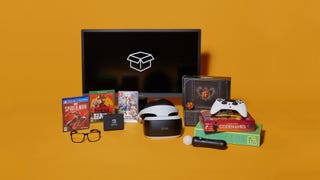 The Inventory's 2018 Holiday Gift Guides
We've rounded up all the best gifts for everyone in your life, from outdoor adventurers, to discerning gamers, to your annoyingly fashionable and attractive friends.
With Halloween in the rearview, the beautiful Gamer in your life has moved on from thinking about how to finish off their Fortnite cosplay to focusing on the impending buying season. With our help, your beloved Gamer will get the gift I've they've been eying all year. (Note: it's okay if your favorite Gamer is yourself.)

---
Without games, we wouldn't have Gamers upon which to shower this delectable bounty of gifts. Thank you, games! Keep your lovely Gamer occupied for hours with the hottest games of the season.


The Gang Exists Inside of a Board Game. Join Mario and friends for a hyper-competitive romp around the board with the goal of stealing each other's stars. Have hours of fun with your oldest friends newest enemies.
Need extra Joy-Cons? Nintendo has you covered with a Super Mario Party bundle (if you can find it in stock). The $100 box includes two blinding neon Joy-Cons, to match the blind rage you'll feel when falling down the board after a crappy roll.
Urban Dictionary describes the term salty as the act of being upset, angry, or bitter as result of being made fun of or embarrassed. This is a term that your combative Gamer will become very familiar with playing any fighting game, especially the upcoming Super Smash Bros. Ultimate.
Choose from a cast of 74 finely balanced characters, spanning generations, platforms, and IPs, to cut, float, burn, punch, bite, suck, poop out, and yes, smash opponents into the finest powder of salt. Masahiro Sakurai died for this.


Fans of the cinematic slow burn have always found comfort in the Western, where outlaws can be outlaws and the quick hand lives to duel another day. Rockstar Games is known for publishing titles that are a bargain at $60 and Red Dead Redemption 2 is no exception.
Your adventurous Gamer can explore a vast open world on the back of their trusty horse, whose care will no doubt occupy hours of their time in between collecting debts, plugging dishonorable (or honorable, depending on how you play) varmints, or gambling another hand of poker at the nearest saloon.
This console generation has not been especially kind to Microsoft. As hard as they've tried to innovate with the Xbox One hardware, they've been continually buried by PlayStation's generally superior software lineup. An ace in their sleeve, however, is the development studio Rare, who has made some of the most beloved released in the last 20 years.
Sea of Thieves is full of that Rare charm that makes the studio such a force. Search for treasure as a lone pirate, or plunder cooperatively with a crew of three additional friends. But the open seas are full of danger, with open world player-versus-player threatening to capsize even the most fortified galleon in spectacular fashion.
It has been said that money and gift cards are thoughtless gifts. I'd argue that gift cards are an amazing gift and should be given more often. Not sure what your adorable Gamer wants? Gift card. Choice paralysis? Gift card. Gift card. GIFT. F'N. CARD.
Just received a gift card? Congratulations! Here's a list of games worth spending on: Tetris Effect (PS4), Marvel's Spider-Man (PS4), Cuphead (XB1/PC), Forza Horizon 4 (XB1/PC) Pokemon: Let's Go Pikachu! & Eevee! (NS), Diablo 3 Eternal Collection (NS), Overwatch (PS4/XB1/PC) Star Citizen (PC).
Console? Check. Games? Check. What's next? As with any good fit, you need accessories to complete the look. Keep your finicky Gamer prepared for any situation with these accoutrements.


Your professional Gamer is a well-oiled machine, fueled by slices of beef jerky, a jug of filtered tap water, and french fries with copious amounts of ketchup. The eagle-eyed Gamer's 1000-Yard Stare fixates on its prey, controlled breaths waiting for the perfect moment to let fly an armor piercing round. The sound of nearby footsteps sends the Gamer into a panic, who is then forced to respawn due to a misclick which led to vaporization by their own grenade.
Prevent this familiar scenario by gifting your clumsy Gamer with a pro controller for their platform of choice. These tools of digital warfare come chock full of advanced options such as customizable buttons, reconfigurable layouts, and a wealth of other options designed to provide a lethal advantage in competitive online gaming. (Note: Nintendo's pro controller doesn't include any of the aforementioned cool shit. It's just a controller. Because Nintendo.)


Audiophiles are a weird bunch. They'll find a pair of headphones they love and refuse to deviate from that specific pair for two decades. They'll do whatever it takes to keep that pair of headphones intact, like creating new ear pads out of a pair of used socks. Respectable, but weird.
Help your sonically-stingy Gamer stay attached to their pair and keep in touch with their online buddies with the ModMic 5, a simple yet reliable boom mic for use with just about any pair of headphones.
I love my Nintendo Switch, and chances are so does your handheld Gamer. I play the Switch almost exclusively in handheld mode, as Iwata-san willed it. It's great for mobility, bad for hands (more on this later), and limited by a respectable but decidedly finite battery life.
Why tether yourself to a dock or outlet when you can extend your portable life by hours with Anker's PowerCore Switch line? Approved by both Nintendo and The Inventory, the PowerCore comes in two flavors: 13,400mAh, good for 1.7 full charges and 20100mAh, for a whopping 2.5 full charges. Also good for charging mobile devices, controllers — while you play! — hell, even a laptop. Portable chargers are the best, man.
Let's stay with the Switch, but talk about hands for a moment. Your dextrous Gamer cleans them obsessively, keeps them soft to the touch with the most luxurious lotions, and does whatever it takes to prevent cramping. The magnificent, nigh perfect little console is a torture device for your pampered Gamer's perfect mitts if played in handheld mode for too long.
Say no to hand cramps with Satisfye's Pro Gaming Grip, which adds sturdy and comfortable fins to the Switch's handheld profile, enabling pain-free gaming for hours on end. The grip comes with high-quality Joy-Con thumbpads and is available in two lovely bundle options.
I know I can't stop plugging Switch things, but hear me out. It's time to admit the headphone jack is dead. Just because Nintendo wasn't forward-thinking enough to include Bluetooth audio doesn't mean your discerning Gamer should be wired for sound, especially considering they probably have a favorite pair of Bluetooth buds or cans.
The nifty little GENKI Bluetooth Audio device pumps up the Nintendo Switch by adding Bluetooth audio, and comes packed with extras: USB-C passthrough charging, a mini microphone for voice chat, portable kickstand, multi-broadcast to support two headsets, Bluetooth 5, low latency codecs, and more. That's a lot of gadget for $40.


Reality is trash. Everyone is angry, anxious, or upset about something. Fires are burning down entire cities, sea levels and fascism are on the rise, and the people in charge are corrupt or clowns or both. Your ornery Gamer probably spends a good chunk of time being mad online. Help them blow some steam off by buying them passage to the other reality, the good reality: virtual reality.
A VR-ready (see: powerful as hell) Windows machine is a requirement for our PC suggestions: the Oculus Rift and HTC VIVE. Depending on who you ask, one is better than the other, but in my opinion, it's simply a matter of preference. Oculus is less expensive, but the VIVE is more advanced, offering a game-changing optional wireless adapter.


The choice is slightly easier on console, where the only option is PlayStation VR. It's less expensive and less impressive than its PC counterparts, but is just as immersive. Your giftee will need a PlayStation camera too, and may want to pick up some PlayStation Move controllers to complete the experience. For convenience, PlayStation offers a bundle which includes all of the above, along with Creed and Superhot, the latter of which is one of the most enjoyable gaming experiences to come along in awhile.

Time for a palate cleanser. Who says you need a screen and console to be a Gamer? Here's a fact: some of the best local multiplayer experiences are physical. As split-screen gaming continues to go the way of the Atari Jaguar, board and card games have become the best multiplayer party experiences.


What do liberals, fascists, and Wil Wheaton have in common? They're all a part of the enthralling social deduction card game, Secret Hitler. Good for five to 10 players, a game can last between 30-60 minutes and is easy to learn, making it the perfect complement for a get together with Gamers of varying inebriation. Your tactical Gamers will lie, deceive, cheat, and kill their way either to diplomacy, or to a fascist regime controlled by none other than reptilian Hitler himself.


A long time ago in a galaxy not too far away, Star Wars was a cultural phenomenon. But a yearly release schedule and questionable storytelling have brought upon a Star Wars fatigue at the box office — thanks, Disney.
While the films try to set up a worthwhile payoff, your high midi-chlorian count Gamer will have endless fun setting up Star Wars Legion, a tabletop experience akin to Warhammer 40,000. It may take some time before the game can get started, but half the fun comes in assembling and painting each beautifully sculpted miniature. With plenty of expansion packs to fortify the base game, Star Wars Legion is a thermal detonator of fun in both detailing and gameplay.


There are thousands of excellent tabletop games out there and I can't even begin to scratch that surface. Your tireless Gamer could dedicate their time to researching and purchasing their ideal game, or you could save them countless hours by gifting them a subscription box.
If your fanatical Gamer can't get enough of the tabletop games, Board Game Bento is the perfect entrée. Each monthly box comes with an average of 3 games of varying size, all of moderate difficulty to minimize the amount of time spent with instructions and maximize the time on the board.
Made for the sophisticated role-playing Gamer, Dungeon Crate is a curated box of swag for tabletop RPGs. The themed monthly boxes can include dice, modules, miniatures, terrain pieces, and other useful accessories for any project manager game master.
What good are the latest consoles and games if your concentrating Gamer doesn't have a sexy new display to render those gorgeous graphics in 4K HDR?


Your couch-locked Gamer needs a big bright panel for all the lush details in their virtual world. In an industry ruled by big brand names, taking a look at the smaller guys can lead to a larger screen of similar quality at a far better price.
The Gizmodo approved TCL 6 Series checks all the boxes of a far more expensive set. Clean industrial design, intuitive Roku-powered operating system, and of course a picture that far outperforms its price tag. The 6 Series comes in 55 and 65-inch flavors, to appease even the most size obsessed, thrift-shopping Gamer.


BenQ Gaming Monitors
To some Gamers, a couch is a death sentence. You may not like it, but peak performance looks like a desk, a gaming chair, and a monitor with a solid refresh rate and low response time. Your hardcore Gamer might be somewhere between e-sports and e-mail; fortunately, BenQ makes affordably excellent panels that will help keep their saltiness low and K/D ratio high.
BenQ offers a ton of options for all budgets and desk sizes. The 24-inch XL series tops out at 1080p but comes with a whopping 144Hz refresh rate along with a 1ms response time, which is ideal for PC gaming. The console-focused RL series hits the same notes but swaps 144Hz refresh for 60Hz, which is arguably all a console Gamer needs. For juiced up visuals, the EL series offers a 28-inch titan with 4K and HDR 10, while keeping the response time razer-thin at 1ms.
Need some extra goodies for your spoiled Gamer that aren't categorized above? We got your back.



We have an unnatural addiction to screens. We're either looking at a laptop, a mobile device, desktop monitor, or a 55-inch TV. All the blue light can start to have an effect on our circadian rhythm, which can lead to eye strain, headaches, and sleep disruption.
Give your fashionable Gamer's eyes a break, by outfitting them in a pair of blue light filtering glasses that can help prevent the side effects of an intense gaming session. Gunnar is an innovator in the space who offers a wide selection of frames to fit just about any head shape and style. Gunnar's signature amber tint may not be for everyone, in which case the Felix Gray selection is a stylish alternative more akin to Warby Parker than Aperture Science.
---
Research shows that 80 percent of Gamers have at least an entire shelf dedicated to gaming collectibles. Similarly, 80 percent of Gamers have alienated at least one friend who wasn't dedicated enough to competitive placements. Hit the center of the Venn diagram by gifting your hoarding Gamer one of the magnificent collectibles from worldwide phenomenon and fanfic generator, Overwatch.
Mei, the evil incarnate ice bender, is never seen apart from her trusty Snowball, a cute and crafty robot who flies around dispensing cold vengeance. In collectible form, the Magnetic Levitating Snowball is as charming and utilitarian as her (or his) digital form. This cool little centerpiece flaunts immaculate and precise details while floating and emoting and even charging a USB device.
For an Overwatch collectible with a little more edge, the Ultimate Genji Sword is the sharpest tool in the shed. At a whopping 4-feet long, this Dragonblade realized is the perfect prop for terrorizing an older brother who has trained tirelessly with a Nerf bow and arrow. The cybernetic ninja experience is completed by LED illumination, motion activated sound effects, accompanying sheath and display stand. Healing not included.
The only thing better than a single game is an entire catalog of games, obviously. Xbox and PlayStation make that possible without breaking the bank. Nintendo, you have some catching up to do.
Xbox Game Pass opens on-demand access to a whopping 200+ games for only $10 a month. Your disk-space-deficient Gamer can download and play newer games like Forza Horizon 4 (released October 2018), or go classic with the cult favorite Fusion Frenzy (released November 2001). The entire archive is playable on an Xbox One, and a portion can even be played on a Windows 10 PC. An extravagant deal for Xbox loyalists.
A PlayStation Now subscription grants access to a library of generational content but differs from Xbox's offering in a few ways. PlayStation offers streaming access to a dizzying 650+ games ranging from PS2 to PS4 at $20 a month. Unlike Game Pass, PS Now requires a stable, high bandwidth internet connection in order to stream your chosen title without interruption.
---
Need more gift ideas? You'll find them all here.