The Inventory's 2018 Holiday Gift Guides) : title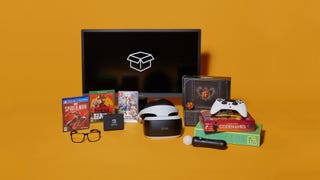 The Inventory's 2018 Holiday Gift Guides
We've rounded up all the best gifts for everyone in your life, from outdoor adventurers, to discerning gamers, to your annoyingly fashionable and attractive friends.
Is it ironic that we feel like the kids on Christmas morning right now? This gift guide is so full of fun, creative and thoughtful ideas that we're practically giddy. There are glowing toilet lights and chocolates with bacon in them and festive pajamas and the coolest ranch jacket we've ever seen. We found 22 holiday gift suggestions for any and every guy on your list, even the one you never know what to get because he's a little bit bougie and pretty outdoorsy. (No really, we found him something!)

---
What do you want us to say here? That we love fleece? That we want to hug on every man we see wearing one of these cozy retro zip-ups? Because we do. Like, a lot. There are quite a few of these jackets out there right now, but Patagonia gets our vote because of their OG outdoorsy status, commitment to the environment through the use of recycled materials and their fair labor practices.
Who is the best-dressed, most ruggedly handsome guy on your list? Get him this. Just kidding, kind of! He doesn't have to be well-dressed or handsome to pull off this cool ranch jacket—a collaboration between Best Made and Pendleton Woolen Mills. Any dude can wear it with his favorite jeans and a sweater all winter long, just don't blame us if he walks around flashing the colorful striped lining to random strangers on the street.
Pajamas are a classic "dad" gift around the holidays, and that's okay. We happen to think that every guy could use a pair of lounge pants and a t-shirt to hang around in (especially over the holidays) that aren't raggedy old sweats
Whether he's a businessman or a business, man, any dude who travels for work or has a ton of weddings on his calendar will appreciate this savvy garment sleeve that will keep his suits pressed and organized in his luggage. (They're made specifically to fit in Away's suitcases, but will fit in most luggage!)
We've long been fans of The Tie Bar's affordable neckwear and get-dressed-up accessories any time there's a wedding or special event on the calendar. This collaboration with the wool experts at the Barbaris Mill in Italy offers the kind of subtly luxe ties and bowties you'd find from designer menswear brands, at a fraction of the price.
Imagine us doing our best 'Joey From Friends' voice: Bacon? Good. Peanut butter? Good. Chocolate? Good. These specialty chocolates are a thoughtful stocking stuffer for your bestie with a sweet and salty tooth.
We can personally attest to how easy this cold brew pot is to use—and how delicious the resulting iced beverage tastes. This is a great gift for that guy you know who's like, "I drink iced coffee all year!" but would never set foot in a Dunkin' Donuts (so, all New Yorkers?).
This ergonomic little device makes really good espresso. Anywhere. Just add boiling water and apply some pressure with your hand and voilà. This present works for a variety of coffee lovers, from the cousins who camp-while-caffeinated, to roadtrippers who hate that middle-of-nowhere motel sludge, to the pal who simply appreciates a good gadget and a great cup of java.


Just looking at the contents of this gift set makes you want to hang your hat up for the day, turn on Spotify's Holiday Jazz playlist, and knock a few back before dinner. If someone you know loves whiskey as much as you love them, treat 'em to a box full of tasty bitters, artisanal cocktail mixers (fancy!) and even a shatter-proof glass in case things get particularly… Festive.
We may or may not have included this pasta-of-the-month club membership in hopes that someone would see it and gift it to us this holiday season, because that's how great it is. Honestly what could be better than surprise fancy noodles (plus recipe ideas!) delivered to your door?
If you know, you know, but if you don't, listen up. Four Roses makes some of the most delicious and most affordable bourbon in the game. At $32 for a bottle of their small batch variety, it's an easy crowd pleaser gift for white elephant parties, coworkers and Dear Old Dad, too.
While the idea of gamified meditation might sound like an oxymoron, that's essentially what the Muse 2 headband offers. It tracks your heart rate, breath and poster, and even offers EEG brainwave feedback (What? Yes.) to help improve your focus. Each session offers an opportunity to "beat" your previous stats, which is fun and good for your mental health!
We're hard-pressed to think of someone who wouldn't love firing up this retro gaming console. It's already loaded up with 21 of the best games you used to play on your Super Nintendo as a kid. From Super Mario Kart and Donkey Kong to Final Fantasy and The Legend of Zelda… They'll forget Netflix exists for at least a week.
Maybe it's because we're still stanning the (wildly under-watched) Game Night, but we're really feeling a holiday revival of,—you guessed it—hosting a game night. Gather friends and family for a few rounds of Gin Rummy, Hearts or even King's Cup (hey, no judgements here). This handsome set can be monogrammed, and makes for a thoughtful holiday party host or house-guest gift.
There's so much good stuff to look at from Best Made it was hard to choose just one thing, but we can't get over how good-looking this dart set is. Plus, it's right in that "gifting sweet spot" of about $150 which feels thoughtful but not over-the-top.
This is one of those gifts that he'll open and be like, "LOL!" but then when he sets it up and wakes up in the middle of the night to pee and sees the toilet light up like a beacon of relief he'll be like, "Wow. Grateful." So, yeah, this is a stocking stuffer win-win!
Remember back in the day, like way back, when cars had cigarette lighters in the dash? This sleek little tool uses the same tech—a fuel-free heated coil—and is easily recharged by USB cord. What you use it for? We wouldn't dream of asking.
Did you know that NASA has a bunch of FREE poster-sized images you can download from their website, depicting cool, retro-inspired space illustrations? Because they do, and it's awesome. Take one on a jump drive to your local print shop, then have it mounted in a custom frame from Framebridge for a seriously out-of-this-world gift! (Sorry, we had to.)
Really good soap is like really good wine—you don't know the difference until you've tried it. The bar soaps from Commodity last for months, smell amazing and leave skin feeling soft and moisturized.
A game as simple as "aim and toss" is an ideal gift for your guy friend with young kids, the one who always throws the best barbeques or the one with a beach house where you're always trying to get invited.
This is a gift idea for that guy on your list who you might describe as both bougie and outdoorsy (an ever-widening Venn Diagram of bros, we might add). The YETI Roadie coolers are sort of a status symbol among the camping elite, which is a term we just made up but feels right. But this bad boy can hold 14 cans with ice, and its thick FatWall design is "certified Bear Resistant." Seriously.
---
Head over to our 2018 gift guide hub for more gift ideas.