The Inventory's 2018 Holiday Gift Guides) : title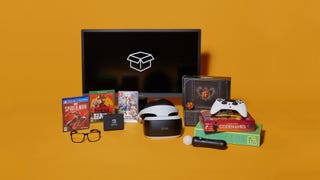 The Inventory's 2018 Holiday Gift Guides
We've rounded up all the best gifts for everyone in your life, from outdoor adventurers, to discerning gamers, to your annoyingly fashionable and attractive friends.
Tech gifts are great, whether your giftee is a hardcore computer geek or someone just discovering the magic of streaming video. Here are our favorite gadget gifts for this holiday season.
---
If you know someone still lamenting the death of the headphone jack (it's okay, I am too), a pair of Bluetooth earbuds may be just the ticket. There are plenty of great options out there, but our readers overwhelmingly chose Anker's SoundBuds Slim as their favorite—they're solidly built, well-priced at $30, and sound good, with a built-in mic and magnet clasps to boot. If your loved one is a runner or other type of athlete, they may prefer the SoundBuds Curve, which have a more secure fit around the ears. Or, cut the cord entirely with Anker's affordable new SoundCore Liberty Lites.


We all have that one friend that's always losing stuff. Maybe it's time they got a few Tile trackers, which attach to your keys, phone, laptop, or other oft-misplaced devices so you can easily find them later. Just fire up the Tile app on your phone and you can "ring" the Tile of your choice—or, if it isn't within Bluetooth range, see a map of where it was last found. The Tile Mate is Tile's standard product, with the Tile Pro offering a longer range and louder siren, and the Tile Slim being a bit more compact for wallets or other svelte objects.


Not all tech gifts plug into the wall. In fact, premium web services can make great gifts: Netflix for the movie buff, Amazon Prime for the compulsive shopper, Spotify Premium for the music lover, or even services like Marvel Unlimited for the comics fan. Shoot them a year or 6-month subscription and they'll be grateful, whether they're long-time subscribers or brand new to the service.
Custom gifts are a great way to show a little extra effort, and if you have a couch-glued gamer in your life, there's no cooler gift than a custom controller made just for them. Microsoft's Xbox Design Lab lets you make your own starting at $70, while third-party companies like Battle Beaver can make Xbox, PlayStation, and GameCube controllers with a ton of different options. If your friend is picky, you might even consider getting them something simple to unwrap and letting them design and build the controller themselves—that's half the fun!


Battery packs are probably overdone as stocking stuffers, but here's the thing: most of them are too big to be that useful. When I'm out of battery and desperate for some of that sweet sweet juice, it's unlikely I have my backpack with me and my hard drive-sized battery pack. What most people really need is something tiny, that can fit in your pocket or purse...like Anker's $20, lipstick-sized PowerCore+ Mini or the slightly newer and larger PowerCore 5000. Never leave home without it.


Philips Hue Smart Bulbs
There's a good chance your friends and family already have Amazon Echos—heck, they were probably gifted one last year. This year, why not make that smart speaker more useful with some smart home tech? Philips Hue bulbs are a great place to start, allowing them to outfit a room with customizable bulbs that respond to their voice. The White Ambiance Starter Kit and Color kit are the two most obvious places to start—but personally, I'm a fan of the White Ambiance bulbs. These can't change to any color, allow you to change the color temperature from a blue-ish sunlight for daytime to a dimmer, redder light for nighttime, and it really makes them more useful than a standard bulb.


Some people would rather build something cool than get something cool. For those people, gift them an Arduino Starter Kit or Raspberry Pi Starter Kit. They'll be able to build anything their mind can dream, from a kickass robot arm to a fingerprint scanner for your garage to a play-anything retro game console. If you aren't sure which one to buy, the Raspberry Pi is a full-fledged computer that's great for beginners, while the Arduino requires a bit more skill but is incredibly powerful for quicker, single-task projects.


If you know a music junkie who's been itching to "get into vinyl" but still hasn't made the plunge, an affordable turntable like this one from Audio-Technica makes a great gift. It's inexpensive but solid, as pointed out by Gizmodo in their guide to getting started with vinyl, so it's a good gift for beginners. You may also want to grab some of our favorite albums to own on vinyl, while you're at it.




The Oculus Rift and HTC Vive are still the kings of virtual reality, but they're expensive—and require a similarly expensive gaming PC to use. If that's a bit out of reach for the gamer in your life, consider giving them the gift of VR with the far less expensive Oculus Go, which costs only $200 and has everything you need to start watching videos and playing games. If they have a compatible phone, Google's Daydream View and Samsung's Gear VR are also good (cheaper) choices, though the Oculus Go isn't tied to one brand, which is nice.


As much as I love my Philips Hue lights, my smart outlets, and my connected ceiling fans, the Kwikset Kevo might still be the most convenient smart home tech I've ever bought. Armed with the app and/or a dedicated fob, the Kevo allows you to lock or unlock your door just by touching your finger to the lock's housing—and it magically opens. This is a particularly great gift for someone whose arms are regularly full of kids.


PC gaming is great, but sometimes, you just want to plop down in the living room and play lazily with a controller—instead of spending more hours at a desk. If you know a PC gamer who just wants to sink into the couch at the end of the day, the NVIDIA SHIELD TV merges PC gaming with living room convenience. You can stream games from your PC to your TV, stream games from the internet with included beta access to GeForce Now, or play Android-based games directly on the device—not to mention stream Netflix, HBO, Kodi, or any number of other entertainment apps. At around $200, it's a bit pricier than other streaming set-top boxes, but it's also leagues more powerful.


Do you have a family member whose Wi-Fi is terrible? Are they always complaining about dead spots and slowdowns, or switching between two networks thanks to a cheap extender? It's time to upgrade them to a mesh network, like Eero or the reader-favorite Google Wifi. These systems create a much more seamless blanket of Wi-Fi across your house, not to mention are much easier to update and use thanks to a simple smartphone app. Selfishly, this is also a gift you can benefit from too, if you're tired of losing connecting every time you visit.


Inexpensive drones have gotten much better lately, and whether your friend is looking to tinker around or actually take some cool, sweeping photos from above, the Ryze Tello is the cheap drone to beat. Our friends at Gizmodo tested it against the competition and found it to be the best of the bunch, and at only $100, you don't have to worry too much about them crashing it and flushing a ton of your hard-earned money down the drain.
---
Want more gift guides? You'll find them all here.