I was incredibly concerned by what I was about to get myself into with an aquarium, but the biOrb fish tank is basically as easy as it gets.

The set up of the biOrb is startlingly easy. It all comes in one box (the decorations are the only things that come separate) so all you need to do is wash off the filtering rocks, snap the filer cylinder in place, put it all in the tank, and fill it up. That's it.
Oh, and you need a fish too, I guess. I opted for a betta and will probably add a couple shrimp or Harlequin Rasboras later on.
The biOrb requires a full cycle like any other aquarium, but with the built-in filtering system, for as large and impressive as the tank is, it's pretty much made for for a beginner fish person aka me. You basically don't need to clean the thing, just change out 1/3 of the water and the filter cylinder every four weeks. The ceramic rocks that come with every biOrb tank do most of the work, filtering fish food and waste without any hassle of you having to clean any of the gross stuff that has the tendency to build up in other aquariums.
I ended up purchasing a couple different decor pieces from the ones that I originally received (apparently plastic plants are slightly dangerous to betta fish, so you should opt for silk ones if you go that route). I also added a heater and thermometer to make sure the water was always at the correct temperature, which you can purchase from biOrb or get at any pet store.
The LED light that the biOrb comes with is also programmable to mimic a 24-hour cycle, so you can basically set a timer for when you want your fishy friend to sleep. Plus, it comes with a remote if you want to give your new pet a light show.
G/O Media may get a commission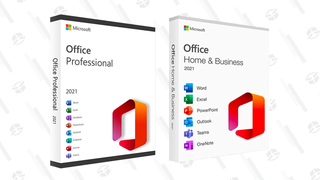 89% off
Microsoft Office Professional 2021 Lifetime License
The biOrb system is a no-brainer. It requires very little effort to set up, which means it's also great for younger kids to help get involved in fish keeping (something not usually said about aquariums). And with the multitude of sizes and shapes, a biOrb system can fit into anyone's life.
---