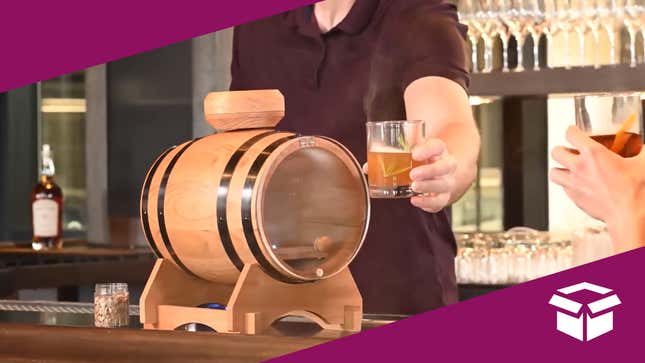 I'll be honest, I was a little confused at first about what the heck was going on with this product. What it is is a five-liter oak barrel in which you can place multiple drinks in at once to smoke them up. Adding a nice, charred, and smokey taste to your bourbon or cocktails can really take it over the edge. And it also just looks cool to have smoke pouring out the top of your drink. It's got LEDs inside so you can see the process even in dim lighting. Makes for an excellent gift for any whiskey or bourbon fan you know. You can also use it to smoke some cheese. No one's stopping you.
Old Fashioned Smoker Cocktail Kit | $190 | Amazon | Clip Coupon
The whiskey smoker is normally priced at $250, but right now its both 20% off and it has a clickable coupon for another 5% off. That brings it down to just $190.