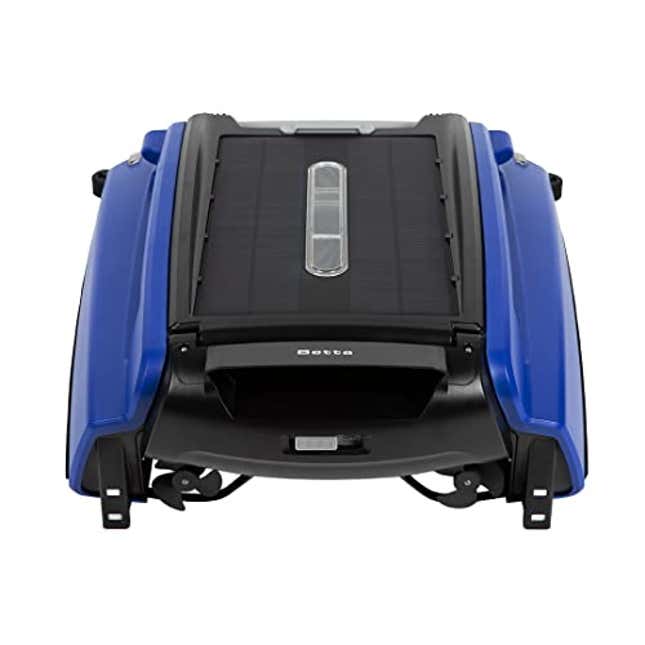 For homeowners owning a pool, maintaining them often means tedious work. It becomes tiring to consistently focus on cleaning and ensuring a clean pool. But, worry no more! Make way for the new Betta SE (2023 Model) - Solar Powered Automatic Robotic Pool Skimmer, an offer exclusively from Amazon, bound to change the dynamics of pool cleaning efficiency.
This state-of-the-art solar-powered automatic robotic pool skimmer is designed to put an end to your struggle with manual pool cleaning. All you need to do is place the device on the water surface, and it starts its work immediately. It removes debris such as leaves, animal hairs, dust, dead insects and pollen efficiently. The machine, empowered with twin Salt Chlorine Tolerant (SCT) Motors, ensures a brilliant cleaning performance in both freshwater and saltwater pools. Moreover, these re-engineered motors drive the propellers directly, making the device more reliable, responsive, and energy efficient.
The Betta SE (2023 Model) is also smart. It is equipped with four depth bumper rods and has an ultrasonic radar that senses obstacles, rerouting itself automatically to ensure complete pool cleaning and optimum coverage. Cleaning this robotic skimmer is as effortless as its operations. It is equipped with a large fine-mesh debris basket with a top handle. All you need to do is open the cover, remove the basket and dispose of the debris. No need to take the Betta out from the pool!
Moreover, this model is built to last. With special UV resistant coating and materials, it is expertly protected against damages caused by ultraviolet radiation from the sun. Hence, it's a long-term investment that ensures your pool remains squeaky clean with minimal effort. Plus, rest assured with the one-year warranty it comes with.
The brilliance of the Betta SE (2023 Model) - Solar Powered Automatic Robotic Pool Skimmer is an opportunity you do not want to miss. Give yourself a break and let technology work for you. Check it out on Amazon today!
This deal was originally published by Inventory Bot on 7/12/23 and updated with new information by Se Jeong Bae on 7/13/23.