My neighbor keeps all kinds of edible plants in a lovely planter right behind my carport, which is nice but presented a small problem for me. This little herb garden thrived in this year's milder weather, and it simply wouldn't stay in its lane. So, it was Auto-Vox to the rescue with its easy-to-use CS-2 backup camera.

None of my cars have a backup camera, and to make matters worse, my daily-driver Mitsubishi Lancer has a big wing on top of a high trunk that can make everything from shrubs to oncoming traffic a nightmare to spot when I'm backing up. This is where an aftermarket back-up camera comes in handy.

The Auto-Vox CS-2 is one such camera, which wirelessly transmits a full-color, 110-degree angle video of what's behind you on a 4.3-inch monitor that you can place wherever you'd like inside the car. It's a great system because you can mount the camera exactly where you want it and stash the entire monitor system in a glove box when you'd rather not have a big, obvious screen left out for the taking.

Installing the camera itself was perhaps the hardest part given that there is a physical wire to route and splice into your car's existing wiring. If I could change any one thing about this system, it would be this, as I was hoping for an entirely wireless system when I picked it up for a review.

G/O Media may get a commission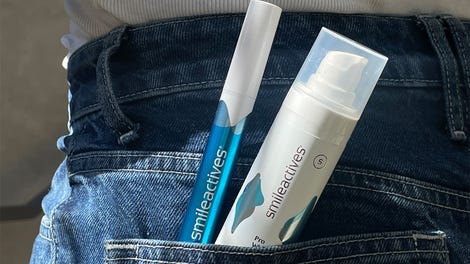 58% off
Whitening Powerhouse Pen & Gel Duo
I was able to mount the camera fairly close to the opening in my bumper cover for my license plate lights, so there's only a little bit of wire that's visible, but I know it's there, and that's enough to bother me. I'd gladly have to change batteries every now and then if I could ditch this wire. (The instruction manual also suggested drilling a hole to route the wire, provided you're okay with that.)
This waterproof exterior-mounted camera only measures less than a couple inches on each side, but it's a sizable enough cube to stick out slightly from my bumper, even though I mounted it on my license plate. Still, it's a small enough camera that you really have to be looking for it to notice it.

Mounting the camera itself was easy. Its bracket attaches using 3M VHB strips, not unlike a GoPro mount. I wanted to spare my newly replaced bumper cover from this sticky stuff, so I actually sandwiched the camera's sticky mounting strips between two license plates, which has held up for months since this installation.

Then comes the tougher part, which is locating the wires for car's back-up lights. The camera itself plugs into a power box, but that box has two wires leading out of it that connect to the positive and negative wires that turn on your back-up lights.

The camera system's red and black wires are clearly labeled in the camera's instructions, but those colors didn't quite match up to my Mitsubishi's white and black reverse light wires.

The camera comes with two quick-splice wire tap connectors that simply stab into the wiring harness to work. Those do the job okay, but you can also splice these wires into the car's wiring harness more permanently and securely with soldering and heat shrink if you want a more permanent install.

My friend Charles and I were able to test whether the camera worked first just by putting the stripped ends of the two wires in the wiring connector for the reverse lights, where it could make contact with the appropriate wires. This worked, but the other installation methods are definitely better for longer-term use.

Tapping into the wiring for the car's reverse lights is a pretty genius way to turn on the camera only when you need it. You'll need to mount the antenna for the system upright somewhere in your trunk for a clear, quick transmission, but that's really about it.

The rest of the system is plug-and-play, as the monitor uses a cigarette lighter-style plug for power. Bonus: the plug comes with a USB port built-in so you can continue to charge other accessories while the camera is in use.

After less than an hour's worth of relatively simple wiring work, I finally had a rear-view camera on my daily driver. I had just replaced my car's bumper cover after getting rear-ended on the freeway, too. To say that I was overjoyed that I could keep the back end of my car looking fresh by avoiding everything from unruly herbs to shopping carts behind me is a huge understatement.

The camera takes less than a second to transmit an image up to the monitor—in full color, no less. Stationary lines on the screen can help you guide the car exactly where you need to go. These guidelines didn't curve like some of the more sophisticated OEM rear-view cameras so, but they were bright, easy to see and helpful enough.

While the monitor's images are a little pixelated, the camera works fast and enables you to see what's usually hidden by your trunk in real-time. Low-light visibility was surprisingly good as well, but as this isn't a night-vision camera, complete darkness still won't be very visible back there.

The camera itself is pretty rugged, as I've now taken it through a car wash a few times and the only thing that's happened is that the camera folds down a little and has to be readjusted.
The monitor itself is relatively easy to use and install. It comes with a rather stout, sticky suction-cup mount that even stayed put on my car's pebble-finish dashboard plastic in addition to the usual smooth surfaces like the windshield. It comes with a lot of cord, though, which took some creative routing just to tuck out of the way.

The piece on the mount that holds the monitor screen upright screws down tight when it's in place. This screw-tight mount came loose a couple times over bumps and in hot weather, but this issue is easily remedied by screwing the mount arm tighter. Otherwise, it becomes a bit of an impromptu G-force meter on fun, twisty roads.

Even if you're not the kind of person to park on the outer edges of a parking lot to spare yourself the door dings, a good rear-view camera can be a real butt-saver for your car. At only $119.99 on Amazon, I can also say for sure that it's a lot cheaper than a new bumper, too. I didn't expect to leave it on my car beyond this test, but it's still there, waiting for the next tight parking space or driveway to come along.

---