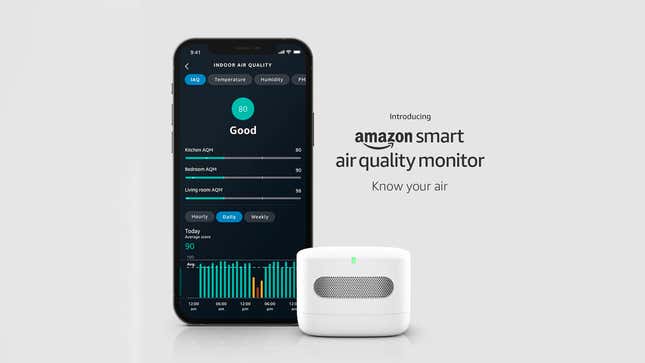 Oxygen is obviously invisible. Most gases are invisible—as are most allergens and pollutants. Therefore, it's super helpful when a device can sense the invisible baddies for you and course correct. Enter Amazon's Smart Air Quality Monitor, which is currently 29% off. The reports focus on five factors of air quality: particulate matter (like dust), volatile organic compounds (general pollution), carbon monoxide (it'll work alongside your detector), humidity, and temperature.
Amazon Smart Air Quality Monitor | $50 | 29% Off | Amazon
If the monitor detects poor quality, Alexa (and the app) will alert you. It can also work hand-in-hand with your Alexa-enabled air purifiers, dehumidifiers, and fans to course correct when needed. The app puts analytics into simple terms so anyone can understand and take action. Even you.