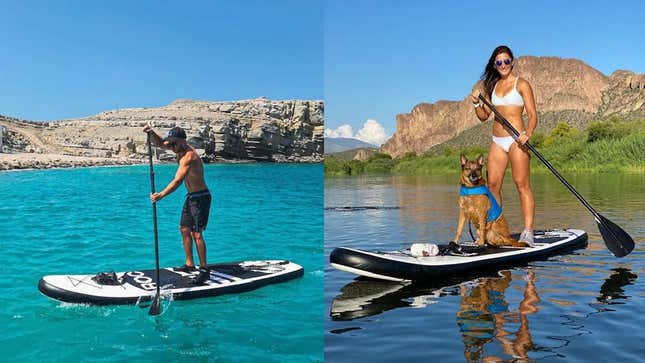 Summer's a' comin' and I for one can not wait to get out on the water with my SUP paddle board. I decidedly got myself an inflatable one and let me tell ya ... inflatable stand-up paddle boards are 100% the way to go if you're thinking of getting into the activity. Being able to deflate the board into a travel-sized backpack is a complete game changer. No need to schlep a giant plank of PVC on the top of a car. With this ROC bundle, you'll also get everything you need like the pump and a separate waterproof dry bag to keep your valuables in like your keys or phone while on the water.
Roc Inflatable SUP Paddle Board | $225 | Amazon
Inflatable boards also tend to be a hell of a lot cheaper than their non-inflatable counterparts. This one here is even 50% off at the moment and it is an Amazon #1 bestseller.
This story was originally published by Joe Tilleli on 04/06/2023 and updated with new information by Blake McCourt on 04/27/2023.