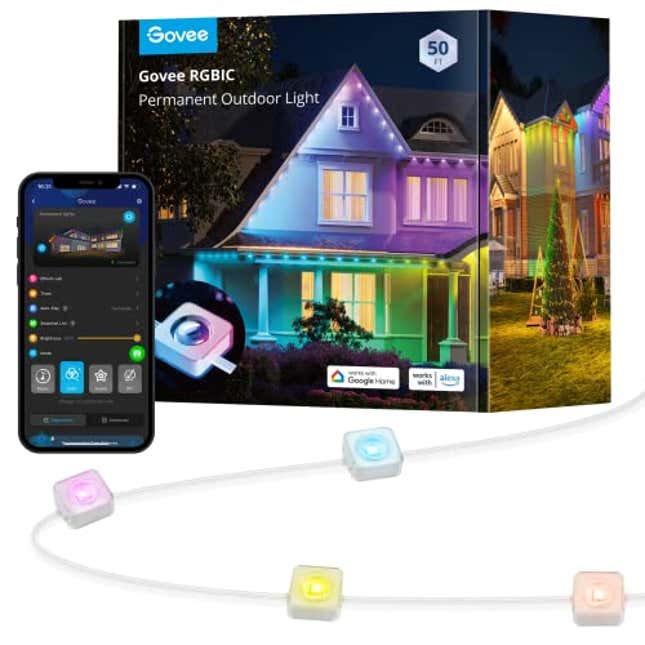 Govee Permanent Outdoor Lights is not just another set of outdoor lights - it is an enchanting decoration that astonishes with its colorful vibrancy and tech-savvy features available only on Amazon. This impressive lighting is currently discounted by 20%, making it an excellent time to upgrade the aesthetics of your outdoor space.
These dynamic lights offer a palette of 16 million colors to choose from, and as many as 75 pre-set scene modes. The sophisticated RGBIC technology ensures consistent coloring throughout the length. Whether the occasion calls for chirpy festivities or a tranquil setting - Govee Permanent Outdoor Lights can cater to your every lighting mood.
With a lens design that creates a unique triangular lighting effect and a wall washing depth of over 16 inches, the Govee lights ensure that your outdoor area is visibly stunning from every angle. The brightness of each light is measured at 26 lumens, suitable for strategic installation around the house.
Being IP67 waterproof, this system is designed to withstand harsh weather conditions. Further, the robust construction, bolstered by anti-UV material, promises extended longevity, capable of running up to 50,000 hours from temperatures as low as -4°F to as high as 140°F.
Installation of the Govee Permanent Outdoor Lights is practically hassle-free. With the provided VHB glue and clips, it takes only about 8 seconds to install each light. Remember - due to design considerations, these lights cannot be cut, and the total length after adding extension lights should not exceed 150ft.
What truly stands out with these outdoor lights is the seamless integration with smart home platforms like Alexa or Google Assistant. Moreover, users can control colors independently and set timers through the Govee Home App. Whether you are prepping for a Halloween or Christmas party, these lights on Amazon can effortlessly sync with the theme and ambience.
In sum, Govee Permanent Outdoor Lights sets a new bar in customizable outdoor lighting and decor. Available now on Amazon at a 20% discount, now is indeed the perfect time for you to invest in a lighting set that combines innovative technology, durability, and aesthetic versatility. Give your outdoor decor a tasteful uplift that matches your vivacious spirit!