Once you score some sweet art for your wall, you've got a conundrum to solve. How do you hang that art without screwing up your walls? If you rent, this problem can get even more difficult, but fortunately you have more options than just putting nails and tacks in your walls.
The tried and true Command Poster strips are popular for a reason. These adhesive strips can be attached to frames, posters, or most other things you can hang, and then stuck directly to your wall. When it comes time to remove it, you can pull on the free tab to gently remove the sticky side from the wall without damaging your paint. If you rent your place and don't want to lose your deposit, these are a solid option.
G/O Media may get a commission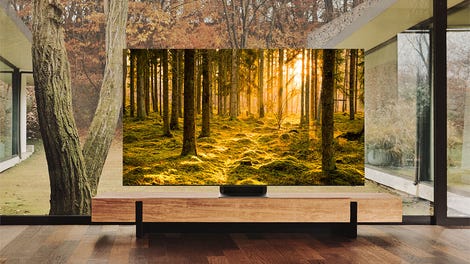 Up to 40% off
Samsung Smart TVs
Multi-sided adhesive tape is a step up from Command strips, for your heavier duty artwork. These come in rolls that you can cut to any length you need. You can use as much as you need to hang pictures with bigger and bulkier frames, or artwork that is more complex than a flat piece of paper.
Having the same pictures on your wall forever can get boring. What if you want to change your artwork around every once in a while? Instead of using adhesives, velcro tape can serve a similar purpose but give you a lot more flexibility. Attach one end to your wall and the opposing end to your artwork and you can swap out frames easily. Perfect for when you want put up your family member's less-than-stellar painting when they come to town, but maybe not so much for your dinner party.
Your instinct might be to hide all the hooks and tape and whatnot that you use to hang your art. But you can also turn those hooks into part of your aesthetic. Home living site House Beautiful recommends using string and hooks to hang paintings from your molding (if that's an option). You could also hang them from a shelf, a balcony overhanging a wall, or mount a curtain rod to give yourself a place to hang from. The hanging artwork will definitely give your place a distinct look that stands out to your guests.
Want another non-destructive option that you can turn into an aesthetic? How about washi tape. This tape is similar to masking tape, but with fun and interesting designs and patterns. Take a strip of your favorite washi tape and use it to hang posters or individual photos on your wall and you can turn the tape into part of your room's look.
---