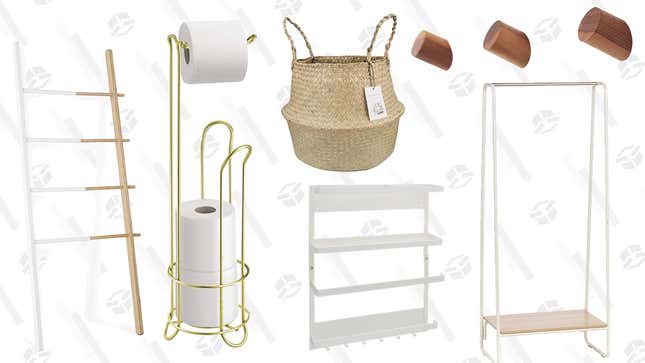 In a perfect world, our shoes, toilet paper, towels, laptop cables, and everything else would have a dedicated drawer or closet where they could hide when not in use. In real life, however, we live small apartments or old houses without much closet space. And yes, we often want to keep our belongings in places where there isn't great built-in storage for it, like shoes in an entryway.

There are endless ways to add storage where it's needed, but not all of it is aesthetically pleasing. Extra shelves or hooks in a closet or garage might not bother you, and if you're someone who just cares about function, not form, these can go anywhere. But if you do care about both (and I very much do), a utilitarian storage solution out in the open can be an annoyance. But the better-looking alternatives don't have to be fancy, or even expensive. Here are six incredibly functional, useful, and simple storage buys you'll actually love to look at.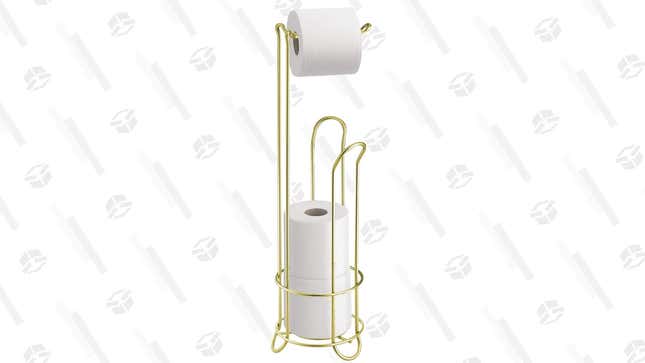 Don't get fancy with hiding reserve toilet paper. That's a recipe for your guests freezing in terror when they can't locate a new roll. Plus, keeping your extra rolls out in the open serves as a visual reminder to you when it's time to stock up. The simple metal loops in InterDesign's Classico metal toilet paper roll holder feel a lot more design-forward than boxy squares or thin mesh weaves that so often pops up in bathroom storage, and I like the hint of glam that the gold brings, but there are four additional metals and finishes, including white and matte black.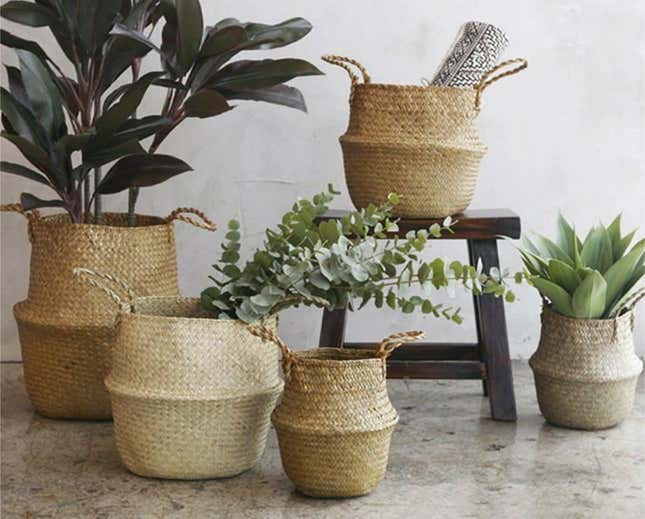 Seagrass, or rice belly, baskets are popping up in Instagram feeds a lot these days, but there's a reason they're so great to have on hand. Since the body of the baskets curve inwards, they're great at concealing whatever is stored inside. A larger size is ideal for extra blankets and towels, and smaller sizes can be kept by doors for scarves, gloves, reusable bags, or whatever it is you always want to grab before running out the door. I keep a very small one by my cat's bed to store her treats, brush, and nail clippers—stuff that was always floating around and driving me crazy. Plus, they collapse when not in use for easy storing, and can be great for displaying plants inexpensively while keeping them in the plastic pots they often come home from the store in. (Just make sure the soil is well-drained before placing them in there so it doesn't cause the natural seagrass to decay.)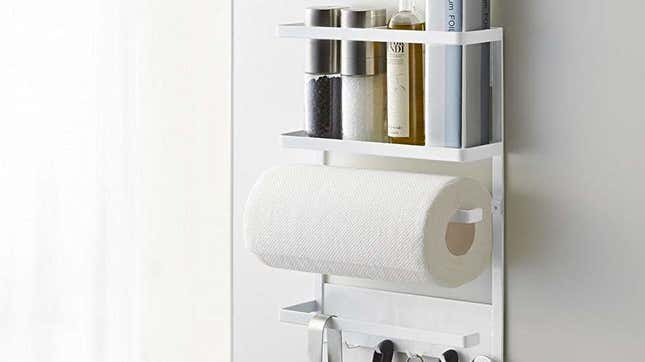 Yamazaki is a Japanese brand that makes even shoe racks look elegant. Their magnetic kitchen rack is no exception, and is perfect for keeping all kinds of handy but hard to store items close by when you cook or clean. It works well on the side of fridges if yours is exposed, but can also be hung from a wall. The shelf can store food wrap and foils, or spices and oils. The two racks don't close all the way, so you can slide paper towels on, as well as hang gloves and tea towels between dishwashings. The hooks keep spoons and spatulas out, and can even be a handy place to hang jewelry or watches as you cook.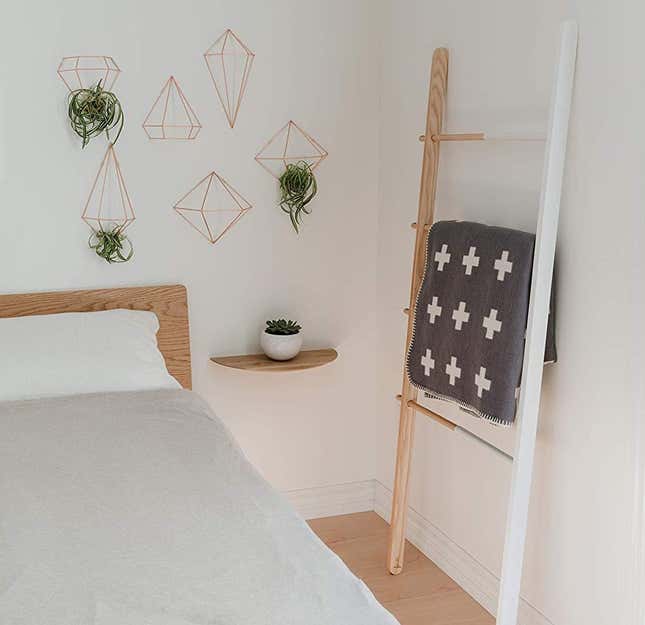 Four ladder rungs (and four hooks that extend out from them) on this Umbra Hub Ladder provide a blank canvas for all kinds of things that can go from clutter to chic just by hanging up nicely. If you've struggled with a "clothes chair" full of practically clean shirts and pants worth wearing again, give them a new home (and get that sitting area back.) In the living room, this can hold throw blankets and magazines. If you have space, it can hold towels in the bathroom–and dry them better than hooks. You can adjust how wide the ladder is depending on where and how you use it.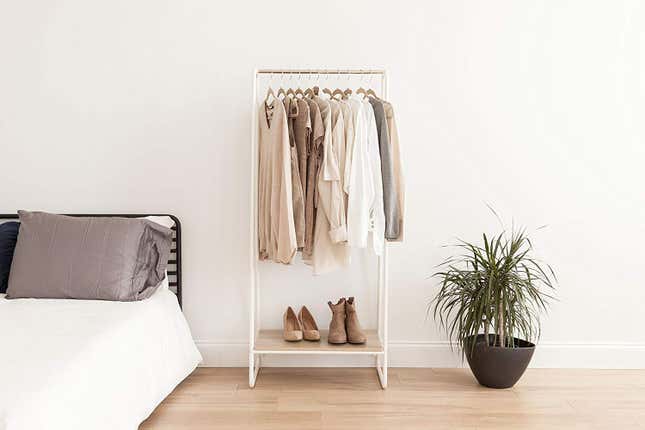 Hanging clothes is an easy (and long-lasting) way to keep them looking neat. But a small (or, heaven forbid, no) closet can cramp your style. Basic garment racks look industrial and not in that "Brooklyn loft" way, but this rack from IRIS is a better looking option. Once again, curved lines and a mix of materials elevate a pretty basic storage piece and make it look fancy. Keep your favorite clothes on display (with shoes below), or put it in the laundry room for things that need to air dry. At just under 26" long, you might even be able to use it as an entryway solution for jackets and rain boots. For $35 more, you can get a version with four shelves on one side for even more storage (Shoes? Purses? Plants? It's up to you.)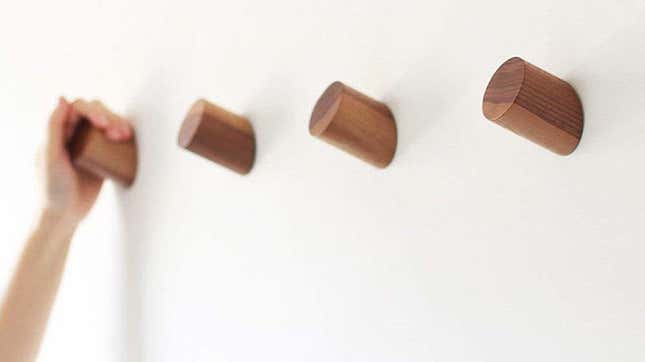 Command hooks are great, but if you don't mind a little DIY work, consider this sophisticated upgrade. Place one or two wood coat hooks in the spot where you always want to hang your favorite bag or hat, or put four or more in a line as a minimalist coat rack. Because each hook is individual, you can place them wherever you want, making the spacing and height fit specific purses, for example. You'll turn what would have otherwise just been boring, utilitarian hooks into a statement piece.

---