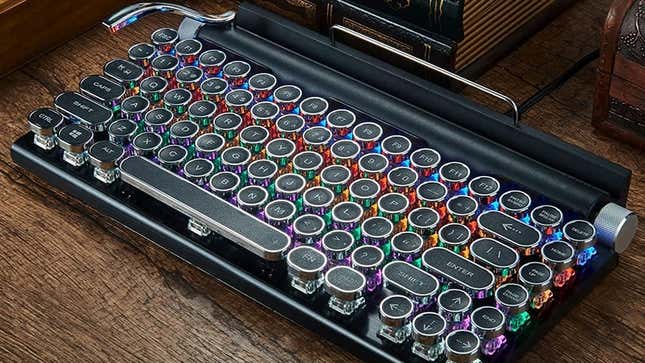 There aren't many keyboards quite like this one. It's listed as being vintage and classic, but really to me, it's giving retrofuturism. The circular keys with the pull lever on the side are certainly going for the typewriter look. Though those paired with its form factor and RGB lights have a real steampunk feel to them. That lever even adjusts the backlights. And being mechanical, it'll provide you with all the clicky-clackiness you could hope for. The Bluetooth keyboard can be used on your laptop, PC, or phone even. Or use it as a gaming keyboard.

7KEYS Retro Vintage Typewriter Keyboard | $109 | Amazon | Clip Coupon
The retro Bluetooth keyboard is 30% off at the moment, but you can clip the coupon on the product page to save another $10. This is the lowest price its been in the two years of historical data we can see.