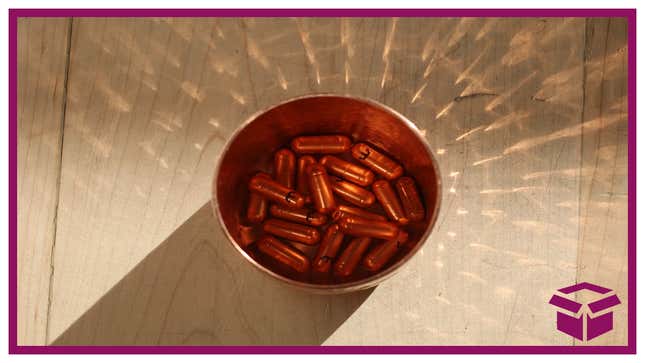 The wellness market has a new gold standard: LYMA supplements have been a huge hit in the UK for their efficacy in improving immunity, enhancing sleep quality, sharpening focus, and other overall health benefits. The golden capsules that come in a shiny copper jar are touted for their numerous physical and mental health benefits delivered by 10 simple and sustainable ingredients. They're making waves in the US market now, so we decided to see what's driving the LYMA bandwagon.
LYMA supplements have turmeric extract to fight Inflammation
The anti-inflammatory powers of turmeric have long been known but only recently been put to work. The LYMA Supplement's formula is boosted by a 600mg dose of their proprietary HydroCurc, a specialized blend of curcumins that are dispersed in water, unlike the lipid-based solution used in most supplements. The difference? The water-dispersed turmeric extract is four times more potent than lipid-based versions, delivering more of the inflammatory-fighting antioxidant to your body's cells than other brands.
Cognizin helps to give you an energy boost
Nootropics are the best brain boosters you've probably never heard of. They're called "smart drugs" for their ability to improve your brain health and recharge your cognitive performance, and they do it throughout the day as opposed to the short-term boost from caffeine. LYMA's proprietary nootropic blend is called Cognizin, a patented form of citicoline. Citicoline is chemically identical to choline, which your body forms naturally to enhance brain health. The LYMA Supplement contains 250mg of naturally created Cognizin to keep your synapses firing all day.
LYMA Supplements help to get your hair, nails, and skin in flawless condition with Keratin
The internal benefits from The LYMA Supplement are great, but the external ones will be the ones you'll see in the mirror and show off to the world. Keratin — a key structural material for hair, nails, and skin — is commonly found in supplements. But many brands derive their keratin from waste products like chicken feathers or fish scales. LYMA's Cynatine HNS is made from solubilized keratin and the 500mg daily dose is delivered directly to the areas where it's needed most for hard nails, thicker and shinier hair, and more elastic and less-wrinkled skin.
Saffron extract provides antioxidants
Saffron has been highly valued for centuries for its exceptionally potent antioxidant properties. LYMA has created its own saffron variant — affron — and packed 28g of it into each daily dose of The LYMA Supplement. Affron is derived from one of the purest available forms of saffron and contains no chemicals. It's also the first saffron extract on the market that's backed by peer-reviewed studies.