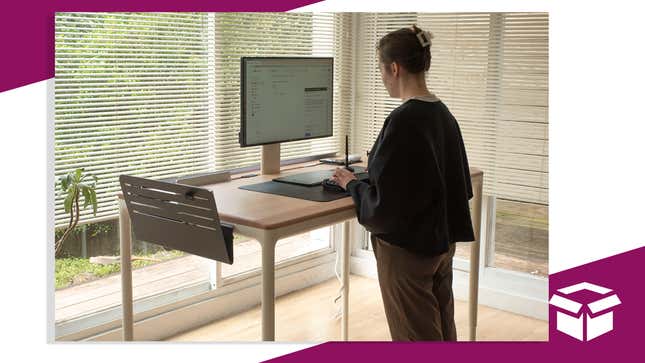 With the ups and downs of work-from-home life come many, many challenges. Focus and organization are two challenges a lot of people have struggled with over the past few years. Demanding workloads at a desk that isn't ergonomic can really snap you out of both of those things. Thankfully, Beflo is offering 10% off the Tenon adjustable smart desk when signing up to their newsletter to help solve these issues. Beflo found a fully optimal solution for the home office, so this should be the last desk you buy for many years.
Tenon Adjustable Smart Desk | 10% Off | Beflo
Update your remote work setup
Your current remote office setup, if it's anything like mine, is likely often filled with clutter and distracting trinkets, but that can easily be fixed with a few adjustments! It's time to bring your office into the modern age with a solution that meets the demands of focus, happiness, and stability. The Tenon smart desk features an integrated touch screen control panel and app to adjust brightness and color settings. The scratch-resistant desk also has beveled edges and smart sensors to alert you when to stand up and stretch!
Customize this adjustable desk
The adjustable Tenon desk rises up to 47 inches, and the motors hidden inside each leg keep operations quiet so your fragile flow isn't interrupted but enhanced. Unlimited height settings in the app mean you're not stuck to the 3 options on the integrated panel, and the app comes with lighting presets to help you stay in the mood all day with voice control and over-the-air updates. The adjustable rail system on the outside of the desk also comes with the ability to add accessories like a pegboard, a hanging hook for headphones, and a pouch for pens, books, and more.
Charge with USB outlets & other features
Not only does the Tenon desk from Beflo have four built-in power plugs, so there are no extra hanging wires like many standing desks, but it also has a 3.5mm headphone jack, USB-A, and USB-C ports directly into the underside of the desk to make connections super easy. Plugging everything in is even easier with the added Flow Kit that includes a docking station and we love wireless charging, so check out the accessories for a flat, aesthetic vegan leather matching wireless charger that fits right into place in the desktop slot.
Maximize productivity and minimize clutter
Bring the ambiance up several notches and increase productivity with light diffuser and aroma diffuser accessories that put you in the perfect flow state for happiness all day long. The Tenon Premium desk comes with the entire Flow Kit that makes productivity and clutter a thing of the past. Usually, modesty panels, cable holders, and power cord covers are metal, sharp, and hardly functional, but the Flow Kit is everything you need to reduce cord clutter in style. Stay organized, stay productive, and in the flow for as long as you need with the super smart Tenon desk.